Cole Reuter earns medalist honors at districts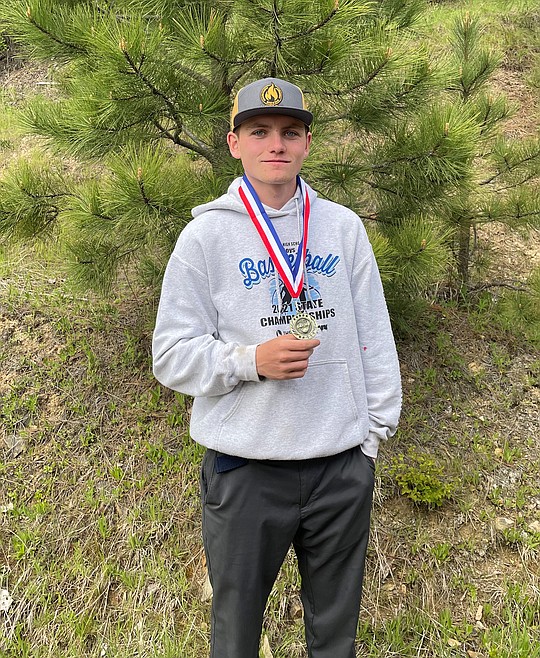 Clark Fork junior Cole Reuter poses for a photo after earning medalist honors at the 2A District 1-2 golf tournament on Monday.
(Photo courtesy of BRIAN ARTHUN)
by
DYLAN GREENE
Sports Editor
|
May 10, 2021 11:59 PM
ST. MARIES — Cole Reuter went back-to-back on Monday.
The Clark Fork junior earned medalist honors at the 2A District 1-2 golf tournament for the second straight time to secure his spot in the state tournament.
"I'm just really proud of how hard he's worked to get to this point," head coach Brian Arthun said about Reuter. "He's been improving each week."
As a team, the Wampus Cats finished seventh out of eight teams on the boys side.
To secure the individual title, Reuter carded a 73 on the St. Maries Golf Course. He also got some redemption in the process, edging out Seth Swallows from St. Maries by one stroke to medal.
On April 30, Reuter missed out on grabbing medalist honors at the St. Maries Invitational when he finished one stroke behind Swallows on the same course.
Reuter said that result motivated him on Monday.
"It's pretty cool to come into someone else's place that they play on a lot and beat them," he said. "It makes me want to play really good."
But grabbing the medalist honors away from Swallows wasn't easy. After the front nine, Reuter owned a three-stroke advantage, but Swallows evened things on the back.
Without knowing, Reuter had to birdie the last hole to claim the individual title. After taking an unplayable lie due to a set of elk tracks on the green, Reuter stepped up and buried a putt from about 5 feet away to secure the win and avoid a playoff.
"It was a pretty exciting way to finish," Arthun said. "That says a lot about Cole and his determination to win."
Reuter said it took him some time to realize what he had done.
"I kind of felt like we were right there," Reuter said, "but I didn't know the putt I made was to win because afterwards I looked over at my dad, and he was like, 'Good job, I think you beat him by one.'"
Entering districts, Reuter had yet to earn medalist honors at a tournament this spring. Arthun said nothing was going to stop Reuter from ending that streak on Monday.
"He just came with a different mindset and he was determined to repeat," he said.
Now Reuter will head to the Circling Raven Golf Club in Worley next Monday and Tuesday for the 2A state tournament. Reuter tied for sixth at state as a freshman in 2019 and he said he's aiming for a pair of rounds in the low 70s next week.
"I feel really confident," he said. "I've played Circling Raven a bunch of times."
BOYS
TEAM SCORES — 1, St. Maries 371. 2, Genesis Prep 382. 3, Lakeside 388. 4, Wallace 409. 5, Lapwai 431. 6, Logos 473. 7, Clark Fork 480. 8, Mullan 496.
STATE QUALIFIERS — 1, Cole Reuter, Clark Fork, 73. 2, Seth Swallows, St. Maries, 74. 3, Hayden Hogamier, Wallace, 81. 4, Tucker Sanchez, Lakeside, 86. 5, Christian Brown, Lapwai, 87. 6, Carson Robert, Genesis Prep, 89. 7, Corbin Scheer, St. Maries, 92. 8 (tie), Caleb Schroeder, Genesis Prep, 92.
ST. MARIES — Seth Swallows 74, Greyson Sands 115, Corbin Scheer 92, Deacon Machado 98, Landon Warren 107.
GENESIS PREP — CJ Elliott 94, Caleb Schroeder 92, Carson Robert 89, Eli Gonzales 107, Gabe Missamore 115.
LAKESIDE — Tucker Sanchez 86, Kenyon Spotted Horse 103, Jasper Abuan 93, Beau Jones 106, Tsomes Nomee 120.
CLARK FORK — Cole Reuter 73, Landin Pierson 130, Jacob Abbott 138, Carter Sanroman 124.
WALLACE — Hayden Hogamier 81, Carter Bailey 103, Teagen Goldade 108, Robbie Morin 117, Luke Hull 120.
MULLAN — Luke Trogden 101, Kofi Appiah 135, Floyd Nelson 132, Logan Petit 128, Alex Trogden 153.
LOGOS — Oscar Beauchamp 129, Jackson Crapuchetts 117, Clive Miller 114.
LAPWAI — Christian Brown 87, Kross Taylor 122, AJ Ellenwood 99, Wamblie Chimburus 123.
GIRLS
TEAM SCORES (top team to state) — 1, St. Maries 415. 2, Lakeside 494. 3, Lapwai 581. Genesis Prep, Wallace, Orofino, Logos incomplete teams.
STATE QUALIFIERS — 1, Gabrial Harold, St. Maries, 96. 2, Sami Sindt, St. Maries, 101. 3, Jayden Martin, St. Maries, 108.
ST. MARIES — Gabrial Harold 96, Hope Aasgard 126, Jayden Martin 108, Keianna Olson 110, Sami Sindt 101.
LAKESIDE — Tyshea Twoteeth 118, Katannah Marchand 121, Dahyiitihi White 140, Destiny Lowley DNF, Kiona Allen 115.
LAPWAI — Cory Greene 143, Grace Sobotta 137, Glory Sobotta 152, Jordan Shawl 149.
GENESIS PREP — Morgan Bae 112, Kaitlyn Kelley 129, Chiara Lehman 125.
WALLACE — Makenna Merrick 109.
OROFINO — Julia Grimaldo 112, Casey Burke 141.
LOGOS — Abby Taylor 133.
---