Lakeshore Drive project funding approved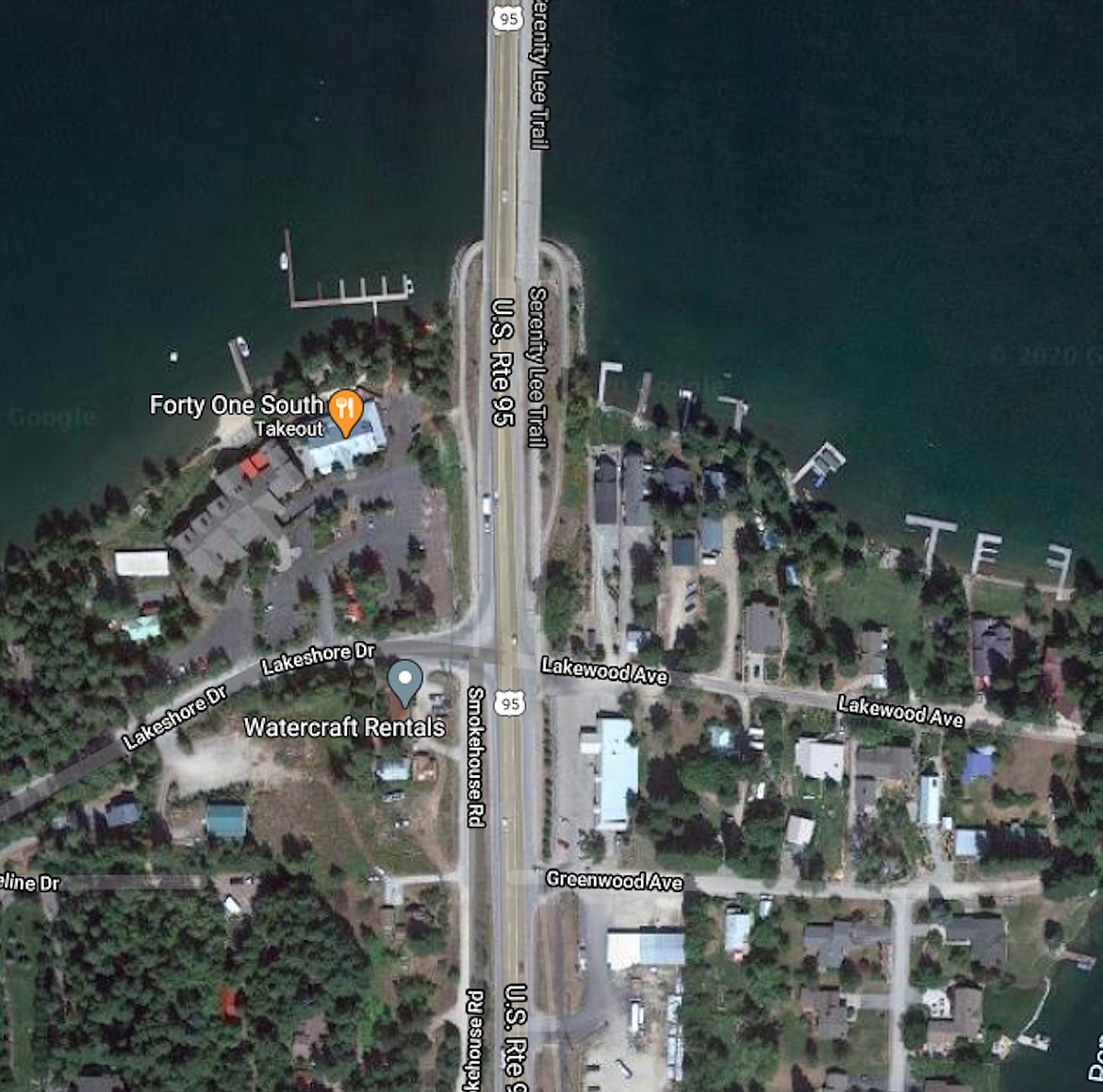 The Idaho Transportation Board has a short-term solution to the U.S. Highway 95/Lakeshore Drive dilemma while a more permanent fix is developed.
(Image via GOOGLE MAPS)
by
CAROLINE LOBSINGER
Staff Writer
|
May 11, 2021 12:58 AM
▶️ Listen to this article now.
SAGLE — It is just a matter of time before work begins on a construction project to make the Lakeshore Drive and U.S. 95 intersection safer.
The project, which is still being designed, is among those projects slated for funding under House Bill 362, which was signed into law Monday by Gov. Brad Little.
The new law directs $80 million in ongoing funding for transportation infrastructure projects statewide, allowing the state to bond for up to $1.6 billion. Little said it is the single largest state investment in transportation infrastructure in the state's history.
Instead of increased fees or taxes, the funding is a result of redirecting a larger share of the existing sales tax to the funds that support transportation projects.
To help advance bid-ready transportation projects across Idaho, Little and the Idaho Legislature also directed $126 million in one-time funds this year from the state's record budget surplus as part of Little's "Building Idaho's Future" plan.
"Idaho is the fastest growing state in the nation. To keep up with the demands of a fast-growing state, our sustainable transportation funding solution helps save Idahoans' time, keeps us safe on our roads, and makes our state's economy even stronger," Little said. "One of the most basic responsibilities of government is to provide a transportation system that facilitates commerce and keeps citizens safe. I appreciate my partners in the Legislature and Idaho businesses for recognizing the need to invest strategically and sustainably in transportation."
Work is set to be put out for bid this summer with construction on the first phase take place in late summer or early fall.
"We were in the right spot at the right time," said Sen. Jim Woodward, R-Sagle, of the project being included on the list for funding. "It was pretty clear to everybody how important this project is."
The plan, first suggested by Bonner County Road & Bridge officials, calls for a combination of acceleration lanes and U-turns. Lakeshore motorists would be routed into southbound traffic but would be able to reverse course safely and in fairly short order via the U-turns.
Construction is expect to take place over a two-year period, beginning this summer. The first phase, which is in design, could include northbound and southbound acceleration lanes. The second phase, set for the summer of 2022, would include U-turns at Lakeshore Drive and Bottle Bay Road, similar to those already in use in Ponderay.
Also included in the second phase of the project is a light at Sagle Road, which has been referred to as the "only seven-lane roadway" in North Idaho, with two turn lanes, four traffic lanes and a center lane.
A light will create breaks in traffic, which should also improve traffic flow in the area. It also should improve safety with truck traffic, giving the larger rigs a chance to safely get onto the highway, especially those headed north, Woodward said.
"I think the safety improvement is number one on the list," he said. "It also will allow traffic to flow more freely."
Safety improvements at the intersection have been a constant refrain from community leaders and local officials for years.
At present, motorists struggle to find a break in the flow of southbound traffic coming off the Long Bridge at highway speeds. Impatient drivers have occasionally been known to dart out into the intersection despite the a near-steady stream of traffic, leading to numerous accidents.
Caroline Lobsinger can be reached at clobsinger@bonnercountydailybee.com and followed on Twitter @CarolDailyBee.
---