Firewood Rescue builds strong community by keeping residents warm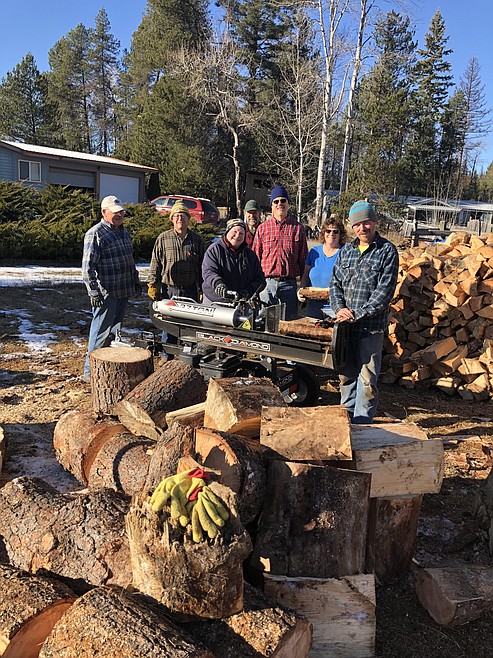 Volunteers pose or a photo at one of the Firewood Rescue storage sites.
Courtesy of Paul Krames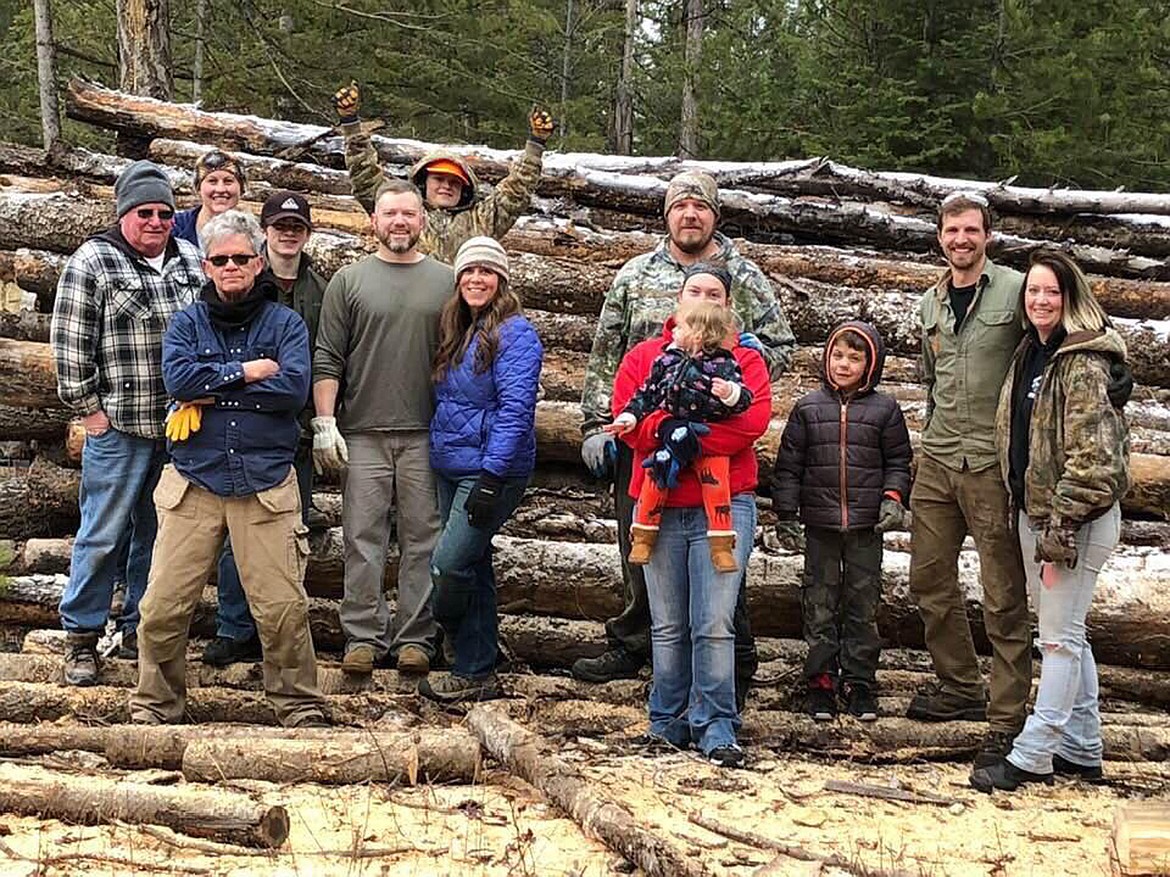 (Courtesy photo)Volunteers with Firewood Rescue pose for a photo.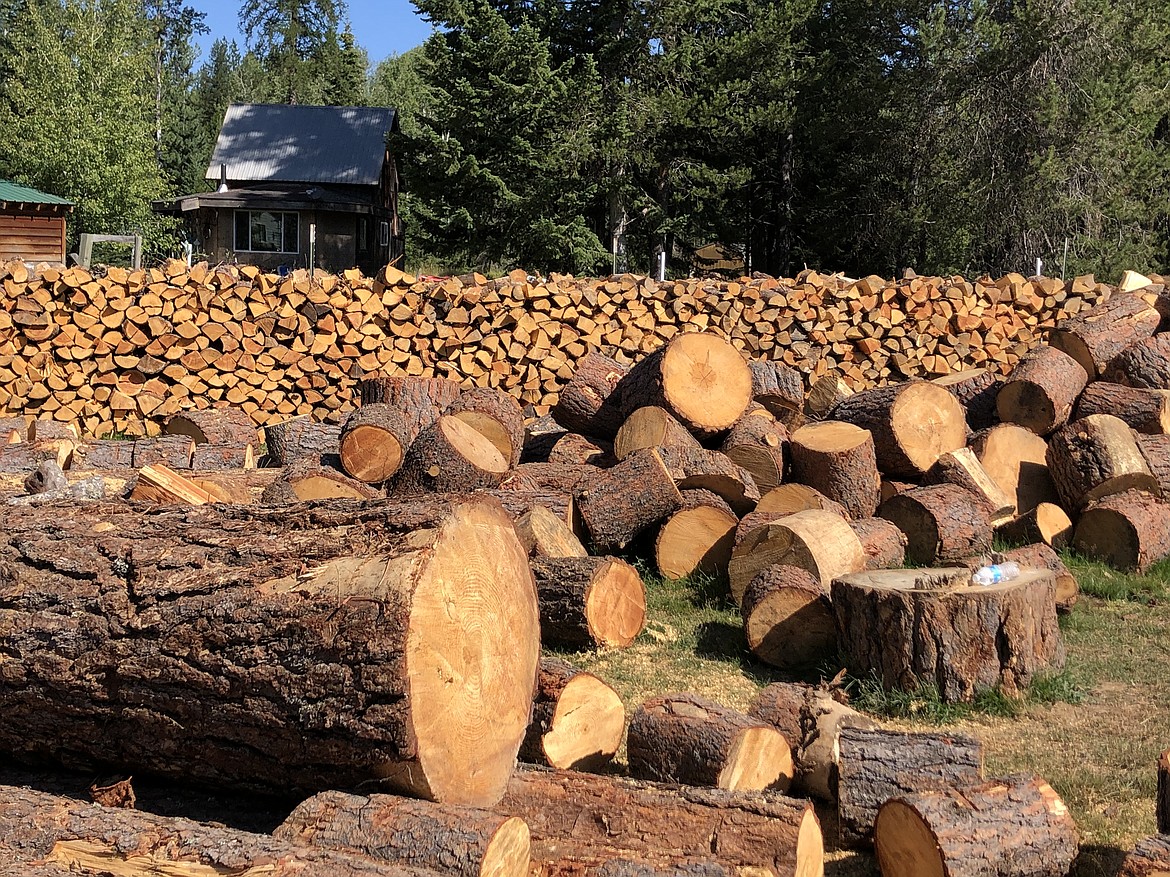 Firewood stored at one of the two firewood storage locations for Firewood Rescue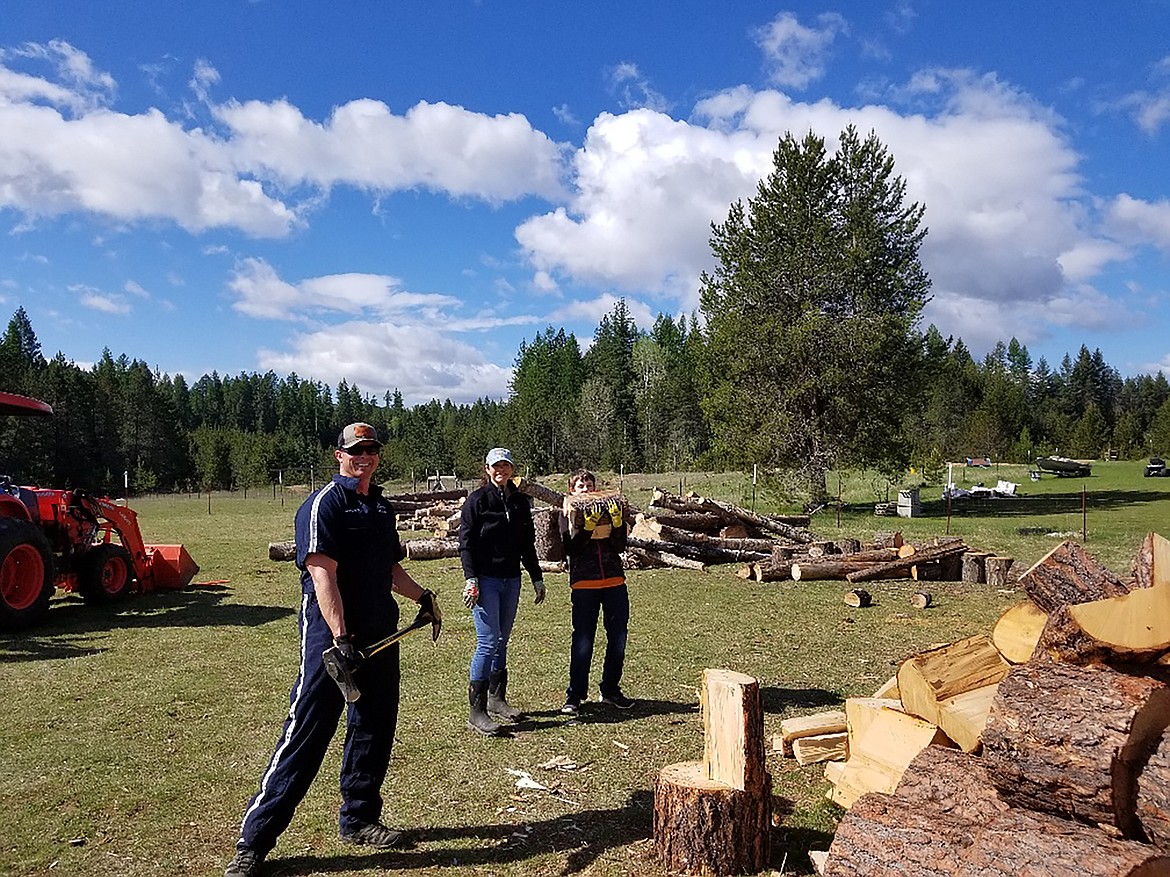 Firewood Rescue volunteers are hard at work getting wood ready for when they hear about someone in need of wood to keep their home warm.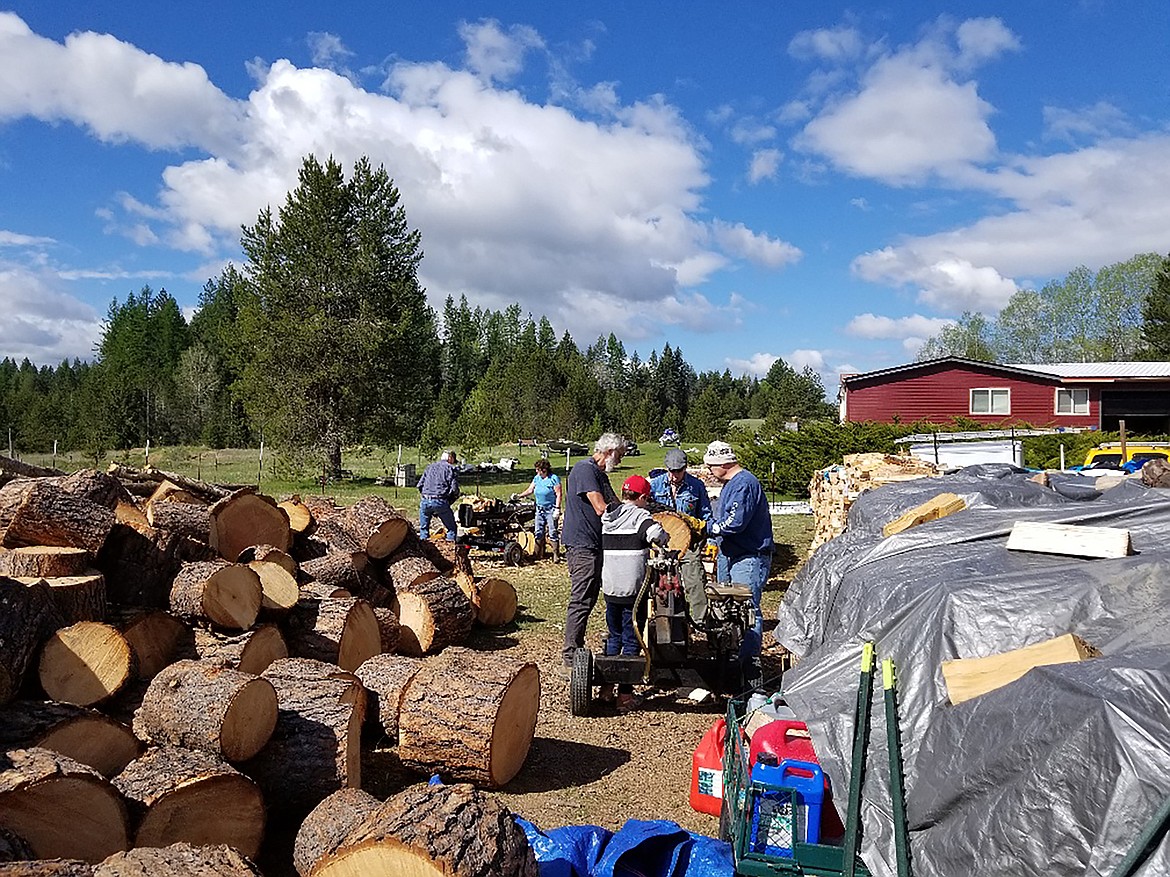 Firewood Rescue volunteers are hard at work getting wood ready for when they hear about someone in need of wood to keep their home warm.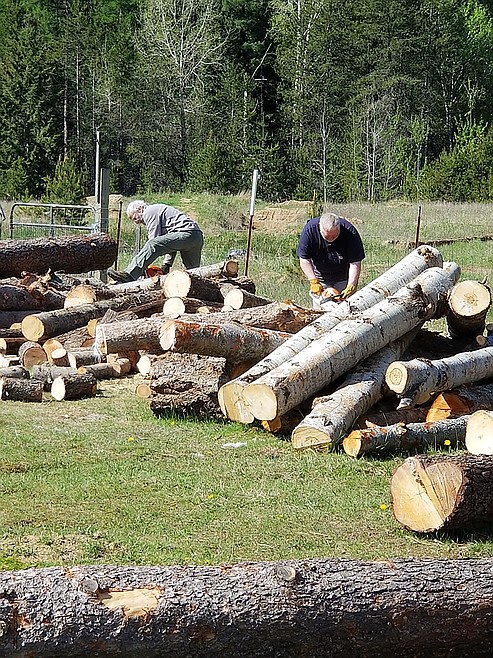 Firewood Rescue volunteers are hard at work getting wood ready for when they hear about someone in need of wood to keep their home warm.
Previous
Next
by
CAROLINE LOBSINGER
Staff Writer
|
May 19, 2021 1:00 AM
Supporting the community has been vitally important to Paul Krames since moving here in 2002. It's that viewpoint that would lead to the creation of Firewood Rescue.
"I made a conscious decision to get involved and stay involved," Krames said. "Sometimes I explain to people the uniqueness of Sandpoint and surrounding areas. It is a close-knit community with many incredible, giving people. It has always struck me, that when someone finds themselves in a crisis, our residents rally and muster the resources to provide aid, comfort and support. It — this quick willingness to come to people's aid — doesn't exist in many places. It does here."
Firewood Rescue has its start when Krames heard of several desperate families and individuals who were out of wood to heat their homes. He immediately posted appeals on Facebook, first trying to locate folks willing to donate wood and second, to find people with the trucks willing to deliver wood.
It didn't take long before the community rallied and both the wood donated and the delivery arranged..
"I was struck by the immediate responses of residents willing to fill these roles," he said. "It got me thinking that since the need existed and the resources could be mustered, I could grow it from there."
Krames said he can't say enough about how amazing the group's volunteers are, adding his words will fall short of characterizing their involvement. Among them, board member Eileen Esplin, who would in any other situation be paid a CEO's salary and is a driving force in Firewood Rescue's outreach.
This past year Firewood Rescue stockpiled over 100 cords of firewood and delivered to families in need over 50 cords to keep them warm this winter.
"The pandemic created new victims in addition to the elderly, disabled and seriously ill population we already supported," Krames said. "As for our volunteers, week in and week out, a dedicated, unselfish corps or 'regulars' would show up to cut, split, stack, load up and make deliveries."
The volunteers are a dedicated, giving group — as are the landowners who extended their private property for storage sites or allow Firewood Rescue to harvest wood on their property.
Firewood Rescue is a year-round effort and "like squirrels gathering nuts, we continue to stockpile our firewood supplies," Krames said.
Firewood Rescue operates on a shoestring budget and the organization is constantly seeking funds, with monies going largely for fuel and equipment repair and purchase. Among the contributors are Litehouse Dressing and Sandpoint Rotary as well as private citizens — with some of those donations as high as $500. If Firewood Rescue has a partner in the community, Krames said it is Sandpoint Rotary.
"Special thanks to Rotarians John and Donna Lorenz who facilitated that partnership," he said. "Former President Mel Dick and current President Ken Wood have spearheaded Rotarian work details which go way beyond providing funds."
Firewood Rescue is a registered 501(c)3 and contributions are tax deductible.
Krames said Firewood Rescue's services are more in need than ever before with the pandemic creating a economic fallout that added to the number of people who found themselves in tough situations. Added to those challenges are the growing pains in the community due to an influx of folks wanting to live in the area. That creates a whole new set of problems, mostly dealing with the lack of affordable housing, low house inventories, and scarcity of rentals.
"With that as a backdrop, we didn't want families that depended on firewood for their heating needs, to be lost in the shuffle," Krames said.
Krames said good communication is key to the group's ability to help others and praised Facebook sites, Sandpoint Local Forum and Sandpoint Yard Sale, that allow Firewood Rescue's posts in their entirety and without exception to help it spread the word. Krames said the sites also allow the group to recognize and acknowledge its volunteers.
Krames said he and other Firewood Rescue volunteers got involved as a way to give way to the community that has given them so much.
"Sandpoint is a close-knit community with old-fashioned family values," Krames said. "It doesn't exist everywhere. The community welcomes people who want to get involved. "
Being a community, working together to help others in the community brings a peace of mind, he said.
"The community in essence becomes like an extended family.," Krames said. "It is a support resource for folks who live here and find themselves in some need."
As needs change so, too, should the role of the community and the groups working to make and keep it strong.
"Right now, I see the housing crisis as probably the most glaring current dilemma," Krames said. "Sandpoint being the pristine location is a double-edged sword. The small town feel and attitudes is really a slice of Americana. Many of us would like to protect and preserve that. I know, it's one of the main reasons we move here."
Years ago, Krames said the Greater Sandpoint Chamber studied Ketchum, where a dozen years ago, the median home price was around $450,000. The town couldn't hire police, fire, teachers, etc. because those personnel couldn't afford to purchase homes on those salaries.
"I'm afraid we are in the early stages of being like Ketchum," he said. "It will take creativity, guts and a proactive, involved community to find solutions and mitigate the 'Ketchum Effect' to mitigate folks being priced out and forced to live somewhere else. That would be tragic."
For contributions or to volunteer, please contact Firewoodrescue2020@gmail.com.
---