Lakes commission asks Army Corps of Engineers to fill lake faster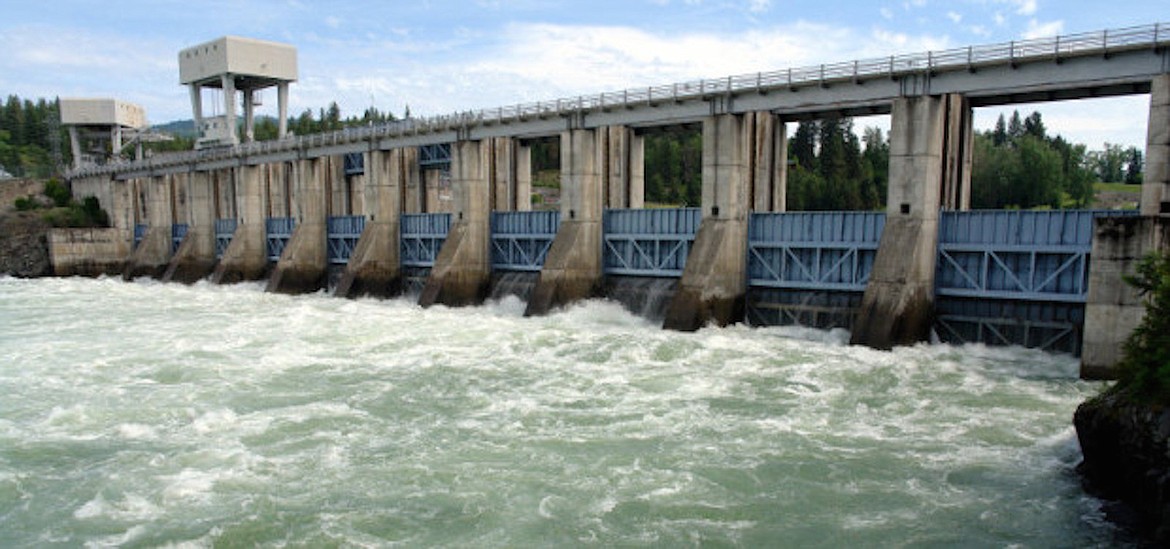 The Pend Oreille Lakes Commission is asking the Army Corps of Engineers, for a second time, to decrease flow from Albeni Falls Dam to reach or be within six inches to a foot of summer pool for Lake Pend Oreille by May 28.
(Photo courtesy U.S. ARMY CORPS OF ENGINEERS)
by
RACHEL SUN
Staff Writer
|
May 25, 2021 1:00 AM
▶️ Listen to this article now.
The Pend Oreille Lakes Commission is asking the Army Corps of Engineers, for a second time, to decrease flow from Albeni Falls Dam to reach or be within six inches to a foot of summer pool for Lake Pend Oreille by May 28.
Current Corps plans would have the lake at 2,060 feet by the end of the month. The commission would have that number at or close to its summer level of 2,062 by the end of the month, instead of June as it is currently projected.
The original letter, sent May 13, referenced weather forecasts by the Corps and NOAA on May 11, which cited minimal flood risk, low precipitation and snowpack at roughly 85% it's yearly average.
"Knowing that our basin is not at risk of flooding and that this operation is well within the congressional operation for Albeni Falls Dam, this year provides an excellent opportunity to capitalize on our busy recreational weekend [Memorial Day Weekend]," wrote Ford Elaesser, chair of the commission, on May 13.
Elaesser noted in his letter that the original project authorization had noted plans for the dam to "provide and maintain a stabilized level of support increased recreational uses and improved fish conditions," and keep the lake at "a normal level of 2,062.5 feet" through a six-month spring and summer recreational period.
At the end of his letter, Elaesser noted concerns over the impact on the local tourism economy.
"The tourist dollars generated by our waterfront community are critical to Idaho's economy," he wrote. "This year we already experienced a large increase in the number of tourists and new residents. Allowing for a stable summer pool during the upcoming Memorial Day holiday would give our community the opportunity to generate millions in the local economy."
Despite that request, and confidence expressed by commissioners regarding flood risks, USACE has continued a more cautious fill strategy similar to years with a higher flood risk.
The decision, the Corps said, was based on the fact there could still be a significant rain event. However, the commission wrote in their second letter, that risk is low.
In an email sent Monday, Molly McCahon, Lakes Commission executive director, wrote the decision was "confusing," and didn't make sense based on current predictions.
"While we are currently receiving precipitation, it is insignificant relative to flooding and still absolutely clear that there is no chance for flooding this year," she wrote. "What observed and forecasted conditions are you seeing that would even remotely cause concern for flood risk? All the maps and forecasts that we are observing demonstrate otherwise."
The letter also cited text from an operational update from May 22 and 23, which states operations will be set according to observed forecast conditions to manage flood risk.
"Given the nature of this year that will likely be around mid-June, but it will depend on the weather over the next month. The current seasonal water supply forecast for April-July inflow volume is 82% of average," one report stated.
McCahon added that even with an increase in precipitation over the weekend in the Upper Clark Fork, the snow water equivalent is lower than in 2015, when the area experienced record drought.
"We urge you to reconsider your timing on refill this year and to reach summer pool by May 28th. If not, this year proves that if there is truly an opportunity for early refill (no flood risk) it will only occur in extreme drought and even that seems questionable," she wrote.
This article was updated to clarify the commission is asking the Arm Corps of Engineers to decrease, not increase, flow from the Albeni Falls Dam.
---