Aispuro, Welker and Dick win Sandpoint council seats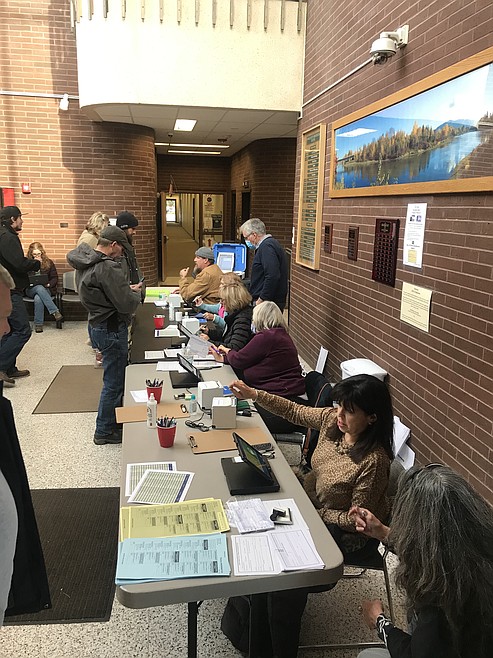 Voters at a past Bonner County election.
(File photo)
▶️ Listen to this article now.
SANDPOINT — There will be a few new faces on the Sandpoint City Council — and a new face on the Lake Pend Oreille School Board.
While a majority of residents voted for a local option tax, the measure did not receive 60% support to pass. The measure, which would have gone toward parks and sidewalk improvements, received 1,258 votes — or 52.7% — in favor of the tax and 1,129 votes — or 47.3% — against.
With 99.9% of ballots counted in the race for Sandpoint's three open city council seats, incumbent Joel Aispuro, Jason Welker and Justin Dick have won the seats. Aispuro had 1,310 votes, 19.35%; Welker had 1,221 votes, 18.04%; and Dick had 1,213 votes, 17.92%. Luke Omodt finished with 941 votes, 13.9%; John Darling had 790 votes, 11.67%; Frytz Mor had 609 votes, 9%; Wayne Benner had 402 votes, 5.94%; and Arthur Bistline had 283 votes, 4.18%
In the race for the Kootenai City Council, seat 3, position, David Sundquist appears to have edged challenger Robert Rutan, 69 to 66 votes, or 51.11% to 48.89%.
In the race for Priest River mayor, Kevin Wylie narrowly defeated Timothy Simpkins, 166 votes to 156 votes, or 51.55% to 48.85%. In the race for city council seats, Candace Turner had 201 votes, 39.11%, and Billy Mullaley received 176 votes, 34.24%. Incumbent Sean Schneider received 137 votes, or 26.65%.
In the race for the Dover mayor's seat, George Eskridge handily won the seat, receiving 272 votes, or 79.30%, to 71 votes, or 20.70%, for Ryan Wells. In the race for two city council seats, Kim Bledsoe had 230 votes, 35.99%, and Merlin Glass had 161 votes, or 25.20%, won the seats. Mark Sauter had 154 votes, 24.10%, and, Amy Lizotte had 94 votes, 14.71%.
In the race for the Lake Pend Oreille School District Zone 2 seat, challenger Jalon Peters defeated incumbent Gary Suppiger, 931 votes to 682 votes or 57.72% to 42.28%.
In the race for the West Bonner County School District Zone 2 seat, Susan Brown won the seat with 176 votes, or 50.43%. Lonnie Orr had 123 votes, or 35.24%, and Mark Caldwell had 50 votes, or 14.33%. In the race for the Zone 4 board seat, Keith Rutledge narrowly defeated Hailey Scott, receiving 244 votes 50.83%, to Scott's 236 votes, or 49.17%.
For an off-year election, Bonner County Clerk Michael Rosedale said turnout was good, with an expected turnout of about 25-27% of registered voters.
"It's more than I thought so I'm pleased about that," Rosedale said.
Of the county's 32 precincts, nine either didn't have anything on the ballot or the races were uncontested, with those candidates automatically declared the winners according to state code.
Despite no races being held in those area, Rosedale said he heard from several people disappointed they couldn't vote.
"I left a note on the doors saying, 'Thank you for being a diligent voter,'" Rosedale said.
A majority of the ballots — about 99.9 percent — were counted before 10:15 p.m., one of the earliest in recent years. Rosedale credited election poll workers who did "a fantastic job" in manning precincts.
With many races decided before any votes were cast due to only one candidate filing for the seat, Rosedale credited voters for turning out to vote for the issues and candidates that are on the ballot.
"I'm pleased the community came out to vote," Rosedale sale. "This was a good showing."
Recent Headlines
---