Carver named club's top member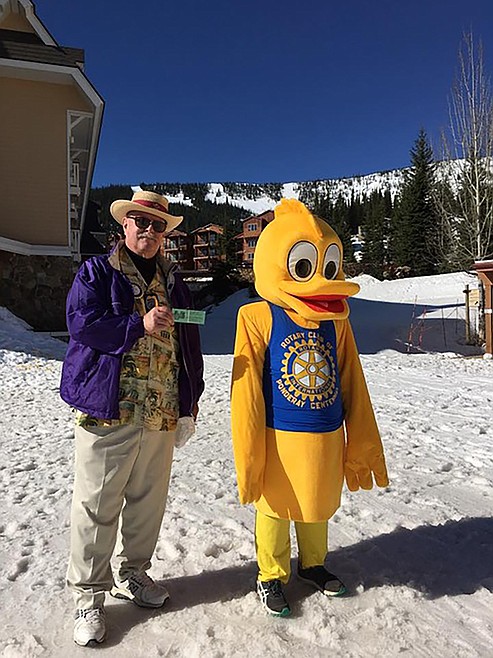 JP Carver gets his picture taken with the Ponderay Rotary Duck at the last Duck Derby at Schweitzer.
(Courtesy photo)
by
KARI SACCOMANNO Contributing Writer
|
November 3, 2021 1:00 AM
JP Carver, through years of dedication and action, has been named Ponderay Centennial Rotary Club member of the month for August!

"I am proud to be a member of Ponderay Centennial Rotary not only for the scholarship program or putting flag poles at the Ponderay Police building and the Fair Grounds, or building bus stop shelters, or supporting exchange students, or the Rotary Youth Leadership program, or the high school Interact clubs, but especially because of the friendships among club members.  The food at the Christmas parties also stands out," JP Carver said.

JP was asked by a friend to join Ponderay Rotary in 2005, and he has been actively participating now for 16 years. He feels Ponderay Rotary is creating positive change in our community through educational opportunities and scholarships, volunteer efforts at non-profits and helping the community in any way needed. He has held the position of president and is currently Rotary Foundation Chair, Interact mentor, scholarship committee member, and one of the infamous Rotary chili cooks at the club's annual chili cook-off at Jacey's Race.

With his wife Barb, he co-owns Curves in Ponderay along with help from their yellow lab Ruby, labradoodle Rory and the street cat Della.  He graduated from University of Washington and is a diehard Husky fan and feels the best career decision he ever made in life was to join the Air Force ROTC. The Air Power Series and Walter Cronkite were his biggest impacts on his career choices.

JP was a major and spent 20 years in the United States Air Force with his career highlight experiencing flying 100' off the ground at 600 miles per hour. In 1994, he became an Episcopal priest and practices to this day. In the last few years, he is most proud of his participation in the By Way Citizen's Advisory Committee. Furthermore, he spends time volunteering as Chaplain for the Sandpoint Police Department.

As a gregarious introvert, JP is passionate about encouraging people to get to know themselves and hopes to have influenced others in our community and the world through his honesty, empathy and inclusiveness. He admires those who influence without fanfare, which he definitely is one of them. In his "off-time", you will find JP cruising around the lake enjoying classic and 60's rock music and making people feel happy.
"We are so lucky to have JP as part of our team. He takes on so much of the youth work. We couldn't get along without him nor his sage advice," said President Kari Saccomanno.
What is his favorite bit of advice that he lives by every day? "Don't be a dick."  Something we should all live by!

Congratulations to JP Carver and thank you for all the time you have spent caring for our community through the Rotary Club of Ponderay Centennial Rotary.
The club welcomes new people and or businesses to join and help on its mission improving our community. The club generally meets the first three Tuesdays of the month at 7 a.m. If you would like to learn more about Ponderay Rotary, email PonderayRotaryClub@gmail.com or go online to PonderayRotaryClub.com.
---