Ralph Grunerud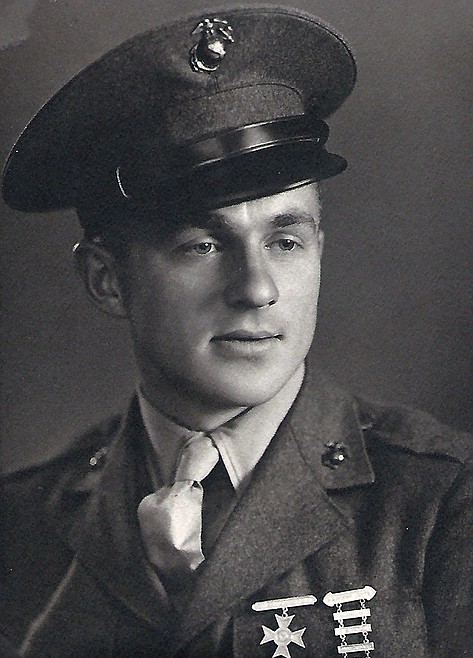 Ralph Grunerud U.S. Marine Corps World War II
(Courtesy photo)
|
November 11, 2021 1:00 AM
Ralph Grunerud was born on May 4, 1919, to Almer and Rosine Grunerud at the family homestead, near Broderick, Saskatchewan, Canada. He was the fourth of four boys and two girls. In 1922, due to drought and crop failures, the family migrated to Bonners Ferry.
Ralph graduated from Bonners Ferry High School in 1937. That fall he enrolled at the University of Idaho to take a dairy short course. Upon completion he was employed by the Idaho Dairy Products Co. of Moscow. Ralph and Jennie Mae Hisel, of Moscow, were married on April 4, 1941.
Ralph enlisted in the United States Marine Corps during World War II, serving in the Asiatic-Pacific Theater. He was wounded during the battle of Iwo Jima. He spent over two months in hospitals at Guam and Pearl Harbor. When he was discharged he returned to active duty. He spent the next year on the island of Saipan. While on Saipan he was awarded the Purple Heart and the Navy and Marine Corps Commendation Medal. When World War II ended, he was given an honorable discharge and returned home to his wife and his old job.
In 1951 they moved to Yakima, Wash. There he enrolled in a two-year electrical course at J.M. Perry Technical Institute. Upon completion they moved to Moses Lake, Wash., where he worked as an industrial electrician.
In 1965 he began working for the state of Washington as a state electrical inspector. They relocated to Colfax, Wash., and later to Pullman, Wash. He retired in 1982.
He was a lifelong member of the Lutheran Church. A life member of the VFW, the DAV and a 50-plus year member of the International Brotherhood of Electrical Workers.
His medals are proudly displayed at the Boundary County Museum.
Recent Headlines
---