POAC presents a musical journey with Barrio Manouche
|
November 16, 2021 1:00 AM
The Pend Oreille Arts Council presents an exciting fusion of world music with Barrio Manouche.
The show will begin at 7:30 p.m., Friday, Nov. 19, at the Panida Theater. There will be a pre-concert reception with complimentary wine at the POAC Art Gallery from 5-7 p.m.
"We are excited to continue our performing arts season with Barrio Manouche," said POAC Executive Director Tone Lund. "We know most people haven't gotten to travel much these past couple of years, so we invite you to come on out and join us for an international, musical journey!"
Barrio Manouche plays what is perhaps the truest definition of "world music," taking their audience on a magical journey, with a unique fusion of cultures and musical backgrounds, an auditory and visual feast like no other. The San Francisco-based acoustic ensemble performs a repertoire of original compositions with an emotionally charged sound that is difficult to classify yet instantly recognizable. The group's international roots shine brightly in their music with members from Spain, Quebec, France, Brazil and California, and their sound is deeply influenced by a wide range of musical traditions. Barrio Manouche has been recognized for its surprise concerts, innovative style, complex technique, and passion for musical improvisations.
"We play music inspired by the place we come from and the places we have lived, those that have come before us, and the nomadic spirit," said band member Javi Jimenez. "We believe that music is a primary form of expression and we use it to describe the world as we see it."
Barrio Manouche will also participate in POAC's Ovations Program with an outreach performance at Sandpoint Middle School earlier in the day.
Everyone is invited to a special pre-show reception 5-7 p.m. at the POAC Art Gallery, 110 Main St., on the first floor of the Music Conservatory Building. Visitors can peruse artwork on display by local artists while enjoying a glass of wine before heading to the Panida for the concert.
"We invite you to kick off your holiday shopping at the POAC Gallery," said visual arts coordinator Claire Christy. "From beautiful stained glass snowflakes and handcrafted jewelry, to original paintings and prints of favorite Sandpoint landmarks from the train depot to the Tervan, local art is the perfect gift for everyone on your list!"
All tickets to Barrio Manouche are $22, available at the POAC Office, online at www.artinsandpoint.org, by phone 208-263-6139, or at 7 p.m. at the door at the Panida Theater on the night of show.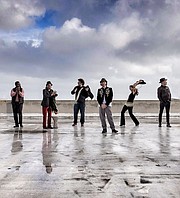 ---