This is it: Sandpoint looks to raise second state championship tonight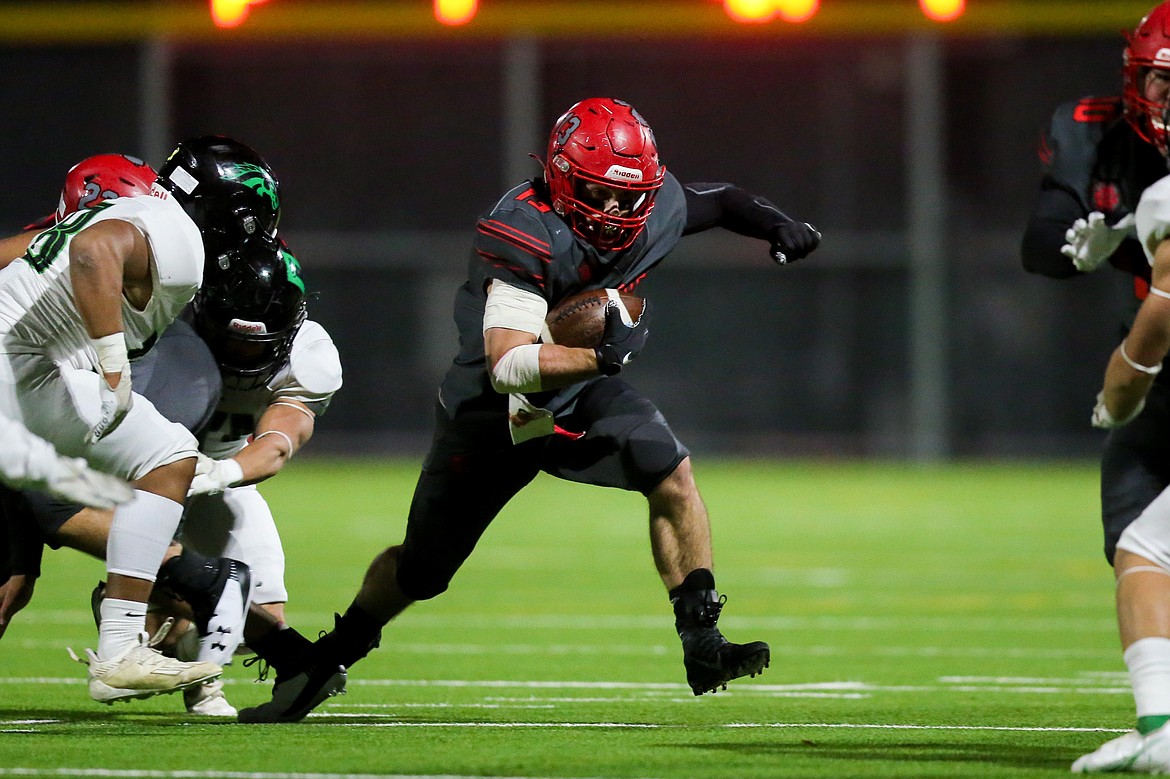 Senior running back Gerrit Cox looks to burst through a hole created by the Sandpoint offensive line during last Friday's 4A state semifinal against Blackfoot at War Memorial Field. Kickoff for tonight's state title game is set for 7 p.m. at the Kibbie Dome.
(Photo courtesy of JASON DUCHOW PHOTOGRAPHY)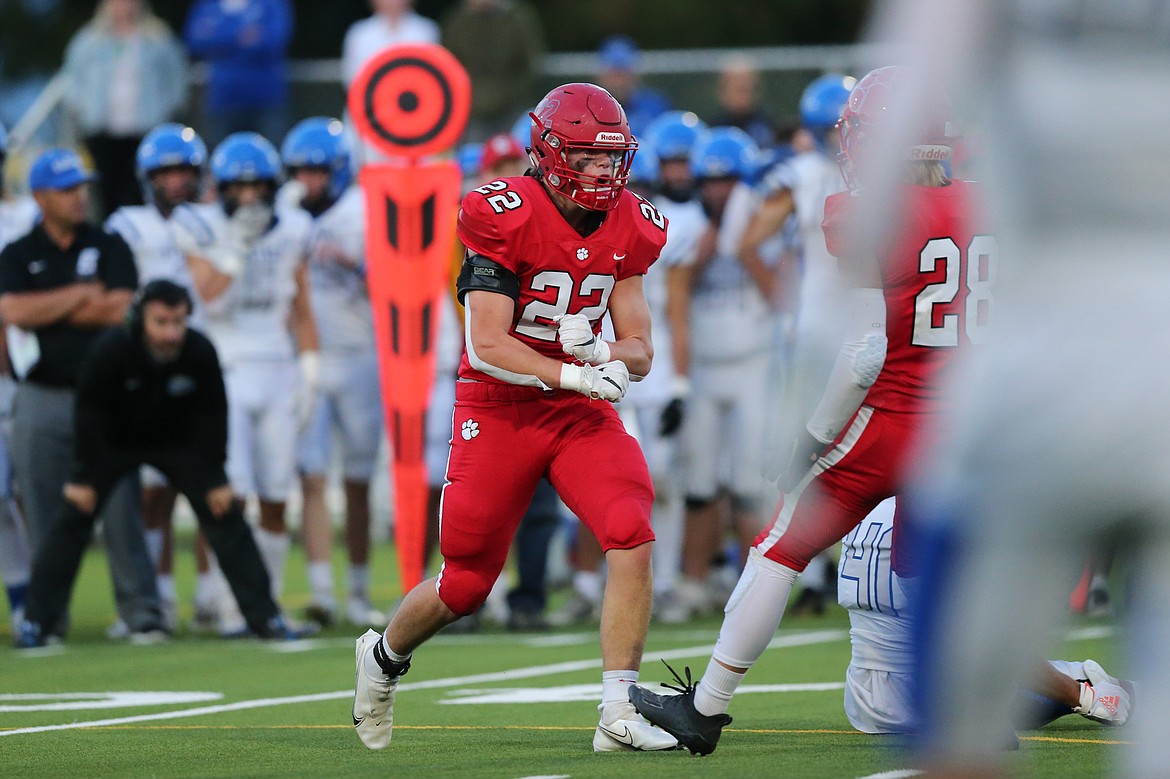 Junior linebacker Wes Benefield celebrates after getting a sack against Coeur d'Alene on Sept. 3 at War Memorial Field.
(Photo courtesy of JASON DUCHOW PHOTOGRAPHY)
Previous
Next
by
DYLAN GREENE
Sports Editor
|
November 19, 2021 1:00 AM
MOSCOW — It's finally here.
Sandpoint's season ends today, they can't go any further. The Bulldogs have reached the mountaintop and only one team stands between them and all the glory.
It will all be settled on the gridiron tonight when Sandpoint (8-2) battles Skyline (8-4) in the 4A state championship game at the Kibbie Dome.
Skyline is the team that knocked the Bulldogs out in the state semis last year. That defeat left a nasty taste in the Bulldogs' mouth and now Sandpoint gets a chance to return the favor and take the defending state champions off their throne — and the team won't be satisfied with anything less.
"Last year, we got robbed a week," junior Wes Benefield. "This is our week for a redemption run."
When the state playoff bracket came out and the top-seeded Bulldogs saw Skyline on the bottom of the bracket as the No. 6 seed, senior Gerrit Cox said the team was already licking their chops about a potential rematch in the state title game — and they got exactly what they wanted.
"We just got all the cards in our favor," he said. "It's nice to get them in the Dome for all the marbles."
Sandpoint's historic run this season will be remembered for years to come. The Bulldogs have overcome injuries to star players and earned comeback victories in their last two playoff games, and now they have a chance to bring home the program's second state title.
Cox said this journey has all the makings of one of those classic sports movies that inspire dreams. The Bulldogs have reached the climax and have the chance to write their own dramatic final scene.
"What we have going right now is better than the movies," Cox said.
This is Sandpoint's fifth state championship appearance over the last 24 years. In 1997, they won it all for the first time. Since, they are 0-3.
In 2003, they lost to Century 15-13. In 2009, they fell 29-20 to Blackfoot. And six years ago, they suffered a 34-21 defeat to Bishop Kelly. The combined deficit of all three of those games — 24. Destiny awaits the Bulldogs on Friday night.
As storied as this journey has been, Sandpoint nearly saw it all come to an end last Friday in the state semis. Trailing Blackfoot 21-14 with the ball on their own 15 and about two minutes left, a state title berth was in jeopardy. But on third-and-10, junior quarterback Parker Pettit connected with Gerrit Cox on a wheel route and he rumbled all the way down inside the Blackfoot 10.
Without that 77-yard play, Sandpoint might not have come back to earn a 29-28 overtime victory. Entering that drive, Cox said the team knew that was one of the plays they could rely on to hit and it did.
"It did feel good to be able to contribute like that especially after the [personal foul] penalty I had the drive before … so I was just hoping to make a play for my team," he said.
Despite being so close to defeat, Cox and Benefield said they never let thoughts of falling one game short of the state championship game for the second straight year creep into their mind.
"There was never really doubt for me," Cox said. "I just had a feeling we'd be able to come back."
At this point in the season, every team is dealing with their fair share of injuries and the Bulldogs are no different. They've lost defensive lineman Will Hurst, safeties Cody Steiger and Koda Hartley, and wide receivers Cody Newhart and Max Frank to injuries.
Somehow, Sandpoint has found a way to overcome all those losses and continue to thrive. That next-man-up mentality is something that was built over those grueling summer months, head coach Ryan Knowles said.
"You have to handle the storm, especially late in the year," he said. "That's why we have so much work to do in the offseason."
Since he came back to his alma mater four years ago, Knowles said he's tried to instill the belief that it will take buy-in from everyone in the program to reach the top, and that's proven to be the case.
"Every team has their nucleus of guys that are all in," he said. "I truly believe, and a coach who I respect very much said this many years ago, 'You win championships with everybody else.' Stars are stars. It's the role players, the depth and the guys that can step up in these situations that are going to win you a lot of games."
With their first and second stringers out, the Bulldogs saw sophomores Kody Brewster and Shane Sherrill step in and split time at free safety last week against Blackfoot. Neither one showed any signs of jitters and Sherrill left his mark on the game, forcing two turnovers. Knowles wasn't surprised by the impact they made.
"Shane had a great game with the two turnovers, I mean that's huge," Knowles said. "It's great to see those guys step up and make plays."
Through three playoff games, the Bulldog defense has forced 10 turnovers. Benefield, the middle linebacker, said the team has emphasized taking away the ball in recent weeks and that's allowed them to really find their groove.
"Our mindset just changed from being all passive," he said, "and we got more aggressive and started getting stuff done."
Benefield leads the team with 118 total tackles. Defensive linemen Levi Balison and Blake Sherrill each have two sacks and Cox, who has seen his playing time at defensive end increase during this playoff run, is tied for the team lead in tackles for loss with nine.
With the injuries at wide receiver, Benefield saw plenty of playing time on offense last week at lead blocker in the wing-T formation, and he even caught a 11-yard pass for a first down. He said he was excited to get his hands on the ball and looks forward to getting more of those opportunities against Skyline.
"It was nice," he said. "I wasn't expecting to get the ball at all … but I'm down for that. I like blocking and then I ran a 5-yard out and got the ball and was like, 'Wow.'"
Lasse Kuhn, Nathan Robere, Connor Hindberg and Luke McCorkle, who also starts at corner, all saw their roles increase offensively last week. Cox said it wasn't easy for the Bulldogs to adjust to life without two of their top receivers, but he was proud of the way everyone came together.
"We were kind of scrambling all week to get whoever was capable in there and everyone was locked in at practice," he said. "I think it just shows how dedicated everybody is to making this run."
Cox has been a beast for the Sandpoint offense all season long. He's run for 1,175 yards and 17 touchdowns and leads the team in receiving yards with 404. Pettit has been a dual-threat all year and his ability to escape disaster could be the difference in Friday's title game. He's thrown for 1,415 yards and 15 touchdowns and rushed for 755 yards and eight touchdowns.
Knowles said he would love to have an offense at full strength for the final bout, but offensive coordinator Jeremy Thielbahr, a 1997 Sandpoint grad who won three state titles at Eastside Catholic in Washington, does a great job maximizing the potential of his players and he expects the Bulldogs to keep things rolling against the Grizzlies.
"I think we are right where we need to be," he said. "The nice thing about our offense is it's multi-dimensional."
Skyline has overcome plenty of adversity in its road to this point as well. The Grizzlies started 1-3 and were struggling offensively, but under the direction of quarterback Lachlan Haacke, a handful of playmakers and a defense that has forced 25 turnovers, the 2020 state champs righted the ship.
Skyline lost a tiebreaker with Blackfoot for the District 6 title and was the highest seeded non-district champion in the 4A state playoffs.
The Bulldogs enter the title game on a seven-game winning streak, and Skyline isn't far behind as winners of five straight. These are two of the hottest teams in the state and something's got to give. Benefield knows a victory won't come without a fight.
"We're not going to walk in there like we own everything, we're going to have to earn every yard," he said.
Last year's semifinal loss to Skyline provided the Bulldogs with plenty of motivation over the offseason, Knowles said, and that hurt still isn't gone.
"It's still fresh enough that I remember the game plan and the plays and everything," he said.
The second half of that game was played in the middle of a blizzard, which created quite the slugfest. The Grizzlies held SHS to 100 total yards in the 20-0 victory, but the conditions will be much different Friday thanks to the friendly confines of the Kibbie Dome.
That game was messy, but it gave the Bulldogs an idea of how they match up against Skyline and Knowles said having that tape to look back on is extremely beneficial.
"We're getting to know Skyline very well," he said. "To be able to compare and contrast who they were last year and who we are this year compared to last year has been very helpful."
Sandpoint took down a pair of District 6 teams (Shelley and Blackfoot) en route to the title game, so Knowles said the Bulldogs have a pretty good idea of the challenge they'll encounter.
"They're from a dang tough conference, I can tell you firsthand," he said. "Coach [Scott] Berger does a great job and runs a great program and it shows in all aspects."
The Grizzlies advanced to the state title game with a 36-31 victory over No. 2 seed Pocatello last Saturday. Skyline fell behind by 11 points, but scored 22 unanswered from the second to the third quarter to gain a firm grip on the semifinal bout.
Haacke completed 22 of 25 passes for 240 yards and three touchdowns for Skyline and wide receiver Kenyon Sadiq reeled in 12 catches for 136 yards and two touchdowns.
The Bulldogs will be keeping a close eye on Sadiq — along with Caden Taggart and Abrahn Silverio.
"They are going to attack the whole field with some prolific players," Knowles said. "Their offensive success doesn't surprise me, they're a well-oiled machine."
This season, Sadiq has 73 receptions for 1,079 and 17 touchdowns. Knowles said the 6-foot-4, 205 pound wideout is a star that deserves all the recognition he's received.
"He's one of the better players in the state," he said. "That's been proven by what he's put on film."
But as talented as Sadiq is, the Bulldogs aren't going to change everything they do defensively for one player, Knowles said, they're going to stick with what got them here — a hard-nosed, opportunistic defense.
Ultimately, Knowles said Friday's game will come down to one thing — execution.
"It's one drive at a time, one play at a time," he said. "All the storylines aside, it really comes down to the 11 boys on the field."
Cox and Benefield both expect to see a sea of red in the stands at the Kibbie Dome and would love to bring a title home for the city of Sandpoint. They both started dreaming about raising a state championship when they were third graders watching the varsity team play. This is their chance to make it a reality, and they plan on seizing the moment.
"It would be an unreal feeling," Benefield said about the possibility of winning it all. "I can't even put words to it."
So far, the Bulldogs are 0-2 in state championship games at the Kibbie Dome and Knowles said they need to leave everything out on the field to rewrite history.
"Making our kids the best version of themselves is ultimately what I think has led us to this point," he said, "and that's all I ask of these guys is to be the best version of yourself on Friday night; play your tails off and show everybody what Sandpoint is all about."
Knowles graduated from SHS in 1997, just a handful of months before his mentor and former coach, Satini Puailoa, and the Bulldogs brought home the program's first state title. Knowles said missing out on that achievement was a tough one to swallow, but that's a big part of the reason why he decided to return to his alma mater — to raise one as a coach.
"To be able to do that as a coach is the next big thing," he said.
Knowles won four Patriot League titles during his time as a coach at Colgate University and was crowned a Big West champion in his playing days with the Vandals. Adding another ring to that collection tonight and bringing Sandpoint back to the top would be special, he said, and something this team would never forget.
"You win a championship, you live that for the rest of your life," he said. "... But nothing will be given Friday night, it will have to be taken, so go out and take it."
Kickoff is set for 7 p.m. at the Kibbie Dome and doors open at 5 p.m. Tickets to the game can be purchased online at govandals.com. Face coverings are required inside the stadium regardless of vaccination status.
If you can't make it, you can listen to the game on AM 1400 KSPT, ROCK 103 (FM 102.9) or rock103fm.com, or watch it on the NFHS Network for $10.99. There is also a gamestream available on IdahoSports.com.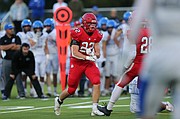 ---