7th grade Future boys secure tourney championship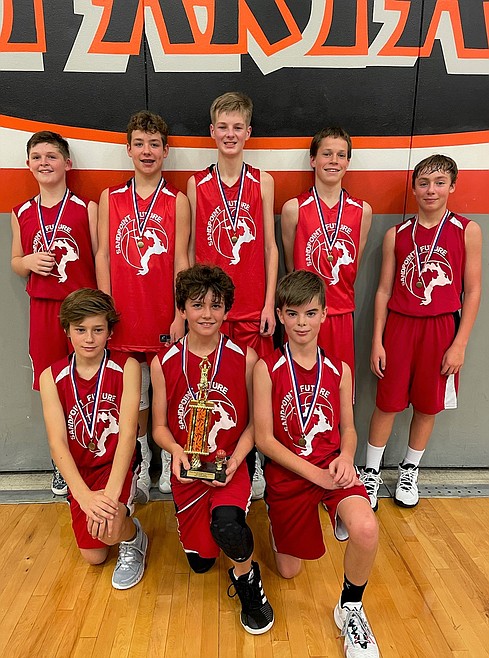 The Sandpoint Future seventh grade boys claimed the title at River City Tournament on Nov. 12-14 in Post Falls. The team went 4-1 during the tournament and capped the weekend with a thrilling championship game against the River City Thunder. Front row (from left): Kohta Fisher, Knox Williams and Andrew Aexel. Back row (from left): Brock Yarbrough, Grady Przybylski, Derrick Chamberlain, Landon Brinkmeier and Logan Iverson.
(Photo courtesy of MAHLE WILLIAMS)
|
November 23, 2021 1:00 AM
POST FALLS — The Sandpoint Future seventh grade boys claimed the title at River City Tournament on Nov. 12-14 in Post Falls.
The team went 4-1 during the tournament and capped the weekend with a thrilling championship game against the River City Thunder. River City beat Sandpoint in league play earlier in the week and again during the round-robin portion of the tournament. But the Future were eager for a rematch in the championship and they battled to a 15-15 tie with River City at the half.
In the second half, Sandpoint broke it open. They took a 31-18 lead after three quarters and cruised to a 42-32 victory in the fourth quarter.
"The boys played with confidence, hustled on both ends of the court and didn't back down when faced with adversity," head coach Steven Chamberlain said.
---