Bulldogs blow past Bonners Ferry for first win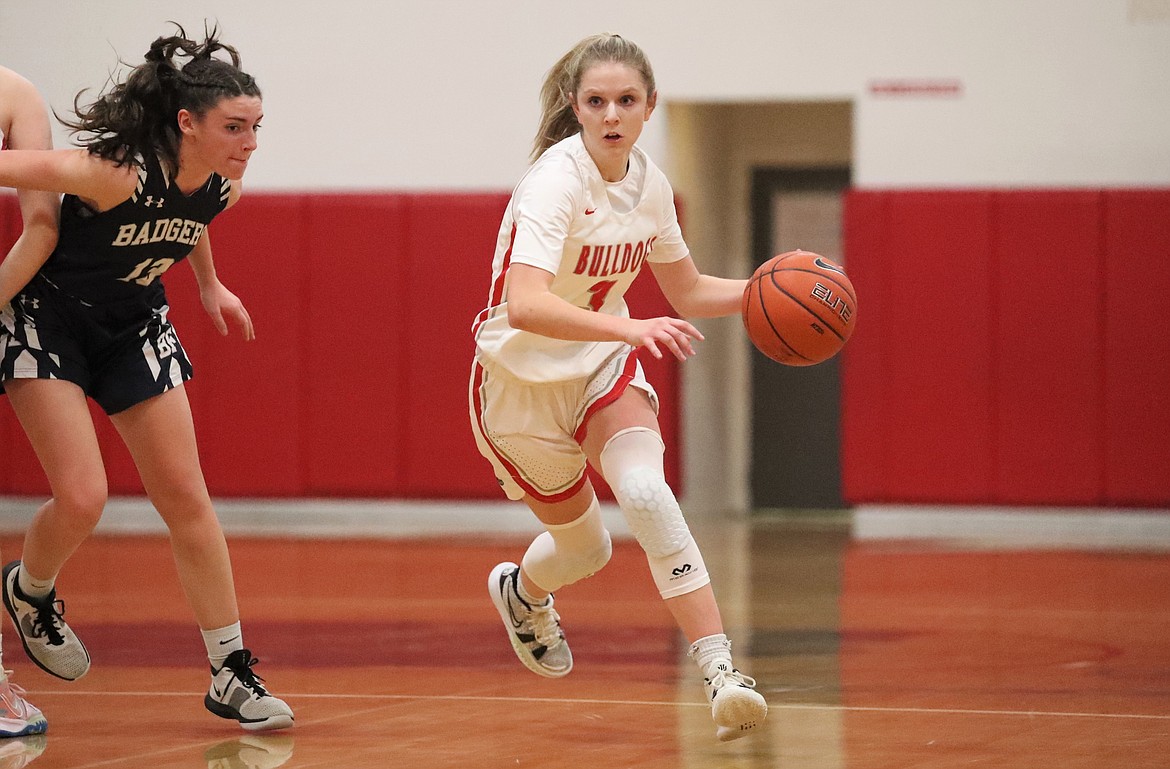 Junior Daylee Driggs looks to attack during Tuesday's game against Bonners Ferry at Les Rogers Court. She led the team with 15 points.
(Photo by DYLAN GREENE)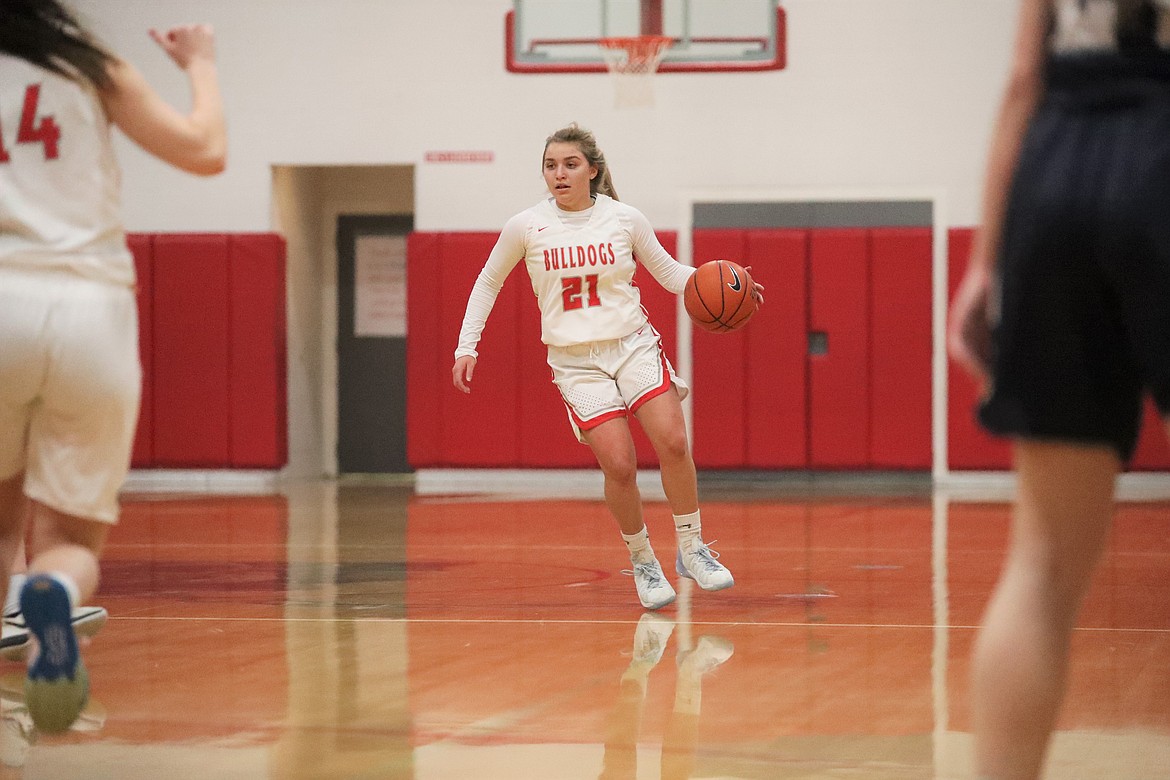 Destiny Lyons brings up the ball and looks to make a play on Tuesday.
(Photo by DYLAN GREENE)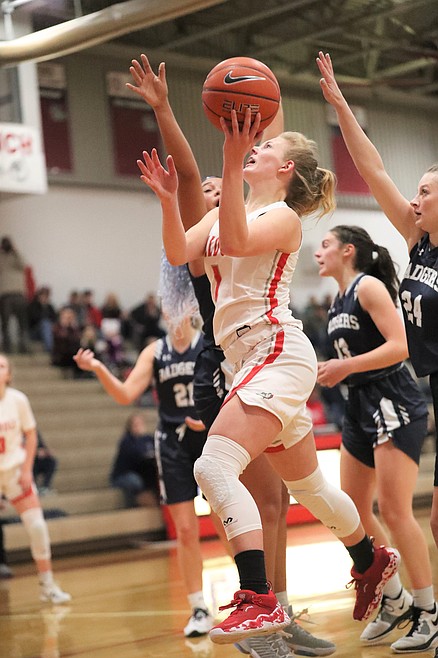 Junior Kelsey Cessna attacks the basket and converts a layup on Tuesday.
(Photo by DYLAN GREENE)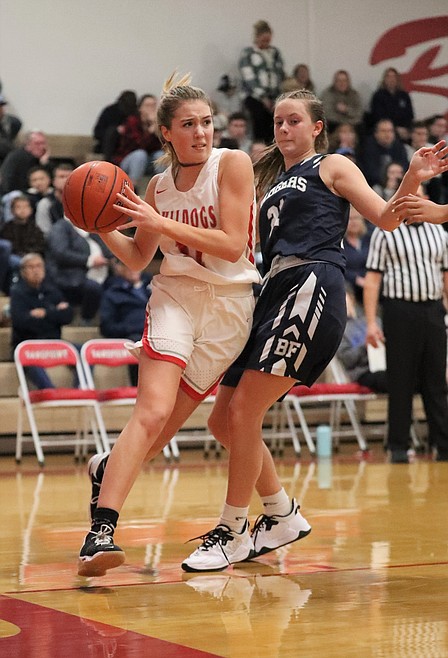 Senior Tru Tomco drives baseline and looks to pass the ball to a teammate on Tuesday.
(Photo by DYLAN GREENE)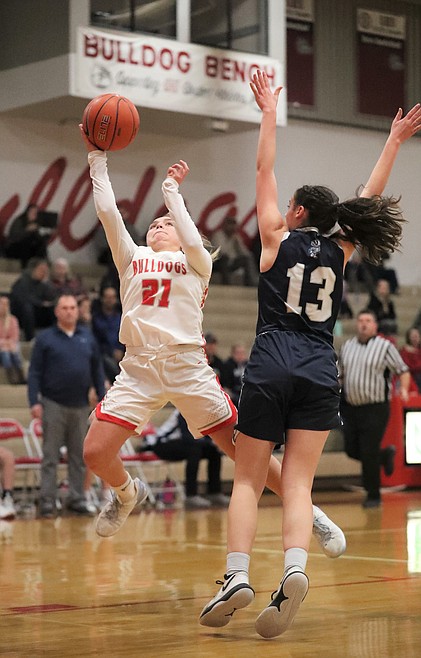 Destiny Lyons rises up to attempt a shot on Tuesday.
(Photo by DYLAN GREENE)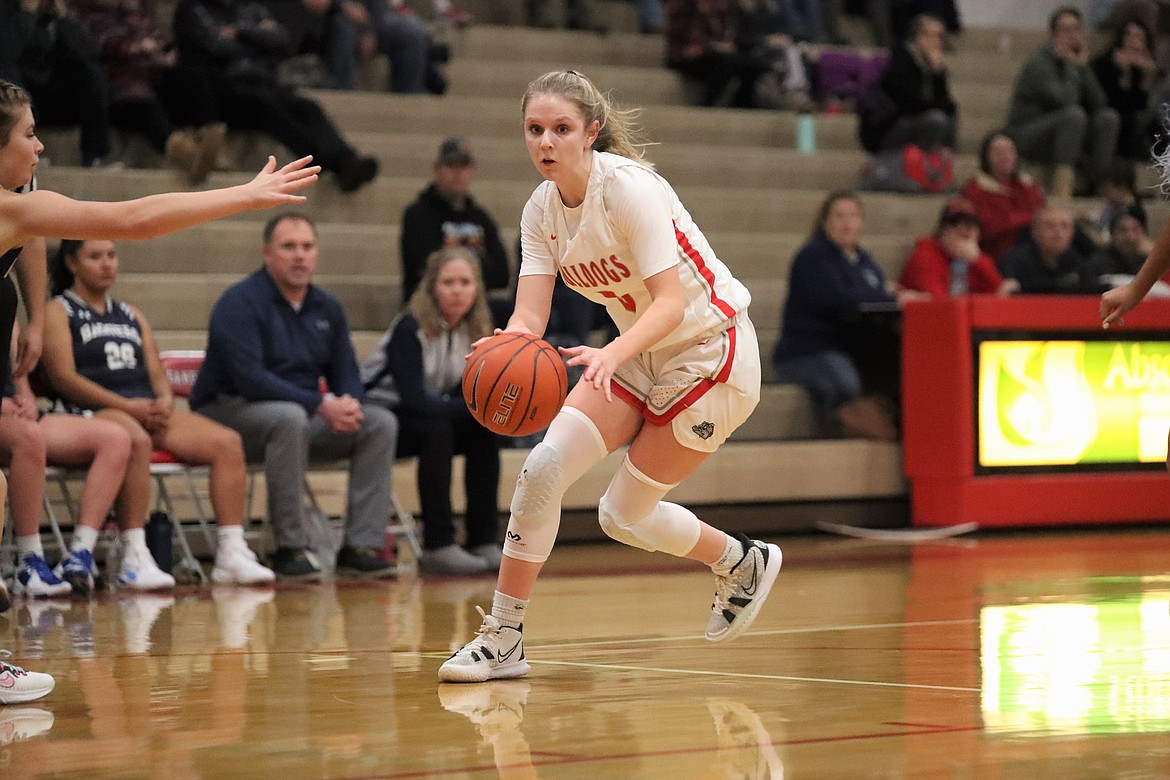 Daylee Driggs drives toward the paint on Tuesday.
(Photo by DYLAN GREENE)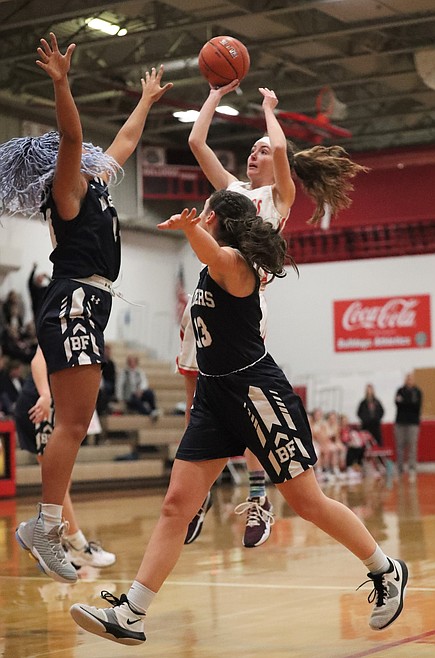 Junior Anna Reinink rises up to attempt a jumper over a Bonners Ferry defender on Tuesday.
(Photo by DYLAN GREENE)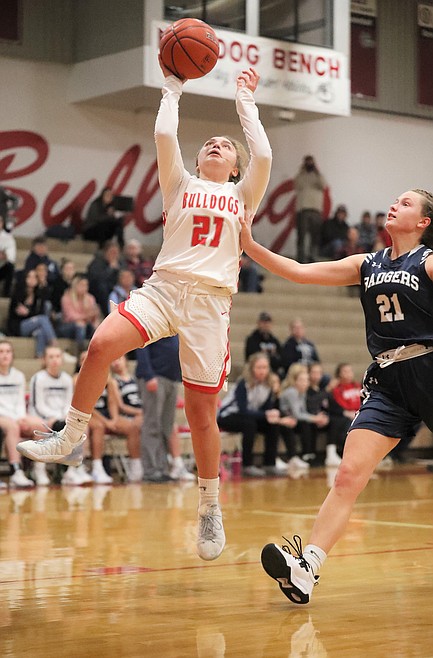 Senior Destiny Lyons elevates to convert a layup Tuesday at Les Rogers Court.
(Photo by DYLAN GREENE)
Previous
Next
by
DYLAN GREENE
Sports Editor
|
November 23, 2021 11:36 PM
SANDPOINT — The Sandpoint girls basketball team wasn't going to be denied its first victory of the season.
The Bulldogs feasted on 21 turnovers from Bonners Ferry and a late first-half surge in a 50-34 win over the Badgers on Tuesday night at Les Rogers Court.
With about 1:30 left in the first half, Sandpoint clung to a 17-16 advantage. Bonners Ferry was giving the Bulldogs everything they could handle and the Badgers looked determined to keep things tight all night long. But Sandpoint had other plans.
The Bulldogs closed the first half on a 7-1 run thanks to a 3-pointer from Kelsey Cessna and a bucket from Destiny Lyons off a steal from Daylee Driggs. The closing moments of that second quarter proved to be key for the Bulldogs. Without that cushion at the break, head coach Will Love said the game could have been much different.
"That was huge," he said. "I was really happy with how we were playing and then our defense just turned it up a level. You could see that Bonners was kind of wearing down from that pressure that we kept putting on and so that was a huge momentum shift for sure."
The Bulldogs fell behind 5-0 early in Tuesday's contest and didn't score their first points until about halfway through the opening quarter. Sandpoint turned the ball over 10 times in the first half, with eight coming in the first quarter.
"A lot of the things were self-inflicted I thought," Love said about the early mistakes. "Bonners was doing a great job, credit to them. They are a very good team and they are going to be a great team by the end of the season, but I just thought we weren't patient on offense."
However, Sandpoint was able to overcame the sluggish start once they stepped back and dissected the Badgers' defense. Love said the Bulldogs stopped forcing things and spread the floor to open things up offensively.
Sandpoint struggled putting the ball in the basket in its season opener at Lake City last Thursday and for parts of Saturday's game at Lewiston, but they found a groove against the Badgers. The Bulldogs started to shake off some of that early-season rust.
"I think the kids started to understand that a big part of our offense is the spacing element," Love said, "and as soon they kind of put that spacing out there, then we were getting good looks to the basket."
The Bulldogs built a lead as large as 22 points in the second half due in large part to their aggressive defense that has become a staple of the team over the last few years. Sandpoint gave Bonners Ferry no room to breathe and Love said he has really seen his team raise their defensive intensity since the first quarter of the Lewiston game.
"I'm proud of them because we were actually mixing man and zone tonight," he said.
Coming in, Love challenged his team to hold Bonners Ferry to four 3-pointers. The Badgers only knocked down two.
Driggs had quite the night and filled up the stat sheet. She led the team with 15 points, seven assists, six steals and five rebounds.
"She played a heck of a game," Love said.
Cessna scored 13 points, Lyons tallied 8 points, two assists and two steals and Anna Reinink finished with 5 points and four rebounds. Sofia Platte added 4 points and six rebounds.
"We showed a lot of improvement," Love said.
Asha Abubakari led Bonners Ferry (2-1) with 15 points and 12 rebounds.
Sandpoint (1-2) hosts St. Maries at 7 p.m. next Tuesday.
Bonners Ferry 8 9 7 10 — 34
Sandpoint 11 13 17 9 — 50
BONNERS FERRY — Pluid 3, Blackmore 9, Abubakari 15, B. Brayer 5, Sumpter 2, A. Bayer 0.
SANDPOINT — K. Cessna 13, De. Driggs 0, Da. Driggs 15, Reinink 5, P. Cessna 0, Tomco 5, Owens 0, Lyons 8, Platte 4.
---