Land purchased for Good Samaritan Inn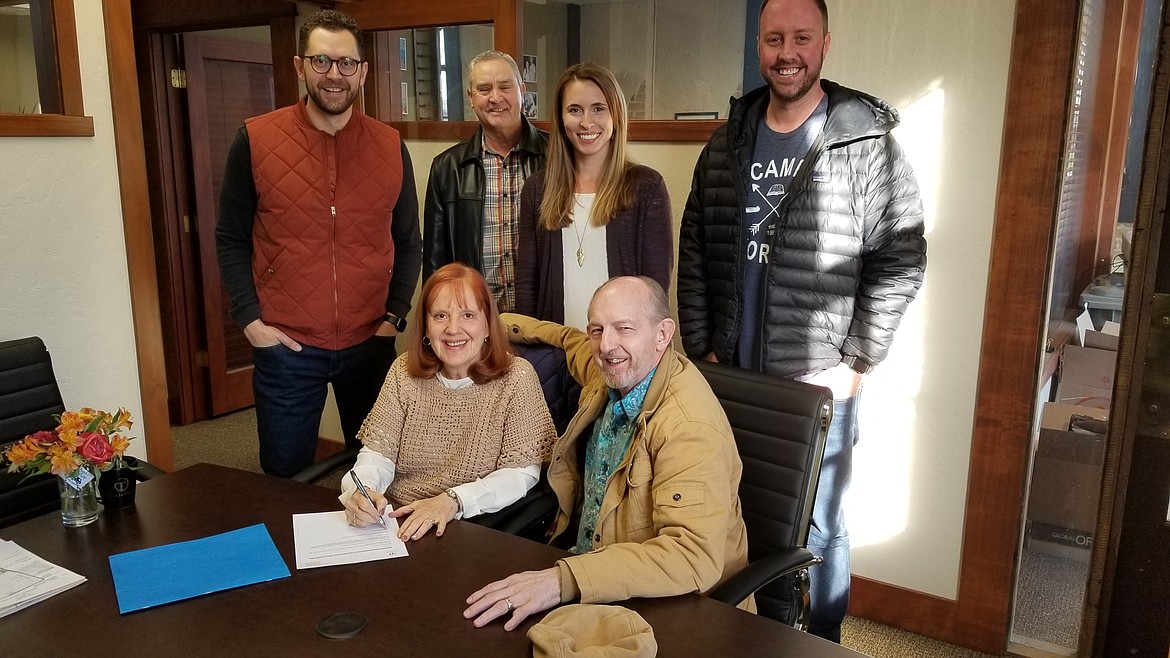 From back left, Kyle Bostock- Board Vice Chairman, Barry Johnson- Board Member, Whitney Pappas- Real Estate Agent, Chad Morrison- North Summit Church. Seated, Cathy and Jon Pomeroy, Co-directors of Helping Hands Healing Hearts. The non-profit closed on two-acres of land on Triangle Drive in Ponderay for a future transitional living facility for those without homes in Bonner County.
(Photo courtesy HELPING HANDS HEALING HEARTS)
by
ANNISA KEITH
Staff Writer
|
November 24, 2021 1:00 AM
▶️ Listen to this article now.
PONDERAY — A local nonprofit cleared the first milestone in a project aimed at helping the community's homeless.
Helping Hands Healing Hearts closed earlier this month on two acres of land on Triangle Drive in Ponderay for the future Good Samaritan Inn.
The facility is designed to be a transitional living facility for those who need a stable place to live while integrating themselves into stable work and housing.
"It's a dream come true," said founder Cathy Pomeroy. "We are hoping that we will help the homeless become employed and get their own place. And anytime you help the homeless, it helps the community."
Helping Hands Healing Hearts was founded by Pomeroy and her husband, Jon, who run the non-profit out of the back of the church they pastored, Sandpoint Church of God.
"About 17% of the clients are homeless when they come to the center," Cathy Pomeroy said. "[We] tried putting people in the parsonage, garage, a room in the church, but none
of that is adequate. [We] came to the conclusion that [we] just need to build a transitional living center."
On Nov. 17, the non-profit closed on two acres of land after a six-month process of securing zone changes and permits.
The overall budget for the project is currently $2 million, and the next step is fundraising for an architect. They plan to raise that amount through donations, grant funding, and volunteers donating their time and abilities to the project.
"We want it to be a community project," she said.
Pomeroy's hope is to break ground early next year.
"We would love to break ground in the spring. Even if it's just to build the foundation," she said. "We're very thrilled. This was a big hurdle to cross and we're very happy."
To provide assistance with the project, call Helping Hands Healing Hearts at 208-263-6378 on Tuesday through Thursday afternoons. Monetary donations can be mailed to Sandpoint Church of God at 221 S Division Ave., or processed electronically at qhsandpoint.org/give.
---