Schweitzer announces Friday opening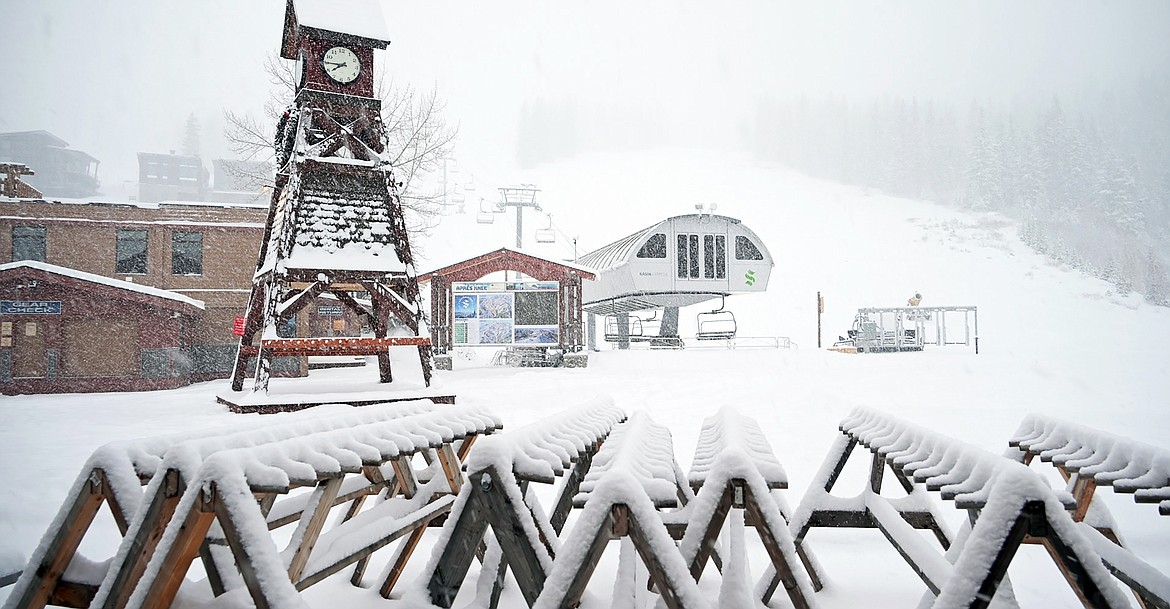 Snow blankets the village area at Schweitzer and continues to fall as the resort received 5 inches of snow as it prepares to open on Friday, Nov. 26.
(Photo courtesy DIG CHRISMER/SCHWEITZER)
|
November 25, 2021 1:00 AM
SANDPOINT — It was a little touch-and-go in the first few weeks of November, but thanks to new snow, cold temps, and modern technology, Schweitzer will kick off the ski season on Friday, officials announced Monday.
"Weather certainly can be nerve wracking this time of year," said Tom Chasse, Schweitzer CEO and president. "We felt really good about the early snow we had the first couple of weeks of November and then we had a warming trend, melting all of Mother Nature's efforts. Luckily for all of us, the temps have dropped, we've picked up some natural snowfall, and we're making snow on Midway, giving us the chance to get out there and wake up our leg muscles."
For opening weekend, Schweitzer plans on operating the Basin Express chairlift for winter 2021/22 season passholders and Schweitzer lodging guests only until more terrain and lifts are added as snow conditions permit, resort officials said in a press release.
"With the limited terrain right now, we will only allow access to our dedicated passholders and lodging guests booked through us," Chasse said. "But the long-range forecasts are looking favorable so hopefully we can add more to the mix sooner rather than later."
With the resort's new RFID radio-frequency identification technology, season passes or lift tickets are located onto a card with an RFID chip inside. Skiers and snowboarders can then put their card in a side pocket, by itself to avoid damage or interference. The pocket should be located between shoulder and waist height.
Skiers and snowboarders can then skip the ticket window and head straight for the lift with access gates reading and opening for all valid cards, Schweitzer officials said on the resort's website.
Schweitzer will have day lift tickets available for purchase onsite for midweek days between Nov. 29 and Dec. 14, 2021. However, weekends until Dec. 17 will be for passholders and Schweitzer lodging guests only until snow conditions change and more terrain and lifts are in operation.
"This can change quickly so we appreciate everyone's flexibility as we wait for the whole mountain to open," Chasse said.
Information: www.schweitzer.com.
---