'Tots' dedicated to helping others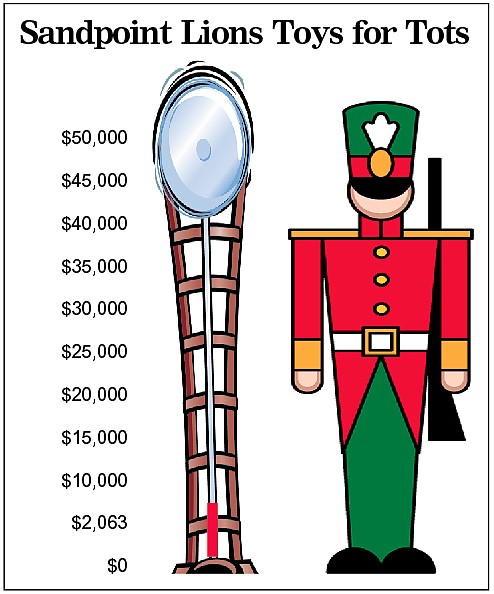 by
CAROLINE LOBSINGER
Staff Writer
|
November 28, 2021 1:00 AM
SANDPOINT — You may have heard the story of young Abraham Olagbegi.
A year ago, the now-13-year-old learned that without a bone marrow transplant, he might die from the rare blood disorder he'd been born with.
This year, Abraham has undergone a successful transplant and is doing well following intense chemotherapy. The teen is out of the hospital and the outlook is promising, according to the website Good News Network.
While undergoing treatment, Abraham learned that he'd been selected to receive a Make-A-Wish gift. Instead of asking for a trip to Disneyland or a fancy video game, Abraham asked the charitable organization help him feed the homeless.
Abraham and his mom, Miriam, were on their way home from yet another doctor's visit, when he told his mom what he wanted to do.
He wanted to show thanks he told her, the website said, for his good fortune and pass it on to others.
While she gently asked him if he was sure, whether he would want a video game system or something for himself instead.
Abraham was sure.
The family was already helping feed the homeless before Abraham's diagnosis, WLTB reported. The teen saw his wish as a way to continue his mission to help others, to do what his parents taught him.
"It was always a good thing to do, and that's what I grew up doing that," Abraham told WLBT-News 3. "So, I go back to my roots to do what I was taught to do."
So, for the past three months, Make-A-Wish's Mississippi chapter, local organizations and businesses showed up to help Abraham and his family feed up to 80 homeless people in Jackson's Poindexter Park.
In fact, the groups have committed to helping Abraham on the third Thursday of each month to hold an event to distribute donated goods to folks in need.
"When the homeless people get the plate, some of them would come back and sing to us and thank us," Abraham told CBS News. "It just really feels good, it warms our hearts—and my parents always taught us that it's a blessing to be a blessing."
And while Abraham gets weekly checkups to monitor his condition, he told WLBT that he faith in his future. "I am a person of hope," he added.
Like Abraham, the Sandpoint Lions Club is all about helping others. They want every youngster in the community to have a merry Christmas.
To date, the annual Christmas drive has raised $2,063.
The goal for this year's Toys for Tots campaign is $50,000 — the same as it has been in past years. The Lions make the most of the money by bargain shopping, and with the assistance of generous local businesses.
Sign-up applications are available at the Bonner Community Food Bank and on the door of the Lions Den at 609 S. Ella Avenue right by the caboose in Lakeview Park. They can also be downloaded at bit.ly/3x7md4o.
Registration started Nov. 1 and ends on Dec. 17. Those filling out the application are reminded to be sure to fill out both pages and return your application promptly.
As last year, the application form includes information for parents to detail a wish list for each of their children as well as their favorite color and TV show or movie. This allows the Lions to fulfill as many wishes as they can.
Donations for Toys for Tots can be dropped off at the front desk at the Bonner County Daily Bee, 310 Church St., from 8 a.m. to 5 p.m., Monday through Friday. You can also drop off donations at Columbia Bank's Sandpoint branch, 414 Church St., or at the Ponderay branch, 300 Bonner Mall Way; and at the Ponderay and Sandpoint Starbucks.
Donations may be mailed to the Sandpoint Lions Club, Box 414, Sandpoint, ID 83864.
Donations made by check are preferred. Be sure to include a note with your check indicating that it is a Toys for Tots donation. If you wish to make an anonymous donation, please include a note.
If the donation is being made in someone's name, be sure to also include a note.
Information: Sandpoint Lions Club, 208-263-4118
Recent Headlines
---