SHS students earn Elks academic honors
|
October 5, 2021 1:00 AM
Sandpoint Elks Lodge No. 1376 has announced students of the month for Sandpoint High School for September.
Selected were Piper Frank and Colton Moore.
To be selected as an Elks student of the month, students must meet guidelines for character, citizenship, service, scholarship and leadership.
The Elks actively seek to reward youth through many different programs including scholarship awards, Hoop Shoot tournaments, dictionary donations to third graders, drug awareness programs and many other activities and programs.
Sandpoint Elks Lodge award thousands of dollars in scholarships and local students also received an additional money in state and national Elk scholarships. The Elks are the third largest awarder of scholarships in the county and several students have received large scholarships from the state and national level of Elks.
Piper Frank
The daughter of Clint and Molly Frank, Piper Frank is a senior at Sandpoint High School.
She has participated in varsity soccer throughout her high school career, as well as track her junior year. She is a dedicated student athlete with a GPA of 4.14. Frank said she hopes to go to college somewhere where she can enjoy the outdoors and take a step away from our technology-based society while pursuing a degree in outdoor education and business.
Colton Moore
The son of Chad and Tricia Moore, Colton Moore is a student at Sandpoint High School with a GPA of 4.111.
Colton has been the editor-in-chief of the Monticola or high school yearbook program for two years and was design editor prior. He and his team achieved the award for outstanding visual concept at the Pacific Northwest Yearbook Conference, held at Eastern Washington University. 
After school, Moore works as a graphic designer for a local promotional products company, Turner Promotions. He also does freelance graphic design work and enjoys photographing local events and games, such as: PAFE Summer Gala, Walk for Hope, and many Sandpoint High sports and student life events. Colton also volunteered his time last year to produce the Veterans Day video, which replaced the assembly usually held in the gym at SHS. 
Post high school, Colton plans to further his education at a four-year university studying business administration and marketing.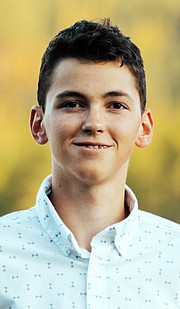 ---