Clark Fork falls short in clash with Tigers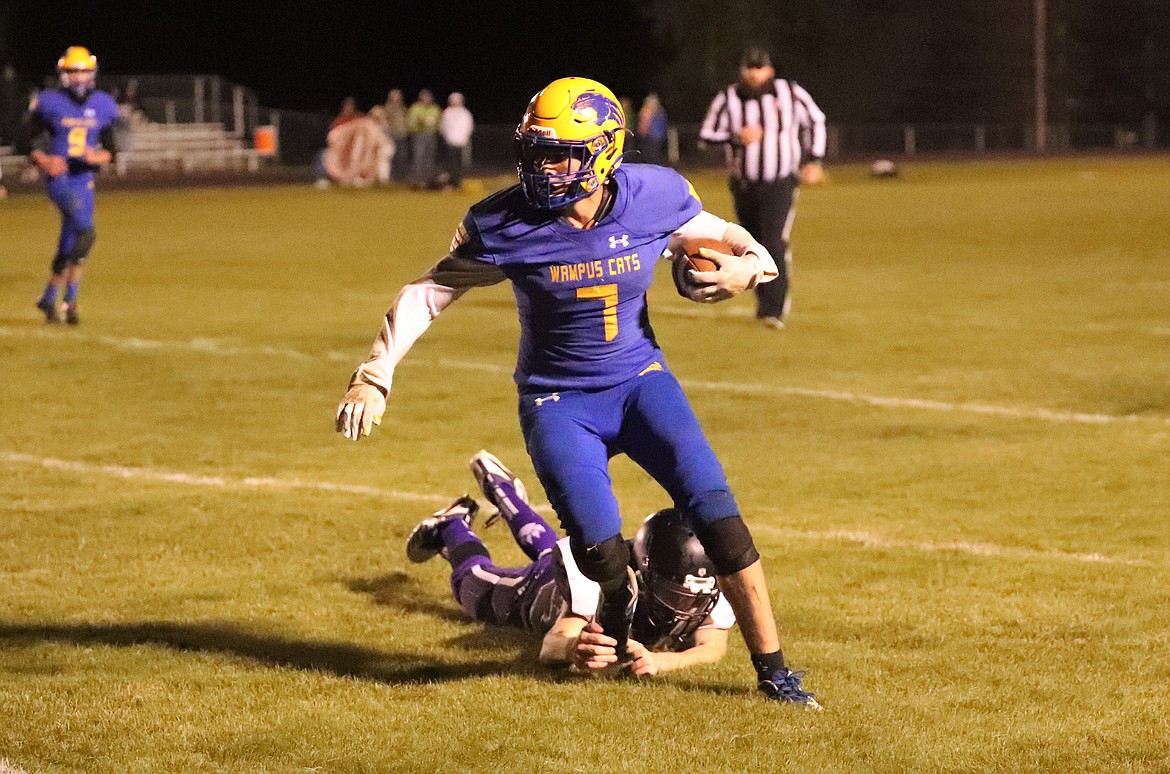 Senior Carter Sanroman breaks a tackle and runs into the end zone from 4 yards out during the fourth quarter of Friday's game against Mullan. St-Regis.
(Photo by DYLAN GREENE)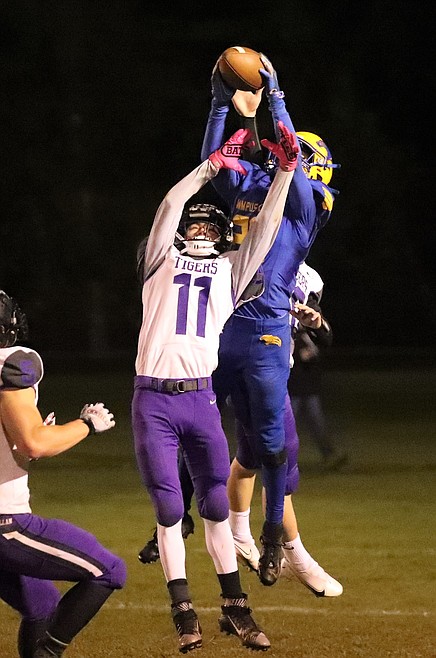 Senior Sam Barnett rises up to make a catch over a pair of Mullan defenders on a trick play during the second quarter of Friday's game.
(Photo by DYLAN GREENE)
Previous
Next
by
DYLAN GREENE
Sports Editor
|
October 9, 2021 12:04 AM
CLARK FORK — Clark Fork showed a lot of heart in a 62-22 loss to Mullan-St. Regis on Friday night.
Trailing 50-6 at the half, the young, scrappy Wampus Cats never gave up and continued to fight for every yard as the clock ran.
Clark Fork found the end zone twice in the second half and outscored the Tigers 16-12.
At halftime, head coach Brian Arthun talked to his team about playing with some pride in the final two quarters and leaving it all out there — and the Wampus Cats certainly did that.
"I was proud of the guys and just the way they battled and fought back," Arthun said.
Once again, the Wampus Cats got off to a slow start and that came back to bite them against one of the top ranked teams in 1A Division II. They trailed the Tigers 36-0 with just over four minutes left in the first half.
"We just got to start getting a better start," Arthun said. "Against a team like this, it's a pretty tall task."
With the victory, Mullan-St. Regis secured the North Star League title and a berth to state.
In the first matchup between these two teams on Sept. 24, the Tigers won 68-8.
"We put up way better of a fight this game, which shows the kids are improving," Arthun said.
With 3:55 left in the second quarter, senior Sam Barnett returned a kickoff 76 yards for a touchdown.
"I was super happy for him," Arthun said about the play. "He's one of those hardworking kids that comes to practice every day and he's got some decent wheels ... He's a warrior and just a real good, tough kid."
In the fourth quarter, Carter Sanroman found the end zone twice, adding to his already impressive senior season.
Arthun said he's a special player.
"He's a great leader first and foremost," he said. "The biggest thing about him is he's such a competitor. He does not like to lose and he's got the heart of a champion, and it's contagious to the rest of the team."
Junior Antonio Mayorga and Barnett both ran in two-point conversion attempts.
Clark Fork (4-2, 0-2 NSL) hosts Kootenai at 11:30 a.m. next Saturday.
Mullan-St. Regis 14 36 6 6 — 62
Clark Fork 0 6 0 16 — 22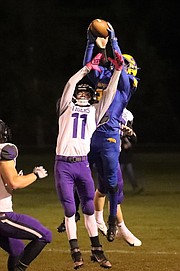 ---