Girls take home first, boys place third in final tune-up before regionals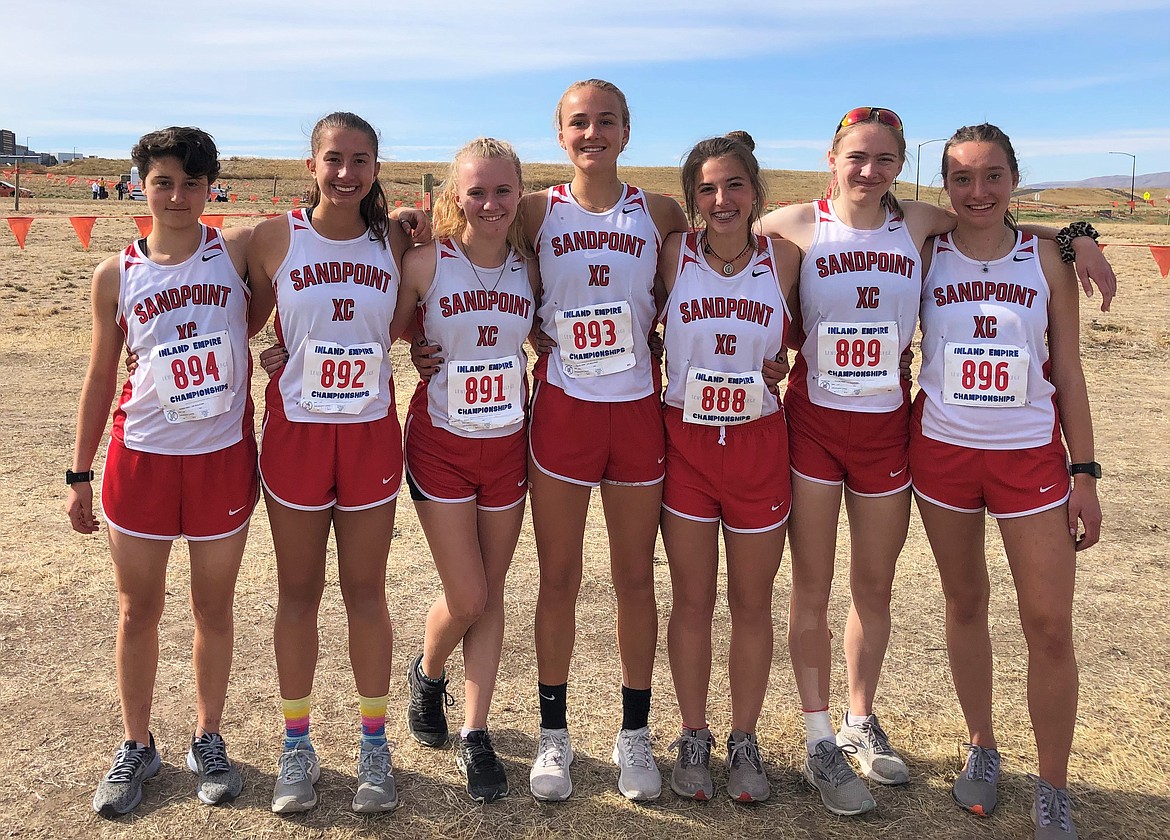 The seven varsity runners on the first place Sandpoint girls cross country team pose for a photo. Pictured (from left): Kora Converse, Payton Betz, Mackenzie Suhy-Gregoire, Ara Clark, Megan Oulman, Jillian Primgaard and Terra Bode.
(Courtesy photo)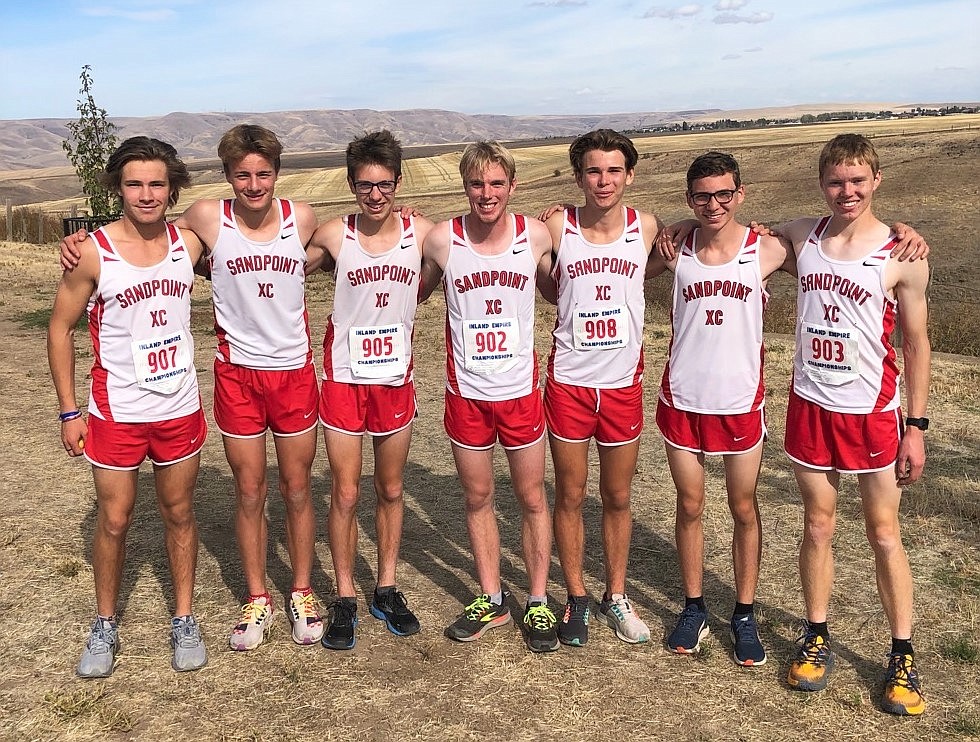 The Sandpoint boys cross country team poses for a photo. Pictured (from left): Slate Fragoso, Kasten Grimm, Daniel Ricks, Ben Ricks, Trey Clark, Nathan Roche and Caleb Roche.
(Courtesy photo)
Previous
Next
by
DYLAN GREENE
Sports Editor
|
October 10, 2021 5:00 PM
LEWISTON — Bulldog cross country was flying on Saturday at the Inland Empire Challenge.
Perfect weather conditions, a fast course and a shorter distance allowed Sandpoint's runners to post blistering times on the Lewis-Clark State College Cross Country Trail.
"The combination together produced some shockingly fast times," girls cross country coach Angie Brass said.
The race wasn't quite a 5K, falling about 95 meters short of that mark, according to boys cross country coach Matt Brass. However, even if it was a 5K, all the Bulldogs that competed on Saturday likely would have smashed their personal bests by a wide margin. It was an impressive showing across the board in the final regular season meet for SHS.
The Sandpoint girls used the speedy course to capture their second team title at a meet this season, while the boys secured third out of 17 teams.
The girls took home first despite being without one of their top five runners — sophomore Grace Rookey. The Bulldogs learned Rookey wouldn't be making the trip to Lewiston just a day before the meet, but they persevered thanks to some powerful performances from seniors Megan Oulman and Mackenzie Suhy-Gregoire, and juniors Ara Clark and Payton Betz.
"The girls were really happy to see that result," Angie said. "That top four slayed it again. They ran gritty and really took advantage of what was given to them as far as the course and the day, and they went after it for sure."
Heading in, the Bulldogs were hoping to get two runners inside the top 10 and they executed that objective to perfection as Ara grabbed fifth with an 18:34 and Oulman placed seventh with an 18:58.
Suhy-Gregoire just missed out on a top-10 finish, earning 11th with a 19:11. Betz nabbed 15th with a 19:43.
Betz typically runs side-by-side with Rookey, but she was missing her pack partner on Saturday. Angie said they talked about what it would be like competing without Rookey, and Betz just went out and crushed it.
"It was an impressive day for her," Angie said. "She was just visualizing Grace there with her … It's always better to have a teammate, but it's good to know you can do it when you have to do it by yourself."
Junior Kora Converse captured 53rd (21:37), senior Jillian Primgaard took 55th (21:44) and sophomore Terra Bode placed 65th (22:03) out of 92 runners to round out the seven varsity runners for Sandpoint. It was Bode's first varsity race.
"She took the opportunity and did well," Angie said.
The girls finished 15 points ahead of second-place Blackfoot and 23 points in front of fourth-place Bishop Kelly. Blackfoot and Bishop Kelly placed fifth and sixth respectively at state in 2020, while the Bulldogs took ninth.
Angie said it was nice to get a feel for how her team stacks up against some of the schools from southern Idaho and see how much of a jump her girls have made since last fall.
"It's always good to race against someone we potentially could see at state," she said. "It doesn't happen very often with our northern meets, so it was definitely something we took advantage of."
In the girls junior varsity race, Devin McDaniel secured third, Tiffany Brown grabbed fourth and Madison Hall earned seventh. Angie said the JV girls set the tone for the rest of the team with their performances.
"Devin and Tiffany did well in the JV race," she said. "They worked together the entire time and really had strong races … That was probably their best race."
The Bulldogs are feeling pretty good about where they stand heading into regionals.
"We're just working on getting quicker in the back end of our varsity so we can have a unit that's strong," Angie said.
Matt was hoping to see the boys rise to the challenge down in Lewiston and they certainly did. They took third behind Bishop Kelly and Blackfoot and finished 13 points ahead of league rival Moscow.
"It was a great day," Matt said.
Entering the meet, Matt wanted his team to be aggressive from the start and focus more on racing than shooting for specific times, and the Bulldogs heard that message loud and clear.
"They went out aggressively, but smart from the line and they did a good job holding their places," he said.
Senior Ben Ricks led the way, placing 12th with a 16:01 and sophomore Nathan Roche was right behind him in 13th (16:03). Junior Slate Fragoso still wasn't quite at 100% and senior Trey Clark was feeling a little under the weather, but both battled through the adversity to take 20th (16:18) and 24th (16:27) respectively.
Sophomore Kasten Grimm made a huge jump on the Bulldogs' top four runners, earning 36th with a 16:47. It was only his second race on varsity, and Matt said Grimm is really starting to put it all together.
"It was a mentally tough race out of him," he said. "It was the best I've seen him race."
Senior Caleb Roche was right on Grimm's heels, finishing 39th with a 16:49. Sophomore Daniel Ricks brought home 49th out of 117 with a 17:14.
The JV boys collected the team title, edging out Moscow by 27 points. Fletcher Barrett, Jimmy Cornelius, Klein Fragoso and Anders Eastley all placed inside the top 10.
"They were mentally in the race the entire time," Matt said about the JV squad. "It didn't seem like there were any parts where they weren't focused on positions, who was in front of them, who was trying to chase them and what they were trying to accomplish."
The fight for the regional title on the boys side is real, and Moscow and Sandpoint have been neck and neck all fall. In just over a week, the two teams will finally duke it out and Matt has been happy about the progress the Bulldogs have made throughout the season, especially on Saturday.
"I think that we saw what we wanted to see from our kids and Moscow to get a good execution plan in place for the regional meet," he said. "I think it's ultra competitive and both teams are running really well. I think that what we did [Saturday] confidence-wise puts us in a good place to feel like we can compete well."
The Bulldogs will compete in the 4A Region 1 championships at 10 a.m. on Thursday, Oct. 21, at Farragut State Park. The boys and girls will both be seeking their ninth straight regional title.
RESULTS
VARSITY
BOYS
TEAM SCORES — 1, Bishop Kelly 32. 2, Blackfoot 44. 3, Sandpoint 105. 4, Moscow 118. 5, Lewiston 139. 6, Logos 213. 7, Lake City 238. 8, Post Falls 247. 9, Asotin 251. 10, Timberlake 286. 11, Coeur d'Alene Charter 309. 12, Columbia 331. 13, Northwest Christian 349. 14, Bonners Ferry 368. 15, Lakeland 409. 16, Garfield-Palouse 429. 17, Troy 457.
SANDPOINT RESULTS — 12, Ben Ricks, 16:01. 13, Nathan Roche, 16:03. 20, Slate Fragoso, 16:18. 24, Trey Clark, 16:27. 36, Kasten Grimm, 16:47. 39, Caleb Roche, 16:49. 49, Daniel Ricks, 17:14.
GIRLS
TEAM SCORES — 1, Sandpoint 74. 2, Blackfoot 89. 3, Logos 96. 4, Bishop Kelly 97. 5, Moscow 136. 6, Lewiston 143. 7, Lake City 145. 8, Coeur d'Alene Charter 223. 9, Garfield-Palouse 239. 10, Bonners Ferry 259. 11, Timberlake 283. 12, Clearwater Valley-Kamiah 311.
SANDPOINT RESULTS — 5, Ara Clark, 18:34. 7, Megan Oulman, 18:58. 11, Mackenzie Suhy-Gregoire, 19:11. 15, Payton Betz, 19:43. 53, Kora Converse, 21:37. 55, Jillian Primgaard, 21:44. 65, Terra Bode, 22:03.
JUNIOR VARSITY
BOYS
TEAM SCORES — 1, Sandpoint 24. 2, Moscow 51. 3, Lewiston 60. 4, Lake City 110. 5, Post Falls 129. 6, Timberlake 148.
SANDPOINT RESULTS — 3, Fletcher Barrett, 17:35. 4, Jimmy Cornelius, 17:44. 7, Klein Fragoso, 17:52. 9, Anders Eastley, 17:54. 11, Michael Hall, 18:08. 19, Keane Haesle, 18:32. 24, Isaac Babin, 18:39. 30, Will Jordan, 19:00. 33, Isaiah Hagstrom, 19:07. 45, Ethan Barcklay, 19:58. 57, William Dotson, 20:21. 58, Torin Haesle, 20:25.
GIRLS
SANDPOINT RESULTS — 3, Devin McDaniel, 22:05. 4, Tiffany Brown, 22:07. 7, Madison Hall, 23:49. 25, Alice Davison, 26:39.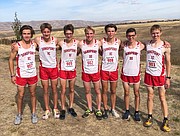 ---