Lady Cats clinch top seed to districts with four-set win over Mullan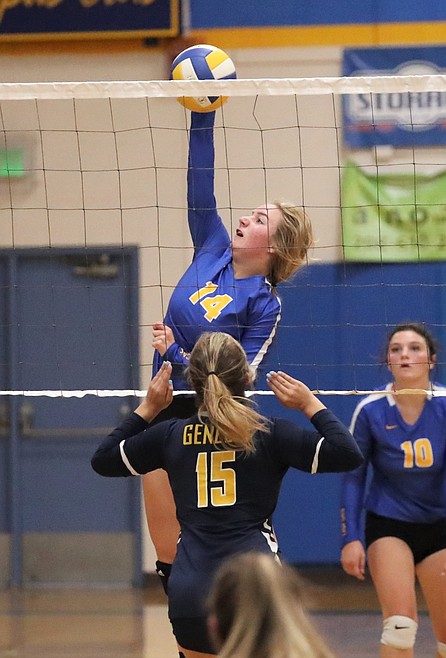 Senior Katelyn Matteson rises up for a kill during a home match against Genesis Prep on Sept. 16.
(File photo by DYLAN GREENE)
|
October 12, 2021 11:13 PM
MULLAN — Clark Fork volleyball secured the No. 1 seed to the 1A Division II District 1 tournament next week with a four-set victory over Mullan on Tuesday night.
The Lady Cats won 25-10, 20-25, 25-15, 25-8.
The win allowed Clark Fork to complete a season sweep of the Tigers and improve to 3-0 in North Star League play.
Last fall, the Lady Cats split matches with Mullan and the Tigers won a virtual coin toss tiebreaker for the No. 1 seed to districts.
Head coach Michelle Valliere said it felt good to clinch the top seed to districts on Tuesday.
"I'm glad that we locked that up and we didn't let Mullan take a match from us like they did last year," she said. "It's nice going in with a little bit of that security and hopefully it boosts our confidence a little."
Despite the victory, Valliere felt like her team wasn't crisp against Mullan. In her eyes, they were just off.
"We started off good," she said. "We came out there ready to play and then in the second game I don't know what happened ... We just weren't really ourselves."
Katelyn Matteson tallied 11 aces and two blocks, Paige Valliere finished with 15 assists, Eloise Shelton had five kills and Caiya Yanik added five kills and seven digs.
"That fourth set our serving was really good and we kind of just ran away with it there," Valliere said.
Clark Fork (10-6) hosts Noxon at 6:30 p.m. Thursday for Senior Night. The Lady Cats will play in the district championship game next Thursday and can wrap up a perfect season in league play with a victory over Kootenai on Saturday.
---