Schools join lawsuit against Juul e-cigarette company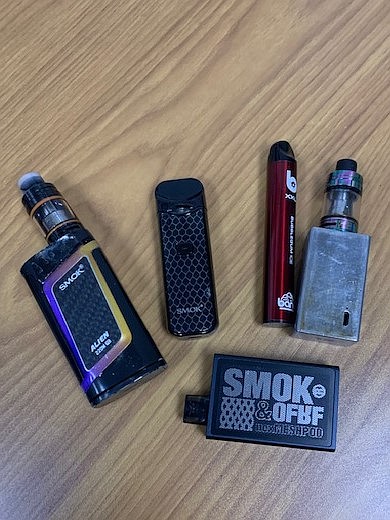 Vapes and e-cigarettes of all shapes and sizes confiscated at West Bonner County School District.
(Courtesy Photo by School Resource Officer Chris Davis)
by
EMILY BONSANT
Hagadone News Network
|
October 12, 2021 1:00 AM
▶️ Listen to this article now.
BONNER COUNTY — Both Bonner County school districts are among those who joined a class action lawsuit against Juul Labs, Inc., an e-cigarette and vaping company.
West Bonner County School District attorney before the Sept. 15 board meeting reached out to the Superintendent Paul Anselmo about the Juul lawsuit due to the risks e-cigarettes pose to students, the superintendent said. There is no risk to the district joining the lawsuit and the district is not required to pay any attorney fees, Anselmo said of the district's decision to join the lawsuit.
It is an opportunity to regain funds lost by upholding the "nicotine-free" policy at the district's schools, said Anselmo, noting that vaping is different from cigarettes.
"And it is not always tobacco being used," said WBCSD Board Trustee Drew McLean, who is also Priest River Police chief. "Sounds like several hundred school districts are jumping on this."
While Anselmo had filled out the questionnaire necessary to join the lawsuit, he waited for the board to pass a motion to formally join the lawsuit. That took place at the Sept. 15 meeting, with board members saying that vaping is a national and local problem which impacts student health and the disciplinary operation of the district. They passed the motion unanimously to join the lawsuit as a plaintiff against Juul.
Also joining the class action lawsuit was the Lake Pend Oreille School District, which moved to take part at its Sept. 28 board meeting.
"We don't know what the monetary outcome would be for plaintiffs in this lawsuit," said Superintendent Tom Albertson. "Every school district has had this opportunity to join the suit."
He said that administrators at the middle and high school level have advocated for the funds from the lawsuit to go to educating students about the dangers of vaping. Unanimously the board agreed to join the lawsuit.
Juul is an American electronic cigarette company that aims to be a "smoking alternative." Their products are one-time use cartridges and can be bought at e-cigarette retailers or gas stations.
Juul and other e-cigarette lawsuits claim vaping led to seizures, serious lung injuries or disease and strokes, said Drugwatch.com. Many vaping lawsuits claim that high nicotine levels in e-cig fluids or Juul pods led to e-cig addiction, possibly worsening the health dangers for people who have used Juul and other electronic cigarettes.
The U.S. Surgeon General has said there is an "e-cigarette epidemic among youth." Most e-cig lawsuits have been filed by young adults or parents of underage children who were unaware of the side effects of vaping.
The lawsuit against JUUL Labs, Inc alleged that JUUL encouraged smokers to switch over to e-cigarettes based on false representation that they are less addictive than regular cigarettes. Juul e-cigarettes contain the same amount of nicotine as cigarettes and can be adapted to contain even more, said ClassActions.org. The lawsuit alleges that the company's youth-centered advertising on social media used sweet flavors and bright colors to market Juul to teens rather than engaging in youth prevention efforts.
Vapes and e-cigarettes work by heating either liquid or crystalline nicotine into an inhalable vapor, according to eclassactions.com. These nicotine products are sold in a variety of flavors, including fruity or candy-like combinations, which critics claim are meant to appeal to teens and non-smokers.
Early devices were larger and looked more like an electronic version of an old fashioned pipe. Now vapes and e-cigarettes can be bought in all sorts of shapes and sizes and can be disguised to look like USB drives, pens, or highlighters or other items to conceal from parents or teachers.
ClassAction.org said according to the lawsuits, many adults and youths who used Juul e-cigarettes are now facing the effects of addiction to nicotine, a carcinogen associated with "cardiovascular, reproductive, and immunosuppressive problems." The lawsuits allege vaping products like Juul can result in chronic obstructive pulmonary disease (COPD) and can affect neurological development in youths, said ClassAction.org.
Recent Headlines
---