SHS volleyball swept by Moscow again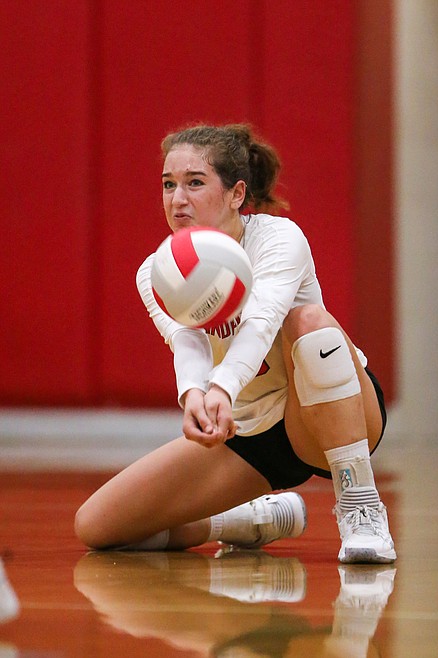 Senior Lauren Breuner gets down for a dig during a match against Lewiston on Oct. 5 at Les Rogers Court.
(Photo courtesy of JASON DUCHOW PHOTOGRAPHY)
|
October 12, 2021 11:12 PM
MOSCOW — Sandpoint volleyball was swept by Moscow on Tuesday night for the second time this season.
The Bulldogs fell 25-14, 25-9, 25-17.
"All three of our teams just didn't make a great recovery from getting off the bus and playing hard," head coach Karen Alsager said.
Audrey Sheffler finished with 21 set assists and two blocks, Emma Brown tallied 19 digs, Tori Pelkey had a team-high six kills, Livia Owens added five kills and two blocks, and Lauren Breuner served two aces.
"Lauren Breuner passed well on serve receive," Alsager said.
The Bulldogs have been connecting well with their middle hitters lately, and that trend continued against the Bears.
Alsager said her team is still playing with a lack of confidence.
"We just made errors we didn't need to make," she said.
Sandpoint (3-11, 1-6 IEL) hosts Lakeland at 7 p.m. Thursday for Senior Night. It's their final regular season match.
The Hawks swept SHS last Thursday and the Bulldogs are hungry for some revenge. Alsager said the team will be focusing on improving their attack from the outside during Wednesday's practice.
"We're going to come in and work hard [Wednesday] and see if we can give Lakeland a little bit of a fight," she said.
The Bulldogs have locked up the No. 3 seed to the 4A Region 1 tournament next week. SHS will head to Lakeland or Moscow for the loser-out game at 6 p.m. next Tuesday.
---