Spartans drop shootout thriller to St. Maries at districts
Priest River's Zachary Engelson, right, and St. Maries' Connor Wolfe vie for the ball Monday at the 3A District 1-2 boys soccer tournament at The Fields at Real Life in Post Falls.
(Photo by MARK NELKE/HAGADONE NEWS NETWORK)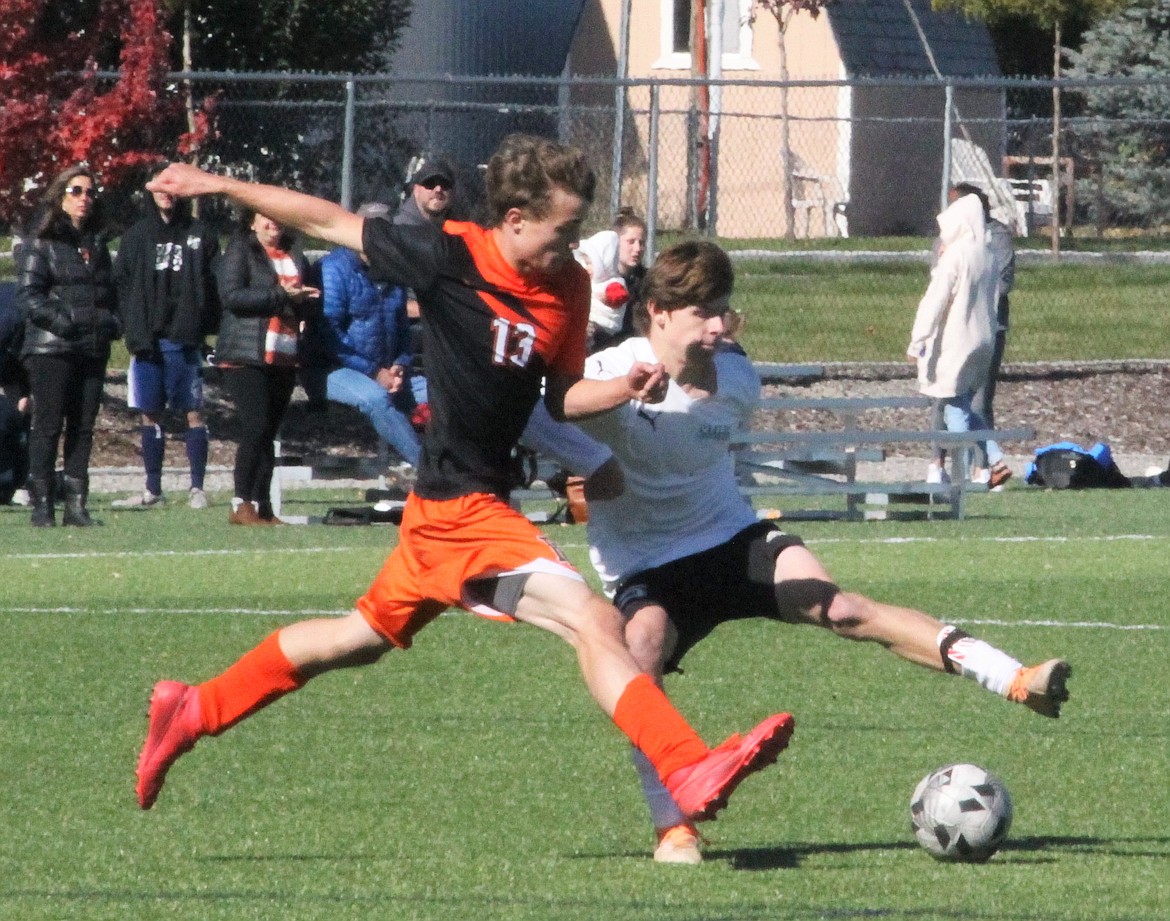 Erik Deem of Priest River and Lance Hamblin of St. Maries vie for the ball during Monday's match.
(Photo by MARK NELKE/HAGADONE NEWS NETWORK)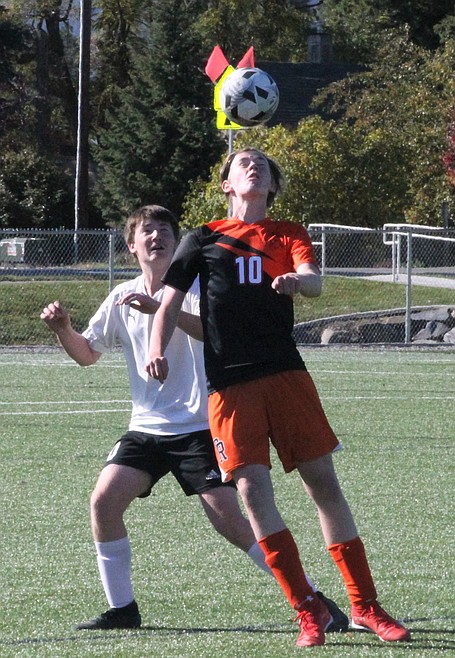 Priest River's Shane Gamber tries to settle a high-bouncing ball with a St. Maries defender nearby during Monday's match.
(Photo by MARK NELKE/HAGADONE NEWS NETWORK)
Previous
Next
|
October 12, 2021 3:30 PM
POST FALLS — Priest River boys soccer saw its season come to a heartbreaking end on Monday.
The fourth-seeded Spartans fell to No. 5 seed St. Maries in the seventh round of a shootout in the first round of the 3A District 1-2 tournament at The Fields at Real Life Ministries.
"Overall, a great season," head coach Daryl Hall said, "we just couldn't finish it where we wanted."
The Lumberjacks opened the scoring in the ninth minute and Priest River responded just a few minutes later when senior Bradley Gleason headed the ball in for a score.
About halfway through the second half, senior Shane Gamber scored a penalty kick goal to give the Spartans a 2-1 lead. The Lumberjacks came right back just a minute later to tie the match at 2-2.
The score remained the same at the end of regulation and after two scoreless 10-minute overtime periods, the match went to a shootout.
Priest River went first in the shootout, and buried its first four PKs. St. Maries missed its fourth PK, but the Spartans were unable to capitalize on an opportunity to win the match on their fifth PK. The Lumberjacks scored on their fifth PK to move the shootout into sudden death.
Both teams missed their first PKs in sudden death and then the Spartans missed wide right on their second attempt. That gave St. Maries a chance to win it, and Silas McGuire chipped a shot over the top of Priest River goalkeeper Luke Butler to end the thrilling match.
Priest River finishes the season 7-8.
St. Maries' last match prior to Monday was Sept. 18, a 5-0 loss to Bonners Ferry. The Lumberjacks (4-10) had to cancel or forfeit all of its matches for nearly three weeks due to COVID-19 issues within its school.
Butler made six saves in net for the Spartans, who showed tremendous improvement this fall after struggling to field a full team for most of last season.
Priest River wrapped up regular season play on Saturday with a commanding 5-1 victory at Grangeville.
Gamber netted four goals in the match, senior Erik Deem scored the other goal, and Gleason, Tyler Engelson and Carson Hughes each tallied an assist.
The Spartans outshot the Bulldogs 28-12 to complete the season sweep.
First half — 1, SM, Grant Compton (Corbin Scheer), 9:00. 2, PR, Bradley Gleason, 14:00. Second half — 3, PR, Shane Gamber (penalty kick), 63:00. 4, SM, Compton (Lance Hambliln), 64:00. Shootout — SM, Compton, Connor Wolfe, Hamblin, Cade Martin , Silas McGuire. PR, Erik Deem, Gleason, Bowen Fegert, Gamber.
Shots on goal — SM 11, PR 23.
Saves — SM, Greyson Sands 19; PR, Luke Butler 6.
First half — 1, PR, Shane Gamber (unassisted), 5:00. 2, PR, Erik Deem (Tyler Engelson), 8:00. 3, PR, Gamber (Bradley Gleason), 17:00. 4, PR, Gamber (unassisted), 21:00. Second half — 5, PR, Gamber (Carson Hughes), 57:00. 6, G, Dalton Dennis (unassisted), 78:00.
Shots — PR 28, G 12.
Saves — PR, Luke Butler 6; G, unknown 12.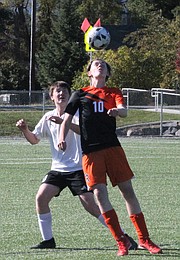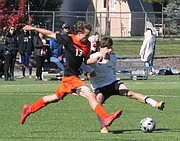 ---