NHHS responds to care, staffing challenges
|
October 13, 2021 1:00 AM
NEWPORT – In the wake of Washington's vaccine mandate, Newport Hospital and Health Services is implementing necessary staffing strategies to maintain services on Oct. 18 and beyond.
"The mandate dictates our process internally and while our goal is to not release any staff members, we will be forced to make some adjustments," Tom Wilbur, NHHS chief executive officer, said. "Ultimately, we firmly believe vaccines offer the safest and timeliest path out of this pandemic. It has wreaked havoc on our lives, economy, and community and completely overwhelmed our healthcare delivery system on multiple occasions over the last 21 months."
Although direct patient care areas take highest priority, any staff released will create a challenge to the district at a time when staffing across all departments is a concern, Wilbur said. Retaining current healthcare staff remains at the forefront of district administrative and governance discussions.
The district's board recently approved and enhanced both incentive and market adjustments for nearly every staff member.
"We review market wage surveys every year and this year is no exception," Joseph Clouse, NHHS Chief Human Resource Officer, said. "It has been difficult with the industry staffing shortages and competing with larger hospital systems offering pandemic influenced wages in the region."
District staffing challenges may require a shift of staff members to other departments, which could temporarily impact the availability timelines for certain services, NHHS officials said. As a critical access hospital, Newport Community Hospital's first mission is to provide essential care to rural individuals who may
otherwise have difficulty accessing emergency or acute care services. Potential shifts could impact outpatient appointments in various departments.
"Our teams are very committed to the community and serving the health of our population," Theresa Hollinger, RN, Chief Nursing Officer said. "They are working extra shifts, varied shifts and trying to cover needs while we recruit. Because we are somewhat remote, it can be challenging to attract new staff.
Hollinger said all of the hospital's nurses and clinical teams are stepping up to take care of patients. While delays may happen, they said the community's kindness and patience are appreciated as they work through the challenges.
"The staff and providers of Newport Hospital and Health Services have always been and continue to be resilient, resourceful, and committed to patients and residents in our care," Christina Wagar, chief operating officer, said. "This pandemic is a once-in-a-century experience, and our staff stepped up in amazing ways during this challenging time to keep that commitment alive. "
Kim Manus, chief financial officer, said the SBA PPP Loan Forgiveness Program and CARES Act funding has provided a means to maintain the financial stability of the District.
"The district's ability to react rapidly to market staffing challenges has been a critical factor to our daily operations," Manus said. "We are not alone. Rural hospitals across Washington are stepping outside the box to find innovative solutions to come up with staffing solutions to meet the care needs of their communities. Temporary staffing is hard to find and the cost is exorbitant. Newport Hospital and Health Services has offered pay incentives to utilize our internal staffing resources, as much as possible. We are thankful for our providers and staff. They have pulled together as a team, going above and beyond, to keep the community healthcare safety net in place during this difficult time."
Information: www.NewportHospitalAndHealth.org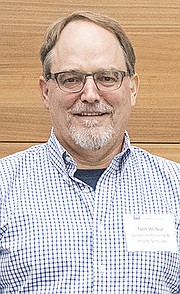 ---