Priest River volleyball drops two league matches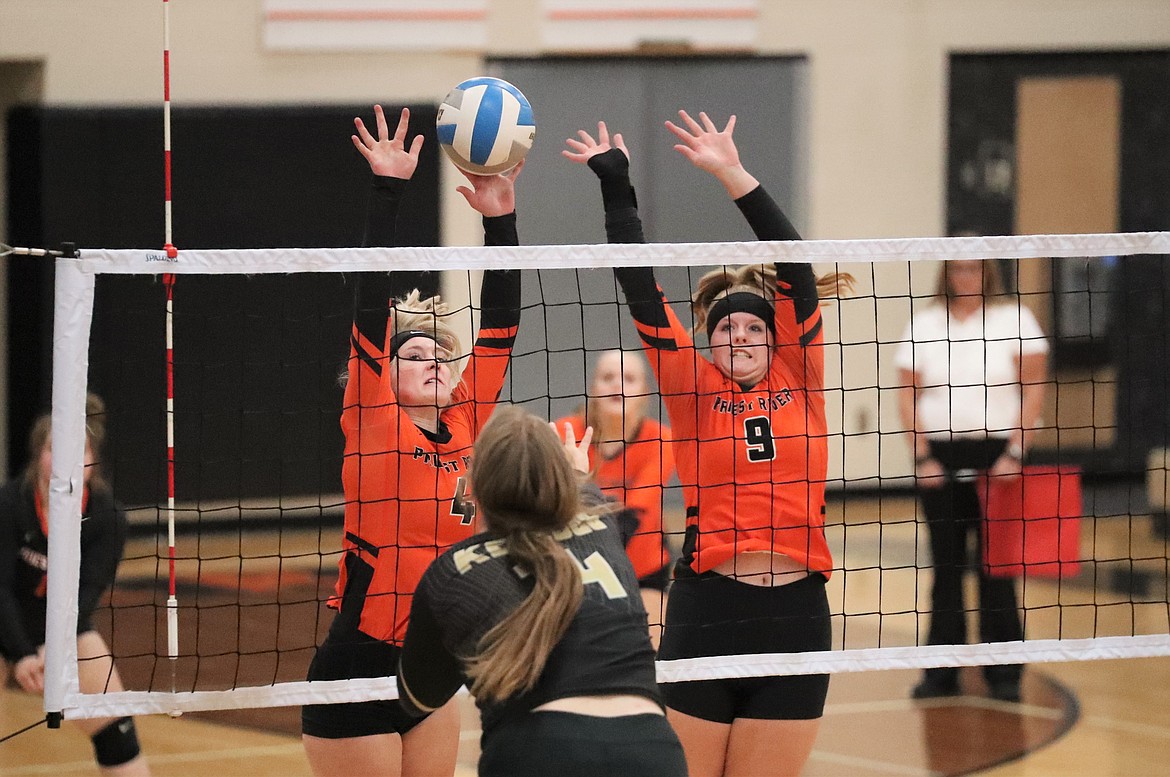 Ona Rose (left) and Allyson Barton rise up for a block during last Wednesday's match against Kellogg at PRLHS.
(Photo by DYLAN GREENE)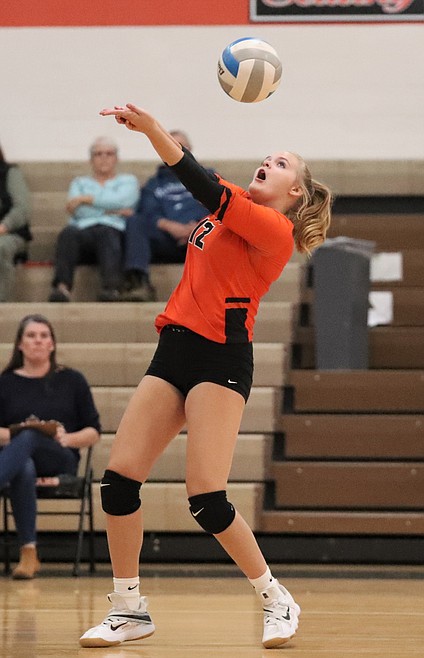 Addisen Kingery returns a ball during last Wednesday's match against Kellogg.
(Photo by DYLAN GREENE)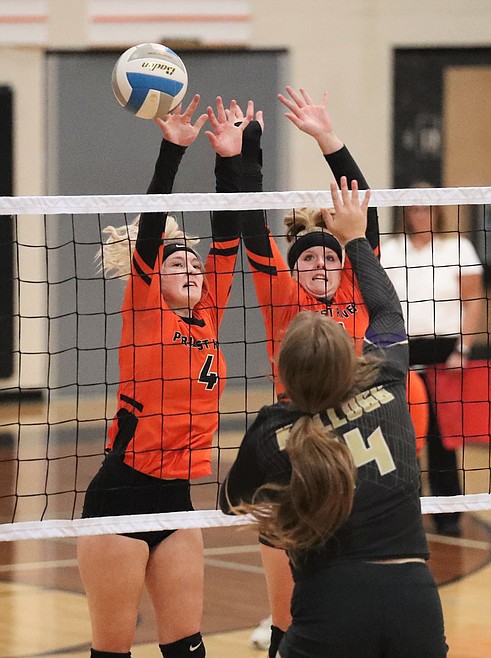 Ona Rose (left) and Allyson Barton elevate for a block against Kellogg.
(Photo by DYLAN GREENE)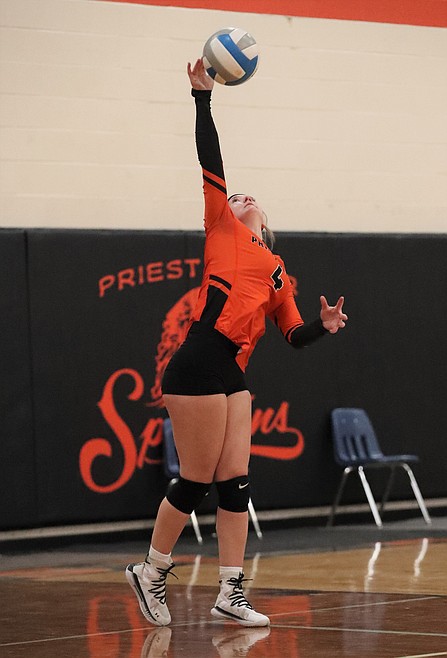 Ona Rose serves last Wednesday.
(Photo by DYLAN GREENE)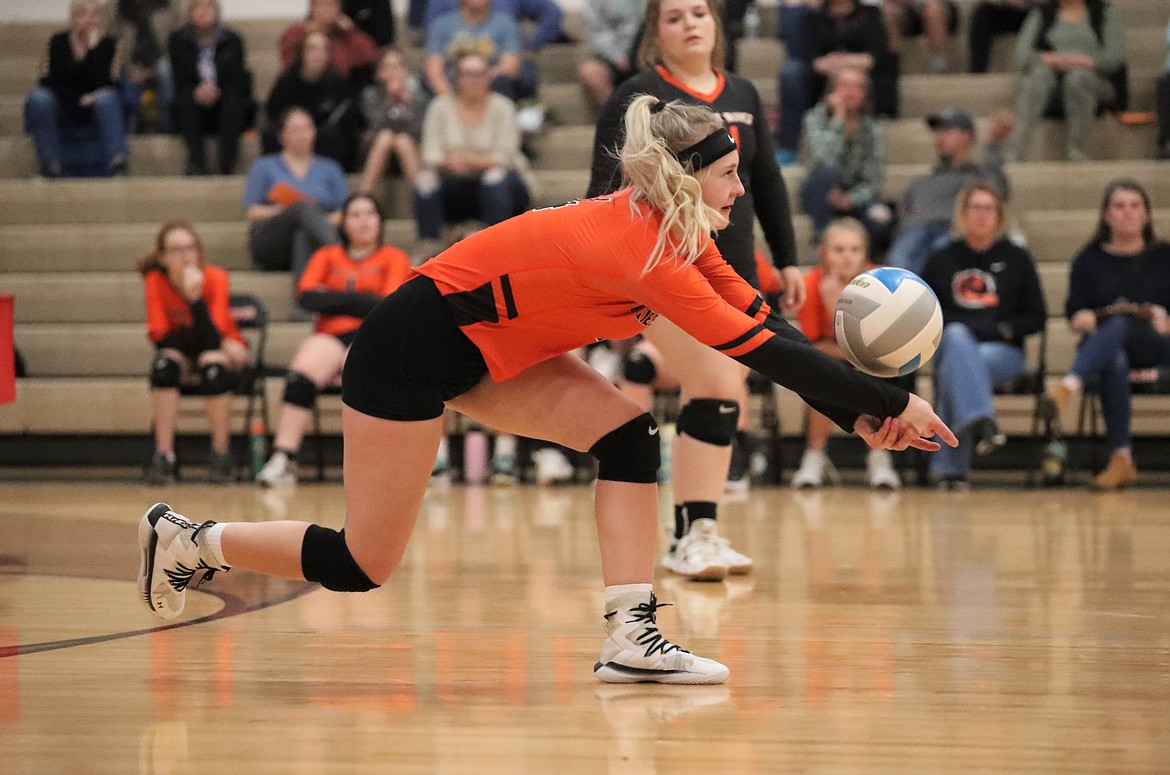 Ona Rose gets a dig last Wednesday.
(Photo by DYLAN GREENE)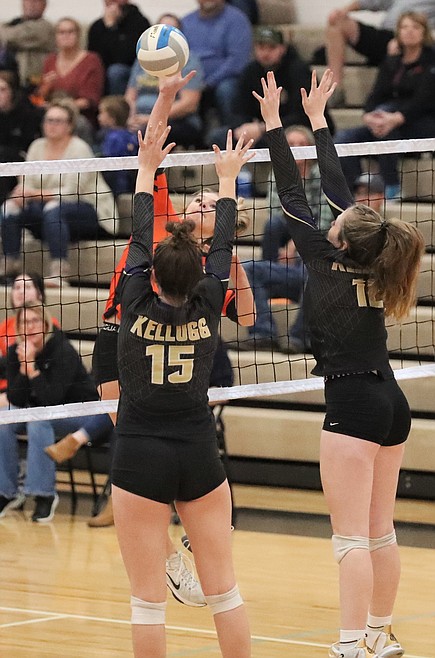 Helena White elevates for a kill last Wednesday.
(Photo by DYLAN GREENE)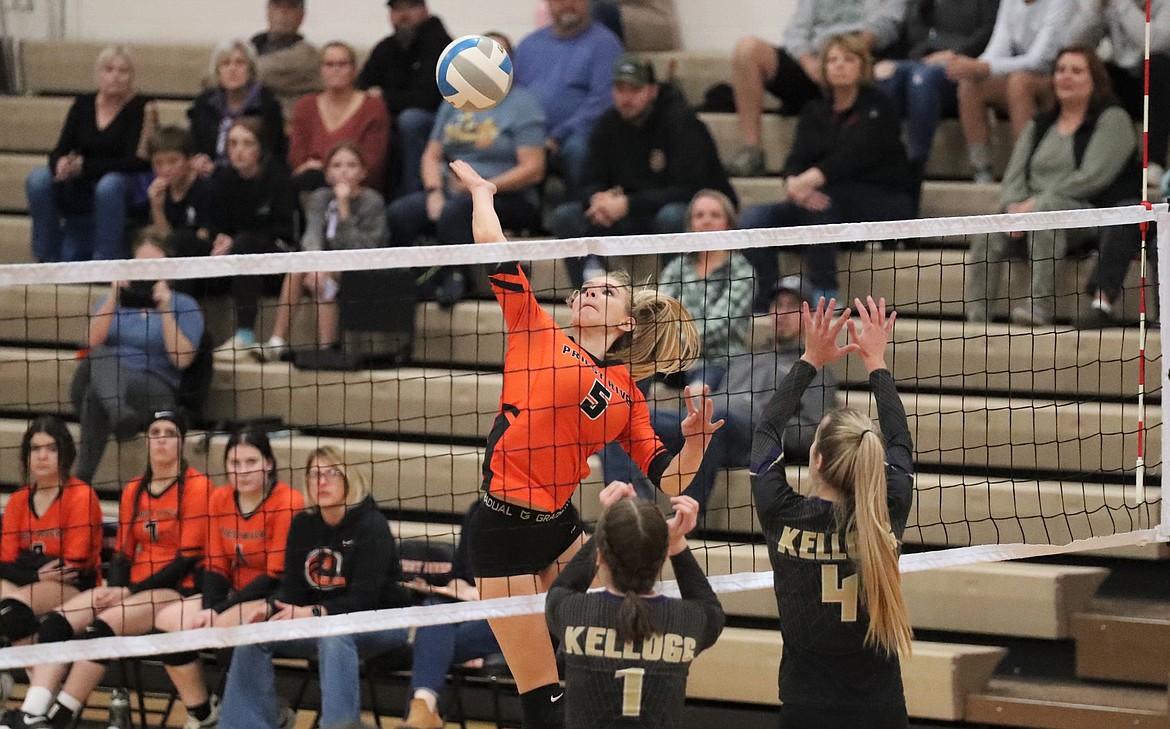 Helena White rises up for a kill last Wednesday.
(Photo by DYLAN GREENE)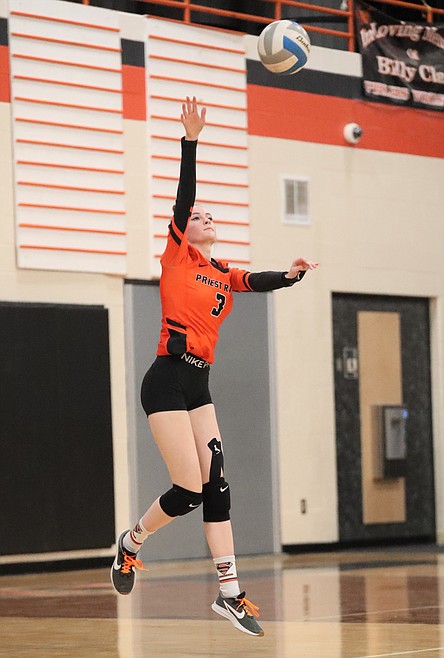 Ethnee White serves last Wednesday.
(Photo by DYLAN GREENE)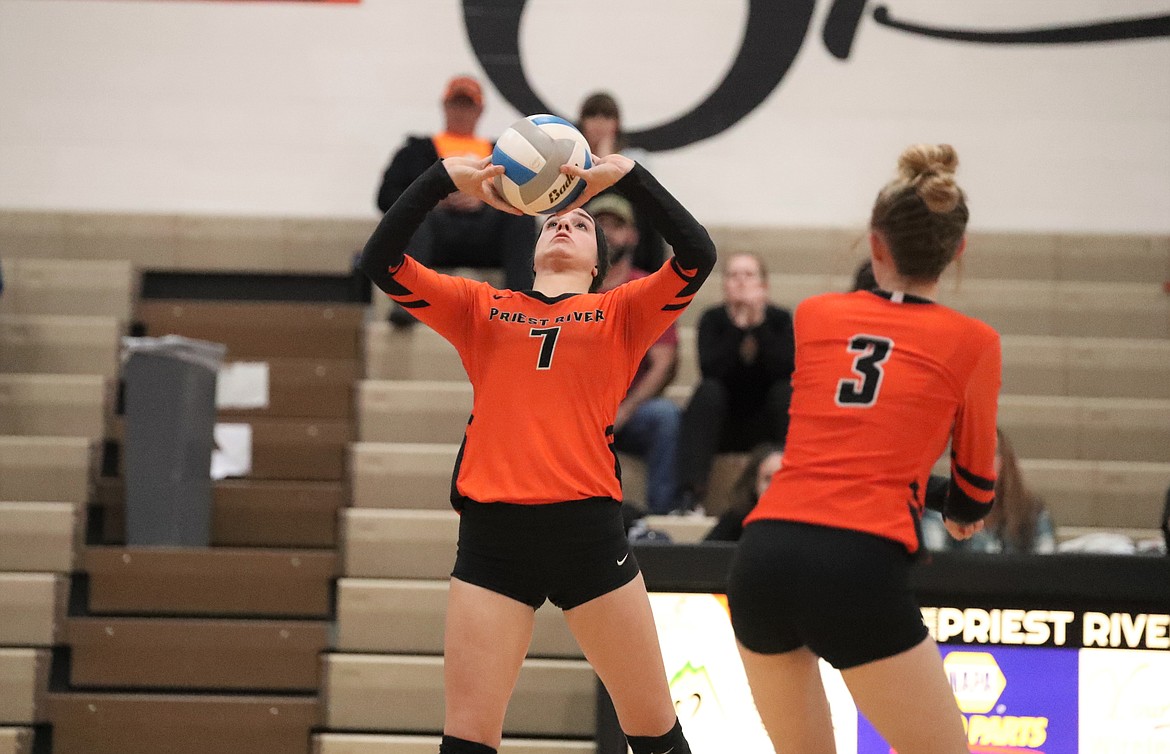 Brodie Hansen sets the ball for a teammate last Wednesday.
(Photo by DYLAN GREENE)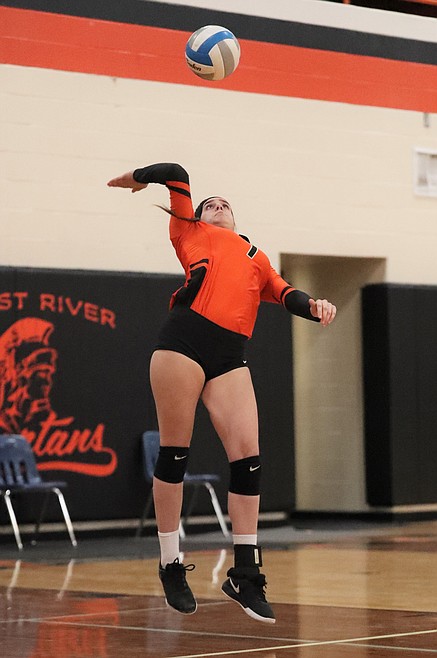 Brodie Hansen serves last Wednesday.
(Photo by DYLAN GREENE)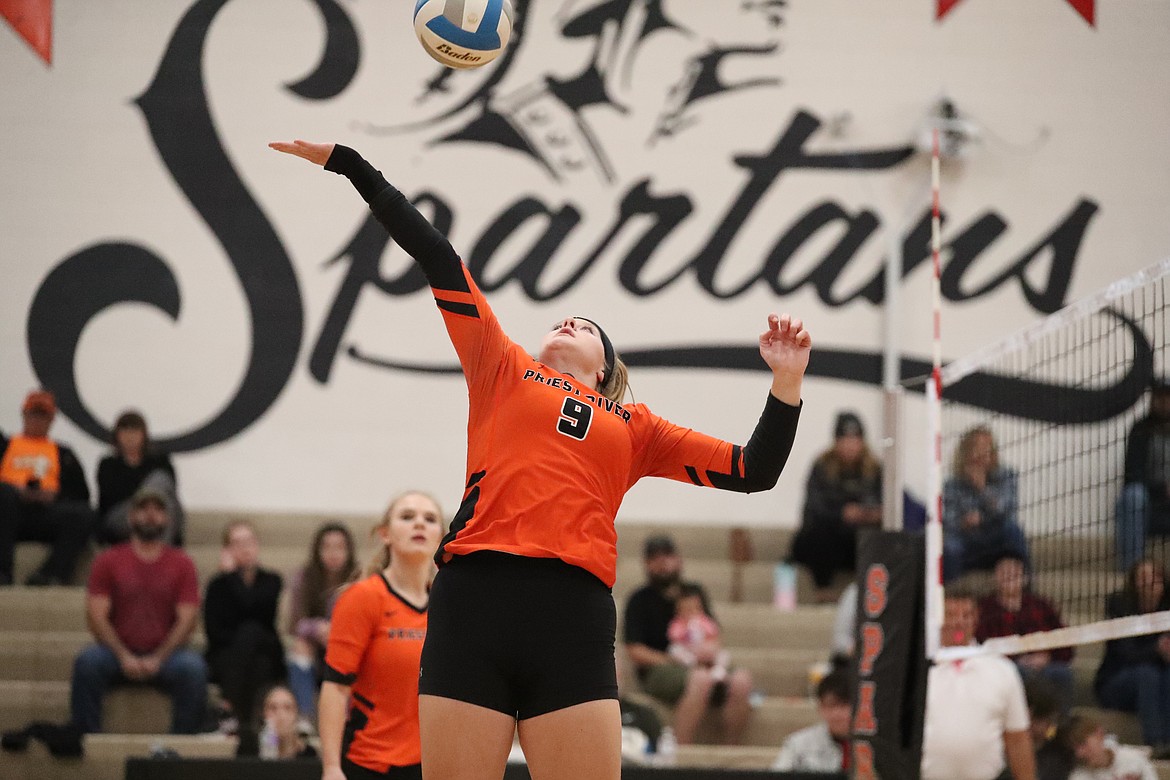 Allyson Barton attempts to tip a ball over the net last Wednesday.
(Photo by DYLAN GREENE)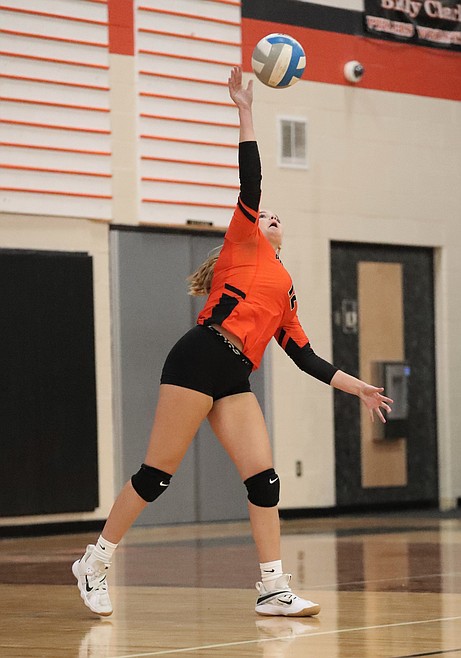 Addisen Kingery serves last Wednesday.
(Photo by DYLAN GREENE)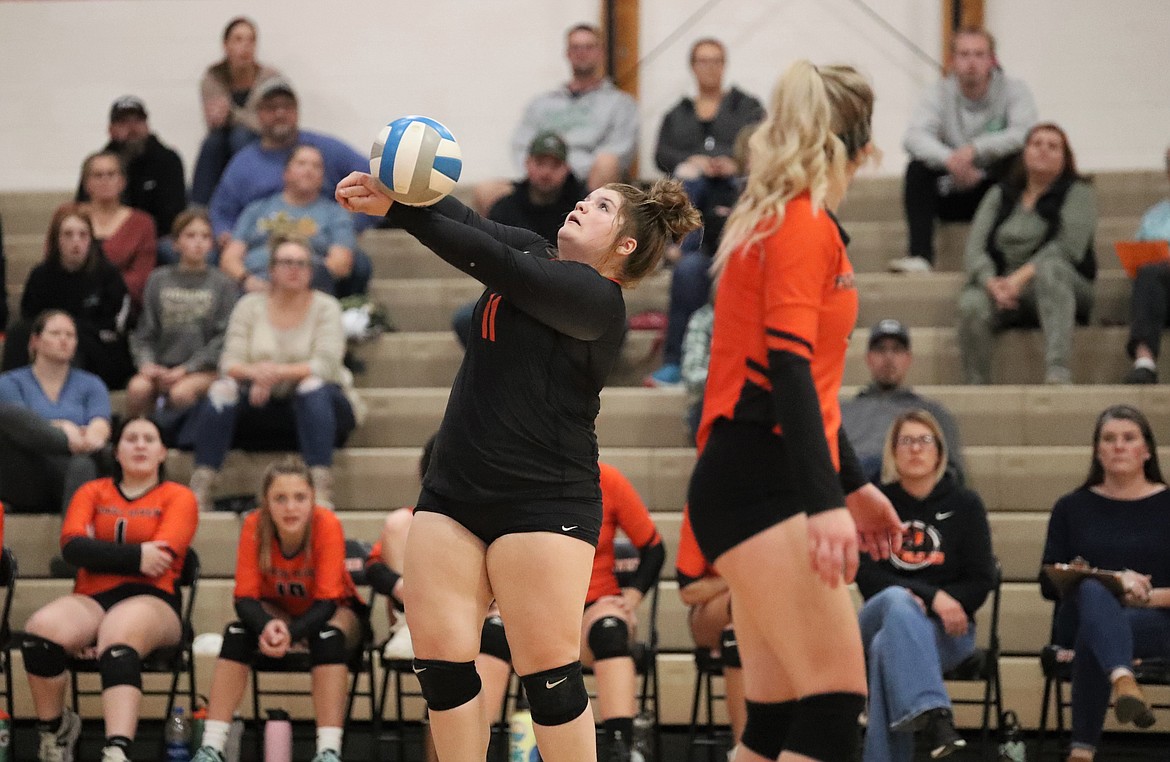 Abigail Shockey hits a ball back over the net last Wednesday.
(Photo by DYLAN GREENE)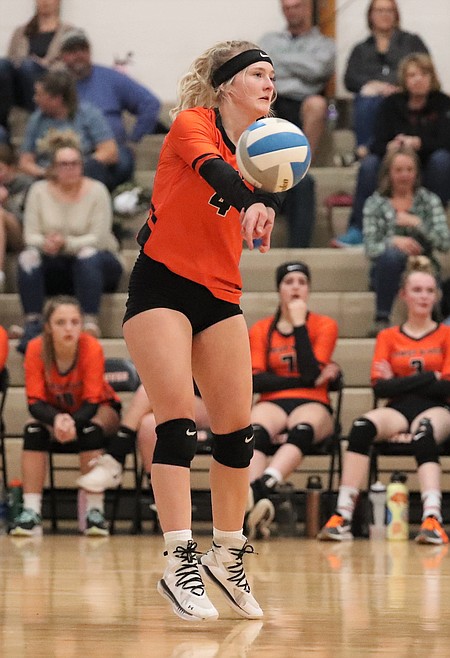 Ona Rose gets a dig last Wednesday.
(Photo by DYLAN GREENE)
Previous
Next
|
October 13, 2021 1:00 AM
PRIEST RIVER — Spartan volleyball dropped its second straight Intermountain League match on Tuesday night.
Priest River lost at home to Timberlake, 25-18, 25-15, 25-13.
This past Wednesday, the Spartans were unable to build off grabbing their first league victory of the season the night before. They fell in straight sets at home to Kellogg, 25-11, 25-11, 25-20.
The first two sets were rough for the Spartans. Head coach Meagan Mize said her team was struggling with the mental aspect of the game.
"I think the first and second game, the thing that killed us the most was they were just hesitating," she said. "They weren't making their decisions fast enough and they were not trusting themselves."
But in the third set, Priest River came alive and went toe-to-toe with the top dog in the IML.
The Spartans jumped out to a 7-3 lead thanks to an ace from Helena White, but Kellogg quickly erased the deficit and took a 18-13 advantage to force a Priest River timeout.
The Spartans could have let up at that point, but they didn't. Priest River kept digging and an Ona Rose kill allowed them to make it 22-20 in favor of the Wildcats.
Unfortunately, Kellogg thwarted any hopes of a Priest River comeback by winning three straight points to close out the sweep.
Mize loved the fight her team showed in that final set.
"That's my team," she said about their play. "They really do have it."
Rose finished with a team-high five kills. Helena White tallied five aces and two kills, Ethnee White served three aces, and Addisen Kingery and Allyson Barton each had three kills.
"Kellogg keeps everything off the floor pretty well and we've got to be ready for that," Mize said.
Priest River (1-9, 1-5 IML) will be looking for revenge against the Wildcats when they head to Kellogg at 7 p.m. Thursday. The Spartans wrap up regular season play Saturday with a match at Bonners Ferry.
The 3A District 1-2 volleyball tournament starts on Monday with the loser-out match.
Recent Headlines
---