Timberlake blanks Spartan football in league opener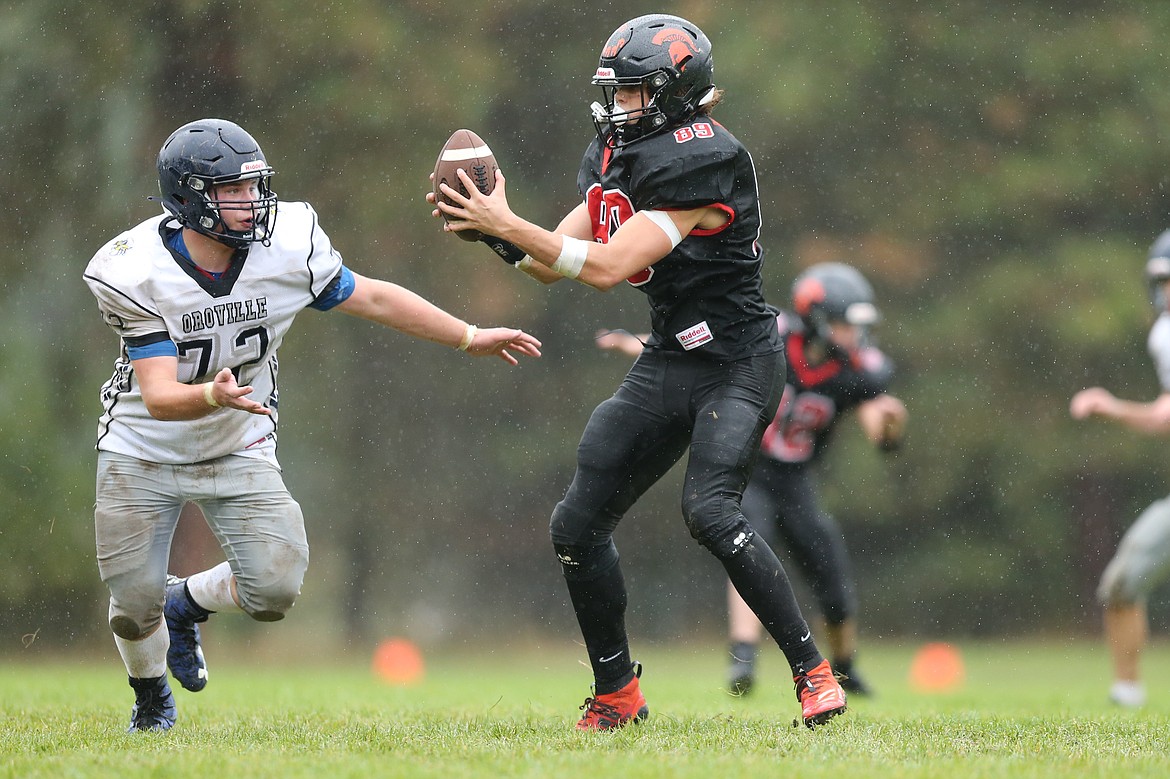 Junior Matyus McLain intercepts a pass during a home game against Oroville on Sept. 18.
(Photo courtesy of JASON DUCHOW PHOTOGRAPHY)
|
October 13, 2021 1:00 AM
SPIRIT LAKE — Priest River football was only able to muster 93 yards on offense in a 61-0 loss at Timberlake last Friday to open Intermountain League play.
"Timberlake just blocked and tackled better than we did," head coach Jared Hughes said.
The Spartans played without starting quarterback and strong safety Michael Johnson, but Hughes said Hayden Sorbel and Kameron Salesky did a great job filling in for him behind center. They combined to go 7 of 15 for 65 yards and just one interception.
Priest River was also without Jesse Poisel and they lost Conor Berns in the third quarter due to an injury.
"These were big hits when we really only play about 14-15 kids on varsity," Hughes said.
The Tigers grounded the Spartans rushing attack, holding them to 28 yards on 21 carries.
Timberlake scored six touchdowns in the first half.
"Defensively, we really had trouble with their speed with passes over the top and outside along with their outside runs," Hughes said. "The kids played hard, but once again, lack of depth really hurt us in the end."
Berns caught four passes for 43 yards, Salesky ran the ball 14 times for 35 yards and Matyus McLain led the defense with nine total tackles. Deegan Goins had a sack.
The Spartans (0-5) host Bonners Ferry at 7 p.m. Friday for Homecoming and Senior Night.
Priest River 0 0 0 0 — 0
Timberlake 22 20 12 7 — 61
First quarter
TL — Kale Paslay 16 run (Paslay run)
TL — Wyatt MacArthur 2 run (Joseph Borges kick)
TL — Zach Yetter 5 pass from Ashton Peightal (Borges kick)
Second quarter
TL — Grady Woodworth 5 run (Borges kick)
TL — Paslay 9 run (kick failed)
TL — Zetter 2 pass from Peightal (Borges kick)
Third quarter
TL — James Billingsley 14 run (kick failed)
TL — Billingsley 54 run (kick failed)
Fourth quarter
TL — Stryker Houston 5 run (Vaughn W. Higgins kick)
INDIVIDUAL STATISTICS
RUSHING — PR, Salesky 14-35, McLain 2-3, Goins 2-3, Sorbel 2(-12), Berns 1(-1). TL, Billingsley 2-68, MacArthur 3-55, Huston 3-37, Paslay 3-33, Woodworth 4-31, Peightal 2-18, Higgins 4-18, Borges 1-6, Higgins 4-1.
PASSING — PR, Sorbel 4-7-0-15, Salesky 3-8-1-50. TL, Peightal, 7-7-0-105.
RECEIVING — PR, Berns 4-43, Goins 1-3, McLain 2-19. TL, Zetter 3-38, Olivieri 1-35, Woodworth 1-15, MacArthur 1-10, Paslay 1-7.
---