POAC honors Judd as 2021 Artist of the Year
|
October 14, 2021 1:00 AM
Local artist Daris Judd is being honored as the Pend Oreille Arts Council's 2021 Artist of the Year. POAC will host a reception for Judd's show Dreams this Friday, Oct. 15, from 5 to 7 p.m. at the Columbia Bank Community Plaza. Visitors can enjoy the colorful collection of paintings and have an opportunity to meet Daris Judd.
Choosing one artist out of nearly 100 members has its challenges. POAC artist members are all talented and unique. Judd was selected this year because of her commitment to artistic exploration and her involvement with POAC. She participates in most POAC visual arts exhibits, is a resident artist in the POAC gallery, and is the Artistic Director for the Kaleidoscope education program. Her work is recognizable but still manages to surprise viewers with experimental themes and techniques.
Judd has been an artist her entire life. "I was born into a long line of creatives, always thinking outside the box and not quite fitting into what someone else thought was the right path. I am me, and that is all. I am happy being me and understand it is safe to be creative or see things differently," Judd said about her journey as an artist.
The Dreams exhibit consists of nearly 30 pieces in various mediums. When asked what kind of experience Judd intended for viewers, she said, "I would love for them to feel good and happy, to have a connection. I use a lot of bright colors for a light and airy feeling. Life is way too short, and a lot of it is stressful or confusing. When I look at a work of art, I want to dive in, feel the colors and the story they are telling. I would like to know that people feel comfortable living with my work. Smile."
"Absolutely fall in love with all art. Keep your eyes open to light, color, and shape. Take it all in. There is no wrong way to express your visions. It might be cooking or gardening. Maybe it is building your home or nest, or the clothes you wear," Judd said about being an artist. "Learn all you can, experiment, and most of all, play. The more you do, the more it becomes you."
That philosophy applies to Judd's passion for teaching children about art. When asked what her favorite thing about being involved with POAC was, Judd said, "the Kaleidoscope art program for the children. So that one day they can know the joy of art-making." The Kaleidoscope program brings arts education to grades 3 through 6 at local elementary schools without existing art programs. As the Artistic Director for the program, Judd coordinates with volunteer teachers and carefully curates art lessons. Those interested in volunteering can reach Judd at: kaleidoscope.art.education@gmail.com.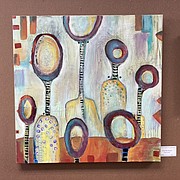 ---