Clark Fork football honors 4 seniors, thrashes Kootenai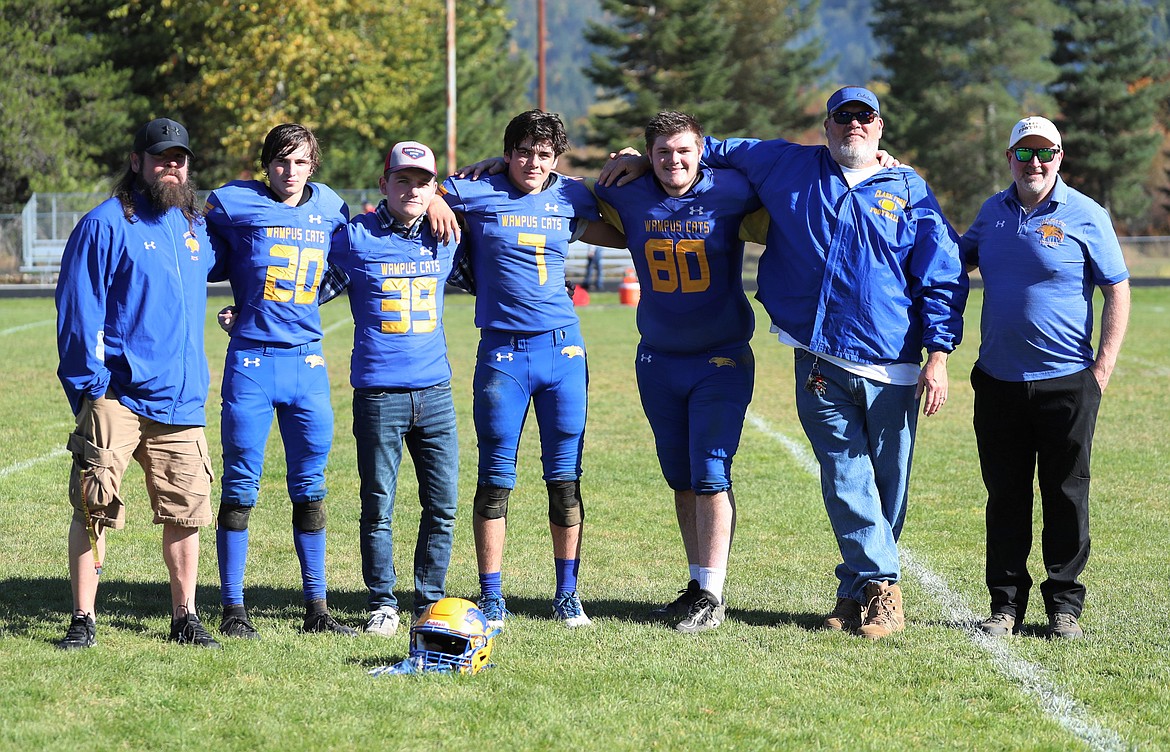 The Clark Fork coaches pose for a photo with their four seniors — Sam Barnett, Cole Reuter, Carter Sanroman and Zach Mueller — following Saturday's win over Kootenai.
(Photo by DYLAN GREENE)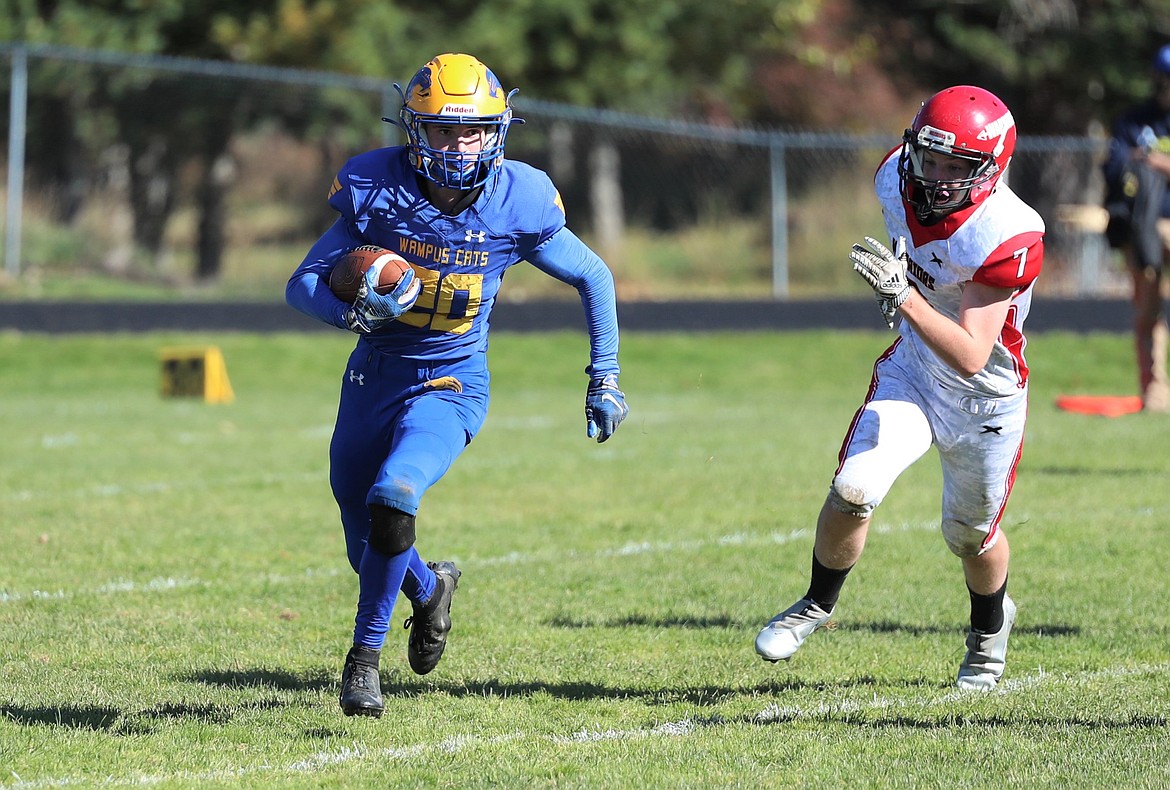 Sam Barnett carries the ball during Saturday's game against Kootenai.
(Photo by DYLAN GREENE)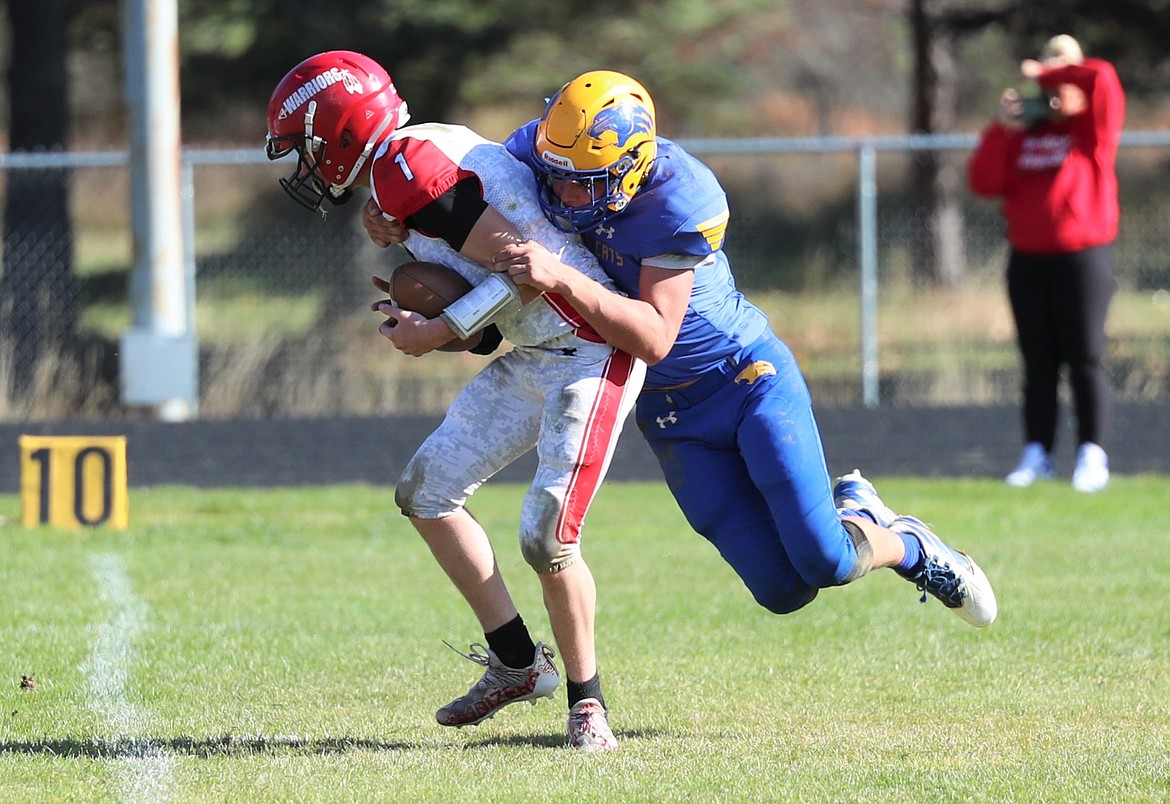 Carter Sanroman sacks the Kootenai quarterback in the second quarter on Saturday.
(Photo by DYLAN GREENE)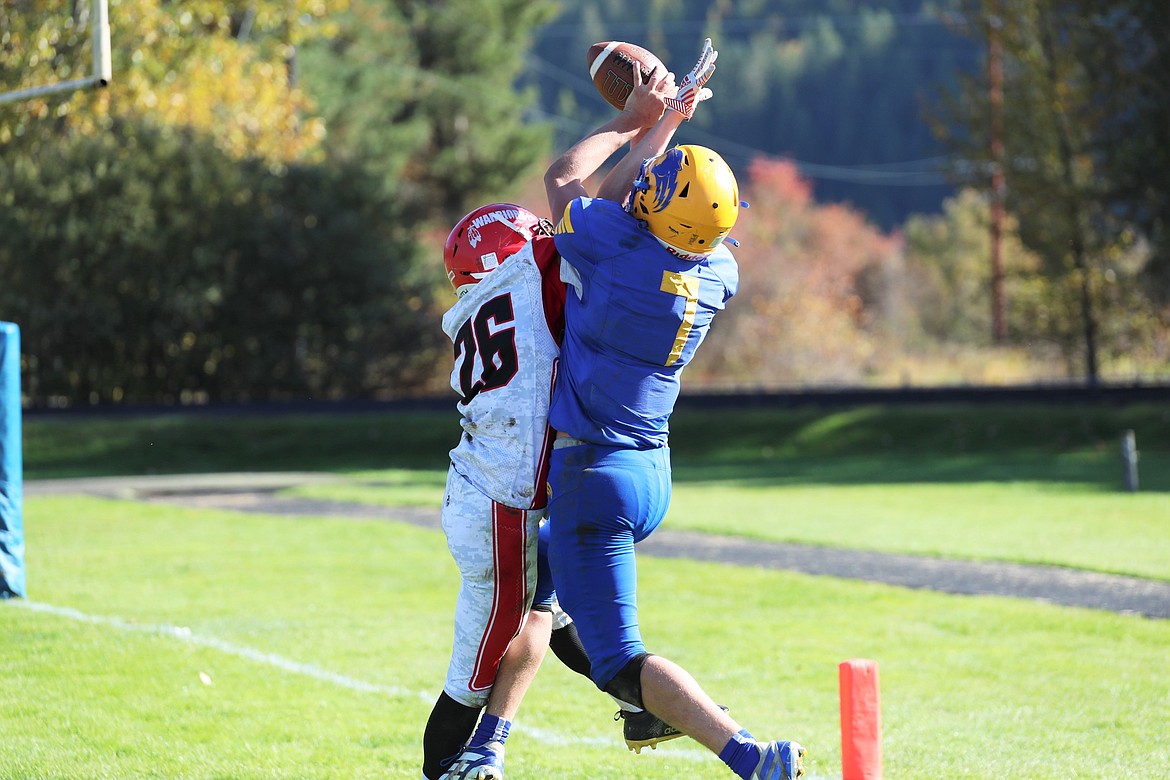 Carter Sanroman rises up to make a catch over a Kootenai defender for a two-point conversion on Saturday.
(Photo by DYLAN GREENE)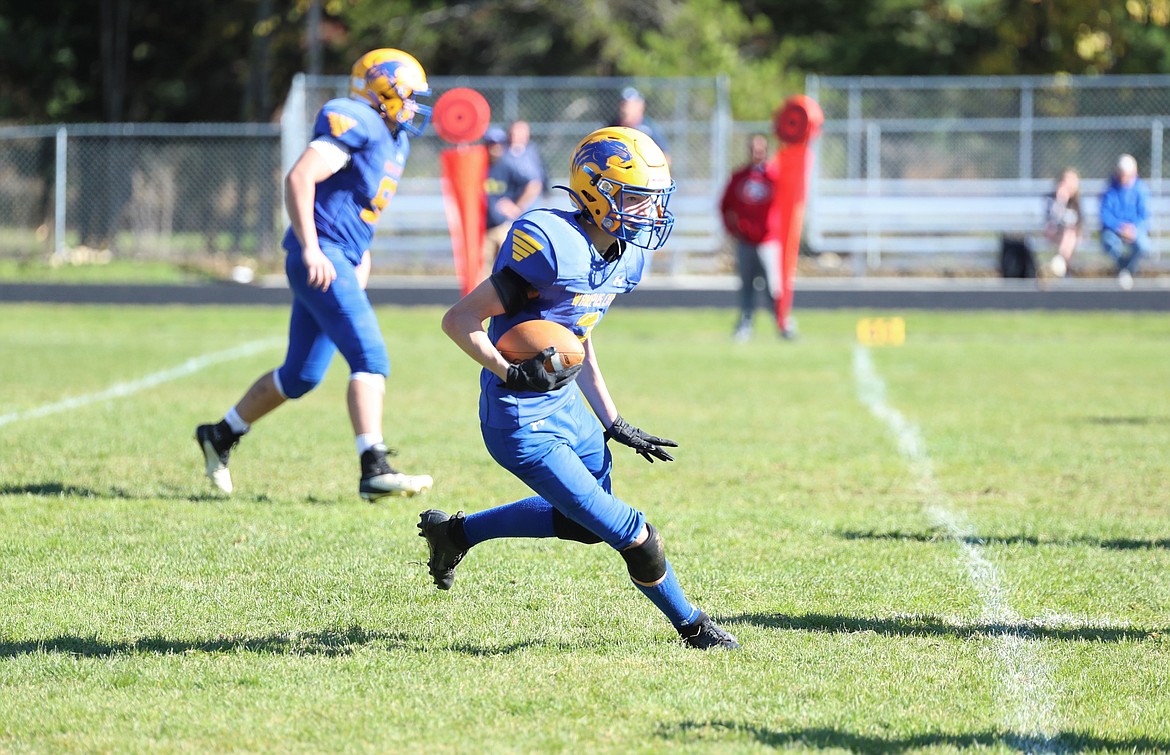 Hank Barnett carries the ball on Saturday.
(Photo by DYLAN GREENE)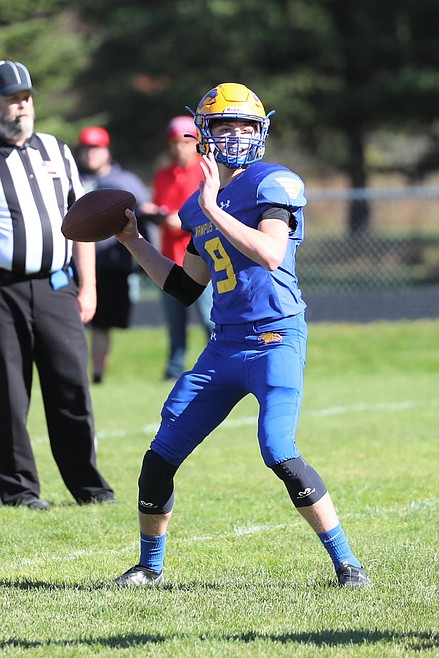 Ethan Howard drops back to pass on Saturday.
(Photo by DYLAN GREENE)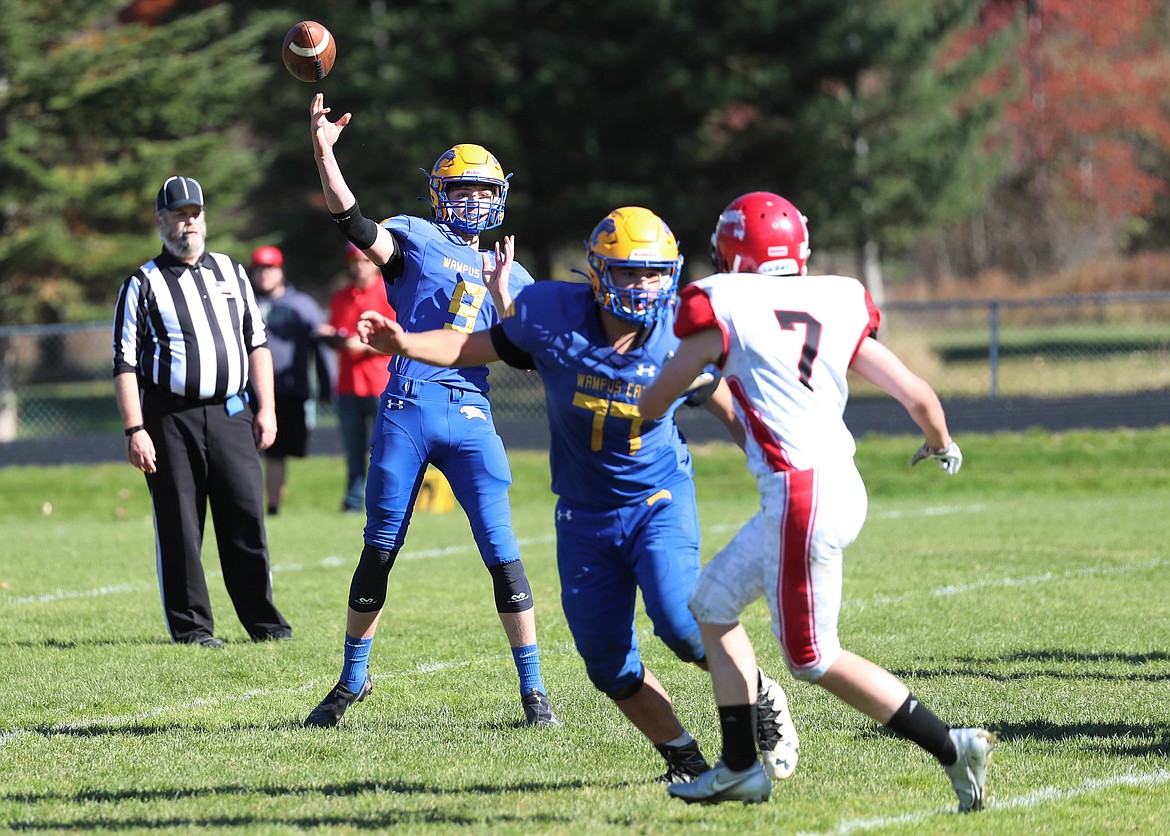 Ethan Howard throws a pass on a two-point conversion attempt on Saturday.
(Photo by DYLAN GREENE)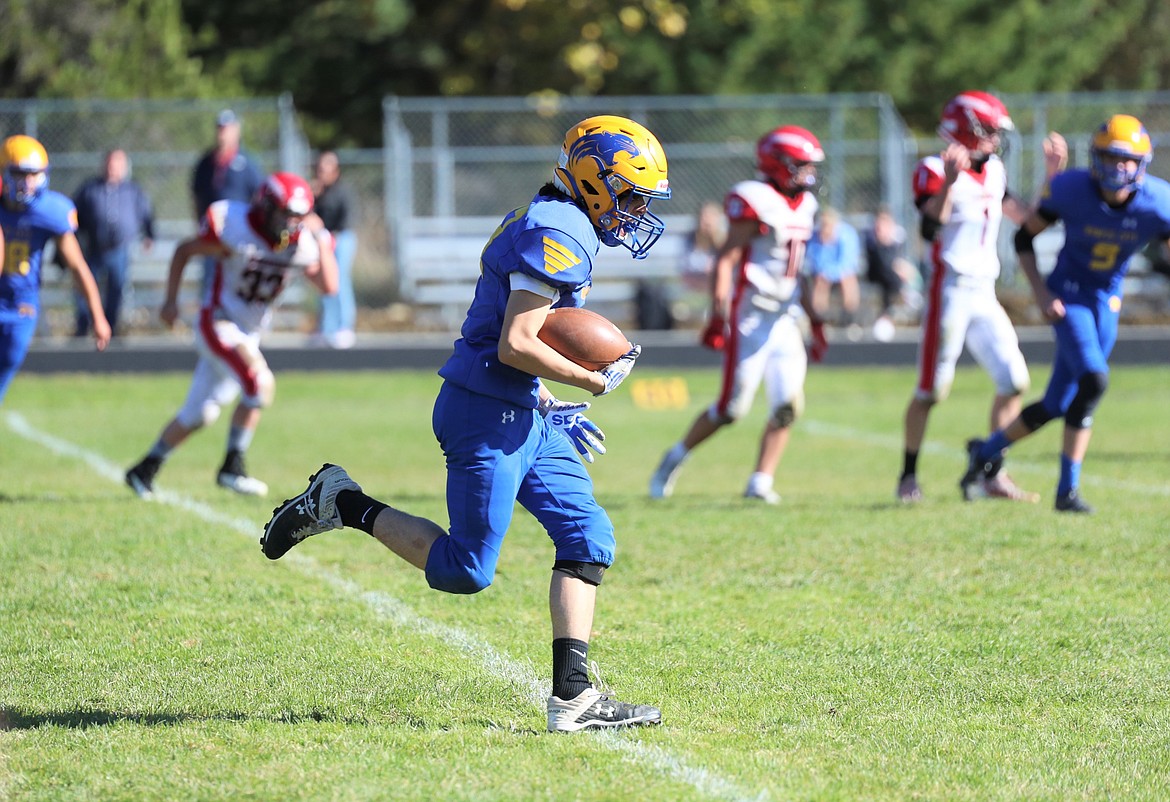 Cole Sanroman returns an interception 71 yards for a touchdown on Saturday.
(Photo by DYLAN GREENE)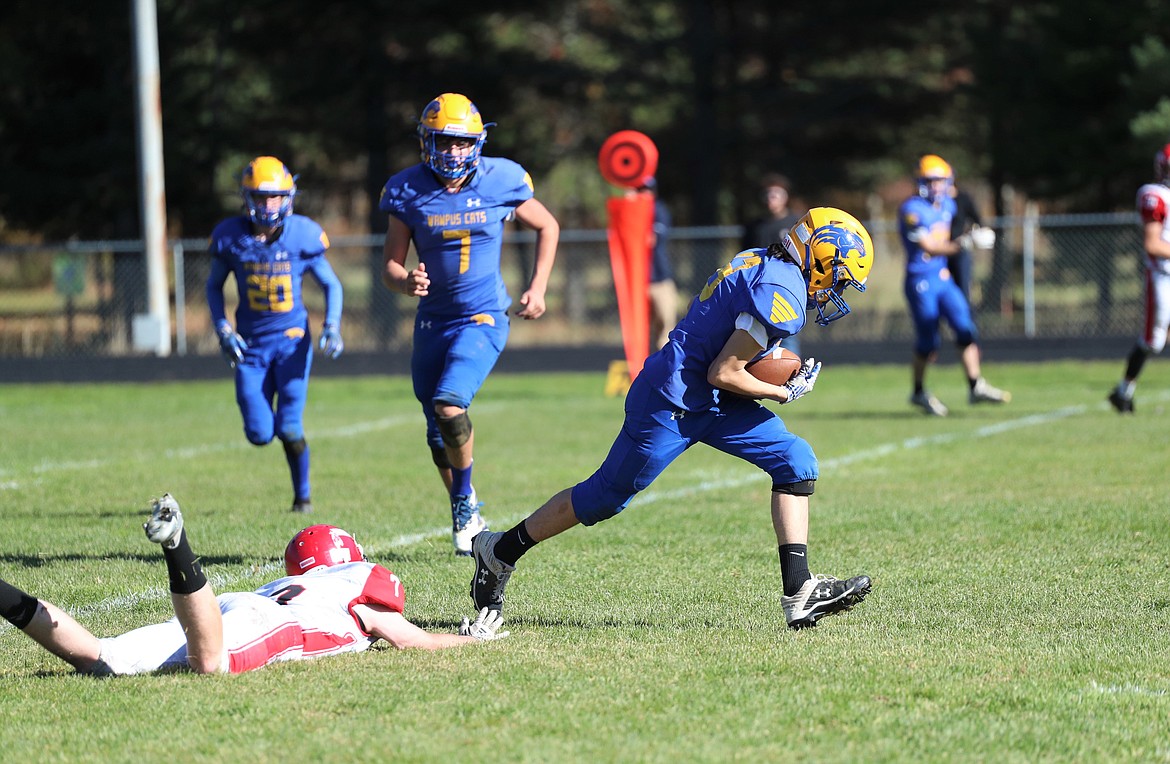 Cole Sanroman steps in front of a Kootenai pass and gets an interception on Saturday.
(Photo by DYLAN GREENE)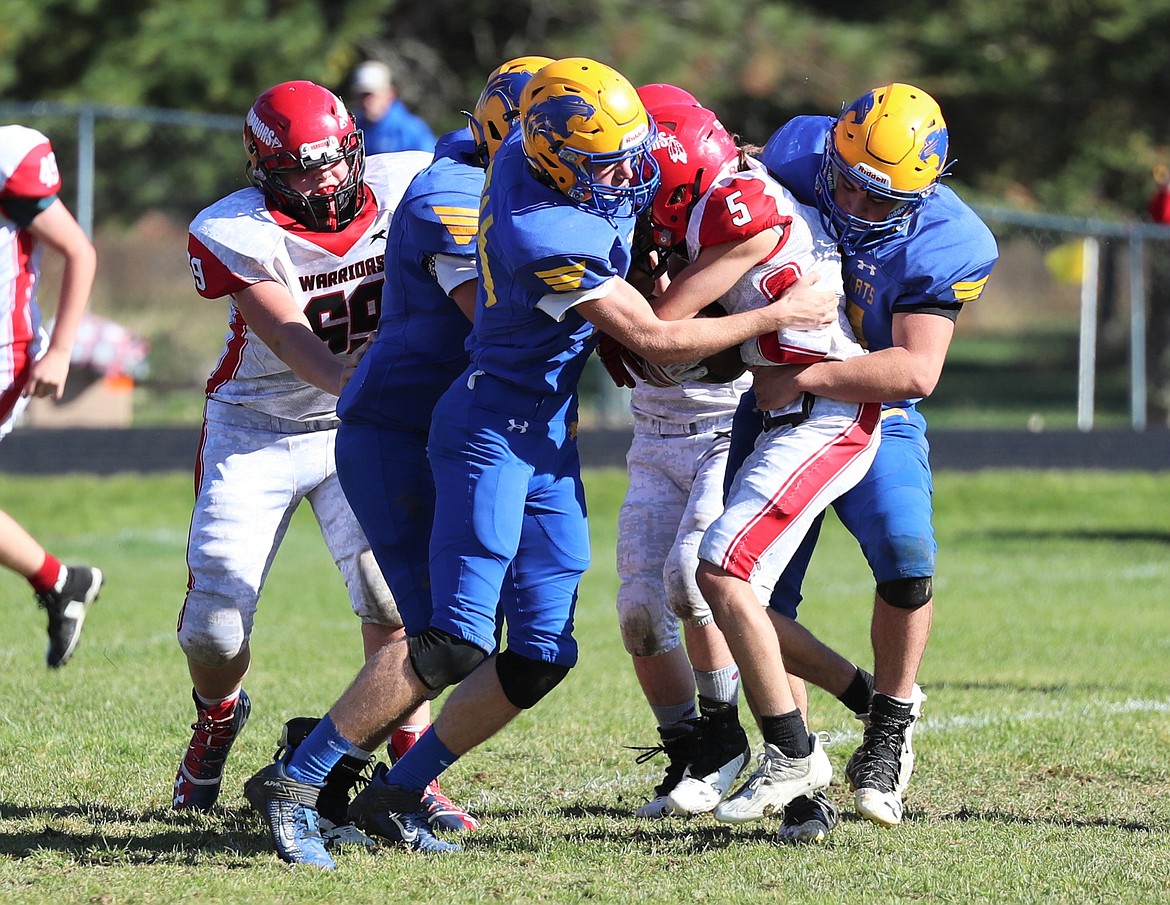 The Clark Fork defense stuffs Kootenai on a fourth down attempt in the second quarter of Saturday's game.
(Photo by DYLAN GREENE)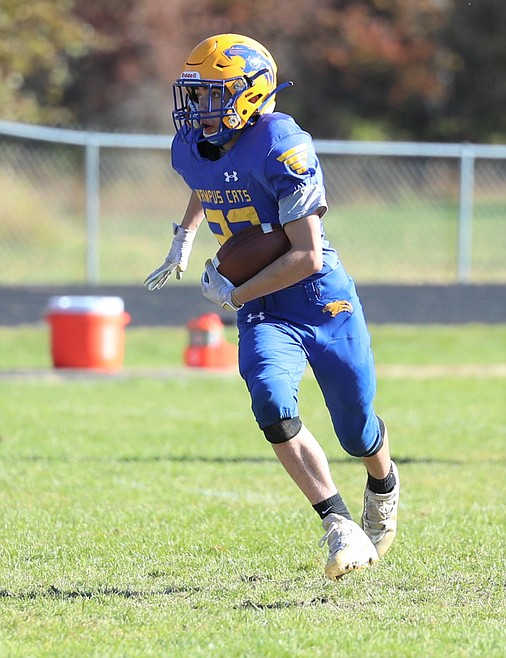 Chase Sanroman carries the ball on Saturday.
(Photo by DYLAN GREENE)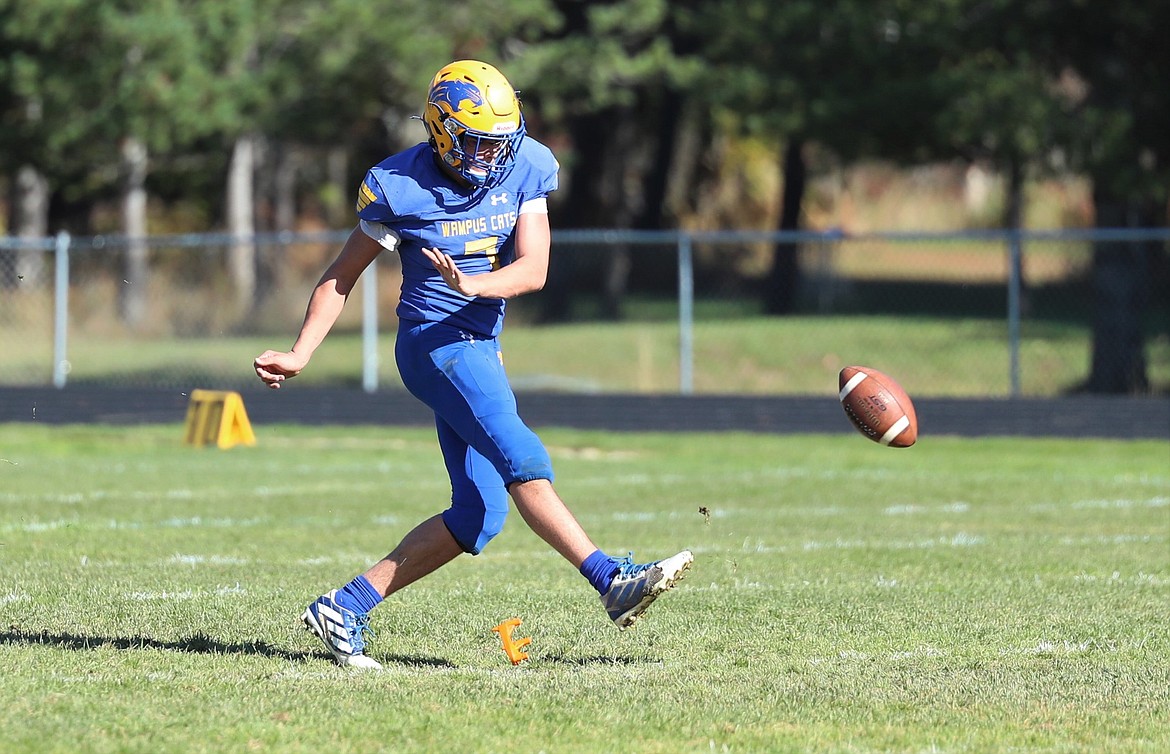 Carter Sanroman attempts an onside kick on Saturday.
(Photo by DYLAN GREENE)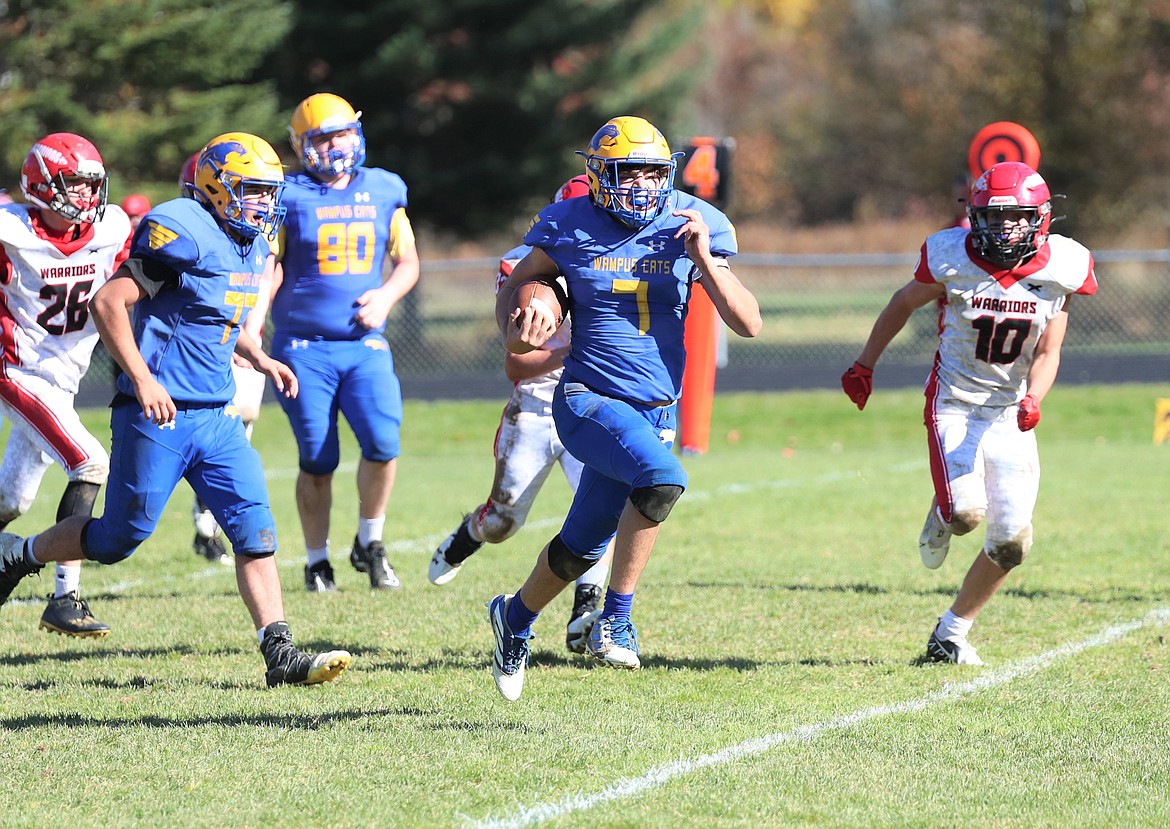 Carter Sanroman breaks free for a 23-yard touchdown run on Saturday.
(Photo by DYLAN GREENE)
Previous
Next
by
DYLAN GREENE
Sports Editor
|
October 16, 2021 8:00 PM
CLARK FORK — Clark Fork football earned a dominant 52-12 victory over Kootenai on Saturday afternoon in its home finale.
The Wampus Cats jumped out to a 24-6 first-quarter lead and never looked back to secure their first North Star League win of the season.
It was a special day as Clark Fork celebrated its four seniors — Carter Sanroman, Sam Barnett, Cole Reuter and Zach Mueller. Head coach Brian Arthun said this victory was for the seniors.
"The whole week was about playing as hard as we can for the seniors," he said, "and I was really proud of the way they performed in their last game here in Clark Fork."
Sanroman put on quite the show in his final home game on the gridiron, racking up four touchdowns, including three on the ground.
He also left his mark on the defensive side of the ball. With about 30 seconds left in the first half, the Warriors were on the Clark Fork 3-yard line and looked primed to get some more points on the board before heading into the locker room. But Sanroman broke through the line on second and goal and sacked the Kootenai quarterback. The clock ran out and the Wampus Cats took a 38-6 lead into halftime.
Clark Fork scored a pair of defensive touchdowns on Saturday. In the first quarter, defensive lineman Nathan Shelton intercepted a pass and returned it 26 yards for a touchdown. With 3:51 left in the third quarter, sophomore defensive back Cole Sanroman jumped in front of a pass and took it 71 yards to the house.
"He just made a good break on the ball," Arthun said about Cole Sanroman's play.
Quarterback Ethan Howard snuck the ball into the end zone from a yard out in the second quarter.
Clark Fork converted five of its seven two-point attempts against Kootenai. It was an impressive performance from the Wampus Cats, who were in control from the opening kick.
Clark Fork and Kootenai played seven-man football, instead of eight-man football, for nearly the entire second half. The Warriors only had eight players available to play on Saturday and they lost one due to injury just over a minute into the third quarter.
Clark Fork (5-2, 1-2 NSL) heads to Kootenai at 7 p.m. on Friday, Oct. 29 for its final game of the season.
Kootenai 6 0 0 6 — 12
Clark Fork 24 14 14 0 — 52
First quarter
CF — Nathan Shelton 26-yard interception return (Carter Sanroman run good).
CF — Sanroman 2-yard run (2-point pass good).
CF — Sanroman 48-yard run (2-point pass good).
K — Brady McGann 35-yard pass from Charlie Orford (2-point no good).
Second quarter
CF — Ethan Howard 1-yard run (PAT no good), 4:22.
CF — Sanroman 68-yard pass from Howard (2-point pass good), 1:49.
Third quarter
CF — Sanroman 23-yard run (2-point pass good), 8:20.
CF — Cole Sanroman 71-yard interception return (2-point run no good), 3:51.
Fourth quarter
K — Orford 3-yard run (PAT no good), 9:14.
---