Lady Cats blow past Kootenai in regular season finale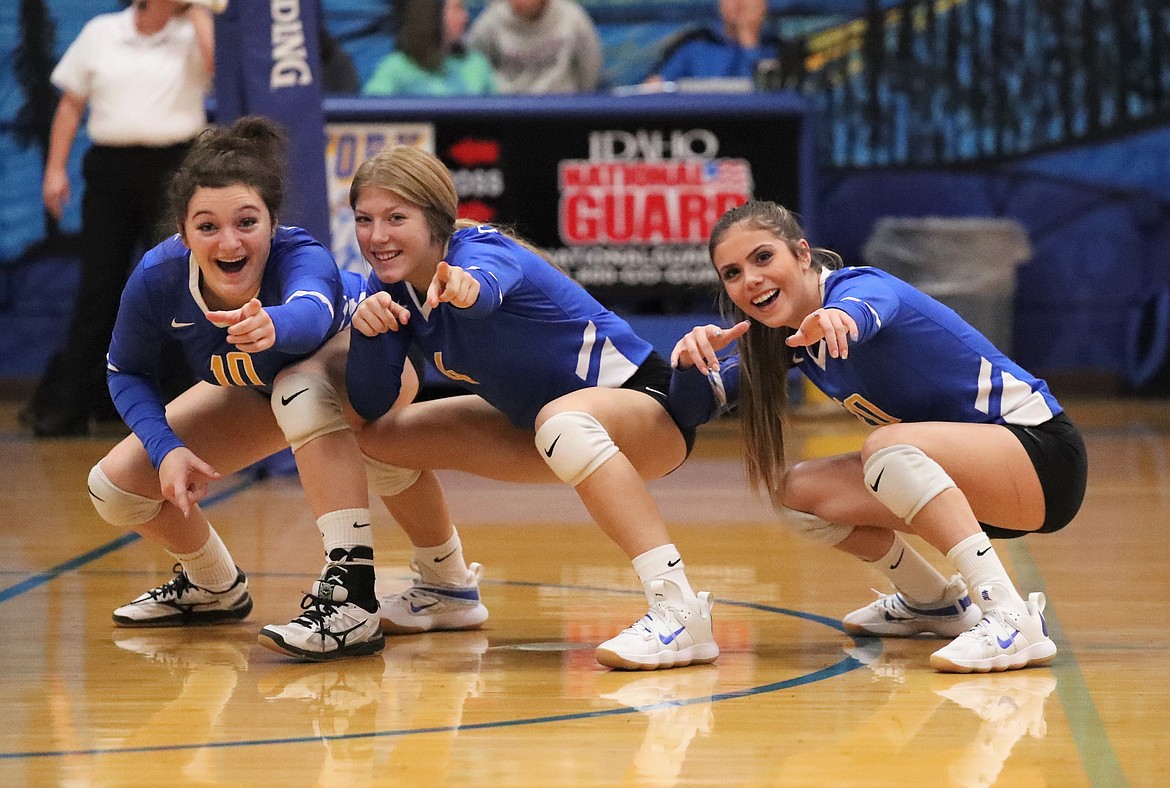 Caiya Yanik (left), Eloise Shelton and Paige Valliere pose for a photo on the court during Saturday's match against Kootenai at CFHS.
(Photo by DYLAN GREENE)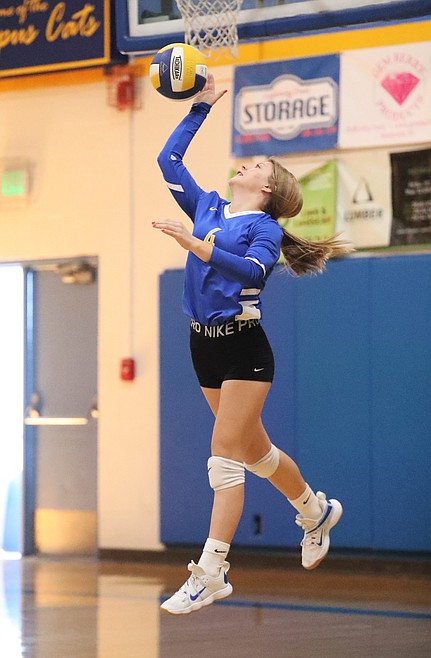 Eloise Shelton jump serves on Saturday.
(Photo by DYLAN GREENE)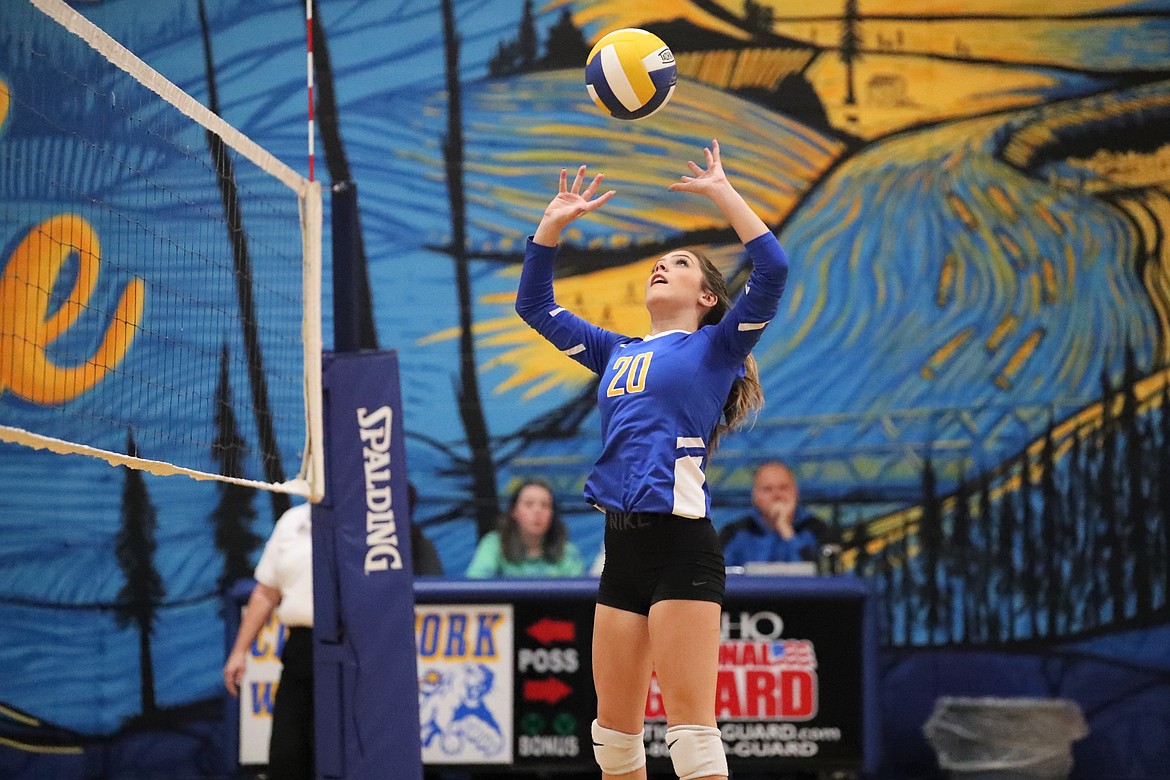 Paige Valliere prepares to push the ball over the net during Saturday's match.
(Photo by DYLAN GREENE)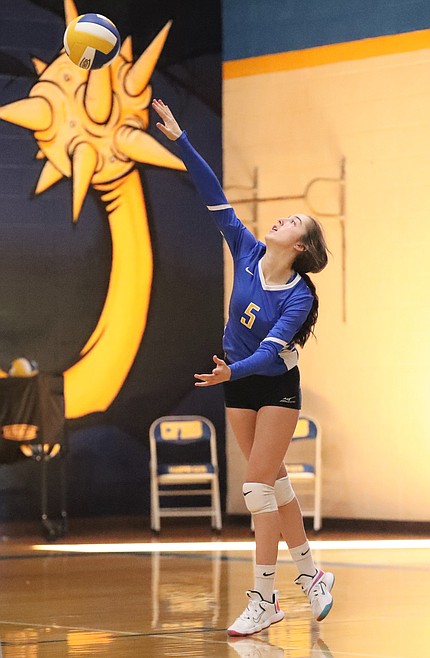 Taylor Staley serves on Saturday.
(Photo by DYLAN GREENE)
Taylor Staley returns a serve on Saturday.
(Photo by DYLAN GREENE)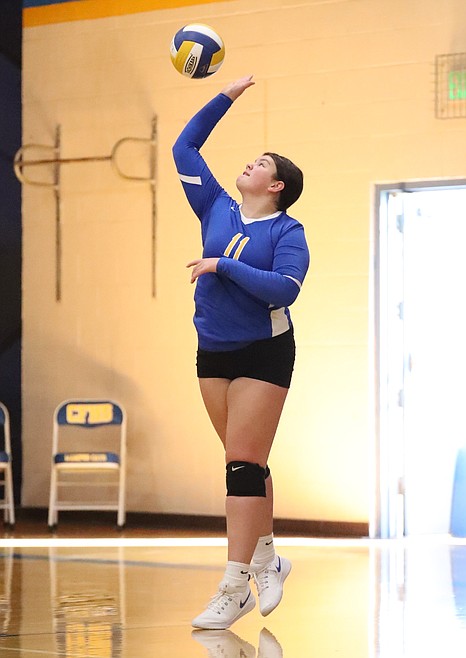 Taylor Payne serves on Saturday.
(Photo by DYLAN GREENE)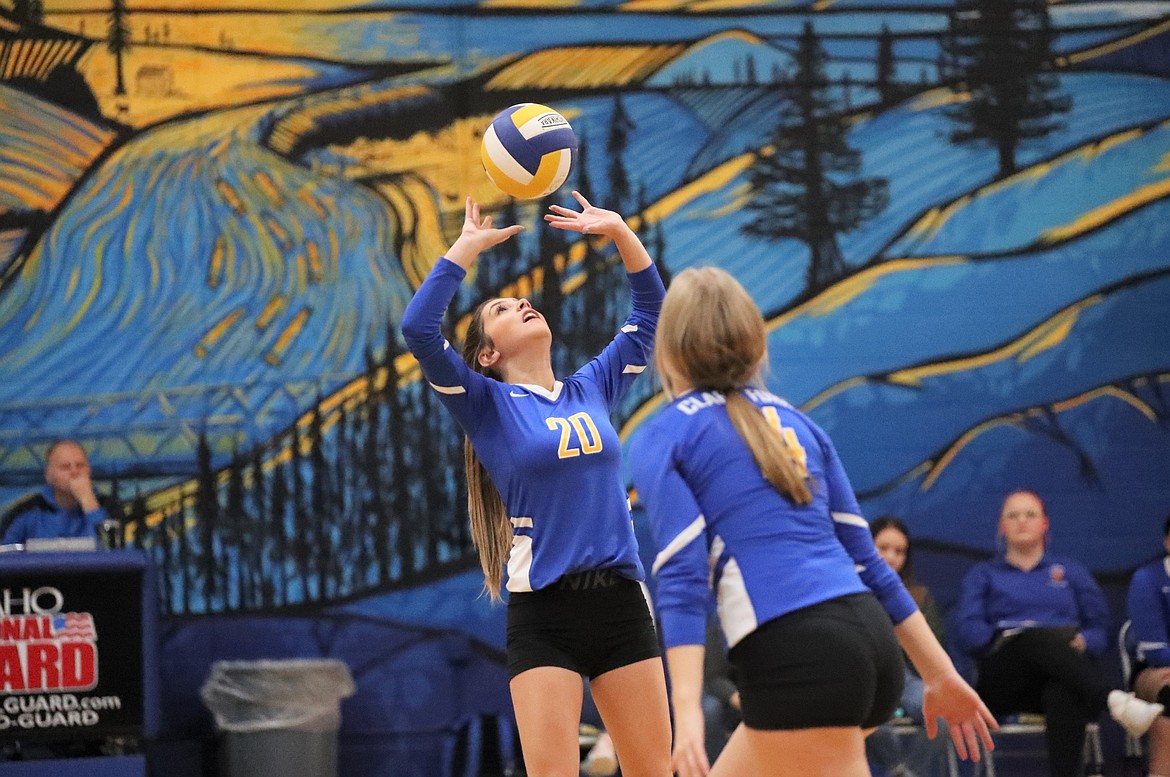 Paige Valliere sets the ball for Eloise Shelton on Saturday.
(Photo by DYLAN GREENE)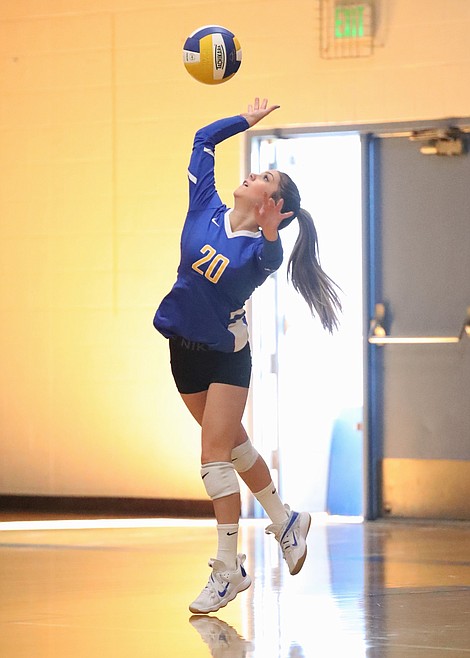 Paige Valliere serves on Saturday.
(Photo by DYLAN GREENE)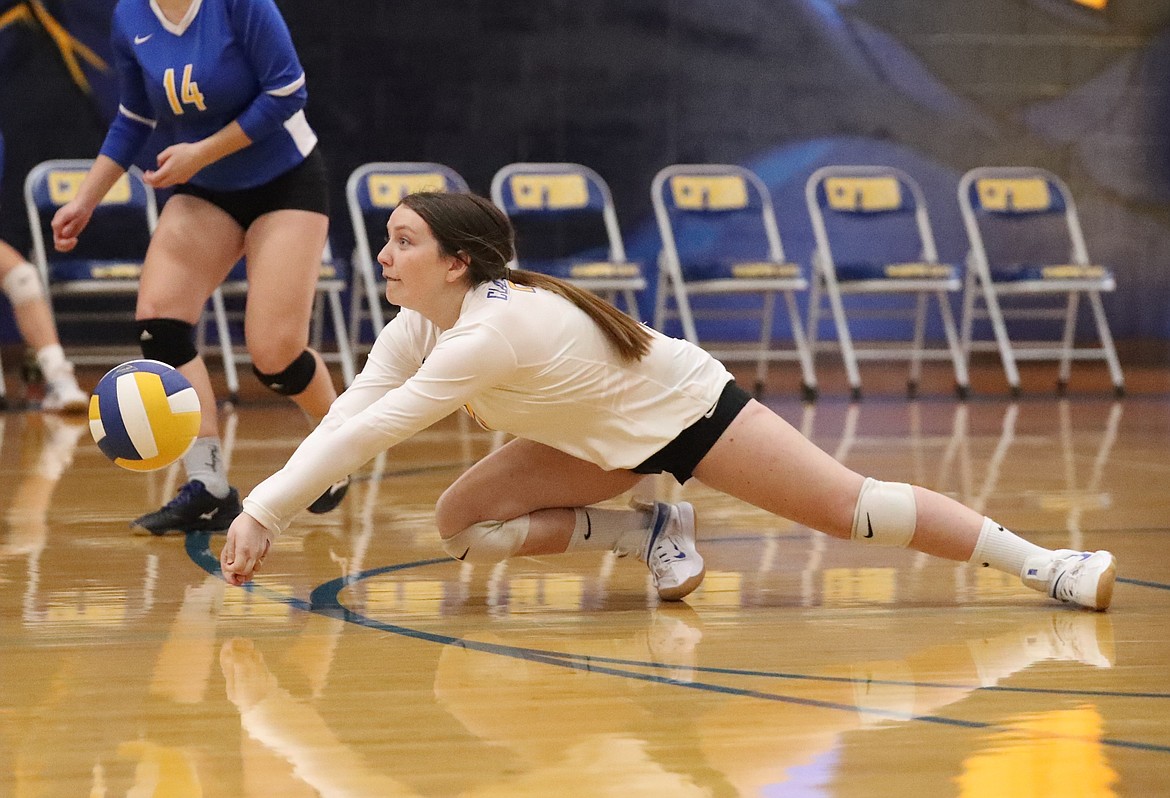 Lilly Reuter dives down for a dig on Saturday.
(Photo by DYLAN GREENE)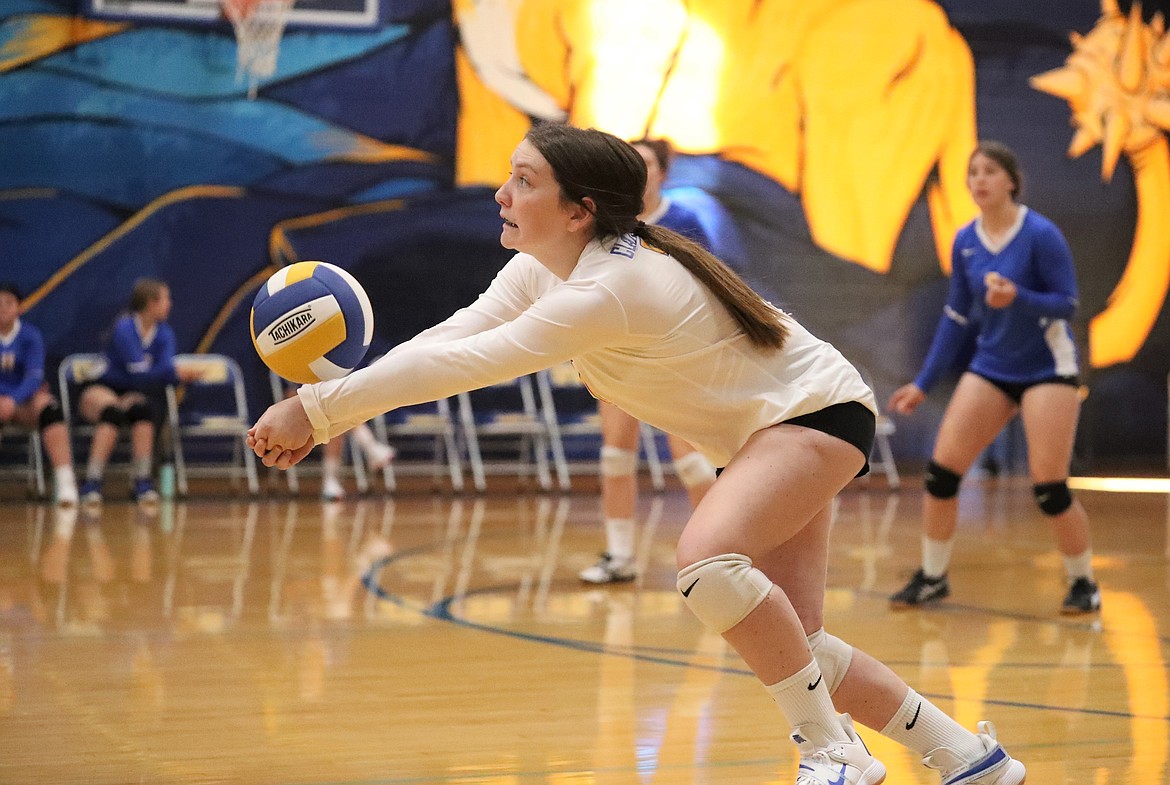 Lilly Reuter gets a dig on Saturday.
(Photo by DYLAN GREENE)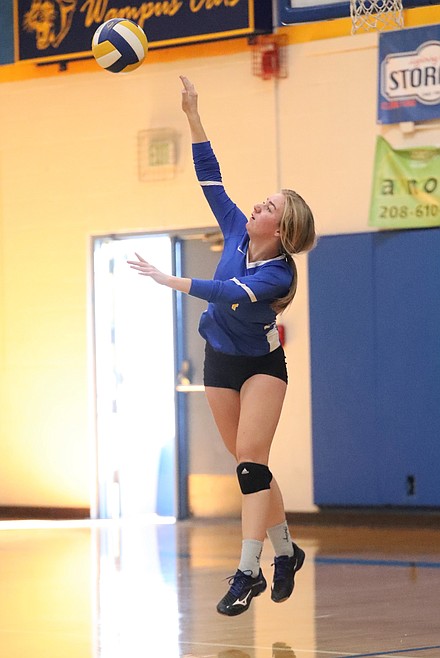 Katelyn Matteson serves on Saturday.
(Photo by DYLAN GREENE)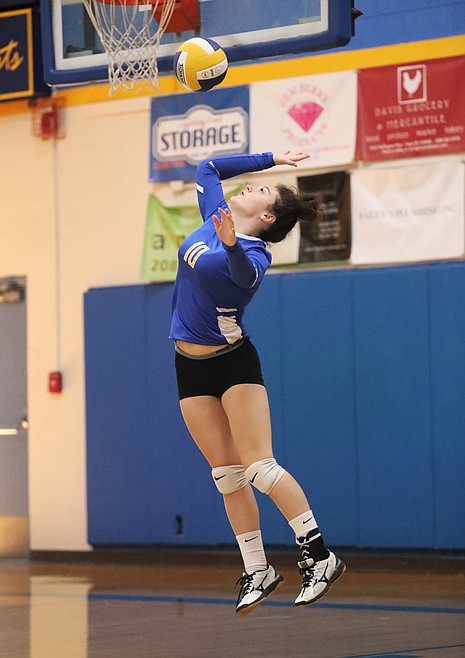 Caiya Yanik jump serves on Saturday.
(Photo by DYLAN GREENE)
Previous
Next
by
DYLAN GREENE
Sports Editor
|
October 16, 2021 7:29 PM
CLARK FORK — Clark Fork volleyball got in and out of the gym as fast as they could on Saturday, cruising to a three-set victory over Kootenai.
The Lady Cats won 25-8, 25-15, 25-18.
With the victory, Clark Fork completed a season sweep of the Warriors and put a bow on an undefeated season in North Star League play.
"I felt like we did pretty good," head coach Michelle Valliere said. "I kept it pretty normal in the first set ... and then halfway through that match I kind of mixed it up a little bit. I had my libero playing a ton of left side, which she never plays left side."
The match started at 11 a.m., but that didn't stop the Lady Cats from dismantling the Warriors.
In the opening set, Clark Fork jumped out to a 10-0 lead and Kootenai couldn't find a way to slow them down. Sophomore Eloise Shelton served four straight aces and senior Taylor Staley blasted a kill to seal the first set win for the Lady Cats.
Clark Fork continued to roll in the second set, but in the third Kootenai went on the attack. The Warriors gained a 13-7 advantage and were determined to not go away quietly.
Then the Lady Cats turned it on as Shelton served a handful of aces to help spark a 9-0 run. Clark Fork rode that momentum to its third straight victory.
Shelton had quite the day for the Lady Cats, tallying nine aces and five kills. She was a force on the service line and her accuracy was deadly, Valliere said.
"I had her start jump serving after we played Noxon [on Sept. 30]," Valliere said. "I said, 'Hey, why don't you try doing some jump serving, let's see what you can do,' and she's been doing it ever since and she's nailing it. It's working out really well."
Paige Valliere tallied 13 assists, Katelyn Matteson had five digs and a block, and Caiya Yanik added a block.
Top-seeded Clark Fork (12-6, 4-0 NSL) will face the winner of Tuesday's loser-out game between No. 2 seed Mullan and No. 3 seed Kootenai in the 1A Division II District 1 championship at 6 p.m. Thursday at North Idaho College. The Lady Cats will be seeking their fifth straight district title.
---