Bulldogs host winner-take-all battle with Lakeland tonight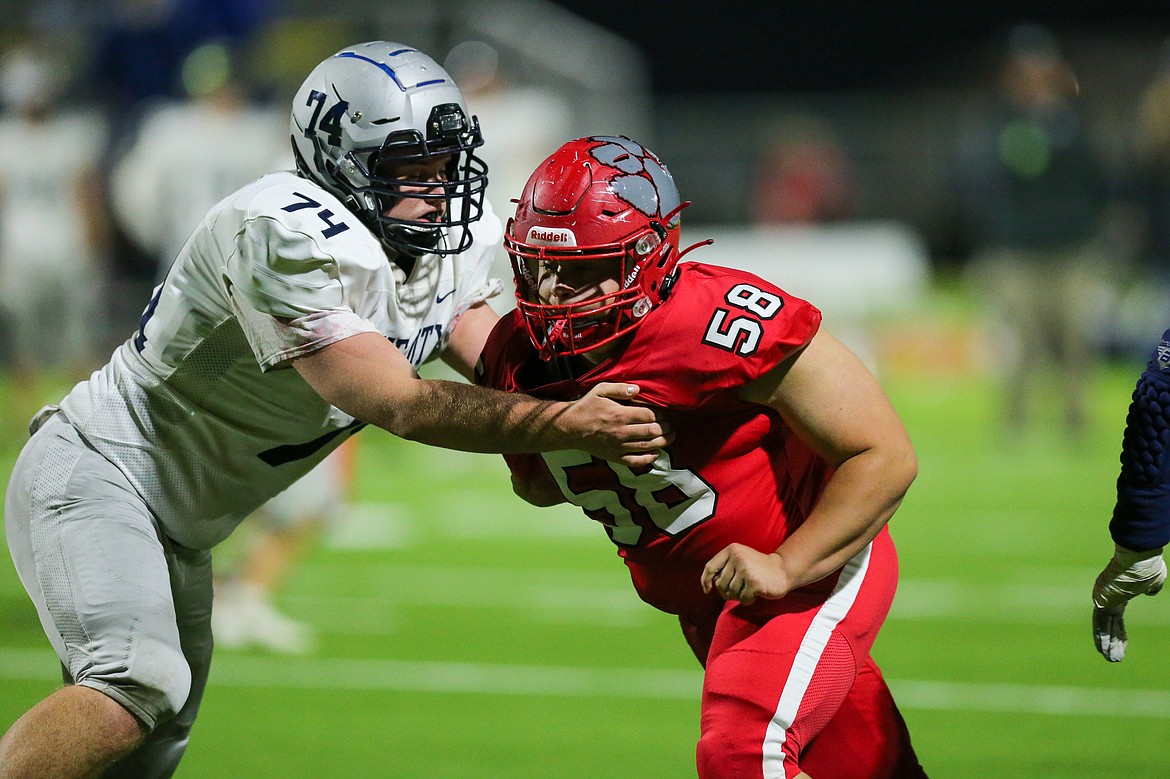 Junior defensive lineman Ryan McElroy tries to fight through a block during the Homecoming game against Lake City on Oct. 1 at War Memorial Field.
(Photo courtesy of JASON DUCHOW PHOTOGRAPHY)
by
DYLAN GREENE
Sports Editor
|
October 22, 2021 1:00 AM
SANDPOINT — All the chips will be on the table Friday night at War Memorial Field.
Sandpoint and Lakeland will meet on the gridiron to determine who will be crowned the 4A Inland Empire League champion and earn the right to host at least one game in the state playoffs that start next week.
Everything is at stake and the Bulldogs know it. They've been waiting all season for this moment and they are ready to defend their league title and secure their spot in the postseason.
"We don't shy away from talking about [the stakes]," head coach Ryan Knowles said. "If you're talking about going to the playoffs, well hey take care of business Friday night and we're going to get some home games, and that's a big deal in this state. We don't mind pressure games. If you can't stand the pressure then you might as well bow out now because it's only going to get more and more every week that goes on."
Last year, Sandpoint walked into Rathdrum in the middle of a snowstorm and earned a hard-fought 6-0 win over the Hawks to grab its first 4A IEL title since 2017. It's expected to be rainy in this year's battle, but no snow is in the forecast — a welcomed sight for both teams.
The Hawks (5-3) enter the winner-take-all matchup with plenty of momentum. They've won five of their last six games after starting 0-2, earning shutout victories over Timberlake, St. Maries and Moscow. Two of their losses this season came against Post Falls 41-14 and Lake City 14-3, a pair of schools the Bulldogs already beat this fall.
Lakeland, ranked 11th in 4A by MaxPreps, is fresh off a bye, but two weeks ago they thrashed Moscow 59-0. The Hawks took control early in the game and never looked back, scoring 49 points in the first half. Tailback John Cornish racked up 141 yards and three touchdowns and the Lakeland defense scored a pair of touchdowns.
Knowles said the Hawks have a big play offense and defense.
"They have the ability to score quickly and they've scored a lot on defense as well," he said. "They've really been on the attack for quite a few weeks here."
Outside of Cornish, the Hawks also have dual-threat quarterback Devon Suko and playmaker Alden Waddington at wide receiver. Lakeland loves to spread the field with four wide receivers and stretch the defense, something the Bulldogs have become accustomed to seeing this season. However, Knowles said the weapons the Hawks have at their disposal make them that much tougher to defend.
"We're coming off a game where Moscow couldn't stretch you out more, so it's fairly familiar territory schematically just as far as defending it," he said. "I think the players provide a different wrinkle … whether it be the quarterback or the running back or pretty much any of their receivers. Once they get the ball in their hands, you gotta take care of them otherwise they'll go."
Speaking of Moscow, Sandpoint (4-2) rolled to a dominant 41-6 road victory over the Bears last week to set up this showdown with Lakeland.
The Bulldogs, ranked No. 2 in 4A by MaxPreps, have really hit their stride offensively over the last month, racking up over 700 yards on the ground during their three-game winning streak.
They will need to continue that success on Friday night against a Lakeland defense that utilizes a lot of different looks.
"They've blitzed just about everybody at some point," Knowles said, "and mixed up their coverages, so it's going to come down to getting a feel for what they are going to do on Friday night and locking in."
Running back Gerrit Cox and quarterback Parker Pettit continue to give opposing defenses nightmares and the offensive line has been controlling the trenches all season long. Getting all-league receiver Cody Newhart back last week just made the Sandpoint offense that much more formidable.
"We got a tremendous offense right now, that's hitting on all cylinders," Knowles said.
To emerge victorious against the Hawks, Knowles said the Bulldogs must keep playing consistent, complimentary football and avoid beating themselves.
If Sandpoint plays its brand of football, they expect to win, Knowles said.
"We need to do what we've been doing," he said.
Kickoff is set for 7 p.m. You can listen to the game on AM 1400 KSPT, ROCK 103 (FM 102.9) or rock103fm.com. You can also find a link to a livestream of the game on spbulldogs.com.
---