Panida memories sought for film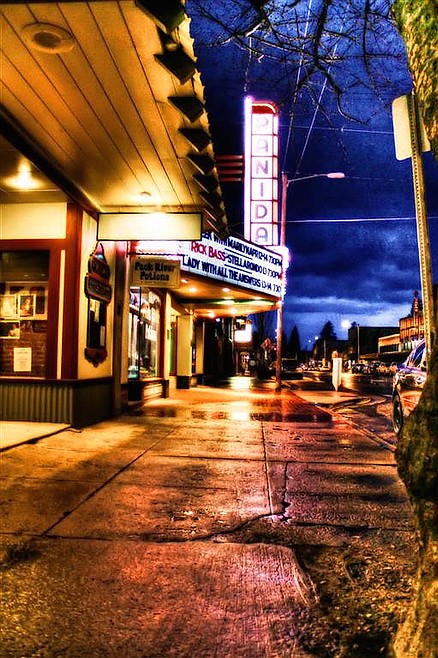 Foster Cline and the Panida Theater board are seeking the communities stories about the Panida, performances they've seen, and memories of the historic theater. The stories will be filmed for a special documentary on the Panida.
(Daily Bee file photo)
by
CAROLINE LOBSINGER
Staff Writer
|
October 22, 2021 1:00 AM
▶️ Listen to this article now.
SANDPOINT — Marching onto the stage, a shy young ballerina makes their debut in "The Nutcracker" before freezing after a glance into the audience.
Ghost hunters attempting to capture sounds of specters unwilling to leave behind the magic of the historic theater.
A father and daughters singing together in a musical.
The variety shows fronted by Floyd Gray, once mayor of Sandpoint, who had a background in vaudeville and was at his best on stage at Panida Theater.
It's those memories — and more — that Foster Cline and the rest of the Panida Theater board hope to capture in a documentary video they're shooting along with Jimmy Matlosz.
"We need to get some of these old folks before they die off," Cline told the Daily Bee. "That's what it's all about. And there's so many good stories of people who went to the Panida."
Cline said he's heard about the Farmer Gray series, how the variety series was a must-go event in town whenever one was held and packed the theater. It is stories like those, stories that form the heart of the theater, which in turn serves as the community's soul.
"I never knew about that," he said of the events. "I mean, I've seen pictures of it. But that packed the theater. And some of those Farmer Gray days would just be great to talk about."
Cline said while not an artsy person, he's been fascinated by the stories about the theater, about how much it means to people and the connections it creates in their lives, in the community.
"But I don't know the history of the Panida," Cline said. "I don't know, all the great things that have gone on there, that people in this town know about."
What he's hoping to gather from the community are stories and tales of what has happened in the theater that's meaningful to them and their memories of the Panida, of their memories of any of the performances if they remember.
What he hopes to do is gather community members together, perhaps in small groups together, and have them talk about their memories, swapping tales of the community's Grand Dame.
"It'd be kind of fun to have them a small group together, because they probably would play off each other, you know, and have Jimmy there with his camera," Cline said. "And one person will say, Yeah, I remember this. And yeah, what about this and what about that."
Cline and the rest of the board hope to get the community excited about talking about the Panida before those stories are lost as people move or pass away.
"The Panida has a wonderful history of artistic endeavors, that if we're not careful, in my opinion, if we can't get people excited about artistic endeavors … I mean, I don't want to say this out loud, but it could be threatened by Netflix and Amazon and Hulu [and other] streaming services, we could lose the Panida."
Small art theaters were hard hit by the pandemic, Cline said. And while the Panida is financially sound thanks to grants and fundraising efforts, Cline said he worries that those new to the community or those caught up with what's on their phone, that that stability, that connection to the community could be lost.
"It's very easy in today's world, I think, for people to just be addicted to a screen, and in essence, kind of say, 'Well, why the heck even worry about a stage," he added. "You know, we've got, we've got Zoom, we can talk together on that, we can get together in a virtual world, what's good about the stage, but the stage has an ambience, particularly in places like the Panida, and that ambience isn't there anyplace else. And the excitement of going with somebody and all hooting on it together and shouting about what you're seeing, and booing about the bad guys, and then coming out and going to dinner together."
Stirring up excitement about the Panida — and involvement in the history Spanish mission-style theater that dates back to 1927 — is essential, Cline said.
"We need a new generation of people to be excited about helping the Panida out," he said. "Because my generation frankly saved the Panida. They saved it from being taken over by a conglomerate that wanted from up in Canada and turn it into a parking lot. So but my generation is getting to the point where it's low-grade worn out and that's why we need new and younger people who love the theater to come and be a part of it."
In addition to the video, Cline said he envisions the community's younger generations joining the board breathing new life and vitality into the Panida, helping guide it well into the future.
And creating new memories.
Those interested in sharing their stories can email Cline at fostercline@gmail.com.
---