SHS downs Hillcrest in overtime thriller, advances to state title game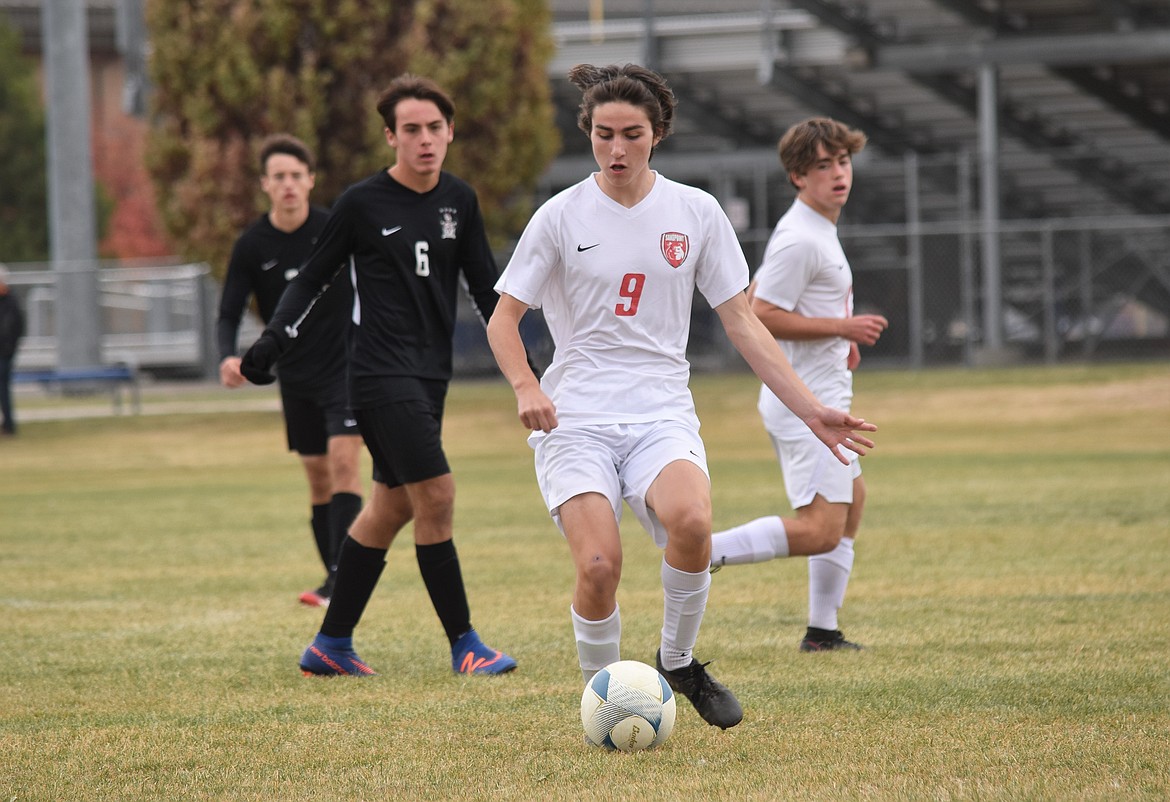 Sophomore Eoin Eddy pushes the ball upfield during Friday's 4A state semifinal match against Hillcrest at Brothers Park in Caldwell. Eddy scored twice in the game to give him five goals through two state tournament games.
(Photo courtesy of ANN DICKINSON)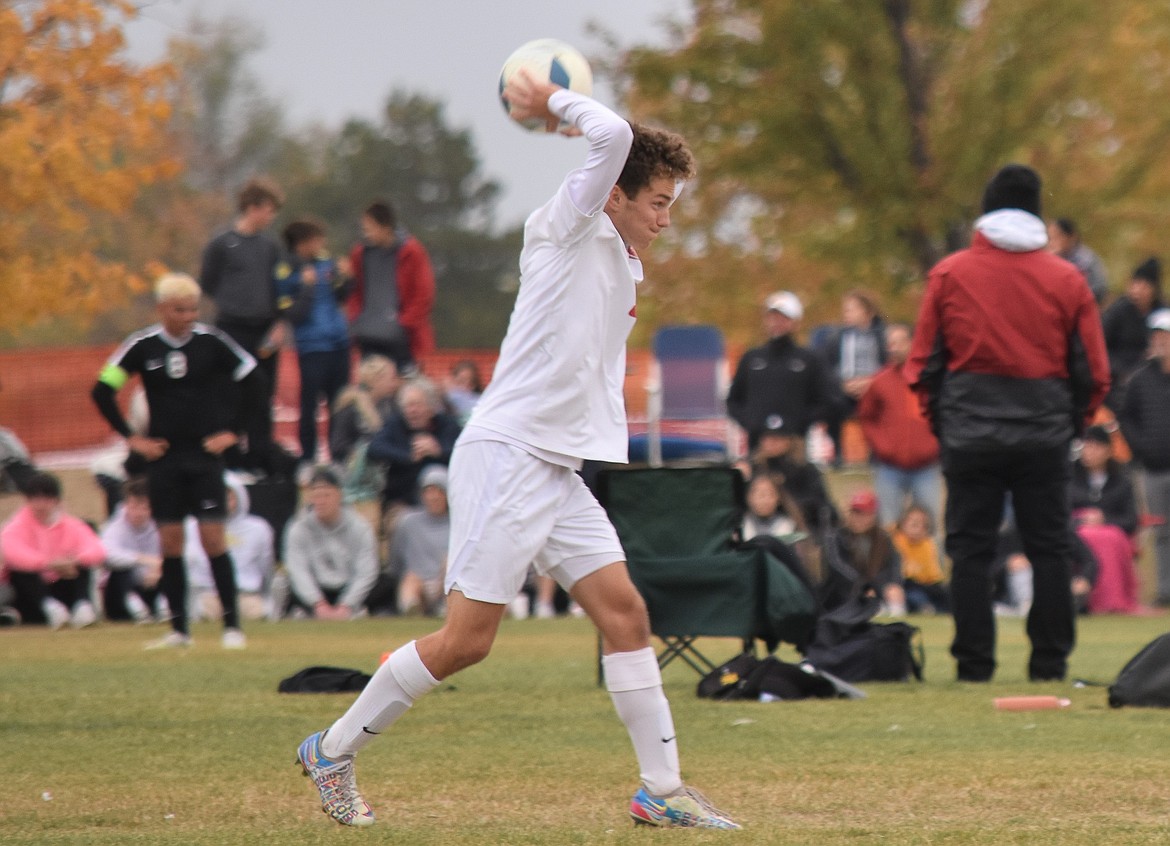 Tyler Bangle throws the ball in during Friday's 4A state semifinal.
(Photo courtesy of ANN DICKINSON)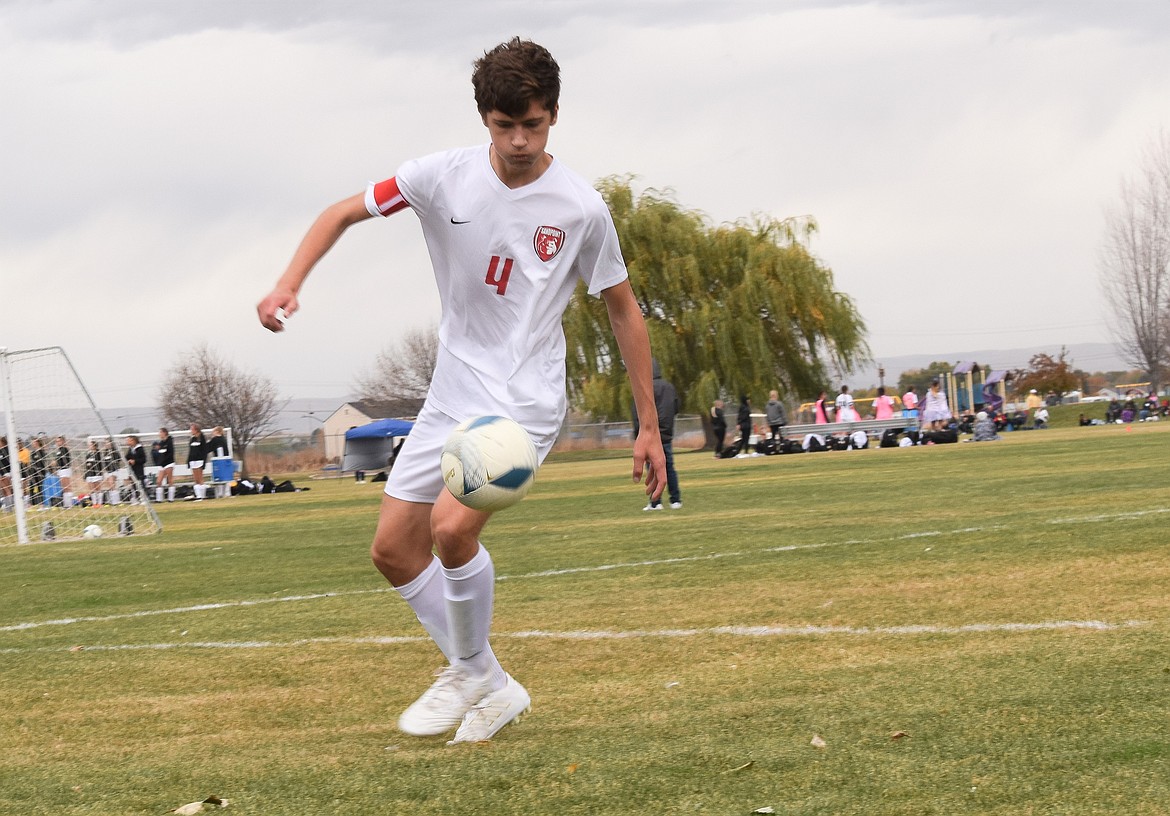 Evan Dickinson plays in Thursday's 4A state semifinal.
(Photo courtesy of ANN DICKINSON)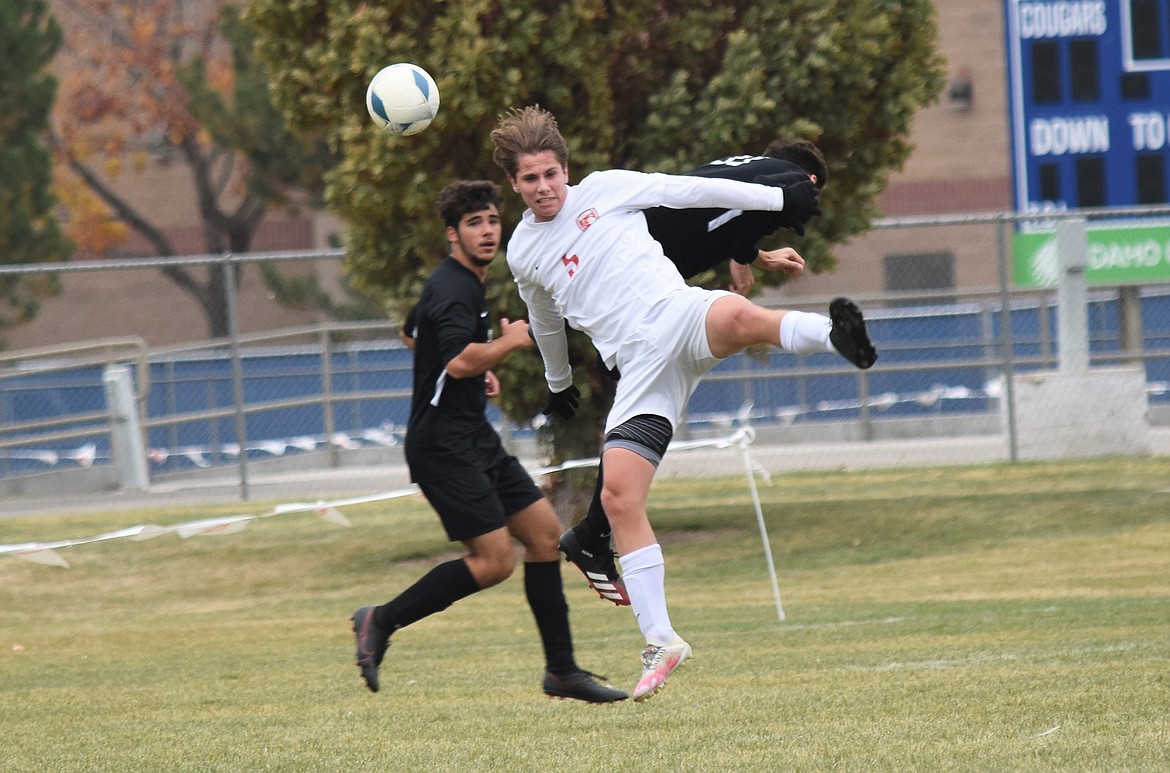 Evan Darling rises up for a header during Friday's game.
(Photo courtesy of ANN DICKINSON)
Previous
Next
by
DYLAN GREENE
Sports Editor
|
October 22, 2021 5:44 PM
CALDWELL — Could it get any more dramatic?
After the Bulldogs surrendered a 2-0 lead in the final 10 minutes of regulation in Friday's 4A state semifinal against Hillcrest, senior Canyon Nash scored a golden goal five minutes into overtime to send the Sandpoint boys soccer team back to the state title game for the first time since 2012.
"I pretty much lost my voice and was on the verge of a heart attack," head coach Tanner French said about the thrilling match. "It was pretty exhilarating."
Sophomore Eoin Eddy scored his second goal of the day in the 70th minute on an assist from senior Tyler Bangle to give SHS a 2-0 advantage. A ticket to the state title was just 10 minutes away and the Bulldogs could feel it through the blustery winds that persisted throughout the entire match. But just moments later, Hillcrest found the back of the net.
"I think at that point the emotions got the best of us because they scored about 20 seconds later," French said.
Clinging to a 2-1 lead, the Bulldogs did everything they could to keep the ball out of their end and drain every second out of the clock while battling fatigue. It looked like Sandpoint had got the job done, but on a Hillcrest free kick from about 60 yards out with less than a minute left, a foul was called on the Bulldogs in the penalty box. The Knights stepped up and buried the penalty kick to force overtime.
The Bulldogs could have let the blown lead result in a devastating semifinal loss, but they didn't. Sandpoint came right back in overtime and was on the attack. The Knights were on their heels from the opening whistle in overtime.
"We took it to them," French said.
On a corner kick five minutes into overtime, senior Nolan Angell sent the ball back post, senior Evan Darling headed it across the front of the net and Nash kneed it in over the goal line to give the Bulldogs a dramatic 3-2 victory.
French said there's no better feeling than winning in overtime.
"Obviously, it's disappointing to be up 2-0 and then all of the sudden we're going into overtime because of unfortunate circumstances," he said, "but I think we were able to corral the boys in and let them know, 'Hey, you ... have 10 minutes to put a goal in the back of the net and you're in the state final.'"
Two years ago, Sandpoint suffered a heartbreaking 3-2 overtime loss to Moscow in the 4A Region 1 championship after leading 2-1 in the final seconds of regulation. French believes memories of that game flooded back to the Bulldogs who were on that team prior to overtime Friday, and the boys were determined to make sure they didn't suffer a similar fate.
"Today was a battle of attrition," he said. "It was a tough environment to play in."
With the win, the third-seeded Bulldogs secured a spot in the 4A state title game on Saturday against No. 4 seed Bishop Kelly, who knocked off top-seeded Jerome 1-0 in overtime in the semis. Sandpoint will be seeking its ninth state title.
French said everyone dug deep to pull out this win, but he was extremely proud of the play of Bangle, Nash, Darling and Angell.
"I thought everyone had a bright spot," he said. "I can't name one or two players that secured that win for us, it was a collective mentality."
The Bulldogs got off to another strong start on Friday thanks to a goal from Eddy in the second minute. Eddy's second goal of the match was a beauty, French said, and gave him his fifth of the state tournament in his first season on varsity.
"It's unbelievable what he's doing and it's coming at the right time," French said. "My assistants and I were joking with him like, 'Don't do anything different, just keep doing what you're doing. Whatever it is you're doing before you go to bed at night, keep doing what you're doing.'"
Junior goalkeeper Roman Jiles made five saves.
"Roman came up big on quite a few occasions," French said.
French called Thursday's state opening win "monumental," and he said that victory gave them the confidence to battle back against Hillcrest.
"I can't say enough about the guys this year on the way they are handling adversity," he said. "That game had everything in it and sometimes it doesn't work out in your favor and today it did."
First kick for Saturday's 4A state title match is set for 6 p.m. PST at Middleton High. The game will be livestreamed on the NFHS Network.
First half — 1, Eoin Eddy (unassisted), 2:00. Second half — 2, Sandpoint, Eddy (Bangle), 70:00. 3, Hillcrest, Hadrien Pena (unassisted), 71:00. 4, Hillcrest, Johan Hernandez-Gaytan (penalty kick), 80:00. First overtime — 5, Sandpoint, Canyon Nash (Evan Darling), 5:00.
Shots — Sandpoint 7, Hillcrest 7.
Saves — Sandpoint, Roman Jiles 5; Hillcrest, unknown 4.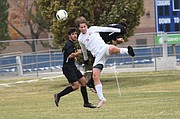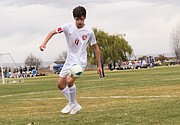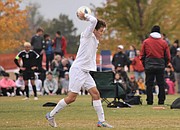 ---