To coach a college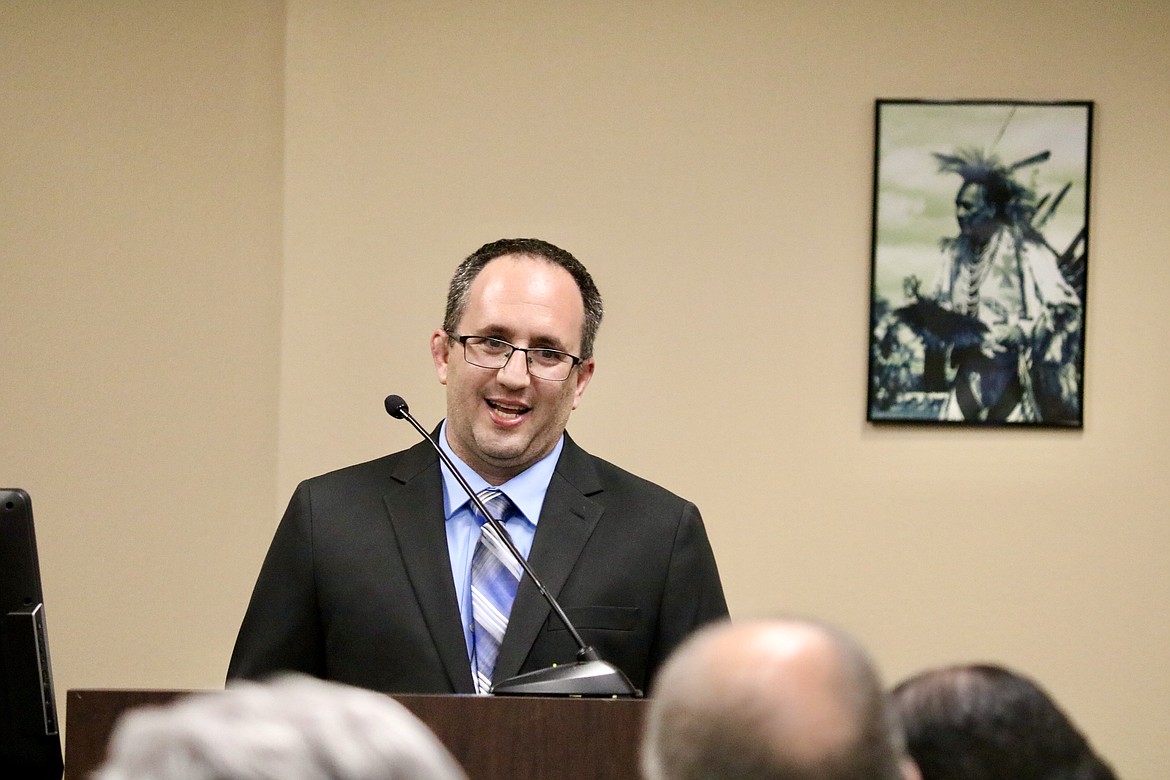 North Idaho College head wrestling coach Michael Sebaaly addresses the Board of Trustees at the board meeting Wednesday night in Student Union Building on NIC's main campus, following the vote to select him at interim president Monday night. HANNAH NEFF/Press
by
HANNAH NEFF Hagadone News Network
|
October 28, 2021 1:00 AM
▶️ Listen to this article now.
COEUR d'ALENE — Less than 48 hours after being named interim president for North Idaho College, head wrestling coach Michael Sebaaly said Wednesday that he's still surprised.
"It was a shock," he said. "I'm excited and I'm humbled."
The NIC board of trustees selected Sebaaly from a list of 10 internal applicants in a 3-2 vote Monday night.
"I applied for this position because I believe what we do matters and I believe in the mission of a community college," Sebaaly told The Press in a phone interview. "I believe in serving the needs of all our students and I believe in serving our communities."
Sebaaly said that by taking care of their students and community, NIC stays relevant. He believes it's important for the college to work toward common solutions.
While Sebaaly's bio doesn't include higher education administration/senior leadership experience, he said he's a firm believer that leadership is leadership. He said his experience recruiting, retaining, advising and academically supporting his athletes through being their coach is similar to the major businesses of a college president in a smaller setting.
"I like to consider a head coach of a college program as a small CEO," Sebaaly said. "They are running and they're taking care of and mentoring athletes and others on their staff just like a president will do."
Sebaaly said he hopes to educate and create stability by serving the community and supporting the opportunities and access to education NIC provides throughout the five northernmost counties.
"I'm just excited to get going and what excites me the most is the great support system," Sebaaly said. "I'm excited to work with everybody that's a part of the president's cabinet and to continue to promote and make sure that NIC remains relevant."
Starting his third year at NIC, Sebaaly said he's developed professional relationships with many people but can't speak to his relationship with Board Chair Todd Banducci specifically.
Trustee Christie Wood said she knows for a fact that Banducci and Sebaaly are personal friends. She believes that friendship, more than actual qualifications, got Sebaaly the interim $180,000 a year job.
Sebaaly said that in working with trustees, his role is to listen to faculty and staff and serve the students and community.
"In athletics there's often background noise, and you got to focus on what your mission and vision is," Sebaaly said. "I am going to serve our students, listen to our faculty and staff and promote and support this institution and I will do that with the Board."
Sebaaly said it's too early to decide if he'll apply for the permanent position. When asked, he declined to express a position on a mask mandate. Former President Rick MacLennan was fired shortly after implementing a mask mandate on campus.
"I ended up here at North Idaho College because I thought it was a great spot to live and raise a family and I really love the community," Sebaaly said. "I just look at the amazing opportunity that this is and what we can do."
Sebaaly completed his doctorate in educational leadership from Southwestern College in Winfield, Kan. Prior to NIC, he coached five seasons at Northwest Kansas Technical College in Goodland, Kan.
The Lancaster, N.Y., native resides in Coeur d'Alene with his wife and five children, ages 1 through 11.
Recent Headlines
---