Okaidja Afroso kicks off POAC Performing Art Series
An Afropop singer-songwriter and multi-instrumentalist from Ghana, West Africa, Okaidja Afroso's music is a spicy fusion of Ghanaian music with diverse cross-cultural influences.
(Photo courtesy LISA MONET PHOTOGRAPHY)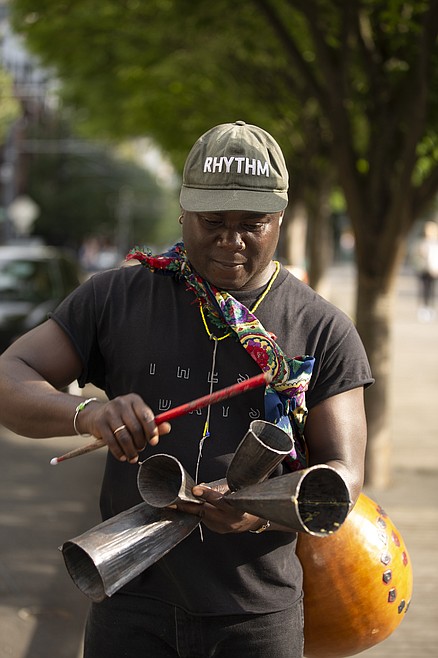 Okaidja Afroso is an Afropop singer-songwriter and multi-instrumentalist from Ghana, West Africa.
Previous
Next
|
October 28, 2021 1:00 AM
The Pend Oreille Arts Council presents the first show of their 2021-22 performing arts season, Okaidja Afroso on Friday.
The concert will begin at 7:30 p.m. on Friday, Oct. 29, at the Panida Theater. POAC will also host a pre-concert reception at their gallery featuring artistic treasurers donated by local art collector and filmmaker Erik Daarstad.
"We are thrilled to present our first live musical performance since the COVID Pandemic cut short our 2019-2020 season," said POAC Executive Director Tone Lund. "Okaidja is such a dynamic performer to kick off our season! We are excited to bring him with his globally acclaimed band to the Panida -- Come join us!"
Okaidja Afroso is an Afropop singer-songwriter and multi-instrumentalist from Ghana, West Africa. His unique artistic vision has led him to combine his native rhythms with unprecedented pairings of musical flavors. His sound is a spicy fusion of Ghanaian music with diverse cross-cultural influences. Although most of Okaidja's hypnotic arrangements are sung in his native language, the meaning shines through. His calling and life purpose is to bring us all together so that we can laugh and grieve and dance and forge forward together, in community. Okaidja will also participate in POAC's Ovations program with an outreach performance a local elementary school.
As an added attraction, everyone is invited to a special pre-show reception at the POAC Gallery in honor of Erik Daarstad. Daarstad, an accomplished cinematographer and local celebrity, generously donated part of his personal art collection to POAC in August. During his worldwide travels, he acquired an awe-inspiring assortment of work. The current display features pieces from the Ivory Coast, Guatemala, and Peru, among others.
"Upon collecting the donation, I was overwhelmed with gratitude. I recognized how special this gift to POAC was," said visual arts coordinator Claire Christy. "Upon researching each piece, that appreciation grew. A collection of work like this represents the stories of someone's life. I am honored that Erik entrusted POAC with these works and shared his life stories with us."
POAC's Gallery is located just across the street from the Panida Theater, 110 Main St., Suite 101, in downtown Sandpoint. Visitors are welcome in the gallery from 5-7 pm to peruse Daarstad's collection, as well as work from local artists, while enjoying a glass of wine before heading to the Panida for the concert.
All tickets to Okaidja Afroso's show are $22 and are available at the POAC office, online at ArtinSandpoint.org, by phone 208-263-6139, or at 7:00pm at the door at the Panida Theater, night of show.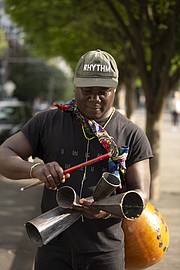 ---