Sandpoint stomps Tigers, advances to state quarterfinals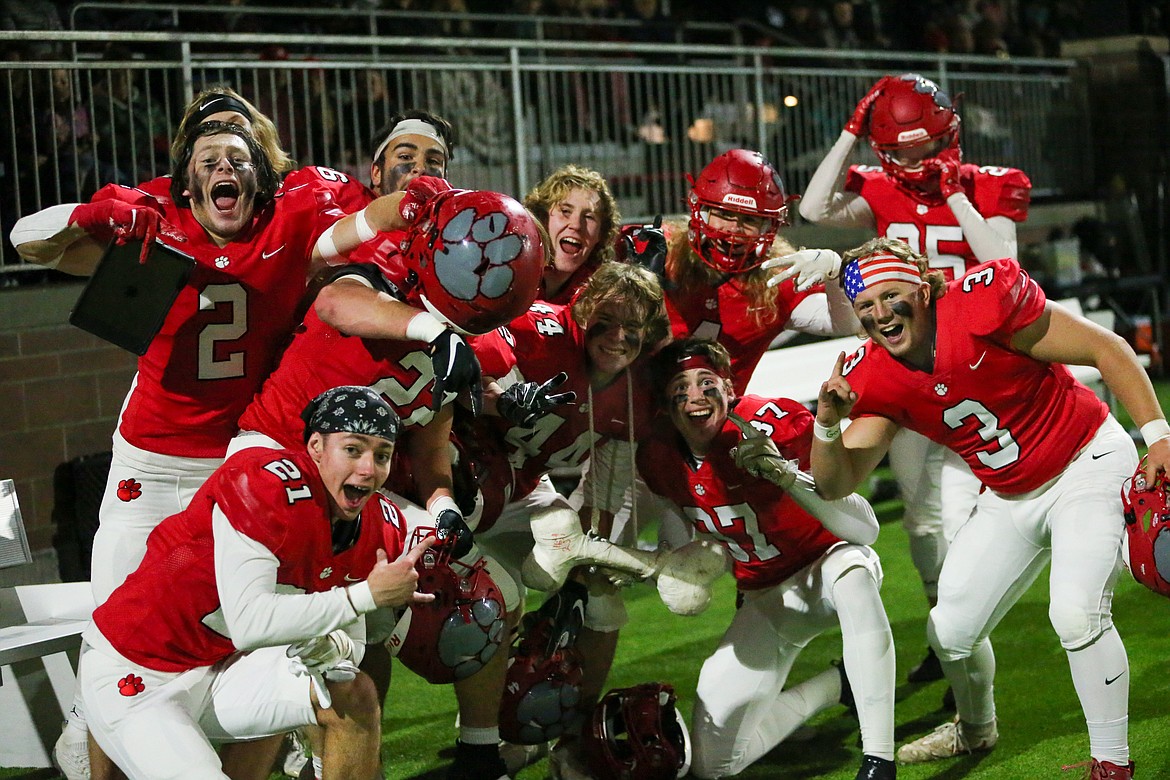 The Sandpoint defense celebrates on the sidelines following Joseph Hughes' interception in the second quarter of Friday's 4A state playoff game.
(Photo courtesy of JASON DUCHOW PHOTOGRAPHY)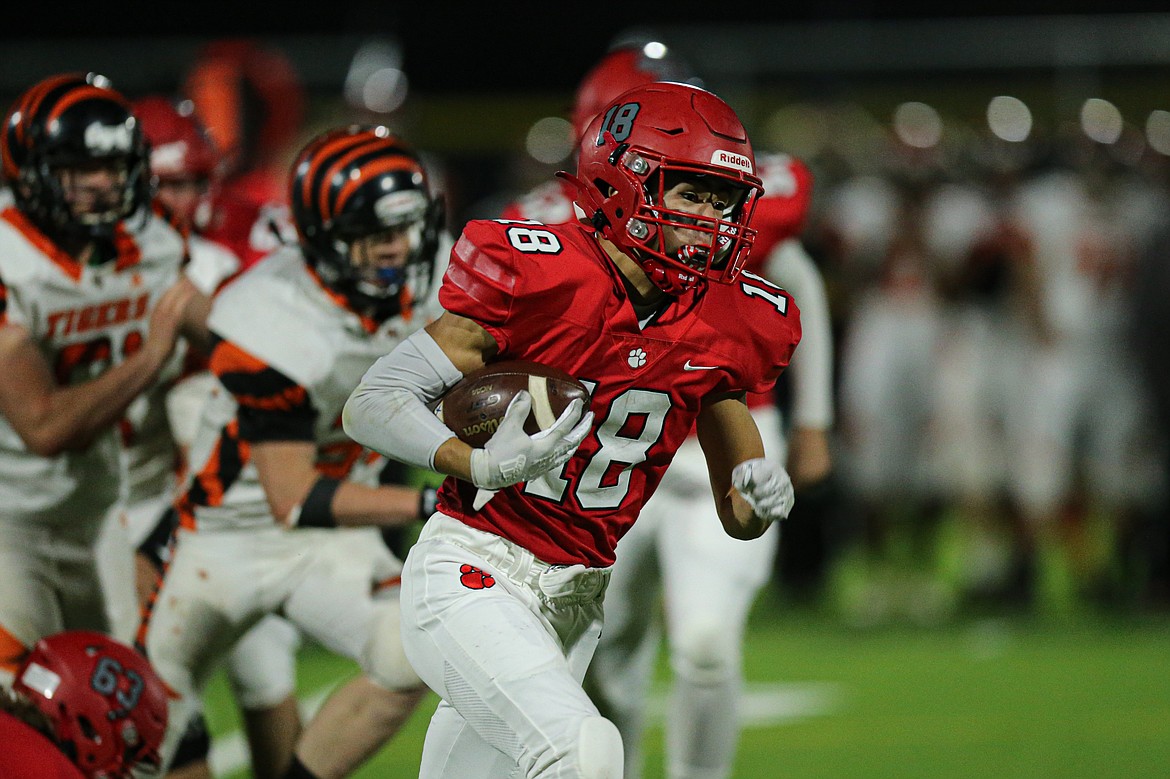 Sophomore Kody Brewster breaks free during Friday's game at War Memorial Field.
(Photo courtesy of JASON DUCHOW PHOTOGRAPHY)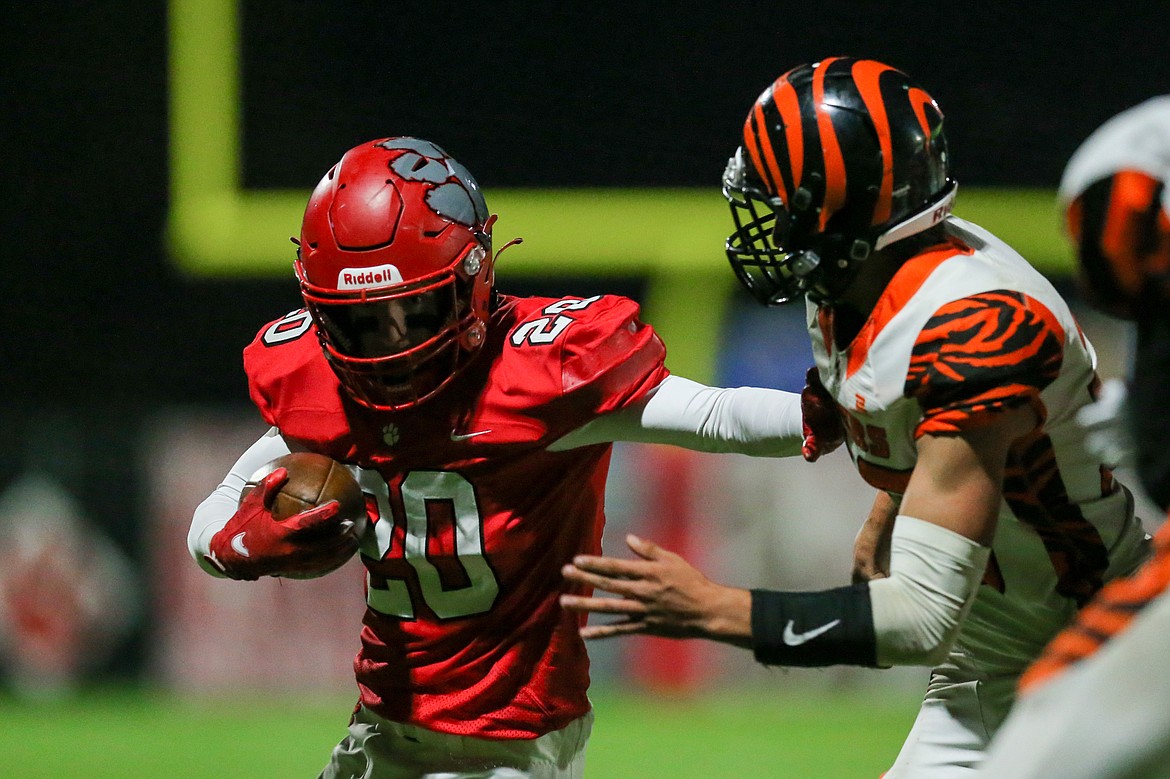 Sophomore Shane Sherrill carries the ball on Friday.
(Photo courtesy of JASON DUCHOW PHOTOGRAPHY)
Sophomore Matt Chapman blocks on Friday.
(Photo courtesy of JASON DUCHOW PHOTOGRAPHY)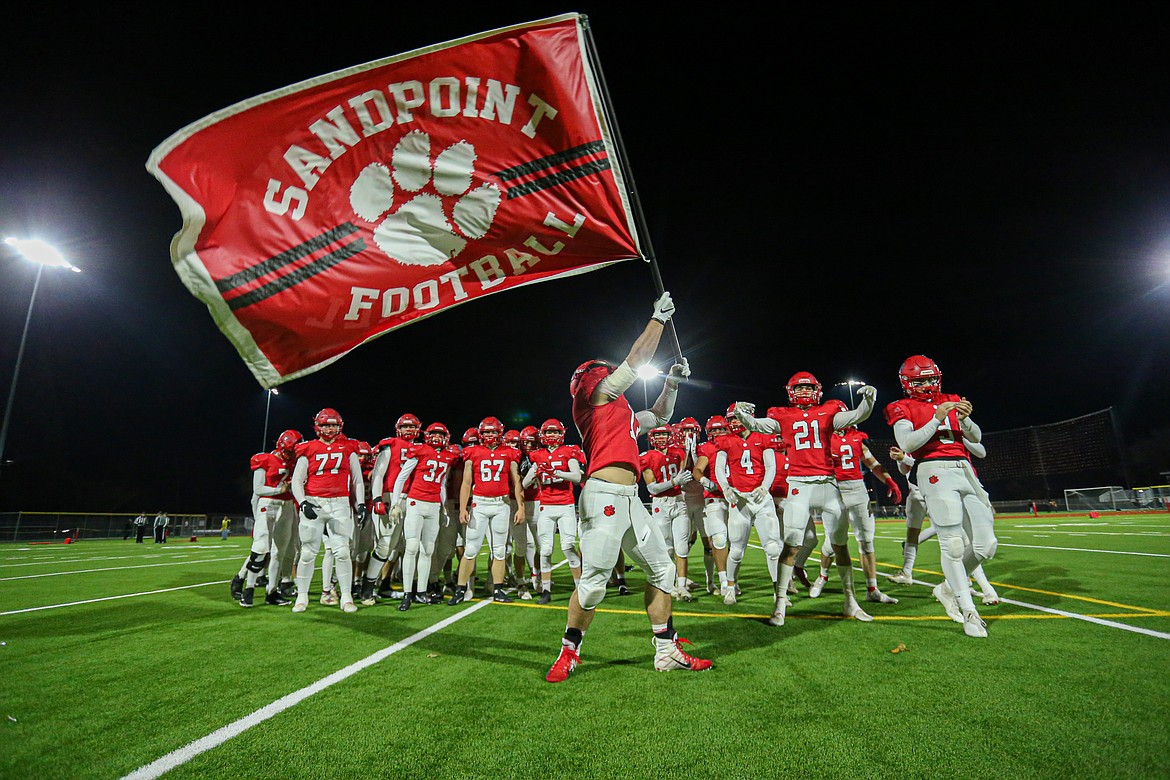 Senior Gerrit Cox waves the flag prior to Friday's game.
(Photo courtesy of JASON DUCHOW PHOTOGRAPHY)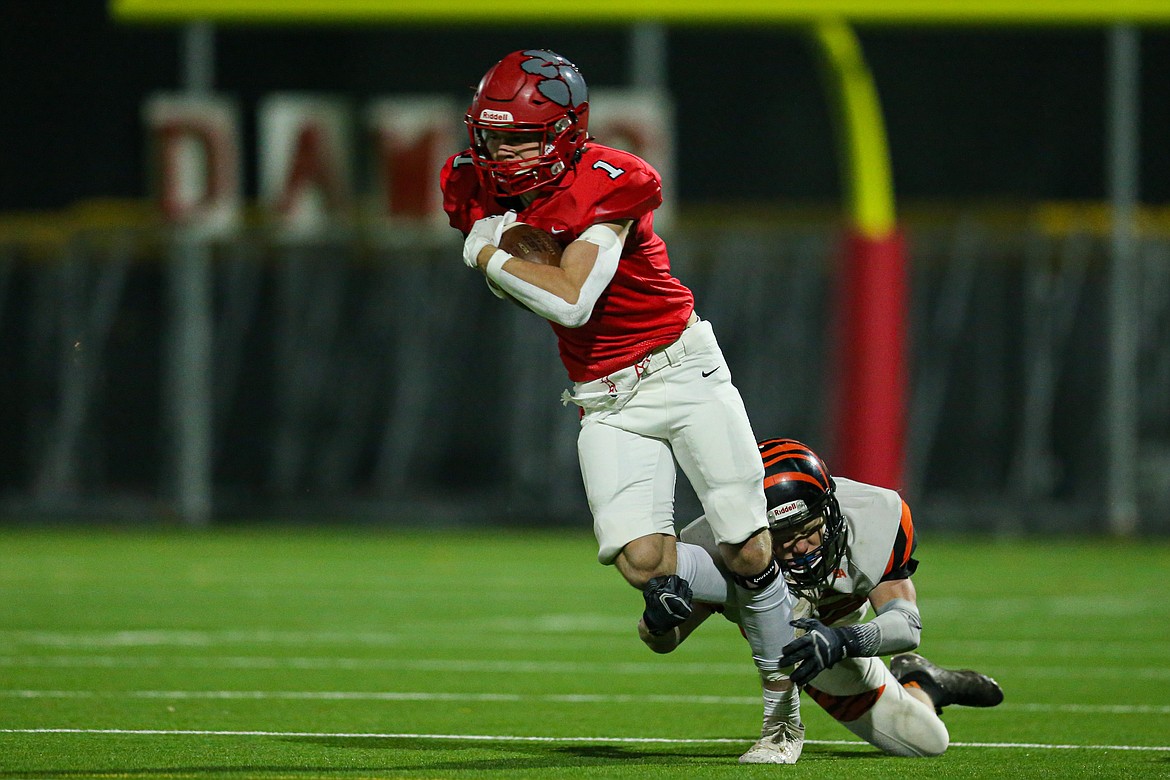 Junior wide receiver Cody Newhart tries to break through a shoelace tackle on Friday.
(Photo courtesy of JASON DUCHOW PHOTOGRAPHY)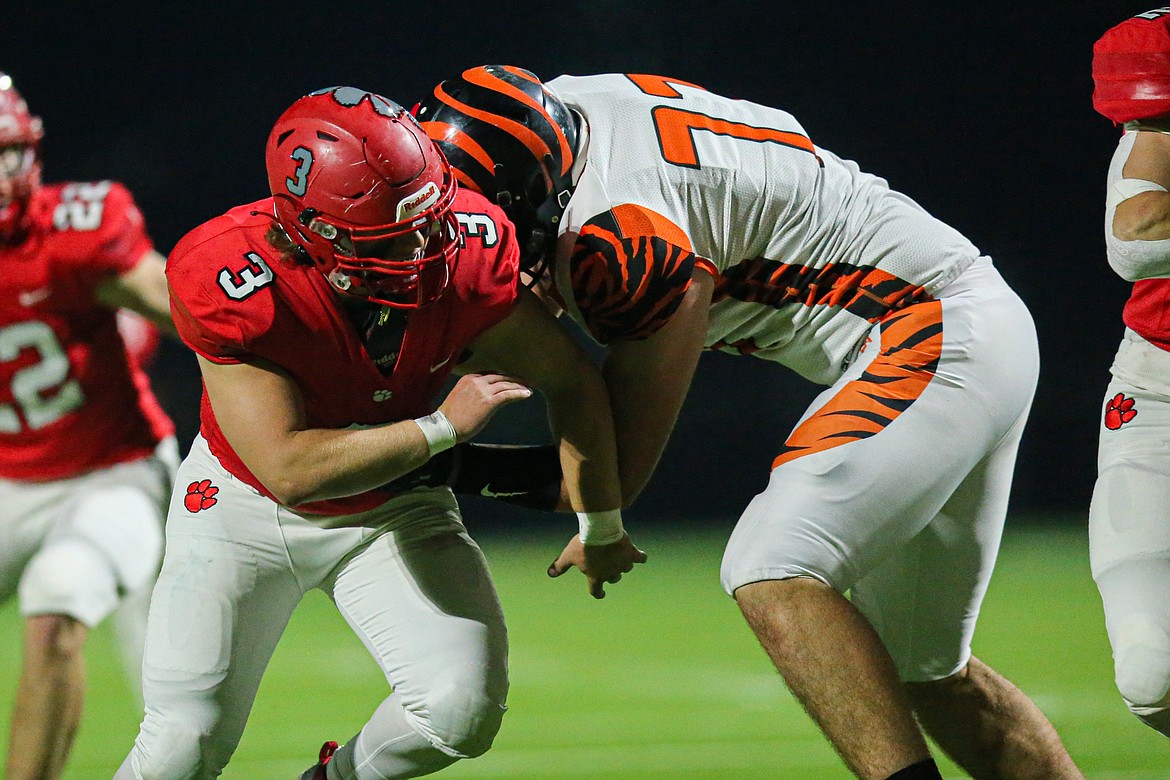 Senior Blake Sherrill breaks through the Mountain Home offensive line on Friday.
(Photo courtesy of JASON DUCHOW PHOTOGRAPHY)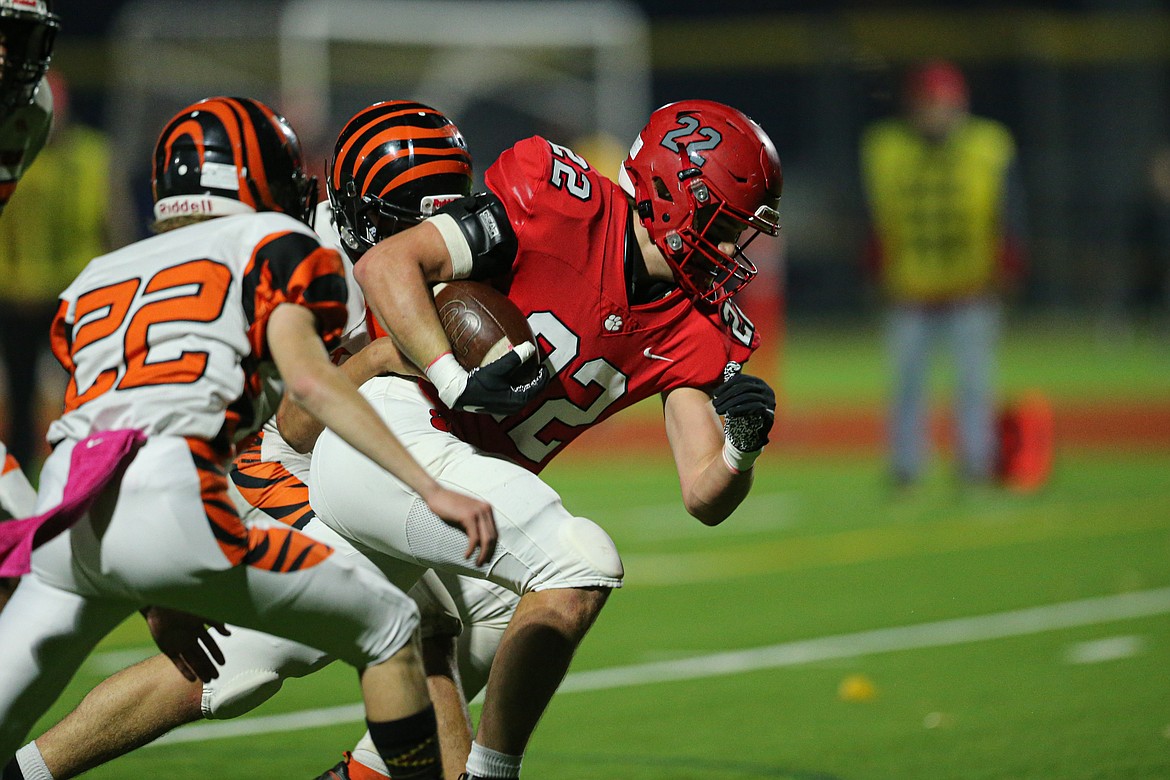 Junior Wes Benefield runs into the end zone for a 15-yard score on Friday.
(Photo courtesy of JASON DUCHOW PHOTOGRAPHY)
Previous
Next
by
DYLAN GREENE
Sports Editor
|
October 30, 2021 12:33 AM
SANDPOINT — Sandpoint made a statement on Friday night.
The Bulldogs routed No. 16 seed Mountain Home 46-0 in the first round of the 4A state playoffs to eliminate the Tigers and advance to the state quarterfinals for the second straight year.
A Bulldog victory was never in question as SHS (6-2) scored all of its points in the first half.
Entering as the top seed, Sandpoint could have overlooked its first round opponent, but it was clear they never let complacency creep in. They dominated from start to finish.
"It's how we're built," head coach Ryan Knowles said, "... I also believe there's just a no quit attitude. We want to be perfect and the coaches and players have bought into that."
Now only three wins stand between the Bulldogs and their second state title.
"There's eight teams left on that board in my office now," Knowles said, "and I know there's some good ones coming off today and we're humbled to be one of the teams left."
Sandpoint has now won five straight games.
"We saw what [Mountain Home] did and we prepared accordingly," Knowles said. "They have some players over there worth having some concerns about, and once again, we asked our guys to step up and they stepped up."
The Sandpoint offense was forced to punt on its opening drive, but after that the Bulldogs couldn't be stopped.
Running back Gerrit Cox accounted for Sandpoint's first four touchdowns in Friday's game. On his first score of the night, Cox returned a punt 39 yards to set the Bulldogs up deep inside Mountain Home territory at the 13. Two plays later, the senior punched it in from a yard out.
The Bulldog defense was stout in the opening half, allowing SHS to own the field position battle. On nine Mountain Home possessions in the first half, Sandpoint forced a pair of turnovers, five three and outs and one turnover on downs. SHS didn't allow the Tigers to get a first down until there was just over four minutes left in the second quarter.
Already staring at a 27-0 deficit midway through the second quarter, Mountain Home (3-7) decided to go for it on fourth and 1 from their own 29 with 4:51 left in the half. Junior linebacker Wes Benefield made them pay for that decision. He blew through the line and destroyed the Tigers' play to force a turnover on downs.
Two plays later, Benefield got rewarded for his big defensive stop when the Bulldogs handed the ball off to him and he bulldozed in for a 15-yard score to give SHS a 34-0 lead.
On the ensuing Mountain Home drive, junior Joseph Hughes picked off a pass to set SHS up at the Tigers' 19. Two plays later, quarterback Parker Pettit connected with junior wideout Cody Newhart for a 5-yard score.
On the first play of the Tigers' next possession, junior safety Koda Hartley intercepted a pass to give the ball right back to the Sandpoint offense and two plays later, sophomore running back Kody Brewster scored his first career varsity touchdown.
The Bulldog defense held Mountain Home to 147 yards — 106 on the ground and 41 through the air. They also finished with four turnovers.
Knowles said his defense was money all night.
"Right from the get-go you could tell that our guys were flying," he said. "They did some new stuff that they haven't done all year, so our guys handled that on the fly, which is super for our guys' comprehension and knowledge of football."
Sandpoint gashed the Mountain Home defense for seven touchdowns. Cox finished with 87 rushing yards and four touchdowns, and Pettit was 7 of 8 for 122 yards and one touchdown.
Knowles said he loves watching offensive coordinator Jeremy Thielbahr go to work at finding defense's weaknesses. He added that the offense is humming right now.
"The chemistry between Pettit and Cox and the receivers and the O-line, it's fun to watch," he said. "I get my corrections done on defense as quick as I can so I can come out and watch them in action."
Sandpoint rested its starters the entire second half and the backups got plenty of playing time. Knowles said the team scrambled at halftime to figure out their game plan for getting all the reserves in.
"They're our practice squad and they're getting ready for next year so to get them all in was a little nerve-racking at halftime and I think we were almost late getting out [on the field]," he said, "... but great to have them in and great to get our starters off. You could see the starters all excited for them."
Despite the dominant victory, Knowles feels like there are some things they need to work on special teams wise. Sandpoint missed a field goal and failed to convert three extra-point attempts.
"We want to get that cleaned up because at some point we are going to need a point to win a game," he said. "I look forward to getting back on the practice field and getting that corrected."
The Bulldogs will host No. 8 Shelley (7-3) in the state quarterfinals next Friday at War Memorial Field.
"We got a good Shelley team coming to town that's going to provide its own set of wrinkles and we'll start getting to work on them," he said. "It's going to take all three phases and the correct execution and preparation."
Mountain Home 0 0 0 0 — 0
Sandpoint 14 32 0 0 — 46
First quarter
SHS — Gerrit Cox 1-yard run (Jacob Gove kick), 4:34.
SHS — Cox 14-yard run (Gove kick), 1:37.
Second quarter
SHS — Cox 16-yard run (kick no good), 11:55.
SHS — Cox 5-yard run (Gove kick), 7:22.
SHS — Wes Benefield 15-yard run (Gove kick), 4:34.
SHS — Cody Newhart 5-yard pass from Parker Pettit (kick no good), 2:07.
SHS — Kody Brewster 10-yard run (kick no good), 1:11.
INDIVIDUAL STATISTICS
RUSHING — MH, Pierson 12-56, Wright 4-14, Winings 5-6, Reynolds 4-13, Sykes 2-1, Scovil 1-5, Munoz 2-11. SHS, Cox 11-87, Pettit 3-4, Sherrill 8-21, Frank 1-16, Benefield 1-15, Brewster 4-20, Garcia 2(-10).
PASSING — MH, Winings 7-21-3-41. SHS, Pettit 7-8-0-122, Garcia 0-2-1-0.
RECEIVING — MH, Sabol 2-11, Parker 1-13, Pierson 1(-2), Munoz 2-24. SHS, Frank 2-23, Newhart 3-36, VanDenBerg 1-8, Kuhn 1-55.
Recent Headlines
---