Girls capture second, boys fourth at Timberlake Farragut Invitational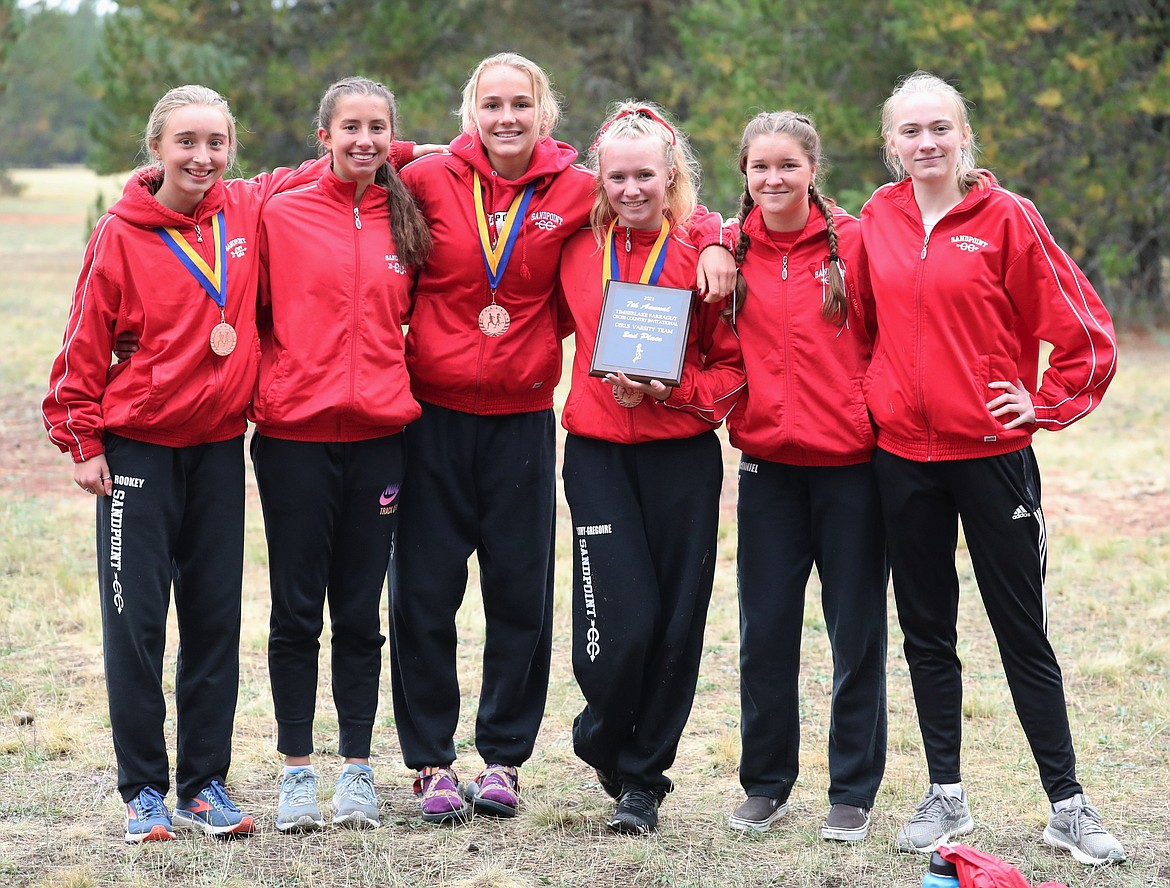 The Sandpoint girls varsity team poses for a photo with the second-place trophy following Saturday's Timberlake Farragut Invitational. Pictured (from left): Grace Rookey, Payton Betz, Ara Clark, Mackenzie Suhy-Gregoire, Devin McDaniel and Jillian Primgaard.
(Photo by DYLAN GREENE)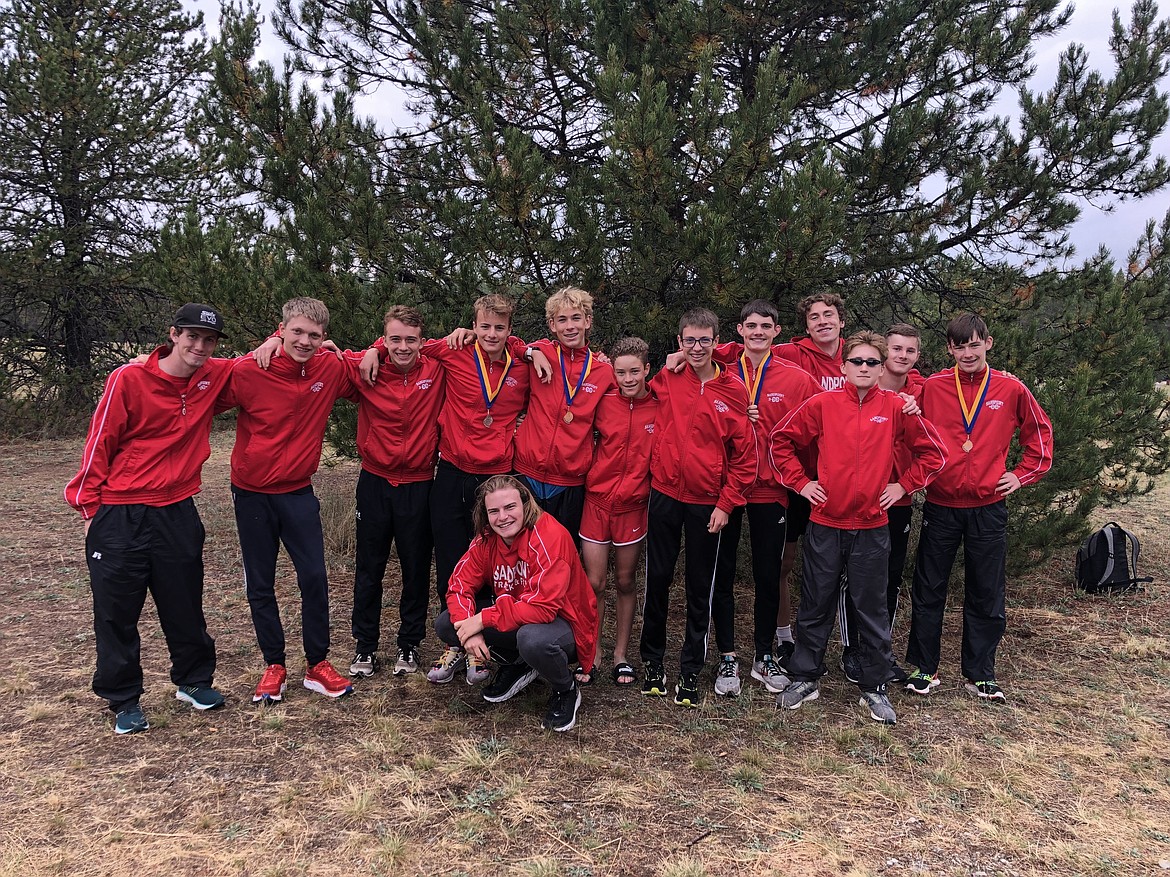 The first-place Sandpoint JV boys team poses for a photo on Saturday.
(Photo courtesy of MATT BRASS)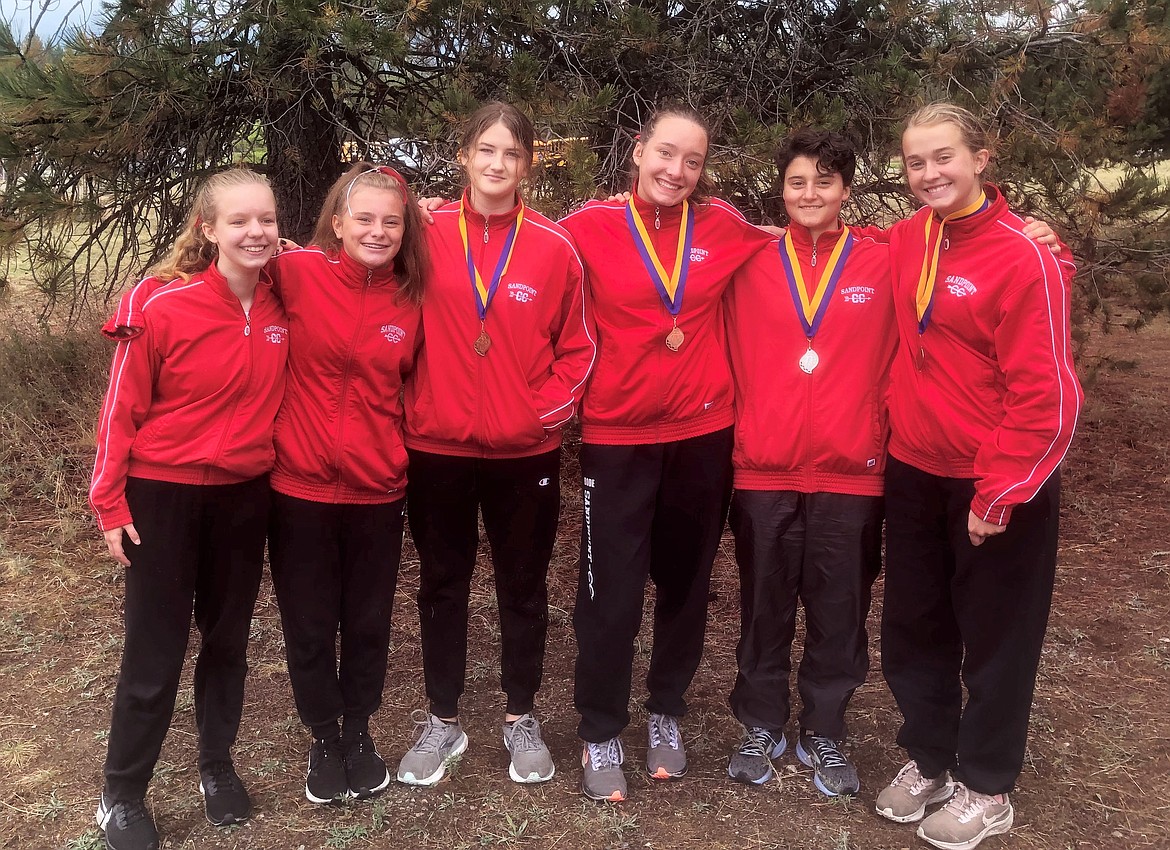 The first-place Sandpoint JV girls team poses for a photo on Saturday.
(Photo courtesy of ANGIE BRASS)
Alice Davison nears the finish of Saturday's JV race.
(Photo by DYLAN GREENE)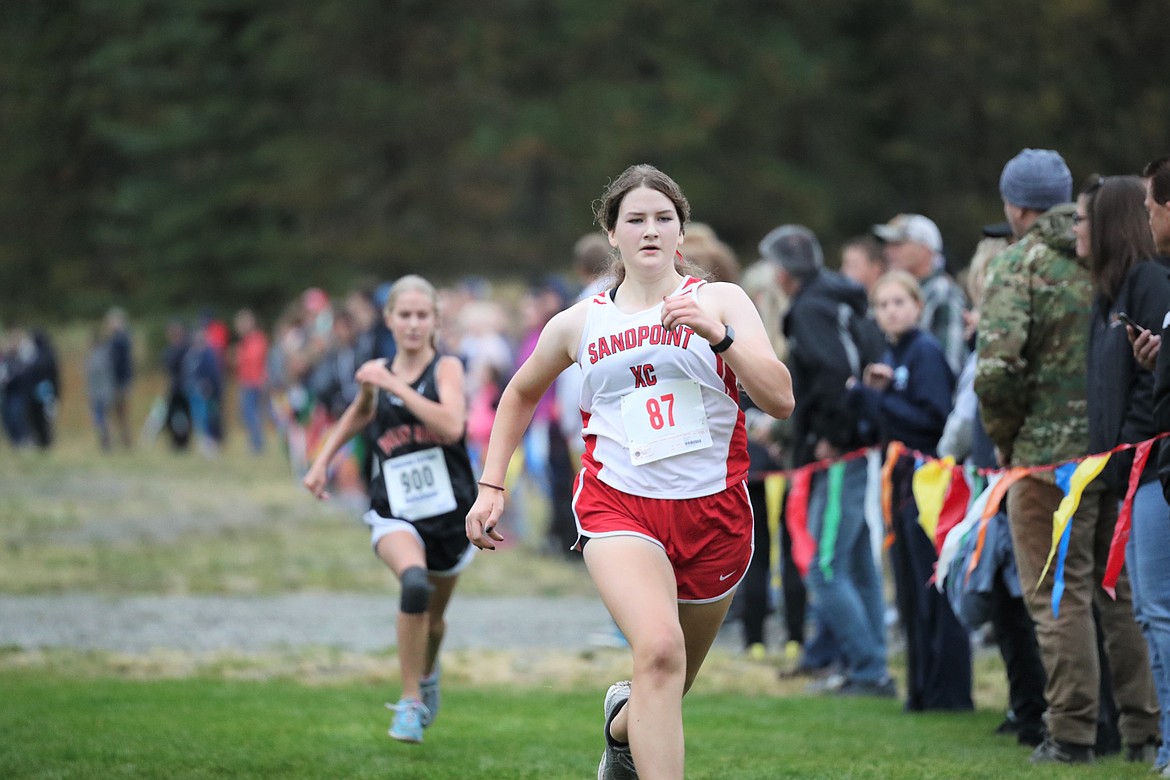 Alyssa Fite nears the finish of Saturday's JV race.
(Photo by DYLAN GREENE)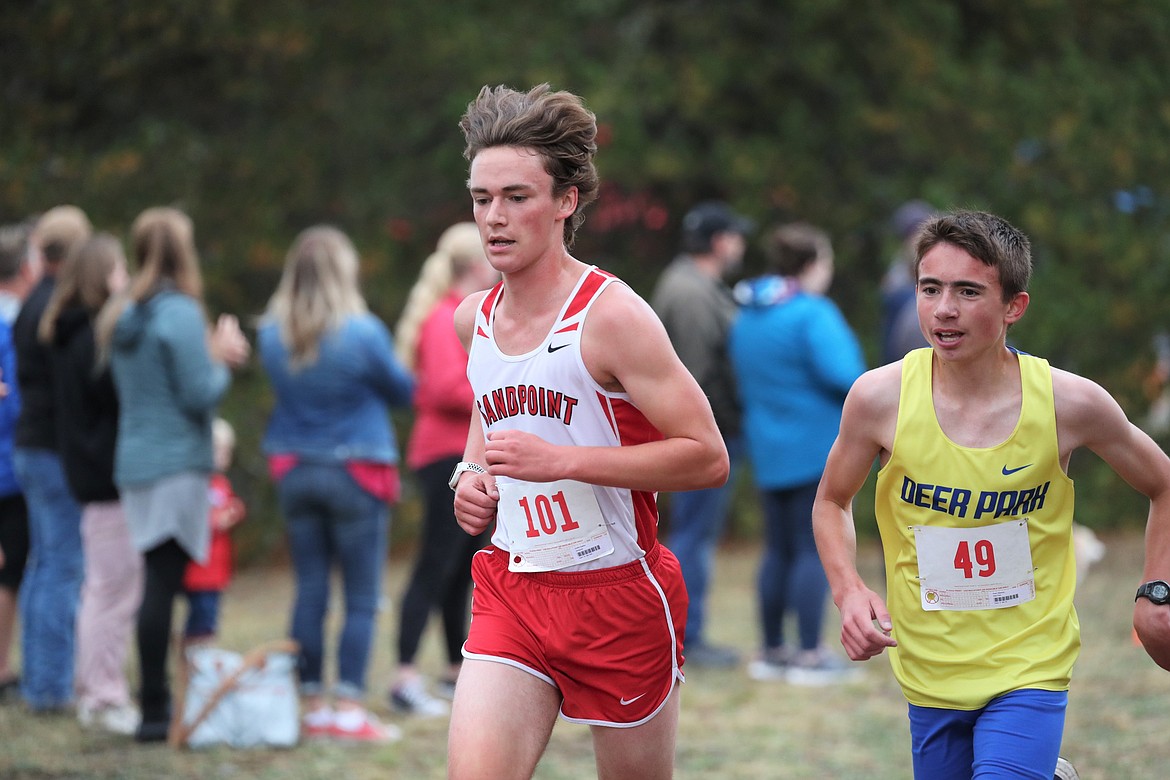 Anders Eastley competes in Saturday's meet.
(Photo by DYLAN GREENE)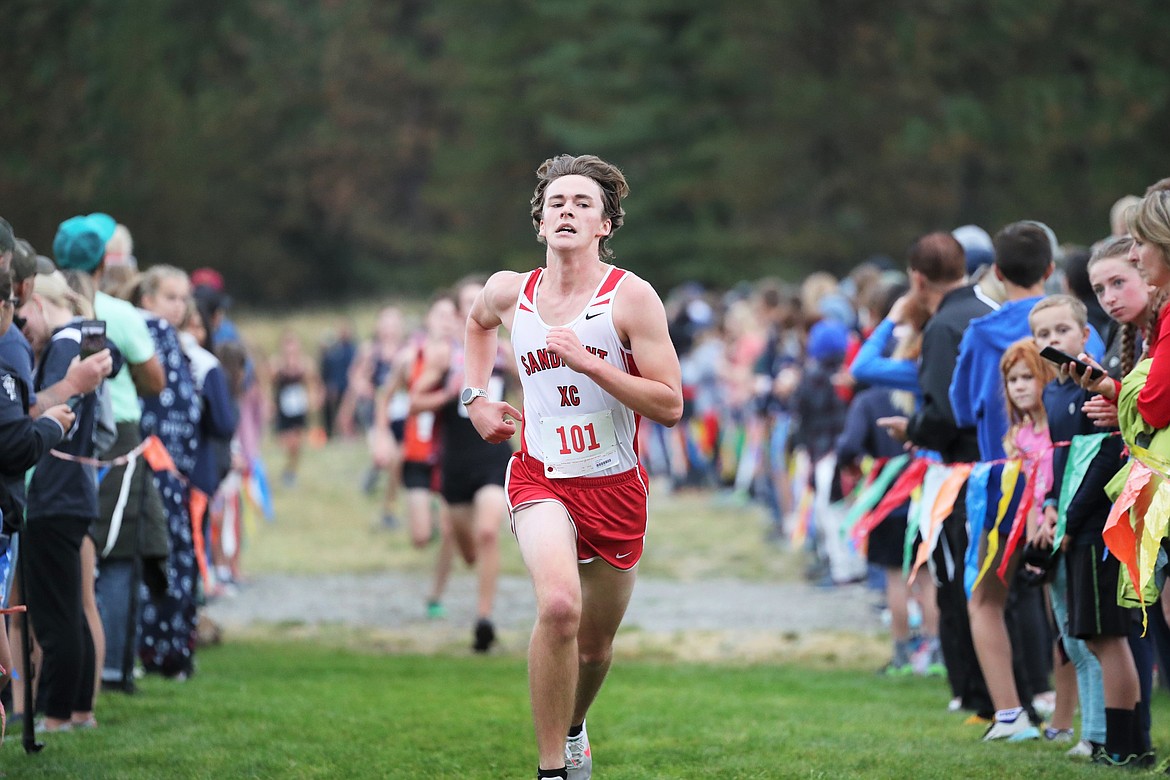 Anders Eastley nears the finish of Saturday's race.
(Photo by DYLAN GREENE)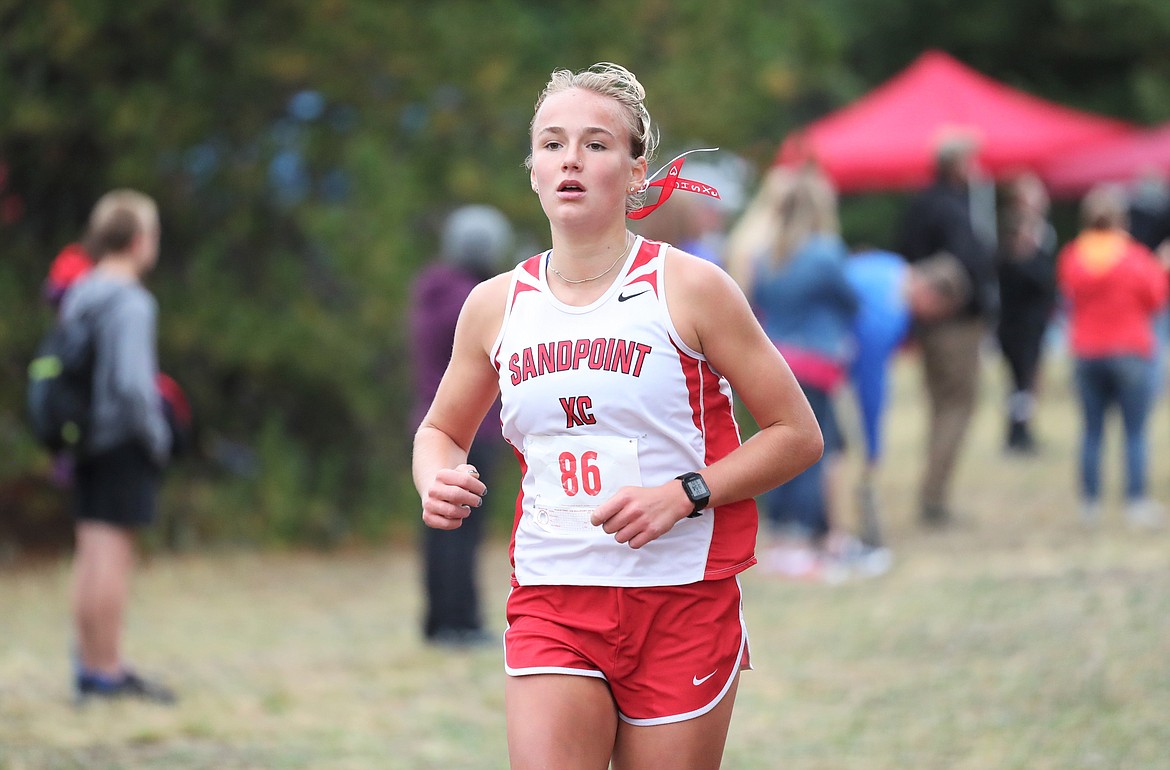 Ara Clark competes in Saturday's meet.
(Photo by DYLAN GREENE)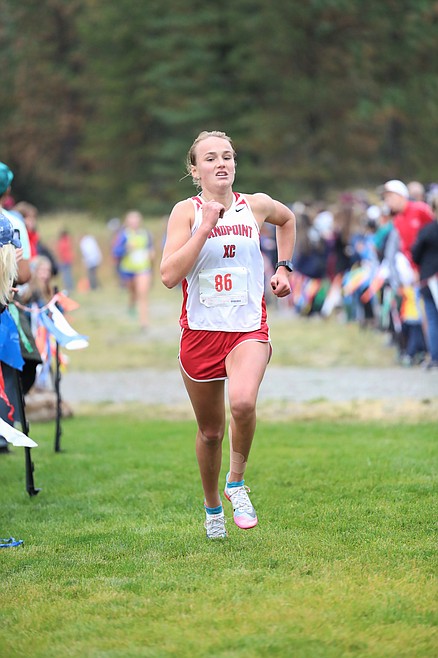 Ara Clark closes in on the finish of Saturday's meet.
(Photo by DYLAN GREENE)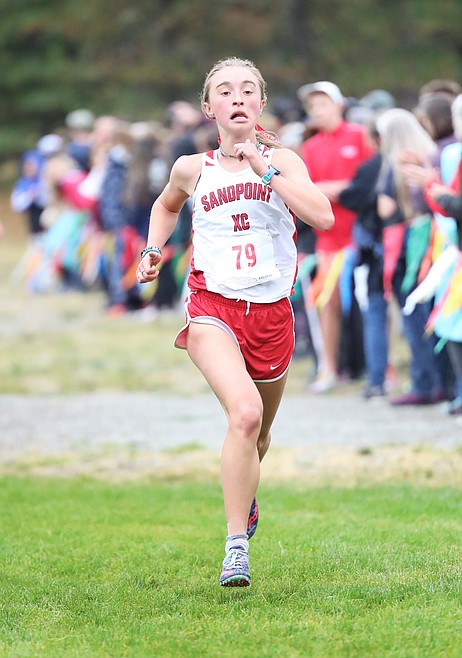 Grace Rookey nears the finish line on Saturday.
(Photo by DYLAN GREENE)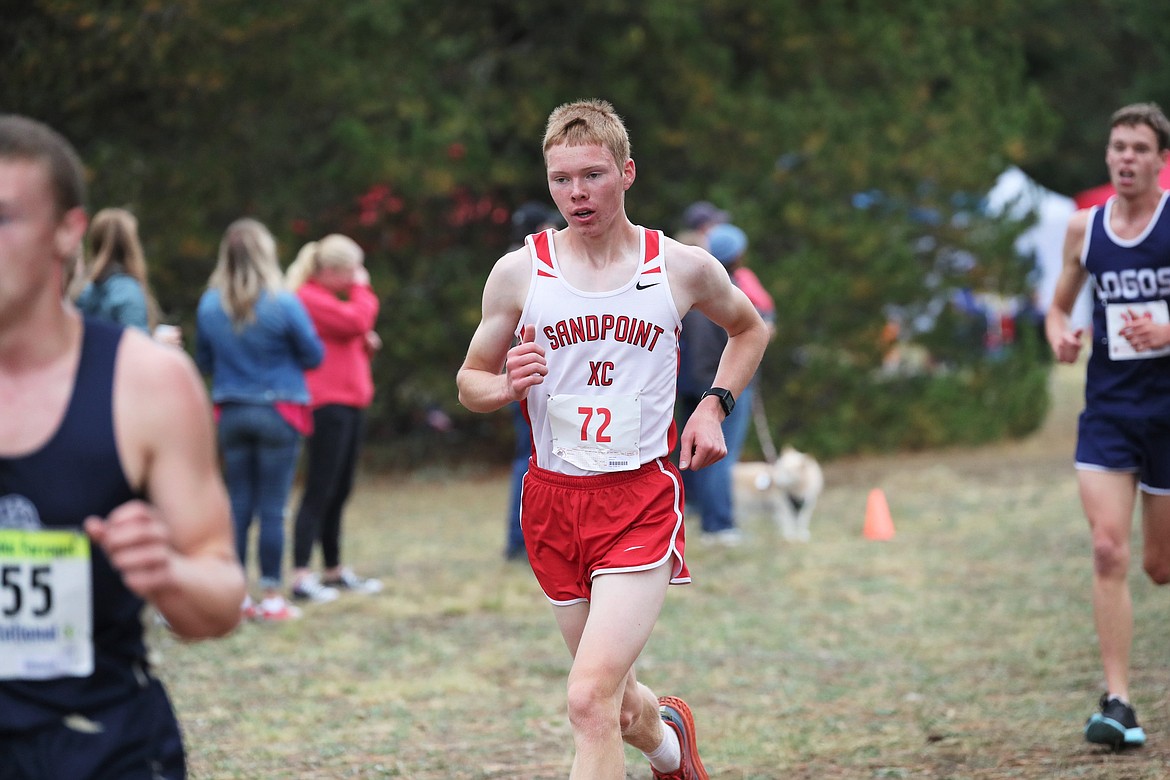 Caleb Roche competes in Saturday's meet.
(Photo by DYLAN GREENE)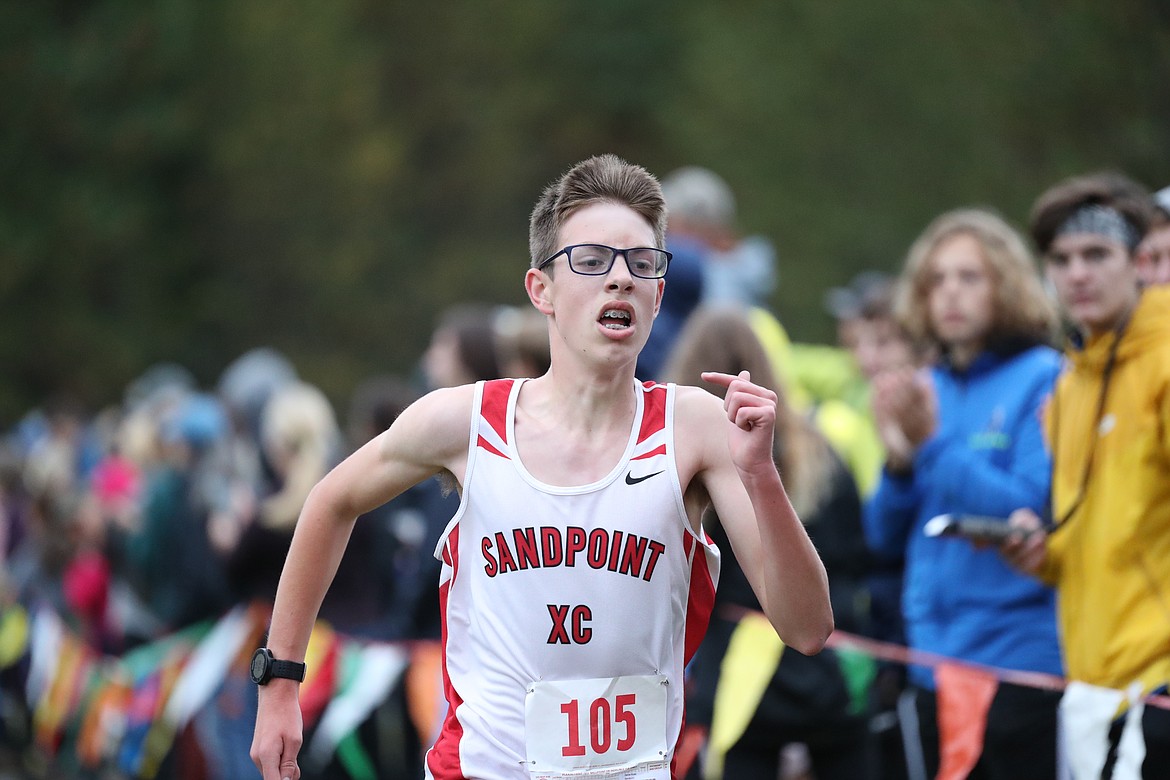 Daniel Ricks wins the boys JV race on Saturday.
(Photo by DYLAN GREENE)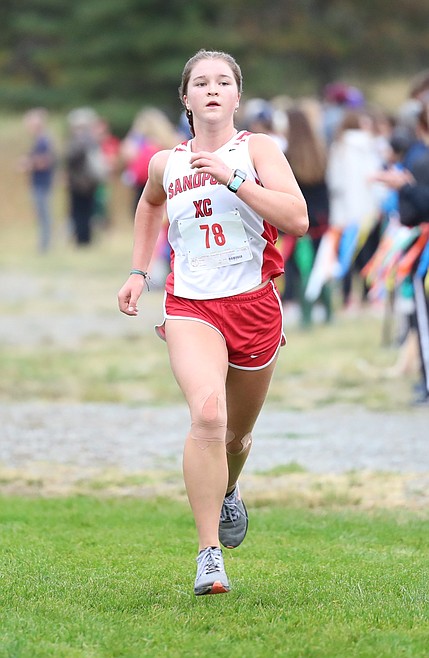 Devin McDaniel nears the finish on Saturday.
(Photo by DYLAN GREENE)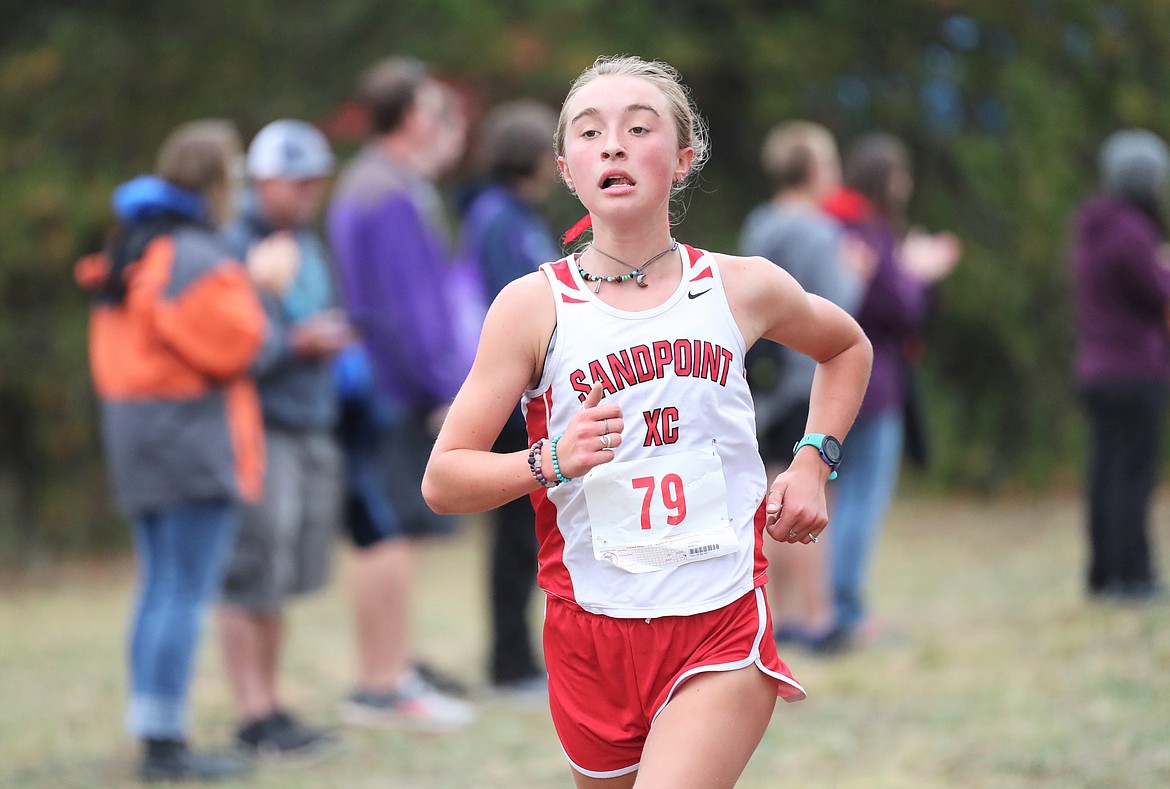 Grace Rookey competes in Saturday's meet.
(Photo by DYLAN GREENE)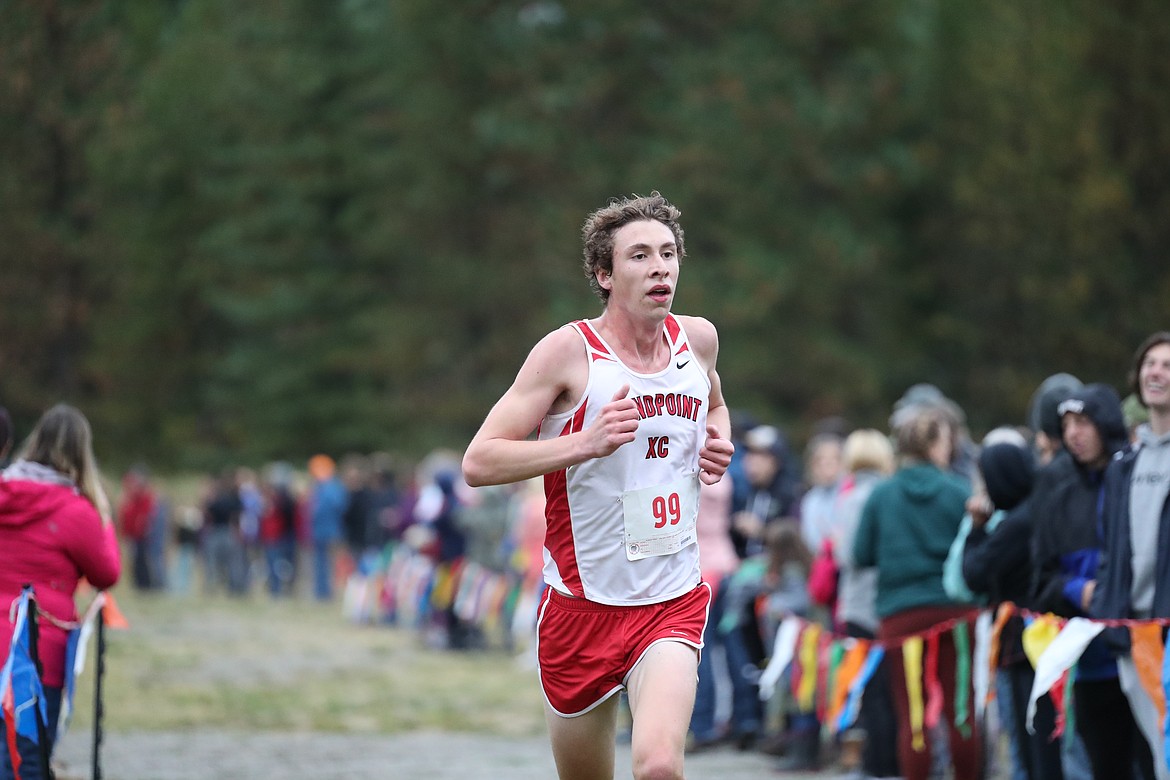 Isaac Babin nears the finish of the JV race.
(Photo by DYLAN GREENE)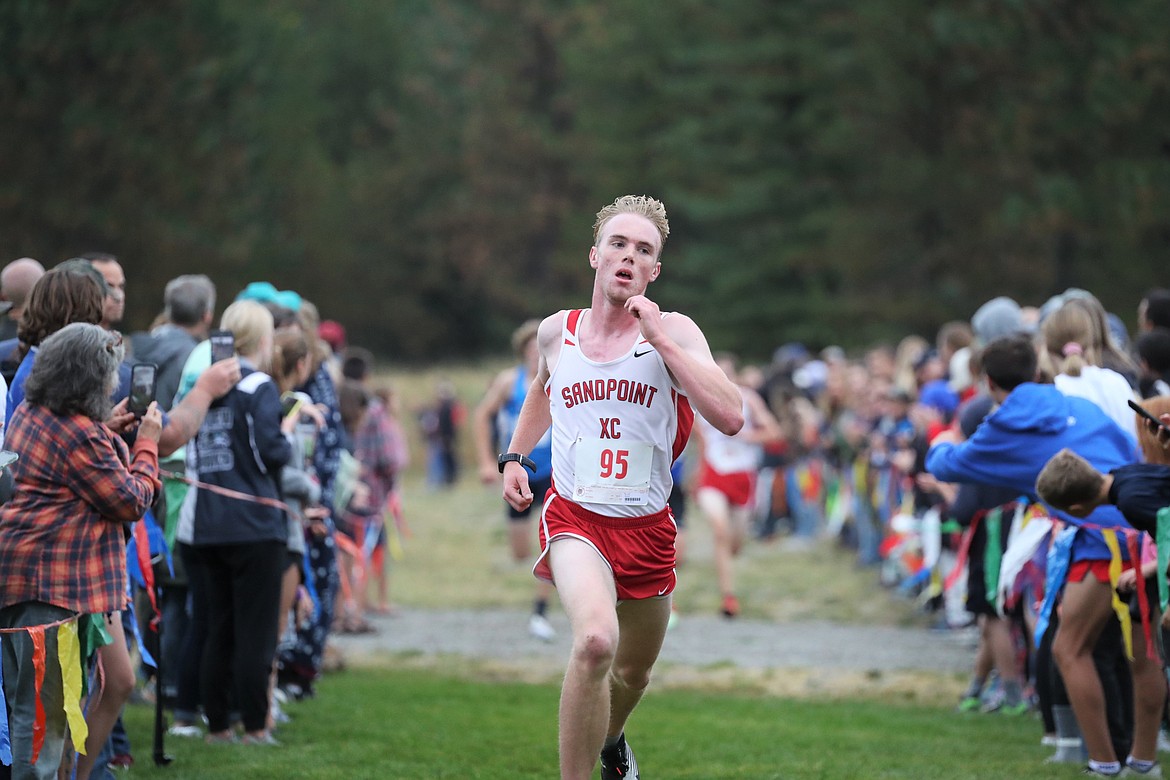 Ben Ricks nears the finish on Saturday.
(Photo by DYLAN GREENE)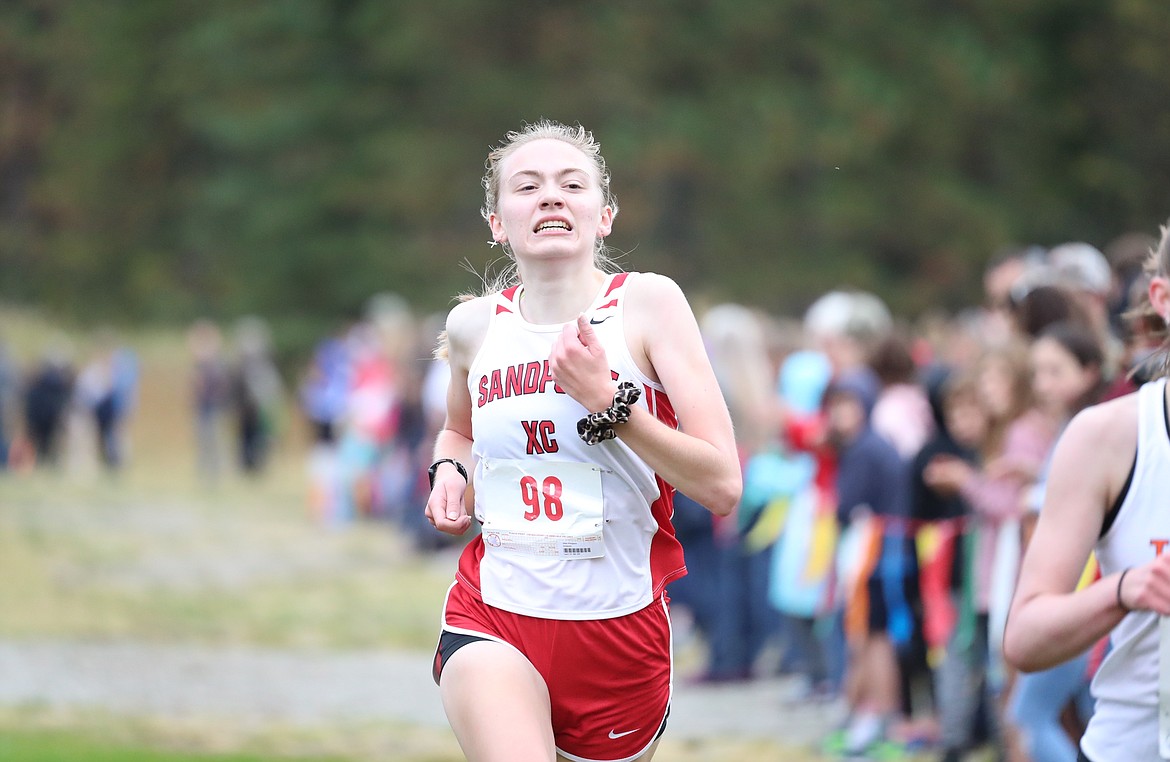 Jillian Primgaard grits it out as she crosses the finish on Saturday.
(Photo by DYLAN GREENE)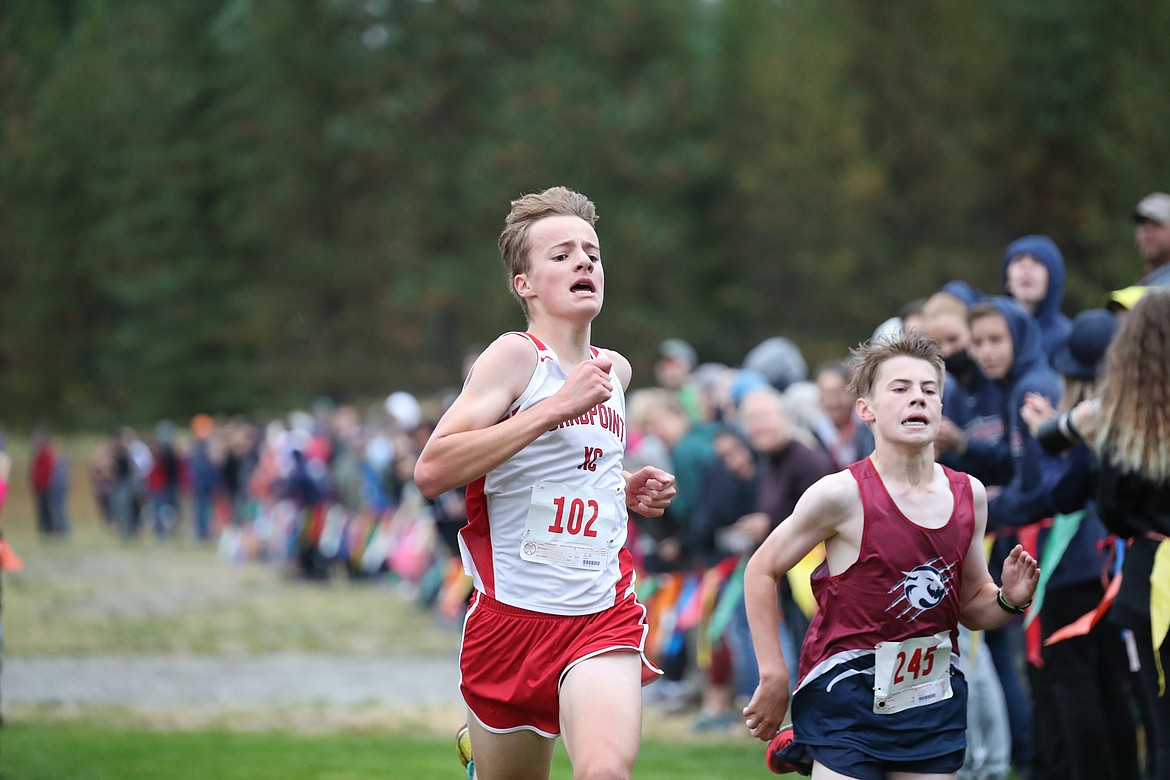 Kasten Grimm finishes the boys JV race.
(Photo by DYLAN GREENE)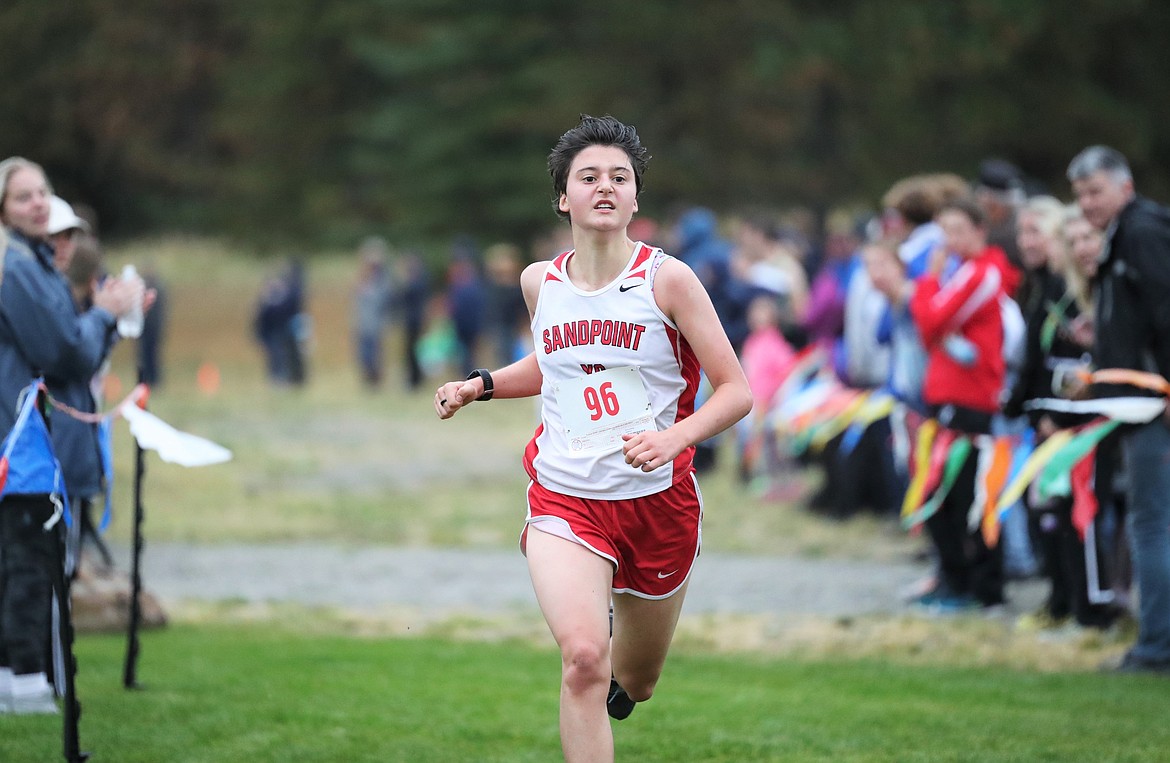 Kora Converse nears the finish of the girls JV race.
(Photo by DYLAN GREENE)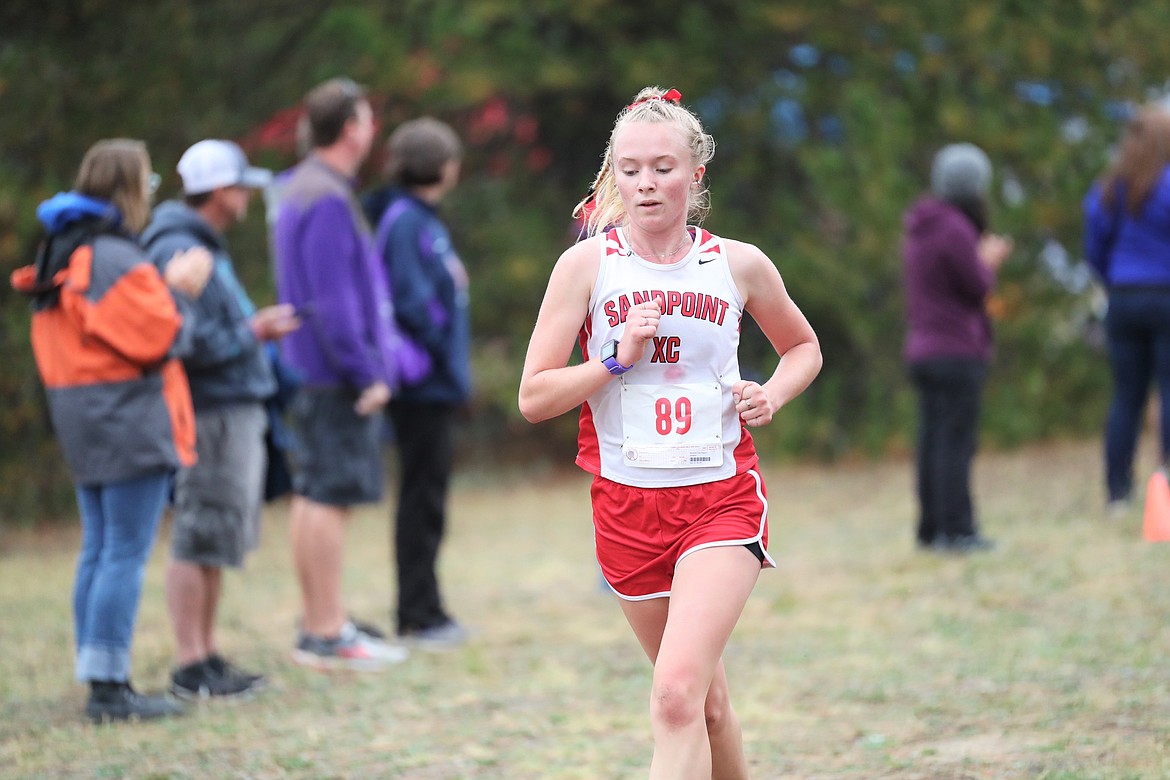 Mackenzie Suhy-Gregoire competes in Saturday's meet.
(Photo by DYLAN GREENE)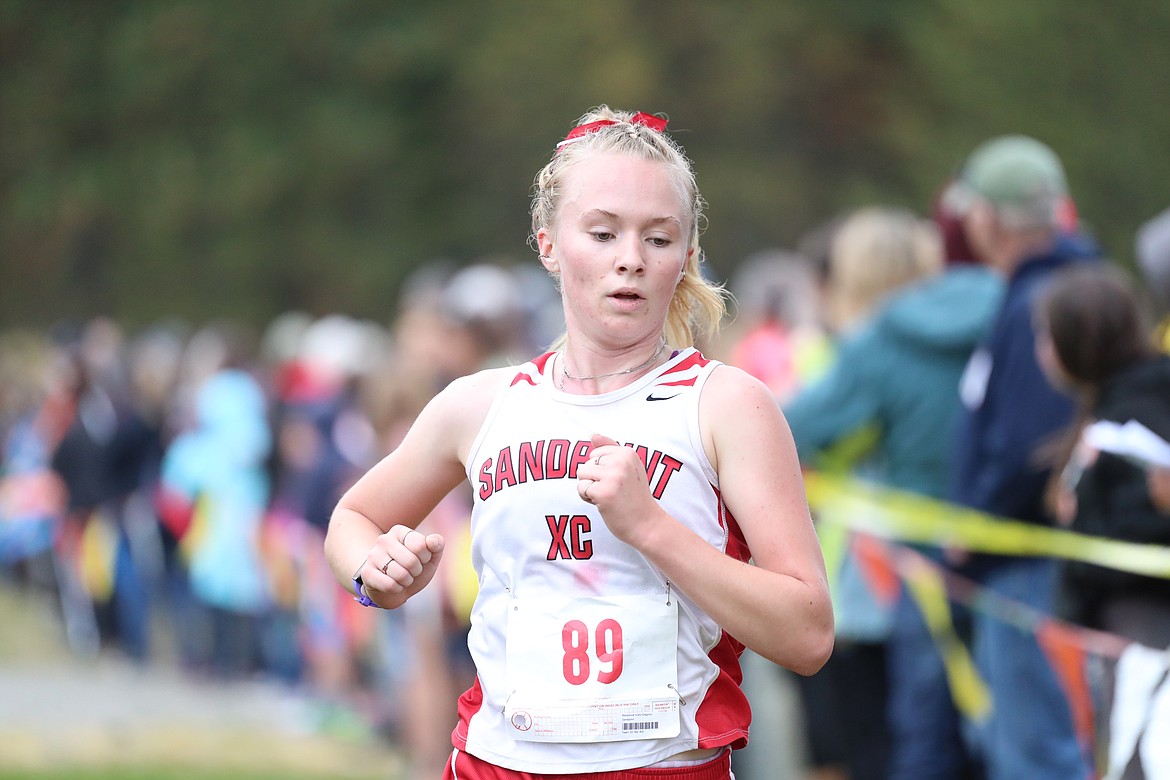 Mackenzie Suhy-Gregoire crosses the finish line on Saturday.
(Photo by DYLAN GREENE)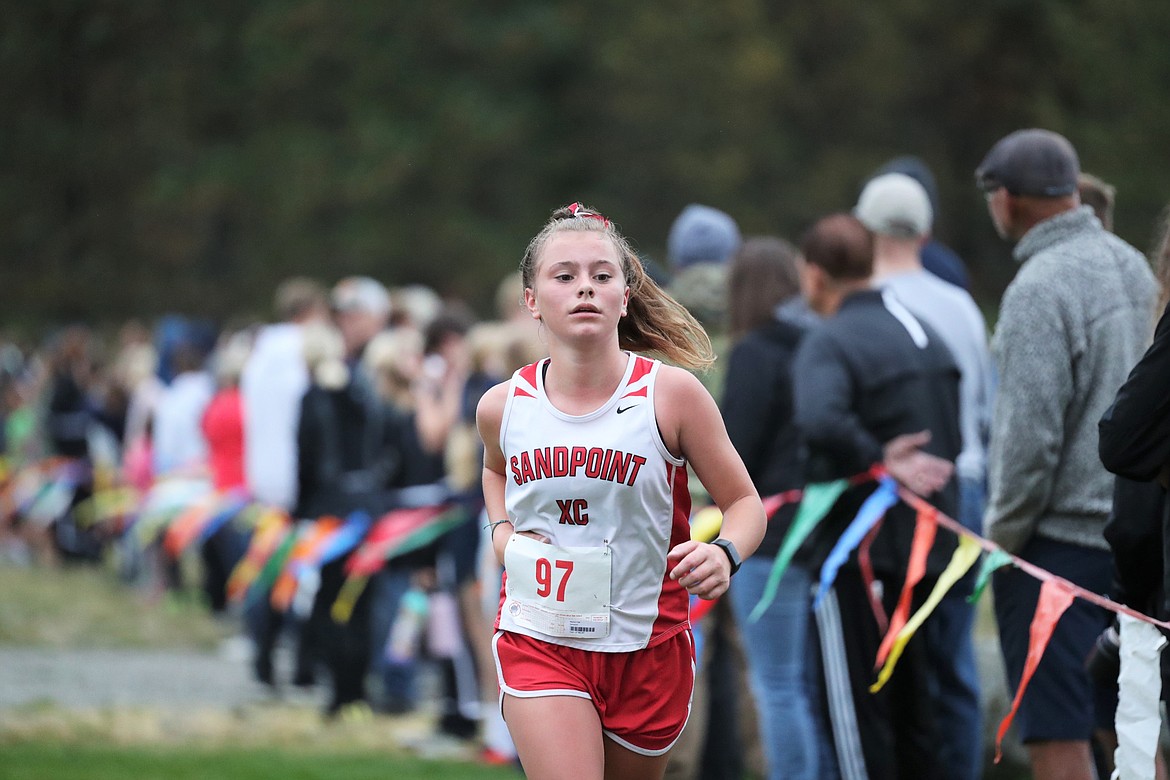 Madison Hall nears the finish of the girls JV race.
(Photo by DYLAN GREENE)
Michael Hall finishes the boys JV race on Saturday.
(Photo by DYLAN GREENE)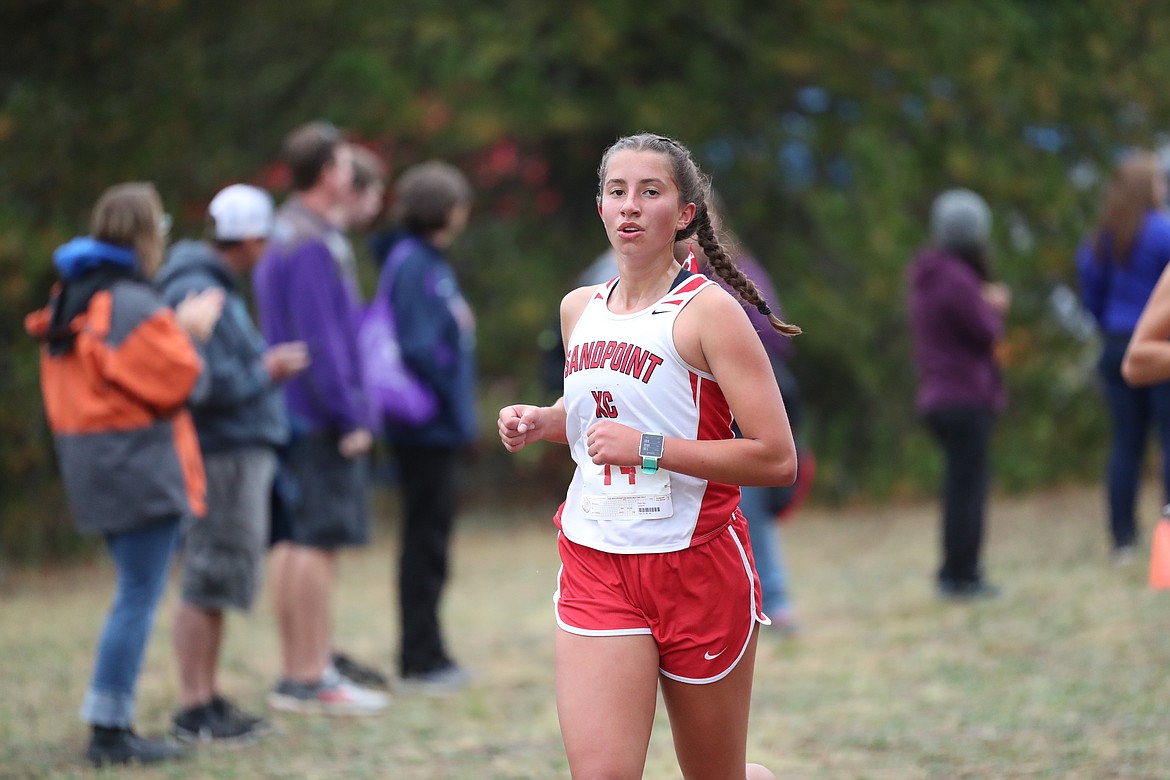 Payton Betz competes in Saturday's meet.
(Photo by DYLAN GREENE)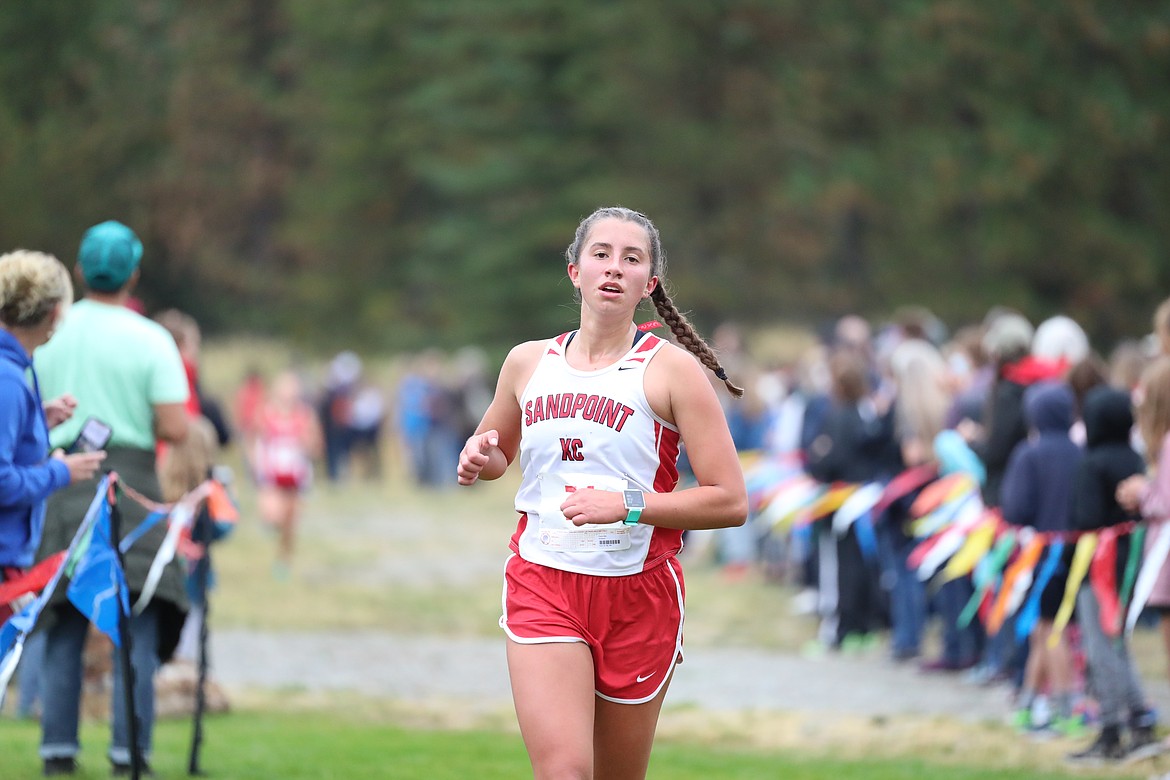 Payton Betz nears the finish of Saturday's race.
(Photo by DYLAN GREENE)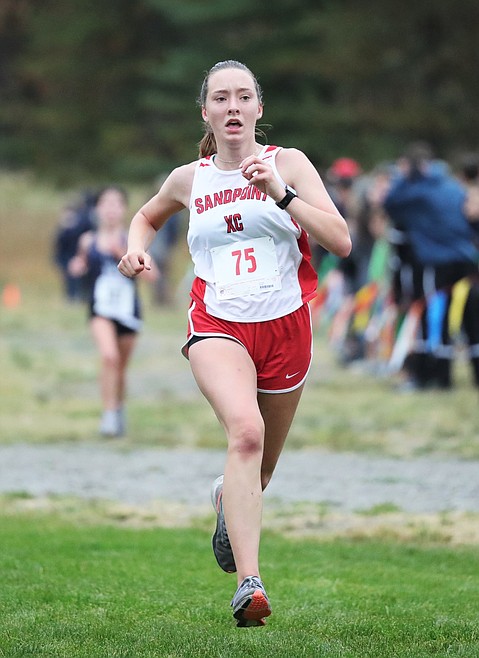 Terra Bode nears the finish of the girls JV race.
(Photo by DYLAN GREENE)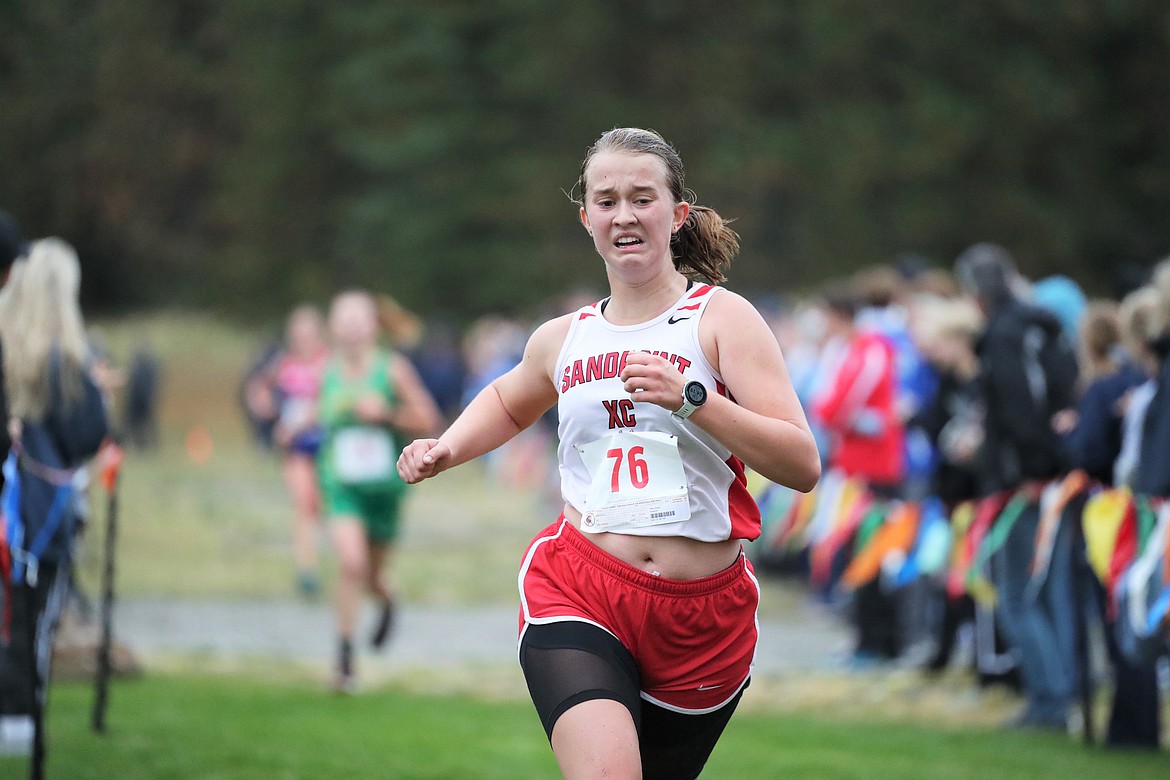 Tiffany Brown nears the finish of the girls JV race.
(Photo by DYLAN GREENE)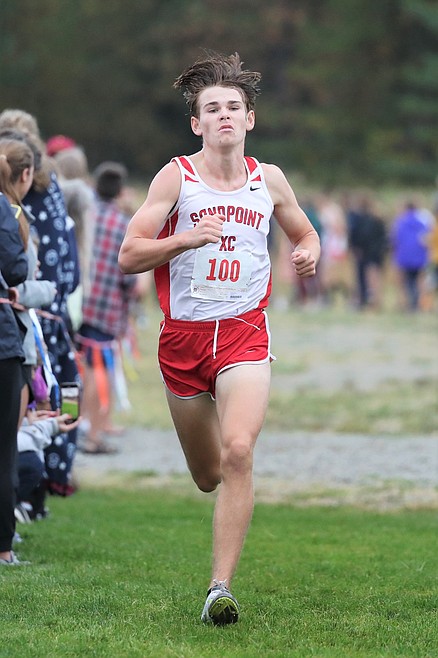 Trey Clark nears the finish line on Saturday.
(Photo by DYLAN GREENE)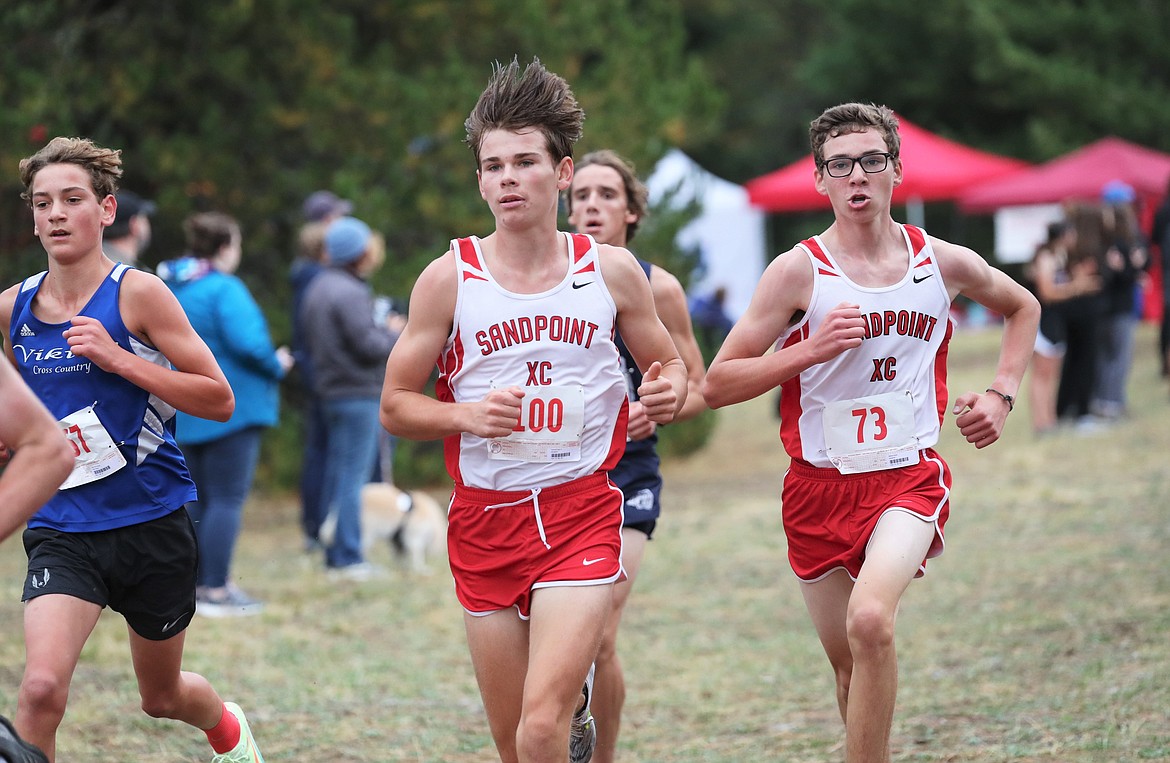 Trey Clark (left) and Nathan Roche run side-by-side during Saturday's meet.
(Photo by DYLAN GREENE)
Previous
Next
ATHOL — Sandpoint cross country participated in its first 5K meet of the fall Saturday at Farragut State Park.
The Bulldogs showcased their depth and utilized powerful pack running to capture second as a team in the girls varsity race at the Timberlake Farragut Invitational and fourth in the boys. And they did all that without two of their top runners — Megan Oulman and Slate Fragoso.
The meet returned to a more familiar form on Saturday with over 20 schools attending. In 2020, seven separate races were held on the boys and girls side to comply with social distancing protocols and only North Idaho teams participated.
This year, several teams from Washington and southern Idaho were able to make the trip to Athol, providing a majority of the teams in attendance with their largest regular season meet in nearly two years. It also gave the Bulldogs a look at some different competition, which was hard to achieve last fall.
And the conditions were perfect for running. Smoke nearly canceled the event last year, but on Saturday gray skies and early morning rain was a welcomed sight that cleared away any air quality concerns.
The top 20 boys and girls were awarded medals in the varsity races.
Ara Clark led the charge for the girls, placing sixth with a 19:56. She bested her previous best time on the course by nearly a minute and a half.
"I think she did a great job," girls cross country coach Angie Brass said about the junior captain. "I know she was saying, 'I could have eeked a little bit out of my third mile,' and I said, 'We'll work on it then,' but it looked strong."
Senior Mackenzie Suhy-Gregoire was right behind Ara, capturing eighth with a 20:06. Sophomore Grace Rookey stepped up and ran a personal best of 20:58 to earn 17th.
Junior Payton Betz just missed out on a medal, securing 22nd. Sophomore Devin McDaniel grabbed 51st with a PR in her first action for the Bulldogs this fall and senior Jillian Primgaard took 54th.
The Sandpoint girls finished 27 points behind first-place Post Falls and 10 points ahead of third-place Coeur d'Alene.
Angie said her varsity squad did a great job of running in pairs and their prior course knowledge paid off.
"It was really great to have [McDaniel] back because she was gone all of August," she said. "It was also good to see this course before regionals and it was in great conditions. I was very proud of the girls."
The Bulldog boys came in 16 points behind third-place Moscow. Boys cross country coach Matt Brass said his team got their first taste of what the battle for the regional title with the Bears will look like and it was evident it will be a "dogfight." Without Slate Fragoso, Matt said the two league foes would have basically been dead even.
"Today to me was define the young team, let them see what the competition is like and now we know what we have to do," he said.
Senior Ben Ricks was the first Bulldog to cross the finish line, posting a PR of 17:00 to take eighth.
"He's more confident in the distance than he's ever been and that's the key," Matt said about Ricks' performance. "He's always known he's had the foot speed and he's trusted that for so many years, but now he's trusting the hills, he's trusting the distance and … he's really starting to understand this is something he can do."
Sophomore Nathan Roche captured 11th with a 17:03 and senior captain Trey Clark secured 12th with a 17:11. Matt said his top three runners worked together perfectly.
"They ran honestly how we wanted them to," he said. "That's how Sandpoint running really needs to be … They're performing right where I'd expect them to for this point of the season."
Senior Caleb Roche finished 41st and junior Anders Eastley placed 65th to round out the varsity runners for the boys. Klein Fragoso also did not compete for the Bulldogs.
Sandpoint swept the boys and girls junior varsity team titles. For the boys, Daniel Ricks (first), Michael Hall (third), Kasten Grimm (fourth), Jimmy Cornelius (seventh) and Fletcher Barrett (eighth) all medaled.
Matt said Saturday was a discovery day for his more inexperienced runners and several question marks about who will fill the sixth and seventh spots on varsity this season were made clearer.
"A lot of those guys took a big step forward … and we are definitely starting to establish what that is going to look like and the big thing for me in practice is going to be who is able to run up there with Caleb [Roche]," he said.
Kora Converse (second), Terra Bode (third), Tiffany Brown (fifth) and Alyssa Fite (eighth) medaled for the JV girls.
"They did great," Angie said about her JV crew. "The JV race wasn't very big, but our top runners did a very good job of packing up and helping each other, and that was really exciting to see four of them get medals and I think gain some really good momentum."
Across the board, a number of Bulldogs ran PRs on the Farragut State Park course.
Over the last few week, a number of local games have been canceled or postponed due to COVID-19. Sandpoint was thankful Saturday's meet wasn't on that list.
"We were just happy to race," Angie said.
The Bulldogs head to one of the largest cross country meets in the Pacific Northwest — the Bob Firman Invitational — on Saturday, Sept. 25, at Eagle Island State Park.
RESULTS
VARSITY
BOYS
TEAM SCORES — 1, Coeur d'Alene 70. 2, Mt. Spokane 108. 3, Moscow 121. 4, Sandpoint 137. 5, Skyview 148. 6, Post Falls 172. 7, Lake City 196. 8, Lincoln County 199. 9, Chewelah 254. 10, Logos 263. 11, Coeur d'Alene 285. 12, Timberlake 292. 13, Columbia 370. 14, Bonners Ferry 372. 15, Immaculate Conception Academy 388. 17, Deer Park 417. 18, Lakeland 439.
SANDPOINT RESULTS — 8, Ben Ricks, 17:00.1. 11, Nathan Roche, 17:03.4. 12, Trey Clark, 17:11.8. 41, Caleb Roche, 18:12.9. 65, Anders Eastley, 19:15.3.
GIRLS
TEAM SCORES — 1, Post Falls 66. 2, Sandpoint 93. 3, Coeur d'Alene 103. 4, Skyview 121. 5, Mt. Spokane 123. 6, Logos 127. 7, Lake City 139. 8, Moscow 158. 9, Deer Park 202. 10, Lincoln County 267. 11, Timberlake 270.
SANDPOINT RESULTS — 6, Ara Clark, 19:56.4. 8, Mackenzie Suhy-Gregoire, 20:06.1. 17, Grace Rookey, 20:58.3. 22, Payton Betz, 21:22.3. 51, Devin McDaniel, 23:33.2. 54, Jillian Primgaard, 23:43.6.
JUNIOR VARSITY
BOYS
TEAM SCORES — 1, Sandpoint 19. 2, Mt. Spokane 47. 3, Moscow 92. 4, Lake City 123. 5, Coeur d'Alene 127. 6, Post Falls 163. 7, Timberlake 188. 8, Kellogg 267. 9, Columbia 267. 10, Deer Park, 286. 11, Immaculate Conception Academy, 295.
SANDPOINT RESULTS — 1, Daniel Ricks, 18:48.8. 3, Michael Hall, 18:57.9. 4, Kasten Grimm, 18:59.7. 7, Jimmy Cornelius, 19:12.4. 8, Fletcher Barrett, 19:13.4. 11, Connor McClure, 19:16.6. 14, Isaac Babin, 19:30.9. 15, Keane Haesle, 19:40.5. 26, Isaiah Hagstrom, 20:15.7. 56, Gavin Jasper, 22:00.5. 68, Torin Haesle, 22:49.6.
GIRLS
TEAM SCORES — 1, Sandpoint 30. 2, McCall-Donnelly 84. 3, Post Falls 85. 4, Moscow 95. 5, Bonners Ferry 100. 6, Lakeland 121. 7, Mt. Spokane 142.
SANDPOINT RESULTS — 2, Kora Converse, 23:51.8. 3, Terra Bode, 24:09.8. 5, Tiffany Brown, 24:22.8. 8, Alyssa Fite, 24:59.3. 23, Madison Hall, 27:14.8. 31, Alice Davison, 28:35.1.
inline type="photo" id="362136" href="" align="left" />
Recent Headlines
---