Spartan Roundup: Girls soccer notches first win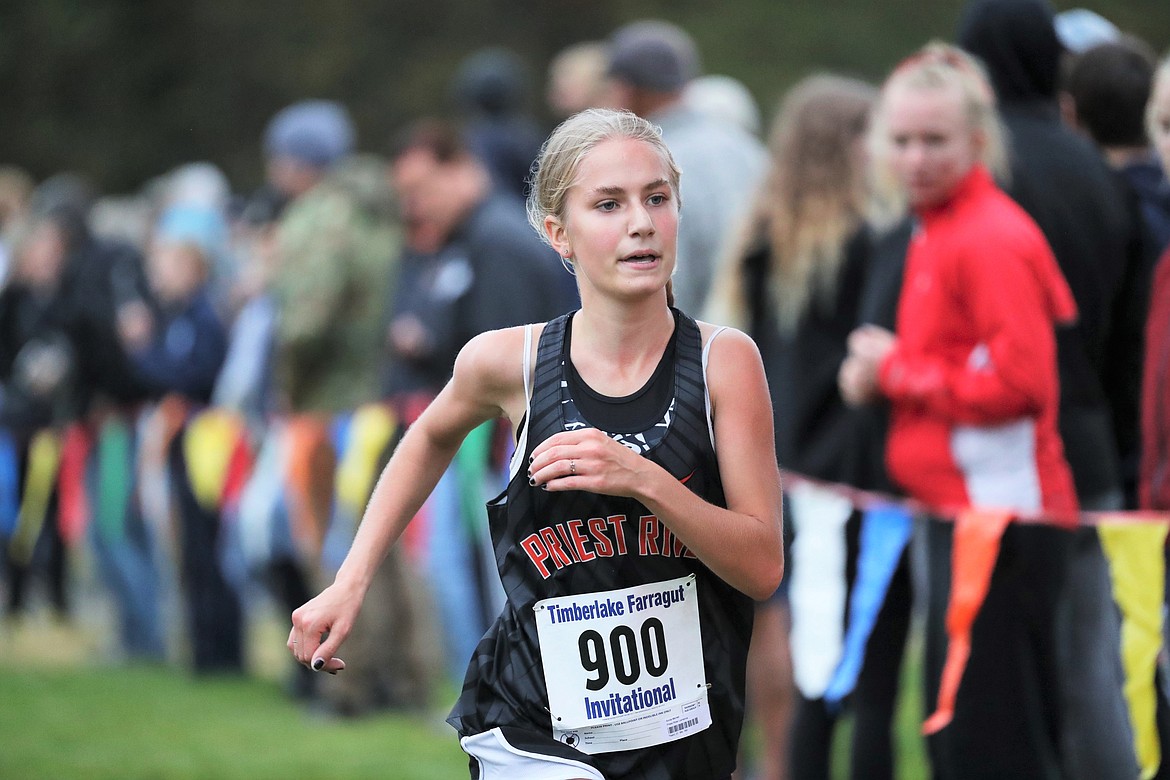 Annie Morrell nears the finish of Saturday's Timberlake Farragut Invitational.
(Photo by DYLAN GREENE)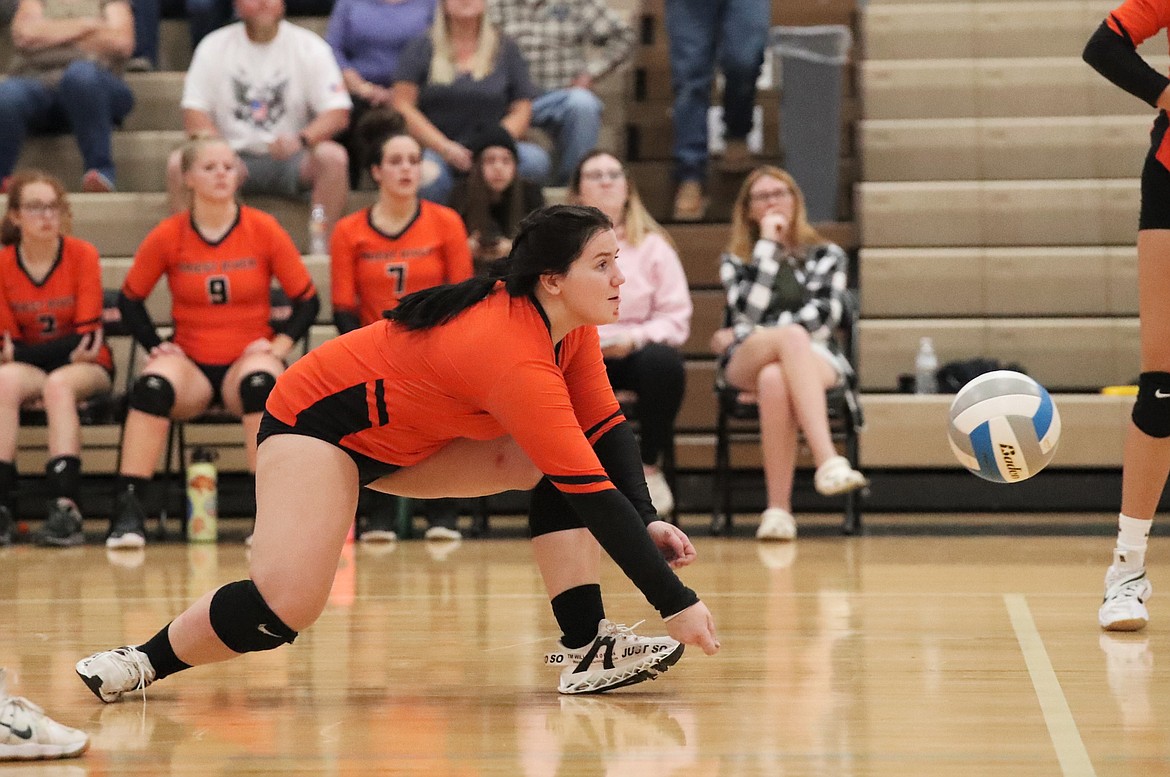 Madilyn Rose gets down low for a dig during Thursday's match against Clark Fork.
(Photo by DYLAN GREENE)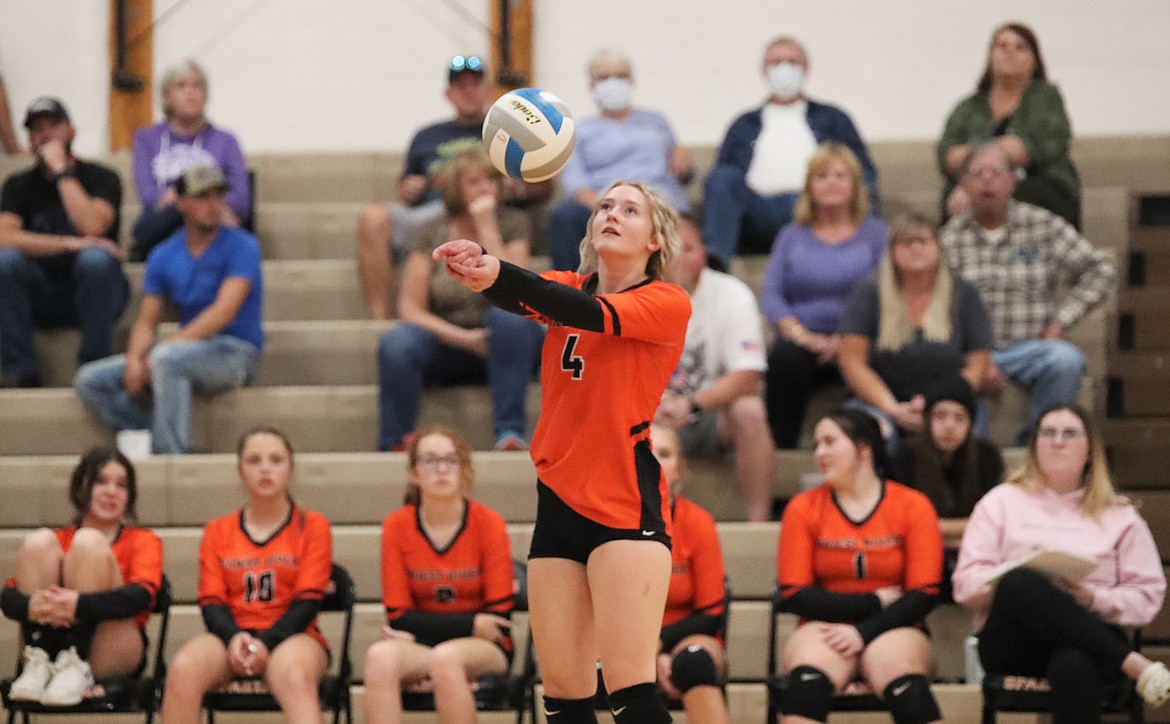 Ona Rose sets the ball for a teammate on Thursday.
(Photo by DYLAN GREENE)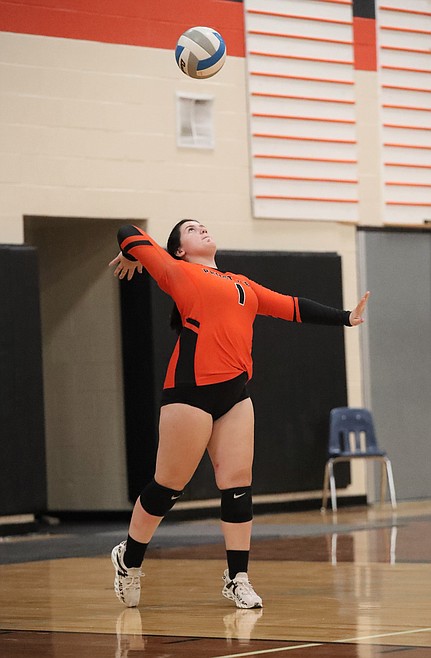 Madilyn Rose serves during Thursday's match against Clark Fork.
(Photo by DYLAN GREENE)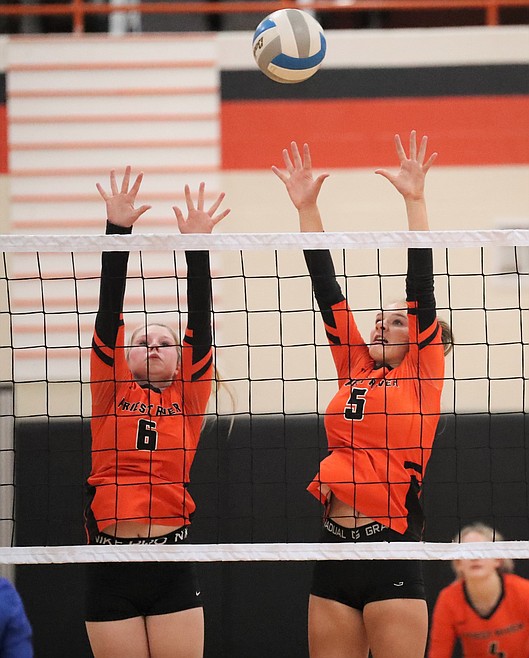 Desarai Humphrey (left) and Helena White elevate for a block during Thursday's match against Clark Fork.
(Photo by DYLAN GREENE)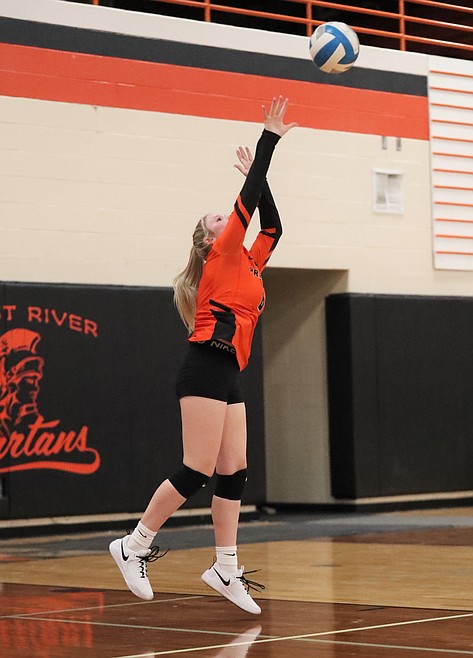 Desarai Humphrey serves the ball during Thursday's match against Clark Fork.
(Photo by DYLAN GREENE)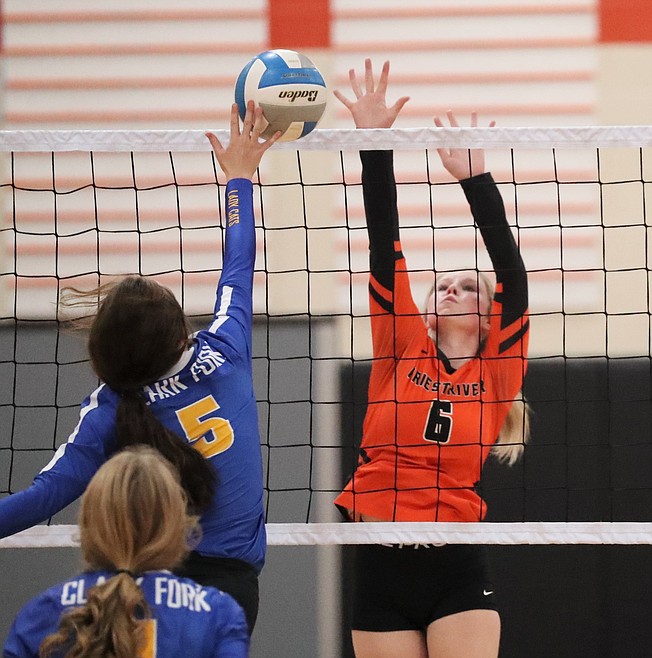 Desarai Humphrey rises up for a block during Thursday's match against Clark Fork.
(Photo by DYLAN GREENE)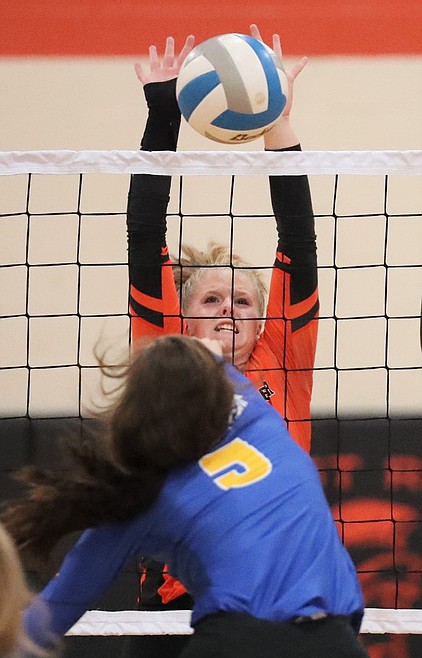 Allyson Barton goes up for a block during Thursday's match against Clark Fork.
(Photo by DYLAN GREENE)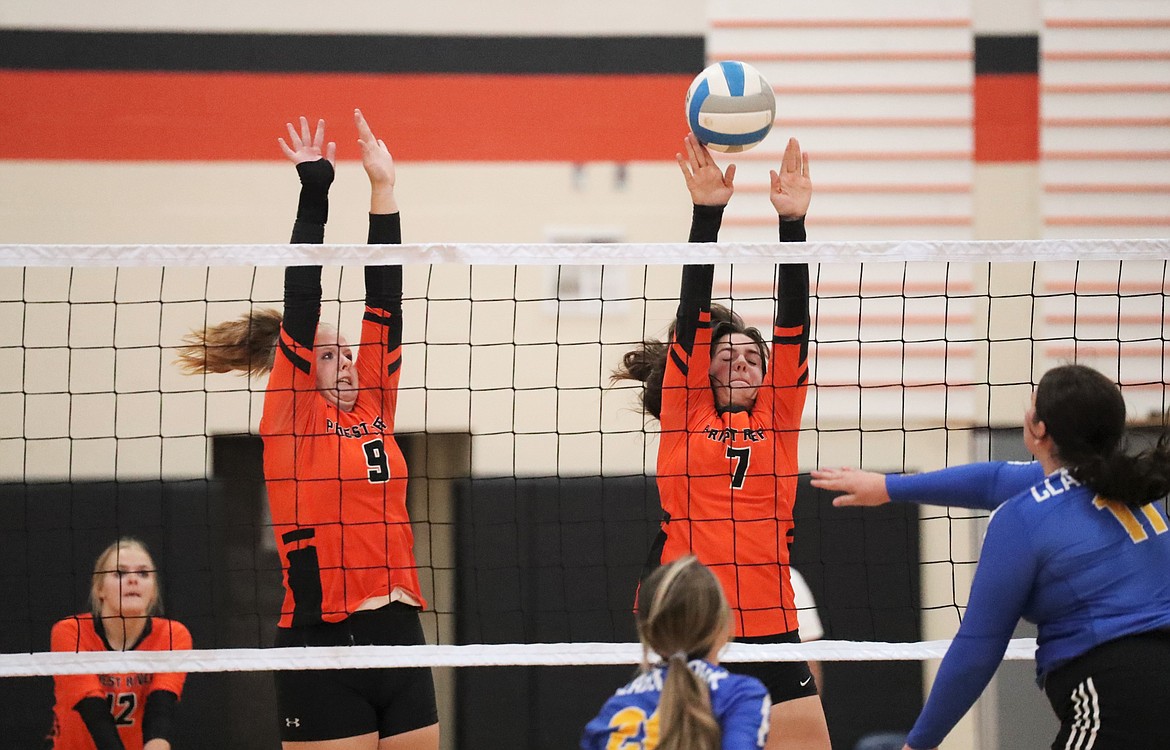 Allyson Barton (left) and Brodie Hansen rise up for a block during Thursday's match against Clark Fork.
(Photo by DYLAN GREENE)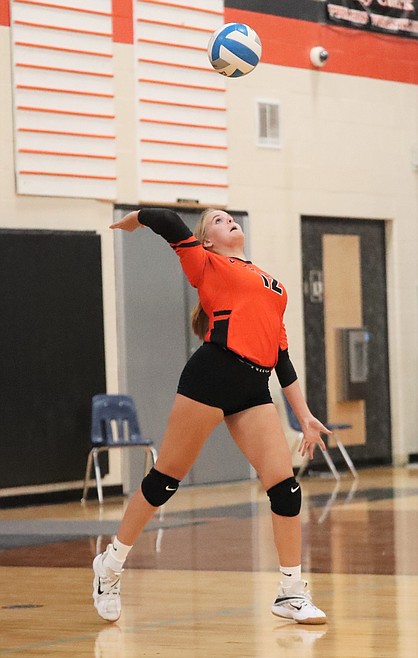 Addisen Kingery serves the ball during Thursday's match against Clark Fork.
(Photo by DYLAN GREENE)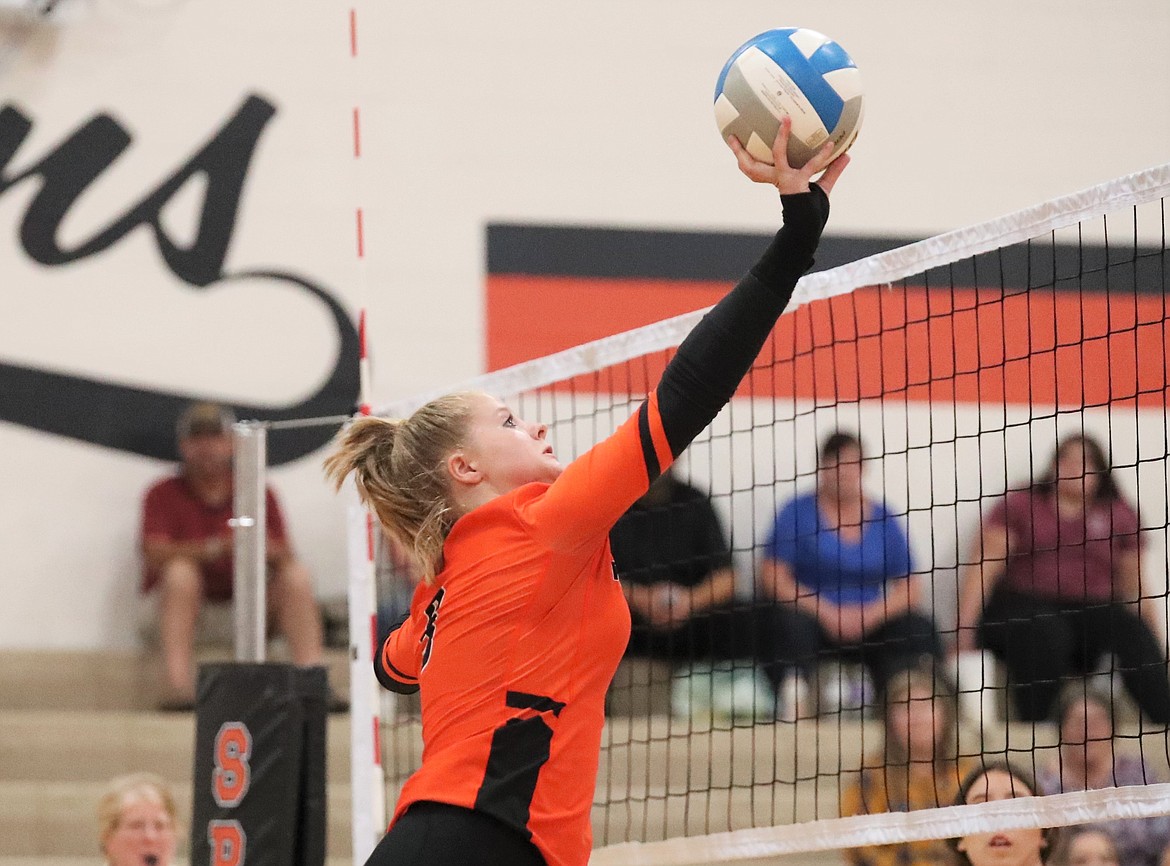 Priest River's Allyson Barton tips the ball over the net during Thursday's match against Clark Fork.
(Photo by DYLAN GREENE)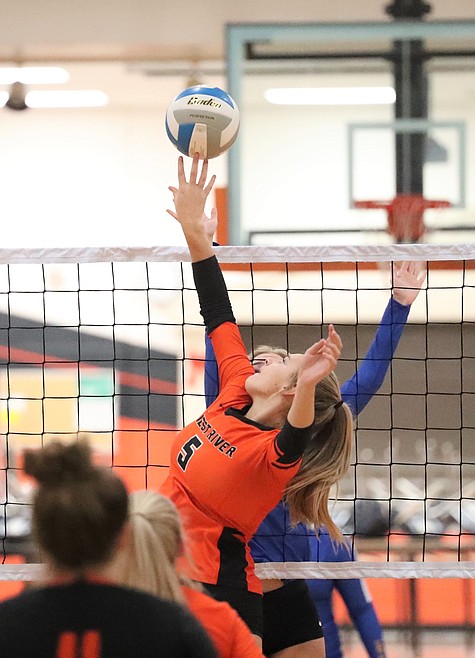 Priest River's Helena White attempts to tip the ball over the net during Thursday's match against Clark Fork.
(Photo by DYLAN GREENE)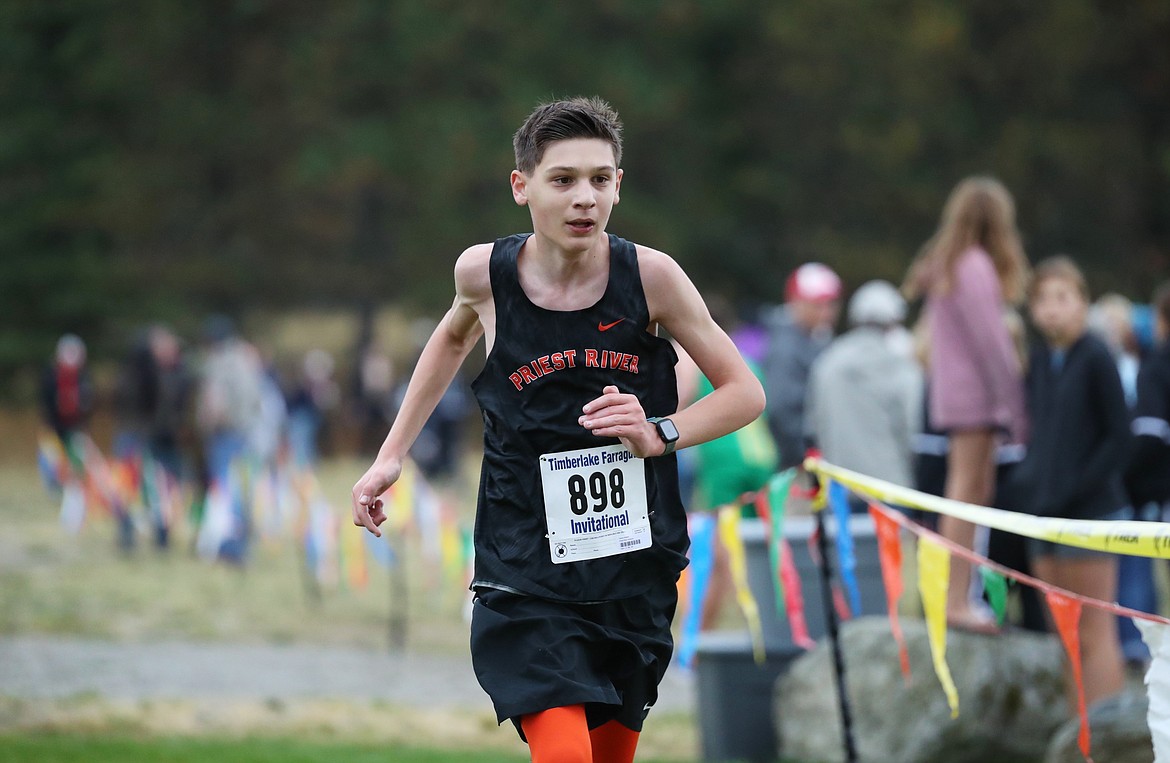 Tanner Bowers nears the finish of Saturday's Timberlake Farragut Invitational.
(Photo by DYLAN GREENE)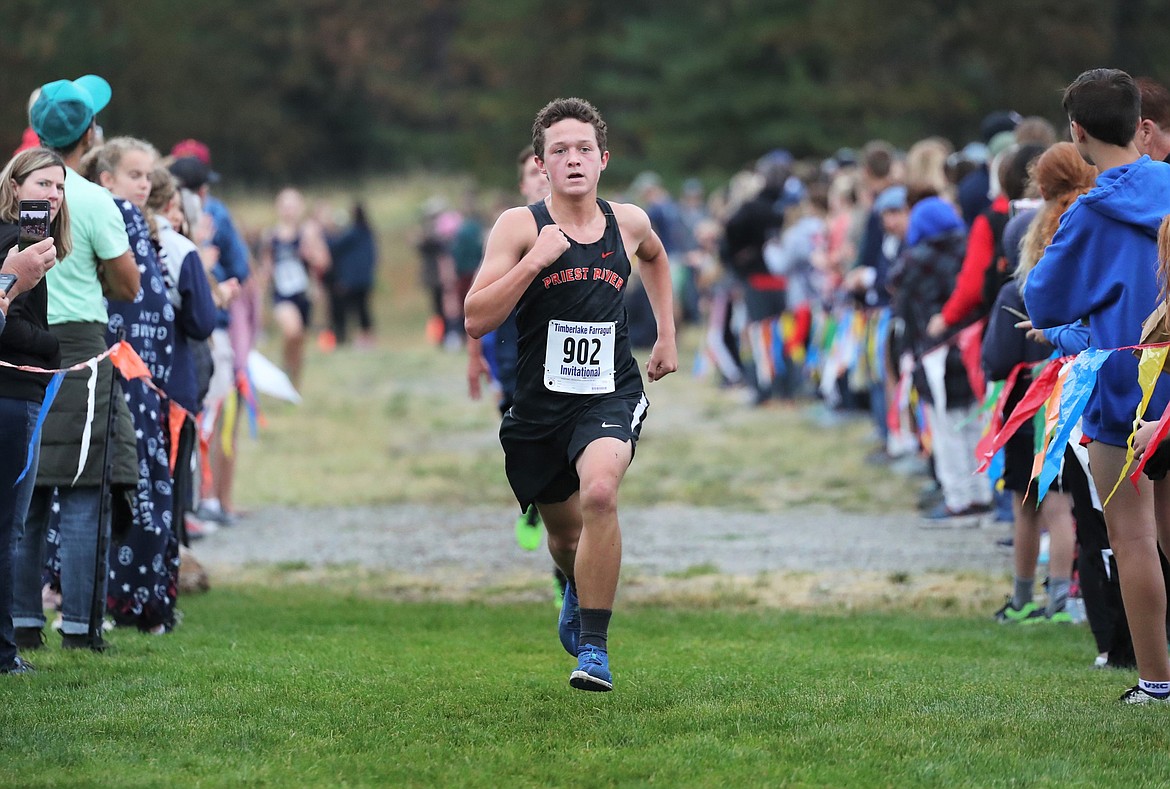 Dylan Lord nears the finish of Saturday's Timberlake Farragut Invitational.
(Photo by DYLAN GREENE)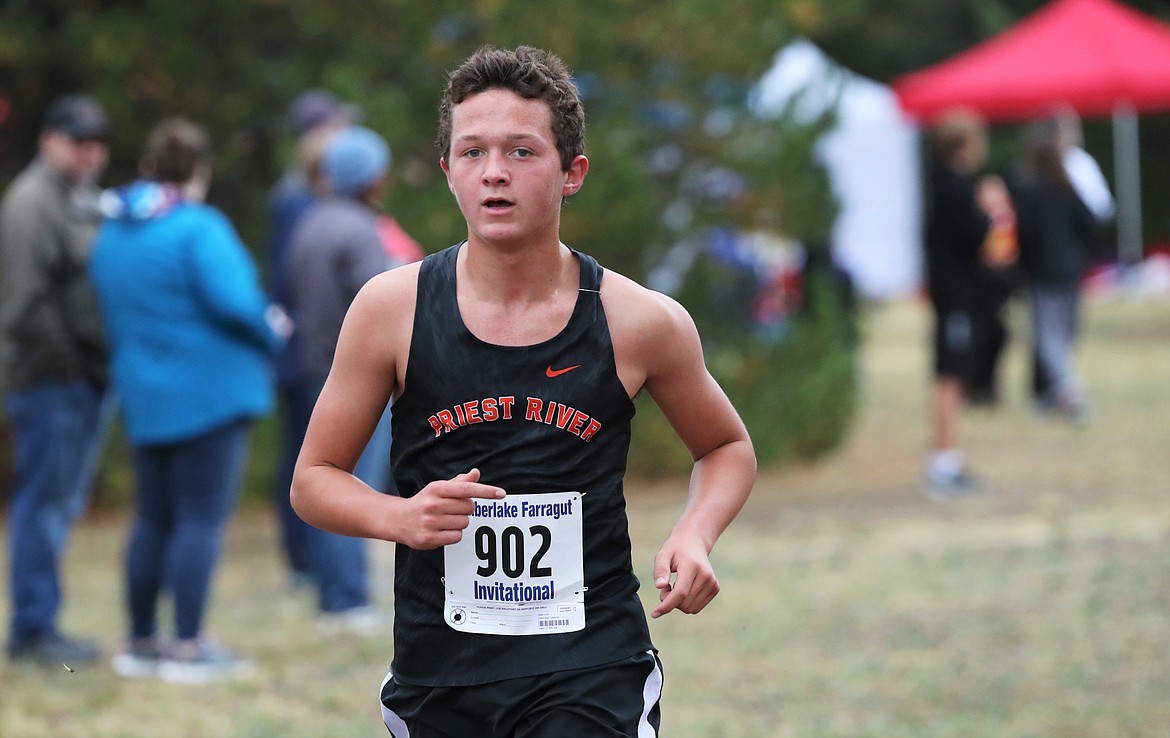 Dylan Lord competes in Saturday's Timberlake Farragut Invitational.
(Photo by DYLAN GREENE)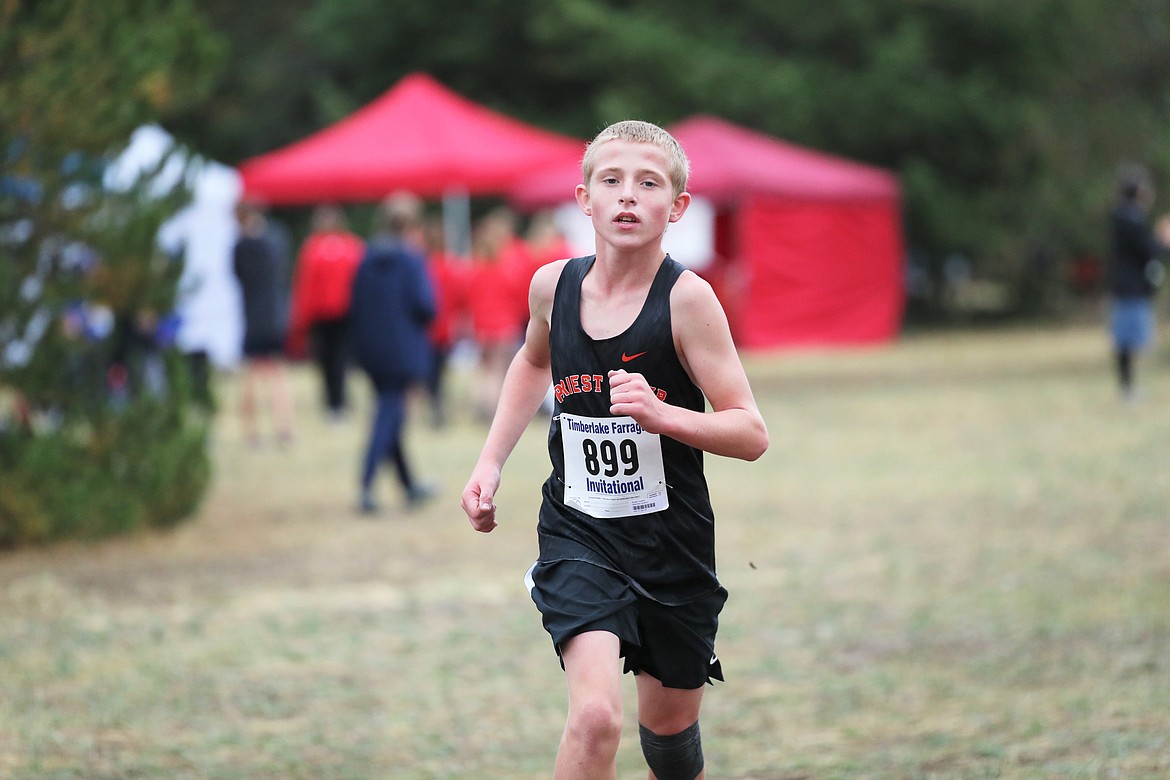 Brayden Lamanna competes in Saturday's Timberlake Farragut Invitational.
(Photo by DYLAN GREENE)
Previous
Next
by
DYLAN GREENE
Sports Editor
|
September 15, 2021 1:05 AM
PRIEST RIVER — The Spartan girls soccer team mounted a second-half comeback on Saturday to earn their first victory of the season.
Trailing 1-0 at the half to Newport, freshman Lizzie McCracken and junior Kiersten Davis found the back of the net in the final 40 minutes to push Priest River past the Grizzlies.
"The lady Spartans played with determination and refused to give up," head coach Rob Lawler said.
Sophomore Cheyenne Thompson notched an assist on McCracken's goal. The Spartans brought the fight to the Grizzlies in the final half and generated plenty of scoring opportunities, Lawler said.
"At half, we went over the number of offside calls we picked up, made the adjustment in the second half and it paid off for us," he said. "... A little mindset adjustment was critical to getting the upper hand in the game."
The rally helped soften the blow of a 10-0 Intermountain League defeat at Timberlake on Thursday.
Lawler said sophomore goalkeeper Brooklyn Best came up with huge saves between the pipes in Saturday's win.
"It was a truly exciting game to watch and the whole team pulled together to pull it off," he said.
On Tuesday, the Spartans fell to 4A Lakeland in Rathdrum 5-1. Elisheva Davis scored the lone goal for Priest River.
The Spartans (1-5-1, 0-3-1 IML) will look to keep the momentum rolling when they head to St. Maries at 6 p.m. next Tuesday.
Boys soccer
After suffering a heartbreaking 3-2 defeat at Timberlake last Thursday, the Spartans bounced back on Friday with a 5-3 victory over Immaculate Conception Academy in Post Falls.
Senior Shane Gamber had himself a day, tallying a hat trick for Priest River. He scored two of his goals in the first five minutes of the game.
The Spartans led 4-3 at the break and freshman Tyler Engelson scored the only goal in the second half. Senior Bradley Gleason notched the other goal for PR.
"The team did great despite being very fatigued and sore from the two previous games this week," head coach Daryl Hall said. "Our defense held strong with Erik Deem and Everett Hannah clearing most of their attacks. Offensively, we were on the ball and hitting the through passes well."
In the tussle with the Tigers, a second half goal by Timberlake proved to be the difference in the IML showdown.
Gamber and Gleason both scored in the opening half for the Spartans and goalkeeper Luke Butler made 18 saves.
"The boys played their hearts out," Hall said. "Their hard work kept us in the game. Of course there are a few things that kept us from the win, but it wasn't the opposing team. This is an awesome group of young men, and I'm proud and humbled to be their coach."
Priest River (2-3, 1-2 IML) hosts Orofino in a league match at 3 p.m. Thursday and travels to St. Maries next Tuesday.
First half — 1, PR, Shane Gamber (Bowen Fegert), 3:00. 2, PR, Gamber (unassisted), 5:00. 3, ICC, unknown, 7:00. 4, ICC, unknown, 11:00. 5, PR, Gamber (unassisted), 15:00. 6, ICC, unknown, 25:00. 7, PR, Bradley Gleason (unknown), 28:00. Second half — 8, PR, Tyler Engelson (unassisted), 70:00.
Shots — PR 12, ICC 11.
Saves — PR, Luke Butler 8; ICC, unknown, 7.
First half — 1, PR, Shane Gamber (unassisted), 8:00. 2, TL, Cazwell McKenzie (Gavin Mooney), 25:00. 3, TL, Eric Gray (Colton Mendenhall), 31:00. 4, PR, Bradley Gleason (unassisted), 39:00. Second half — 5, TL, Mooney (Mason Thaxton), 60:00.
Shots on goal — PR 14, TL 26.
Saves — PR, Luke Butler, 18; TL, Nate Anderson, 7.
Cross country
Four Spartans competed in the Timberlake Farragut Invitational this Saturday in Athol. It was the first 5K of the fall for most schools in the area and head coach Lance Clark said it was a great opportunity for his squad to get their feet wet.
"I was very proud of them," he said. "We're working on getting better and better every week."
Junior Annie Morrell participated in her first meet in a Spartan uniform. She ran in the girls junior varsity race and took home ninth with a 25:00 to earn a medal.
Junior Dylan Lord led the way for the boys, placing 70th out of 122 runners in the varsity race.
Brayden Lamanna grabbed 96th with a 20:41. His time is currently ninth best in 3A among freshmen, and the fastest in the league among freshmen.
"Brayden Lamanna did really well," Clark said.
Freshman Tanner Bowers finished the 5K in 24:06.
Priest River heads to the Bonners Ferry Invite at 9 a.m. Saturday before hosting the Ivan Benson Invitational at 4 p.m. next Tuesday.
The Spartans are still looking for runners.
"We need more kids," Clarks said. "I'm hoping we get bigger and get more kids."
Football
Priest River was only able to muster 139 yards on offense in a 48-8 defeat at Newport on Friday.
The Spartans were still shorthanded, but head coach Jared Hughes said his squad made too many mental mistakes to keep up with the Grizzlies.
"It was a pretty rough game for us," he said. "Newport is a really good team and we made them look even better."
Newport held the Spartans to 15 yards in the first half. Hughes said his team had too many negative plays early on. Priest River got rolling in the second half, but by then it was too late.
"Defensively, we played pretty well except for about seven to eight big plays for Newport," he said.
Senior Kameron Salesky had another strong game for the Spartans. He led the team in rushing with 65, threw a 62-yard pass at halfback that resulted in him punching it into the end zone from a yard out, and he tallied a team-high 10 tackles, including two for loss.
Hughes said junior Matyus McLain was able to get pressure on the Newport quarterback all night long. He racked up nine total tackles, one sack and a forced fumble. Conor Berns had a 23-yard return on an interception.
Priest River (0-2) hosts Oroville, Wash., at 2 p.m. Saturday.
"We will be working hard this week to shore up our mistakes," Hughes said.
Priest River 0 0 0 8 — 8
Newport 20 7 14 7 — 48
First quarter
N — Eggleston 12-yard run (kick good)
N — Loosier 44-yard run (kick good)
N — Eggleston 30-yard pass from Smith (kick no good)
Second quarter
N — Kirkwood interception return (kick good)
Third quarter
N — Eggleston 30-yard run (kick good)
N — Eggleston 5-yard run (kick good)
Fourth quarter
N — Allen 30-yard run (kick good)
PR — Salesky 1-yard run (run good)
PRIEST RIVER INDIVIDUAL STATISTICS
RUSHING — Johnson 6-(-12), Goins 3-3, Salesky 16-65, Sorbel 1-(-14), McLain 1-1, Berns 2-6.
PASSING — Johnson 4-10-28-2. Salesky 1-1-62-0.
RECEIVING — Berns 3-23, Goins 1-62, McLain 1-7.
Volleyball
Spartan volleyball had a tough opening week, suffering three defeats in straight sets.
On Tuesday night, the Spartans opened Intermountain League play at home and fell in three sets to Bonners Ferry. No stats were available from the match at press time.
Priest River (0-4) hosts Coeur d'Alene Charter at 7 p.m. Thursday and St. Maries next Tuesday.
---