Sandpoint gashed on the ground in 17-point loss to Homedale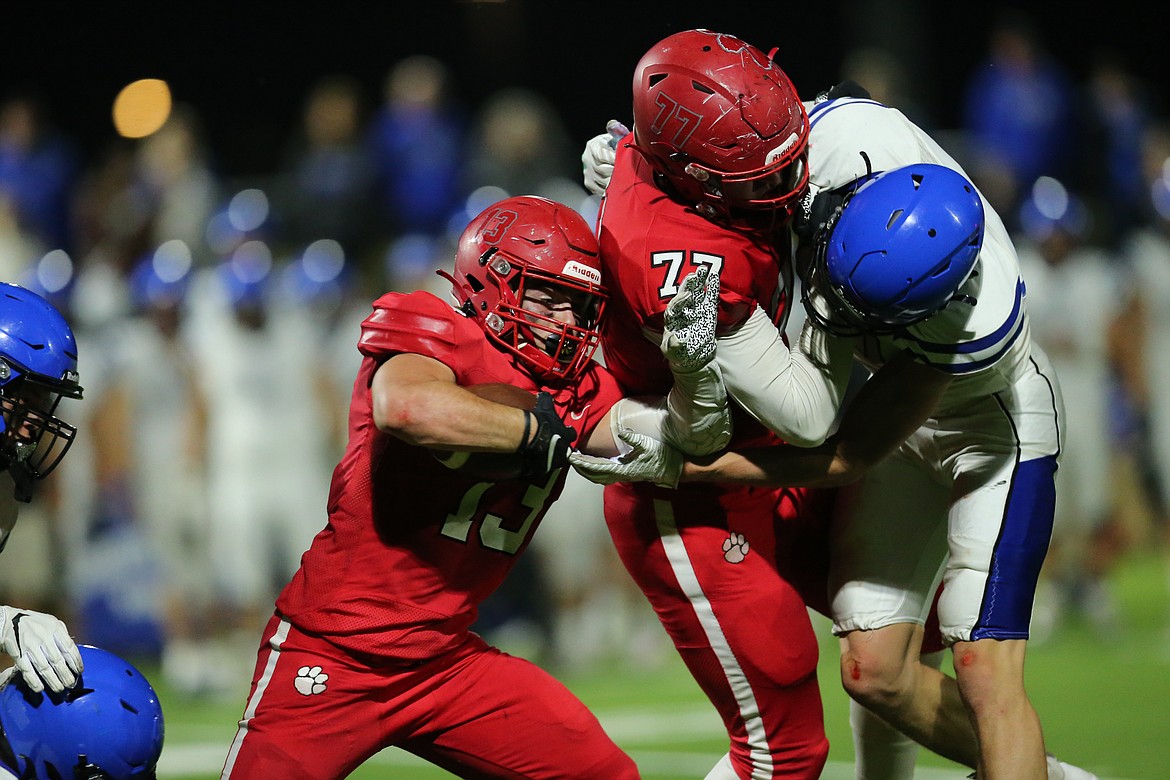 Gerrit Cox (left) runs through a hole created by a block from Wylan Dorrel during the game against Coeur d'Alene on Sept. 3 at War Memorial Field.
(Photo courtesy of JASON DUCHOW PHOTOGRAPHY)
by
DYLAN GREENE
Sports Editor
|
September 17, 2021 11:33 PM
HOMEDALE — Homedale gave Sandpoint football a taste of its own medicine on Friday night.
The Trojans controlled the line of scrimmage from start to finish, chewed up the clock in the second half and displayed a dominant rushing attack, spoiling any hopes of a Bulldog comeback as SHS fell 38-21.
Homedale, the No. 1 ranked team in 3A, was able to rack up 384 yards rushing on a Sandpoint defense that held 5A Coeur d'Alene to negative 21 yards rushing in its last game two weeks ago.
The Bulldogs take pride in shutting down opponents on the ground, but on Friday head coach Ryan Knowles said his team was indecisive defensively.
"We weren't aggressive enough and we weren't tacking well," he said after the game. "It was a tall task to start with, but we spotted them points, which gave them confidence and they were in control the whole game."
Sandpoint struggled out of the gates and never seemed to get going, Knowles said, and Homedale (4-0) was clicking all night.
"They jumped us in all three phases," he said. "I give them credit, they did some things they haven't done all year and that's on me. You got to defend the whole field and we didn't."
Homedale soared out to a 14-0 first-quarter lead, scoring touchdowns on both of its offensive possessions in the quarter. While Sandpoint went three-and-out on all three of its possessions in the first 12 minutes of action.
The Trojans tacked on another score just over a minute into the second quarter. Homedale quarterback Jaxon Dines kept the ball on a read option and scampered in from 12 yards out to make it 20-0 Trojans.
Just went it looked like things couldn't get worse for the Bulldogs, Sandpoint fumbled on the ensuing kickoff. Homedale took over at the SHS 16 and two plays later they punched it in to take a 26-0 advantage with 9:50 left in the first half.
Despite the large deficit, the Bulldogs didn't give in and kept fighting. Kick returner Luke McCorkle set the team up with great field position and on the first play of the next drive quarterback Parker Pettit tossed a pass to Gerrit Cox in the middle of the field, and the running back took it 45 yards to the house.
The Trojans answered on their next drive when Hayden Kincheloe, the 2020 3A Player of the Year, ran it in from 2 yards out to give Homedale a 32-7 lead.
But just before the half, Pettit was able to orchestrate a drive down inside the Homeland 10 thanks to a pair of big plays with his legs. With 1:19 left in the second quarter, Pettit found Max Frank for an 8-yard touchdown.
The Trojans took the 32-14 lead into the locker room, but it felt like the Bulldogs had the momentum. Against Coeur d'Alene, Sandpoint was able to battle back from a 19-point halftime deficit. They were aiming to do the same against the Trojans, and they couldn't have asked for a much better start to a comeback attempt.
Homeland fumbled on its first drive of the half and Sandpoint capitalized four plays later when Pettit connected with Cox for a 35-yard touchdown pass. The deficit was now down to 11 points with over seven minutes left in the third quarter.
Unfortunately, Sandpoint just couldn't find a way to slow down the Homedale ground attack. The Trojans held onto the ball and squeezed every second out of the clock, limiting the Bulldogs' offensive chances.
Knowles said the 26-0 hole was a tough one to climb out of.
"I felt like it was just a mental challenge the whole day," he said. "We came out just a little bit starry-eyed and I didn't really see that coming."
The Bulldogs took the eight-hour bus ride to the Boise area to prepare themselves for a potential road trip in the state playoffs, and the team certainly learned a lot from this experience, Knowles said.
"There's a reason why we did it — to show them how tough it is," he said. "That's the type of team we're going to have to beat if we want to reach our goals."
Pettit went 11-of-19 for 130 yards and three touchdowns. He also had 55 yards rushing on six carries. Cox finished with 90 yards receiving and 51 on the ground to go along with his two touchdowns.
"I thought Gerrit Cox once again showed a lot of heart," Knowles said.
Frank led the team with six receptions and Sandpoint finished with 242 yards of total offense.
Kincheloe tallied 213 yards rushing on 29 carries for Homeland. Dines had 169 yards on the ground for the Trojans, who amassed over 450 total yards on offense.
"I look forward to getting a chance at them at our place next year," Knowles said about Homedale.
Sandpoint (1-2) will look to get back on track when they host Lewiston (4-0) at 7 p.m. next Friday at War Memorial Field.
"We were 1-2 last year at this time and learned some tough lessons," Knowles said. "Hopefully, we got a little bit tougher today and figured out who were are a little bit more."
Sandpoint 0 14 7 0 — 21
Homedale 14 18 6 0 — 38
First quarter
H — Mason Strong 37-yard pass from Jaxon Dines (kick good), 7:22
H — Dines 39-yard run (kick good), 5:29
Second quarter
H — Dines 12-yard run (kick no good), 10:47
H — Trenton Fisher 3-yard run (kick no good), 9:50
SHS — Gerrit Cox 45-yard pass from Parker Pettit (Gove kick), 9:33
H — Hayden Kincheloe 2-yard run (pass no good), 4:03
SHS — Max Frank 8-yard pass from Pettit (Gove kick), 1:19
Third quarter
SHS — Cox 35-yard pass from Pettit (Gove kick), 7:22
H — Kincheloe 4-yard run (kick no good), 1:07
---