SHS football returns to action to battle 3A power Homedale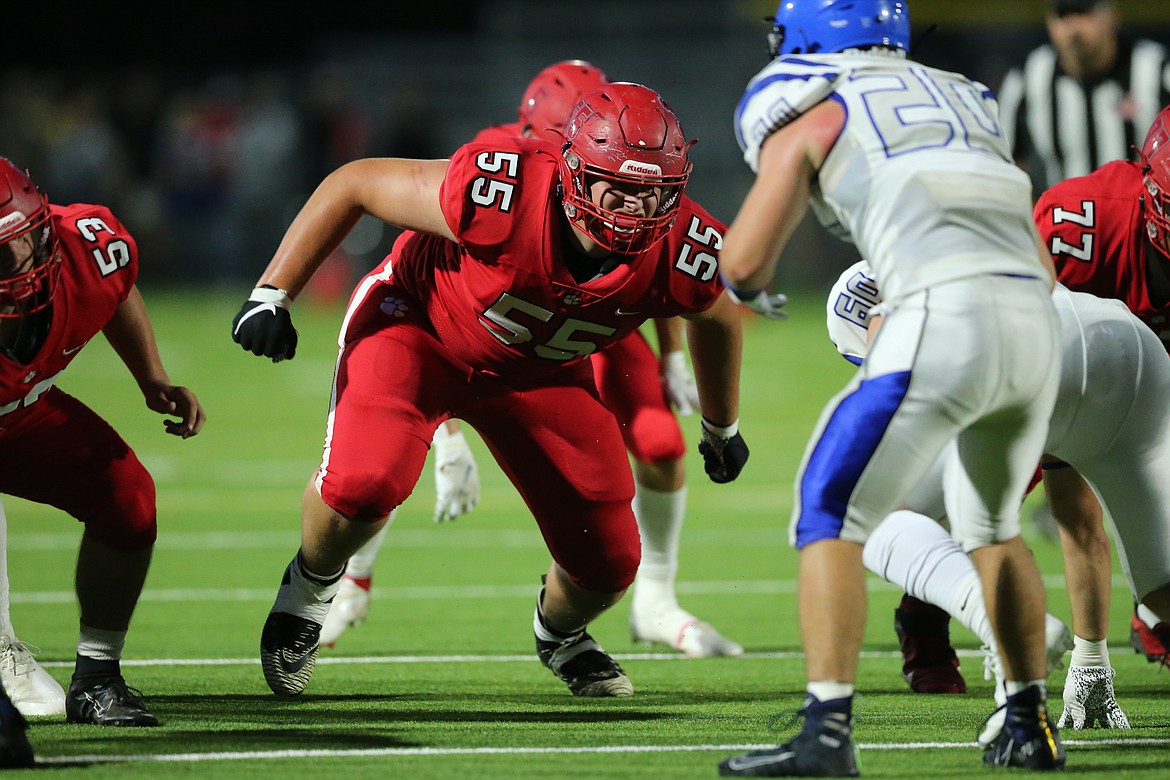 Junior offensive lineman Carson Laybourne looks to make a block during the home game against Coeur d'Alene on Sept. 3.
(Photo courtesy of JASON DUCHOW PHOTOGRAPHY)
by
DYLAN GREENE
Sports Editor
|
September 17, 2021 1:00 AM
HOMEDALE — After falling to Skyline in the 4A state semifinals in Rexburg last fall, head coach Ryan Knowles preached the importance of being able to travel in the state playoffs to his players all offseason.
That's why the Bulldogs scheduled a week 4 matchup at Homedale. It's the perfect prep for a potential state road game this season and Knowles said his players have bought in fully to that message.
In Knowles' first three years at the helm, Sandpoint didn't get a chance to travel to the Boise area for a game, so he made sure to seek one out this fall. Homedale answered the bell and after an eight-hour bus ride, the two teams will face off at 6 p.m. PST tonight.
"They called and wanted to dance, so here we go," Knowles said.
Homedale has built a powerhouse program, losing in the 3A state championship game each of the last three seasons. Knowles is looking forward to the bus ride back-and-forth, but he knows the Bulldogs have quite the challenge in front of them.
"When we get down there we're going to be in a hostile environment," he said. "I'm sure Homedale has a pretty proud and strong football community. From a team standpoint, they're dang good ... and they are definitely a strong opponent that we're going to have to show up and play a tough four quarters against."
Homedale has been pretty dominant through three games this season. The Trojans beat 4A Caldwell 36-24 in their season opener, and defeated Ontario and Baker, both Oregon schools, by a combined score of 110-14.
The Trojans have a potent, physical rushing attack and are averaging over 270 yards per game on the ground. The backfield is led by 2020 3A Player of the Year Hayden Kincheloe, who made his season debut last Friday and rushed for 167 yards and three touchdowns.
But the Bulldogs possess a talented defensive line determined to slow them down. In its last game, Sandpoint held Coeur d'Alene to negative 21 yards rushing with linebacker Wes Benefield recording a team-high 11 tackles.
It should be quite the battle in the trenches and Knowles loves how his team stacks up in that category.
"This is what we do," he said. "They pose a few different problems for us with personnel groupings that we don't see a whole lot, but our defense is designed to handle them and actually built around these formations that we don't get to see a whole lot. It's going to be a fun challenge for us. Our defensive front is as physical as it gets, so I'm very excited for them to get the opportunity to face a formidable opponent like this."
As much as Homedale loves to run the ball downhill, Knowles said they can also spread things out and give defenses quite a few different looks.
"They have the full arsenal," he said.
The Bulldogs are coming off an unexpected bye week after last Friday's game at Colville was canceled due to COVID-19. Sandpoint scrambled for about 24 hours to find another opponent after learning of the cancellation, but nothing presented itself, Knowles said.
However, Sandpoint used the week off to their advantage, healing up some injuries suffered in the first few weeks. Despite the time off, Knowles isn't worried about his team starting slow against the Trojans. He said the Bulldogs are eager to get back on the gridiron.
"It was actually pretty helpful," he said about the break. "We had some shorter practices and we really needed it to get healthy after those first two games."
Friday's game will pit the No. 22 ranked team in the state, Homedale, against the 11th-ranked Bulldogs, according to MaxPreps.
So far this fall, the Sandpoint ground attack has been nearly unstoppable, racking up over 275 yards per contest. Knowles said Gerrit Cox, Parker Pettit and the offensive line have been dominant, and that needs to continue against Homedale.
"A lot of our success on Friday night will come down to our offense running the ball like they have been," he said. "Our offensive front is putting up some amazing numbers in the run game right now."
Kickoff is set for 6 p.m. PST. You can listen to the game on AM 1400 KSPT, ROCK 103 (FM 102.9) or rock103fm.com. The game can also be watched live on NFHSnetwork.com. A subscription costs $10.99 per month.
---