Utility line project to start Monday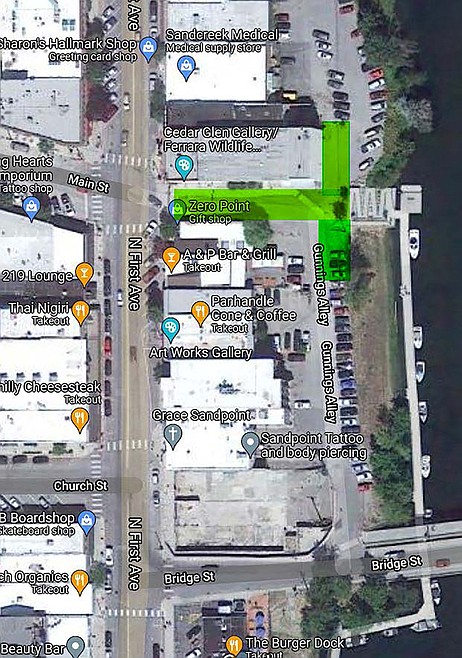 The first phase of a two-phase project to move overhead utility lines in the Farmin's Landing area begins Monday. It includes installation of a new junction box and trenching in the green highlighted area above.
(Photo courtesy CITY OF SANDPOINT)
|
September 19, 2021 1:00 AM
SANDPOINT — Avista crews will begin the first of a two-phase project to move overhead utility lines in the Farmin's Landing area Monday.
The project, adjacent to Sand Creek, will extend the city's fiber broadband backbone, City Administrator Jennifer Stapleton said in a post to the city's Facebook page.
The first phase of the project will include the installation of a new junction box and trenching — excavation, wiring, and backfill — in the area behind the Panida, Gunning's Alley and Main Street between the Panida and Zero Point.
Work will begin Monday, Sept 20, at 9 a.m. and continue through Friday, Sept 24, at 3 p.m. During this time, Stapleton said access in and out of Gunning's Alley will only be via Bridge Street. Access at Main Street and First Avenue will be closed. Access behind the Panida will be closed, except critical deliveries, as coordinated with Avista, Stapleton said.
An associated power outage will occur on Wednesday, Sept 22, at 10 p.m., until Thursday, Sept 23, at 3 a.m. to all customers located east of First Avenue between Cedar and Bridge streets.
Open public parking along Gunning's Alley will be open but limited, Stapleton said.
---