Inflation, labor shortage not going away any time soon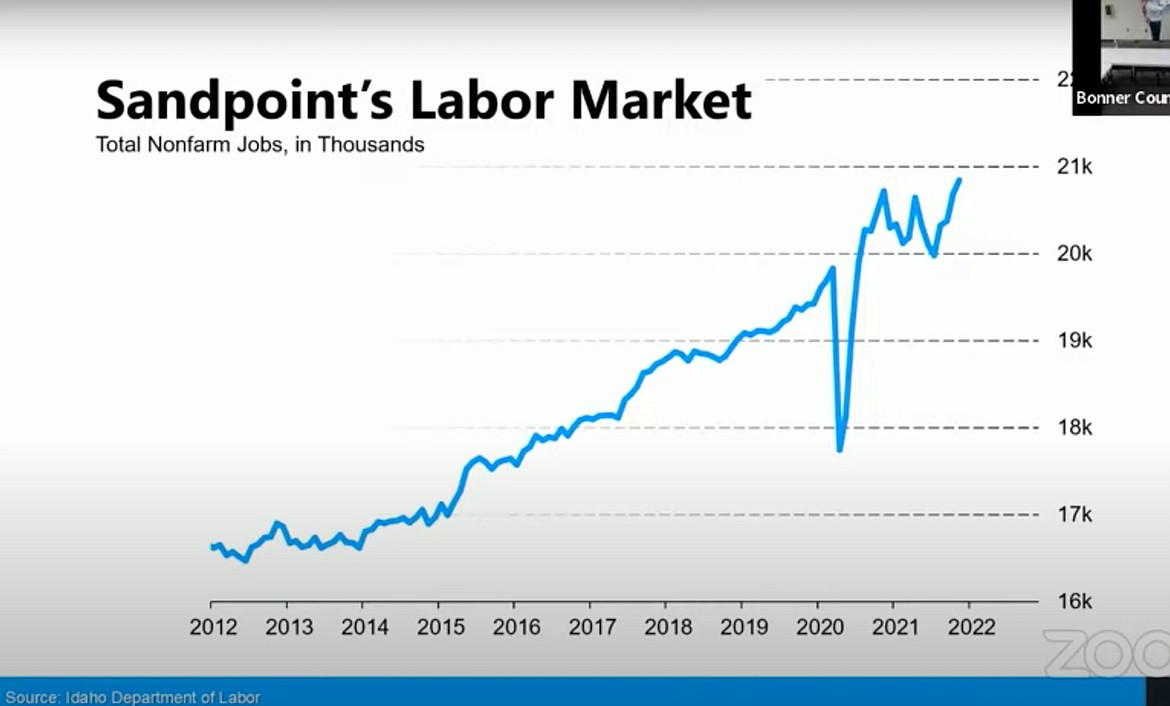 A screenshot showing Sandpoint's labor market.
▶️ Listen to this article now.
SANDPOINT — Inflation and the labor shortage are only expected to become more severe in the county in the coming years.
The forecast was part of a presentation by Sam Wolkenhauer, economist with the Idaho Department of Labor, on the state of the most prominent economic pressures the county is facing, most notable being the labor shortage and inflation.
Wolkenhauer did not blame the labor shortage on lack of housing, but on the demographic breakdown in the county's population.
"When more and more of your population is retired it creates a real squeeze for employers," Wolkenhauer said in 2018.
Pressures that were felt in 2018 became more pronounced in 2020 with higher-than-expected rates of retirement, and a lack of working age people to fill in the gap.
"We had the new census come out, northern Idaho was the fastest growing region in Idaho. And Idaho was the fastest growing state in the county, and yet, in all five of the panhandle counties, there were more deaths than births," Wolkenhauer said on Monday.
Wolkenhauer presented graphs he created that show Bonner County's population by age group.
"You lose 1,000 people out of this millennial cohort at the same time you're more than doubling the older age groups. So when you look at this, you don't really need to question why there's a labor shortage. It makes perfect sense."
Wolkenhauer is referring to the last 20 years in Bonner County in which working age people are leaving the county, and retirement age people are moving in.
Despite retirees bringing their money into the county, the reduction of working age citizens was described by Wolkenhauser as being a "drag on the economy."
"In 2000, 70% of the adults in Idaho were employed, now it's 62%. The ratio is shifting, and not in a good way, from workers to consumers. This is why we have a labor shortage, this is why we have inflation, this is why we have problems physically doing what we want to do," Wolkenhauer said.
Gen Z is not expected to relieve any economic pressures, either. Not only are there less of them due to declining birth rates, but they face unprecedented rates of mental illness.
"Gen Z has problems," Wolkenhauer said. "Their rates of mental illness are alarming. Gen Z has the highest suicide rate of any generation ever. Gen Z is not going to be some big economic boost."
Wolkenhauer described those who are facing significant personal problems as experiencing what is called "disabilities of despair," and according to him, they affect men more than women.
"Unemployment is very very low in Idaho right now, and we have a very large number of job openings. So this begs the question: What is wrong with the labor supply?" he posed before offering potential answers, one of which being disabilities of despair.
Even though Idaho opened faster than any other state during the COVID-19 pandemic, employment rates have begun to level off because all of those who can be employed, already are.
"We know that when you get down to 3% unemployment, that 3% leftover is really hard to employ on a stable basis," he said.
According to the Idaho Department of Labor, Idaho reflected a 2.7% unemployment rate at the end of March.
Wolkenhauer ended the presentation by taking questions from the audience, one of whom asked if Idahoans should expect a continued increase in inflation rates.
"Inflation will probably creep a little higher this year," he said. "If you don't get 10% this year, then you're probably falling behind in real terms."
Recent Headlines
---