Cherie Coldwell honored as April Volunteer of the month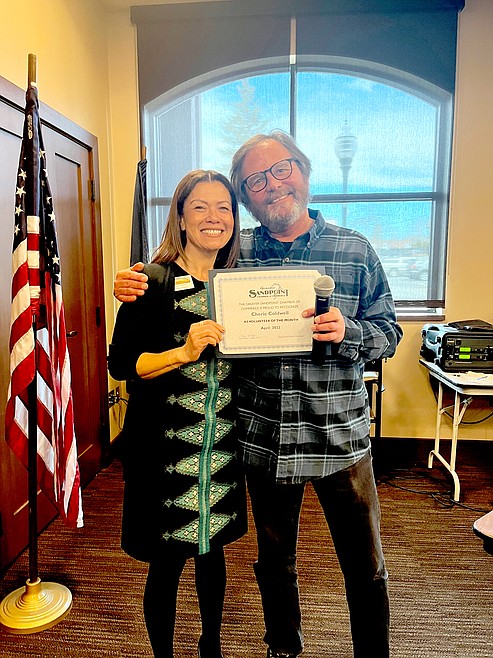 Cherie Coldwell, executive director of Sandpoint Area Seniors, Inc., has been recognized as the April Volunteer of the Month by the Greater Sandpoint Chamber of Commerce.
(Courtesy photo)
SANDPOINT — Cherie Coldwell, executive director of Sandpoint Area Seniors, Inc., has been recognized by the Greater Sandpoint Chamber of Commerce as its April Volunteer of the Month.
Born in Thailand, Coldwell became a world traveler at a very young age growing up as an Air Force brat. She later became a non-commissioned officer in the Air Force herself, which allowed her to travel even more. After her time in the Air Force was done, she spent the following 11 1/2 years as a pediatric nurse in Pennsylvania.
Coldwell landed in Sandpoint after some retired Air Force friends told her to visit the area. She landed a job as coordinator at Priest River Lamanna High School where she spent four years. In 2020 she landed her current position as executive director of the Sandpoint Senior Center.
Coldwell has done an outstanding job at the Senior Center, especially for getting the job right as a world-wide pandemic hit. The Senior Center means so much to its regular visitors. For a lot of them it is the entirety of their social life. Balancing all the programs as well as the Meals on Wheels program while keeping everyone safe is nothing short of amazing.
Coldwell has also become a big part of the Sandpoint community. She has volunteered her knowledge as a nurse and EMT to teach High School students' skills and she is a regular volunteer at the chamber's annual Beerfest. She has volunteered as one of Santa's elves for Winter Carnival and checked vaccination cards at the Panida this past winter. Not to mention her work cooking and delivering meals to home-bound seniors. She is a part of the current cohort of Leadership Sandpoint who will be holding their annual Cinco De Mayo fundraiser next month.
Recent Headlines
---