LPOIC Spring Derby kicks off today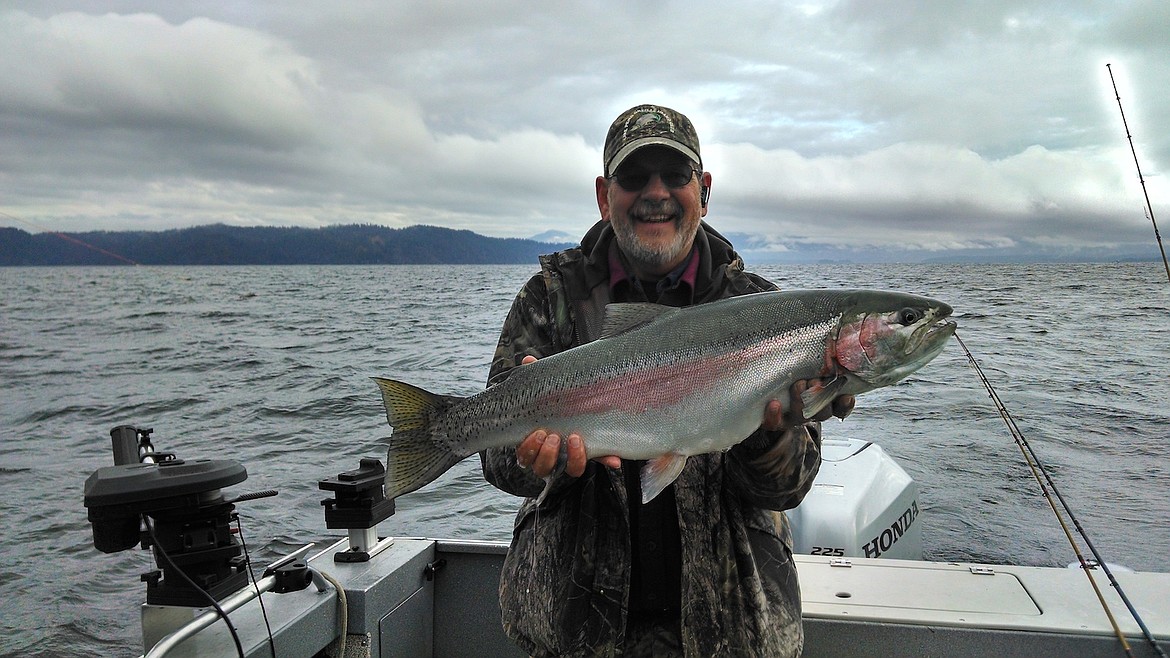 David Gillespie displays a rainbow trout he caught during the LPOIC Spring Derby in 2016. (Courtesy photo)
by
CAROLINE LOBSINGER
Staff Writer
|
April 23, 2022 1:00 AM
LPOIC Annual Spring K&K Fishing Derby – April 23, 2022 through May 1st, 2022
SANDPOINT — Ready, set, drop your lines.
The Lake Pend Oreille Idaho Club Spring Derby is set to kick off today. The annual fishing derby will run through May 1 and offers the chance to hook some serious prizes.
First place in the adult rainbow division will net the winner $4,000. Second place comes with a $2,500 prize, third place wins $1,500, fourth is $750 and fifth is $500.
There is a $1,250 member bonus that is split among LPOIC club members who place. In addition, there is a $500 catch and release bonus for placing a rainbow that is successfully released after weigh-in.
Fish must be a minimum of 32 inches.
In the adult mackinaw division, the top fish will net the lucky angler a $1,200 prize, second is $800, third is $600, fourth is $400, and fifth is $200. Prizes are also given to anglers who place sixth through 10th.
Youth A and Youth B divisions offer younger anglers a chance to get in on the fun, with prizes and trophies offered to youth who finish in the top three of each division. Youth A is open to youngsters between the ages of 9 and 12 years old; Youth B is open to those from 0 to 8 years old.
Junior Division anglers have a chance to claim their own bragging rights and is open to youth between the ages of 13 and 20. Rainbows must be at least 28 inches in length while mackinaws can be of any size.
First place wins $600, second is $400, third is $300, and fourth is $200. There is a $100 bonus for successful catch and release of a placing rainbow.
The entry fee for adults is $50 while the entry fee for the junior division is $10.
The Lake Pend Oreille Idaho Club derbies have been a tradition in the region since the late 1940s — more than 70 years depending on which derby you start with, the club's Dave Gillespie said previously. The story is that the derbies started in 1947 after an earlier 1940s planting of Gerrard Rainbows from Canada which brought the rainbows to Lake Pend Oreille.
In 1948, Gillespie said the Bonner County Sportsman Club put on another derby that lasted the entire Lake Pend Oreille season. And, a few more were put on by the city of Sandpoint around the same time.
"After that the Lake Pend Oreille Idaho Club was formed from members of both with a plan to continue with a springtime derby that would have less of an impact on the overall rainbow population," Gillespie said.
Ticket outlets for the 2022 derby can be found in a number of businesses from Sandpoint to Bayview as well as several in Coeur d'Alene. Those interested in joining the club and signing up for the derby can do both at these locations. Ticket outlets can be easily identified because they display the LPOIC derby poster at the front of the store.
Information: lpoic.org
Recent Headlines
---