Initiative aims to provide Purple Heart parking for veterans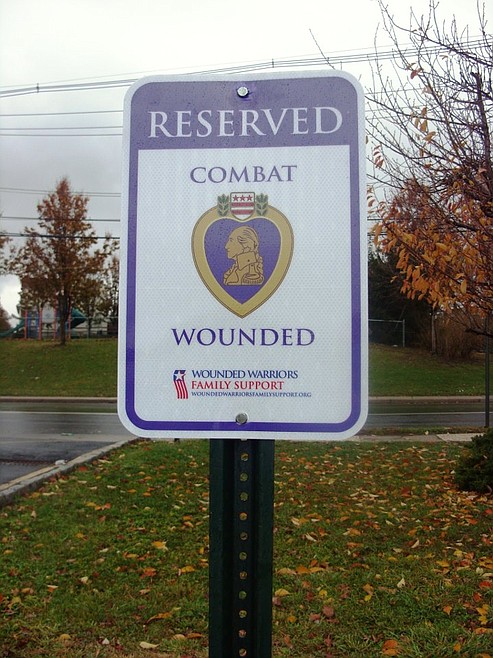 A sign indicates that a parking spot is reserved for recipients of the Purple Heart.
(Photo courtesy MOPH)
by
BEAUX WHITE EAGLE
Staff Writer
|
April 27, 2022 1:00 AM
▶️ Listen to this article now.
SANDPOINT – The Military Order of the Purple Heart Department of Idaho is working to launch an effort to adopt the Purple Heart Parking Initiative in Bonner County.
The group also is working to launch the effort in Boundary and Kootenai counties.
The MOPH is a non-profit organization that raises funding for programs and services that aid Purple Heart recipients and their families. The initiative is one of those programs.
The Purple Heart Parking initiative is a nationwide program that is adopted county by county and is used across the U.S. to show honor and respect to recipients of the award. This program does so, by joining with local businesses to designate an unreserved parking space, near or adjacent to handicap parking, as Purple Heart Parking and erecting a plaque to reserve that space for Purple Heart recipients.
The initiative could help many Purple Heart recipients who might not qualify for handicap parking, such as combat-wounded or elderly, as it will allow for all Purple Heart recipients to use the parking. There will not be any permits or license plate requirements, one needs only to prove they have a Purple Heart if approached by an officer.
Being the first of its kind in North Idaho, Dr. Dale Wilson, judge MOPH advocate and a retired Army major who served in Vietnam, took on this project when it came up at a recent meeting.
"Such an effort will serve as an outstanding way to honor our combat-wounded vets," said Wilson "and also educate local residents about their presence in our communities."
In addition to seeking businesses willing to participate, MOPH is looking for a local Boy Scout who might consider joining the effort as an Eagle Scout project.
"I just felt this was the perfect opportunity for an Eagle Scout project," Wilson said.
Only one young man will be chosen and need only to be "enthusiastic and have the desire to do it." The scout will make a plan, with MOPH's assistance, to approach businesses and form connections. After a plan has been formed the scout and a mentor from MOPH will work to enact the said plan, with the scout taking the forefront position, Wilson said.
"I want [the scout] to kinda take a lead cause will be an Eagle Scout project," Wilson said.
Local business owners and scoutmasters who would like to get involved are invited to contact Wilson via email at docdale6@gmail.com or phone at (208) 290-1986
Recent Headlines
---