Davis: School, community a place of 'pure joy'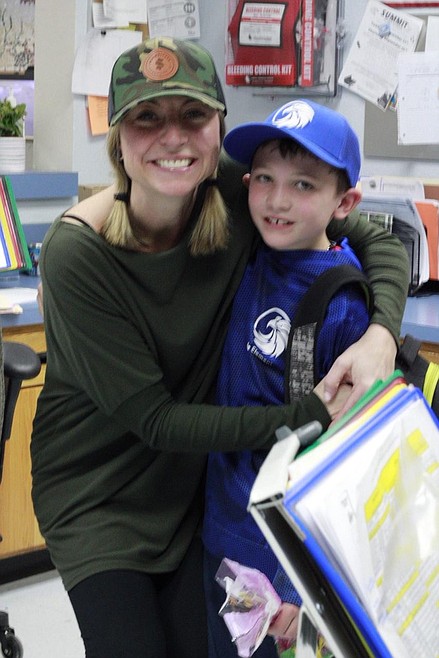 Sagle Elementary principal Christine Davis poses for a photo with one of her students. The educator has hit the ground running since taking over as principal in August.
(Photo by BEAUX WHITE EAGLE)
by
BEAUX WHITE EAGLE
Staff Writer
|
April 29, 2022 1:00 AM
SAGLE – Christine "Chris" Davis has hit the ground running since starting as principal of Sagle Elementary in August.
Five years ago, Davis was living in Missouri with her family of outdoor recreation enthusiasts, when her husband decided to google "most affordable resort towns in the U.S." That summer, the family made their first trip to Sandpoint but weren't ready to make the move just yet.
Enjoying town favorites like City Beach and Schweitzer, the family of four instead chose to make more trips to the area over the following years, Their travels even saw them venturing into Montana and doing the "tourist bit" of visiting Glacier Park and bringing friends and family members.
"We brought our very best friends. And we're like, we're gonna live here," said Davis. "So they, of course, fall in love with a town."
However, after four years of vacations, the outdoor-loving family found themselves making a difficult decision between White Fish, Montana, and Sandpoint. A decision that was settled by bringing Davis' parents out for one last trip.
"We showed my family," Davis recounted. "They said, 'Oh, my gosh, you guys, Sandpoint is you. It is totally you.' "
Having no intention of leaving the field of education Davis retired from the state of Missouri, a career that has spanned more than 22 years, leaving her free to look for a position in Lake Pend Oreille School District. Davis has an extensive background in education from teaching middle school language arts to being an elementary school counselor and administrator.
While looking at available positions in LPOSD, Davis found an assistant principal position at Sandpoint Middle School. Davis applied and heard back for an interview. While they hadn't officially moved, Davis and her mother made the trip anyway. Davis said she wanted to make sure LPOSD officials knew she was serious.
"I interviewed knowing full well, I was not going to get it," Davis said. "I wanted to let this district know I'm pretty serious about it."
While Davis didn't get the SMS position, LPOSD Superintendent Tom Alberston wasn't going to let her go that easily. Albertson reached out to Davis in May 2021 with a different opportunity — the principal position at Sagle Elementary. This time Davis did a virtual interview that went so well that she and her family had completely moved by August, just in time to settle before the school year began.
Davis said when she started at Sagle Elementary, she did so with the position of understanding she was the "newbie." She didn't want to make too many changes before getting to know her new home, she added.
"I know enough in my 24th year of education that when you take on any new gig, you don't change a whole lot in your first year," Davis said.
However, that attitude hasn't stopped Davis from building upon the existing foundation at the school, such as the special education therapy rooms. Not every school in the district has them, but Davis said the rooms are a benefit to students and is working to have a "calming corner" in every classroom next school year. The calming corner will allow students a space to process and feel their way through any situation with a "regulation" chart that will help them get back to a healthy level of comfort
"It's just a place where kids can go if they're feeling a little off," Davis said
With Davis' first year with Sagle Elementary ending, Davis said she is looking forward to putting her touch on coming events like a "popsicle gets to know you" for incoming kindergartners and their families and an ice cream social to welcome students back to school.
Since moving, Davis has been getting to know the staff and the community. In doing this, Davis said she found the community of Sagle to be a family.
"This is a place of true and pure joy," Davis said
Recent Headlines
---