Kids Fair is serious fun with a serious message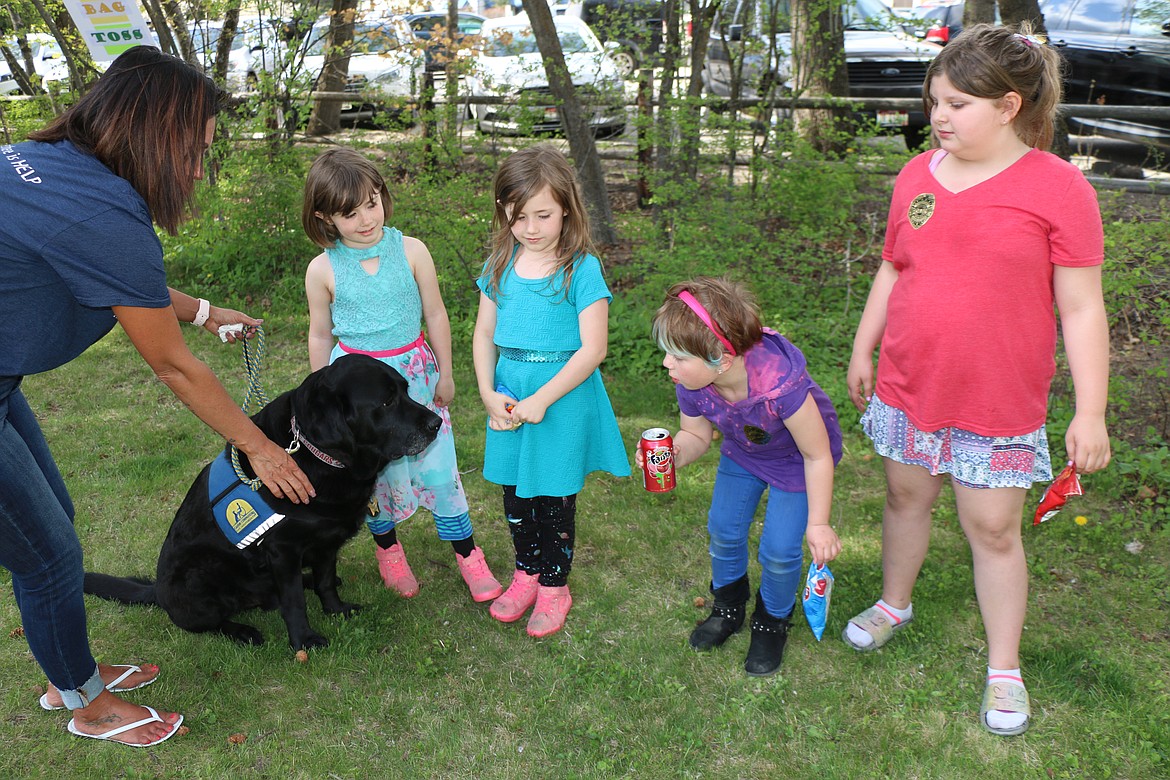 In addition to games, photo booth, bounce house, face painting, and a barbecue, today's second annual Kids Fair calls attention to Child Abuse Awareness Month, which takes place during April. Ken, who is pictured with a few visitors to the 2021 Kids Fair, is used to comfort the victims of domestic violence and sexual abuse.
(File photo/CAROLINE LOBSINGER)
by
CAROLINE LOBSINGER
Staff Writer
|
April 29, 2022 1:00 AM
SANDPOINT — While today's Kids Fair is a day of fun, there's a serious message, too.
There will be an obstacle course and slide, a bounce house, a silly photo station, face painting, free food and plenty of music. But the event, now in its second year, is also a chance for the Bonner County Prosecutor's Office and LillyBrooke Family Justice Center to call attention to Child Abuse Awareness Month.
The event, which takes place from 2-6 p.m. today, April 29, will be held at the center, 227 S. First Ave.
It's a chance for kids and families to have fun and learn about the center's many services as the county recognizes April as Child Abuse Awareness Month.
Also on hand, of course, will be Ken — Bonner County's courthouse dog used to soothe the frayed nerves of victims of domestic violence and sexual abuse — to greet everyone who attends. Booths will be operated by CASA advocates, local law enforcement and representatives from the Bonner County Prosecutor's Office.
Centers such as LillyBrooke brings those involved in investigating and prosecuting child abuse cases to the victim, instead of the other way around. As victims are interviewed a child friendly room, the audio and video is recorded and team members watch from an observation room away from the victim.
That way, all necessary officials are getting the same information at the same time — and making team decision. While many think child victims will automatically share all the details, Bonner County officials said the opposite is the case. Like adult victims, children aren't eager to talk about what's happened to them. Having a center like LillyBrooke — and forensic interviewers like Peggy Frye — leads to better investigations which are less traumatic to young victims, they said. It allows the team members to do their jobs while putting the children first in the process.
While organizers want everyone to have a good time, they said they also hope the event promotes awareness of the center and all it does, especially for the community's youngest victims.
There is no charge for the event, but donations will be accepted to help fund LillyBrooke programs and services. In addition, hats and T-shirts are being sold as a fundraiser. A drop box will available during the event for donations, which can be sent to the LillyBrooke FJC, 227 S. First Ave., Sandpoint, ID 83874.
Information: LillyBrooke Family Justice Center, 208-265-3586
Recent Headlines
---