KLT picked for Litehouse giving program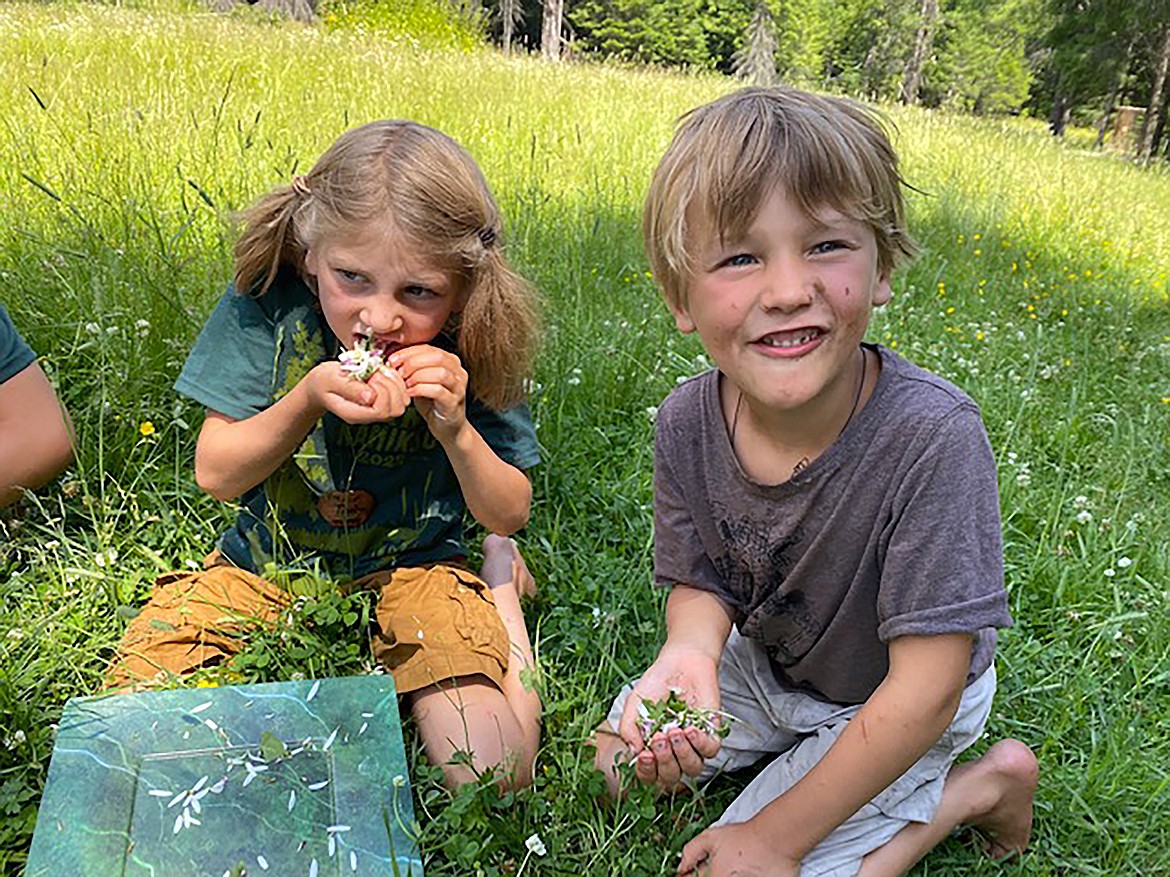 Camp Kaniksu participants enjoy Green Garden dressing on wild greens they harvested at Pine Street Woods.
(Photo courtesy KANIKSU LAND TRUST)
SANDPOINT — Litehouse Inc. is known as a hometown hero of sorts in the rural community where it began.
Started by a local family, the business has become a nationwide household name and is now 100% employee owned. The brand has worked hard to stay true to its community roots, despite its international success and ranking as the top refrigerated salad dressing brand in the United States. One way they have done this is by giving back to the communities they serve, particularly the local community that nurtured the success of that fledgling small business in the 1960s: Sandpoint, Idaho. 
In 2020, Litehouse launched Green Garden, a brand that makes better-for-you food products, including organic and non-GMO freeze dried herbs, and non-GMO plant-based dressings, dips and mayos. Last year, Green Garden launched the "5% Planting the Future" initiative, through which the brand donates 5% of annual net income to support planet-focused youth initiatives that educate young adults on ways to be stewards of their communities and planet.
Kaniksu Land Trust, also based in Sandpoint, has been selected as the first recipient to benefit from the "5% Planting the Future" program. 
"We are committed to balancing individual hopes and the collective needs of others – our youth, our families, our communities, and our planet," explained Krystle Turnbull, product manager for Litehouse Inc. "Through Green Garden's '5% Planting the Future' initiative, we're able to play a part in creating a more sustainable future for the next generation."
When asked why Green Garden chose KLT, Turnbull said, "Kaniksu Land Trust has a reputation for doing noble things to support the well-being of the Sandpoint community. Our shared core values of fostering community, supporting youth initiatives, and general stewardship make KLT an ideal recipient."
Kaniksu Land Trust works with willing private landowners to protect special places and applies land-based solutions to community challenges ranging from education to food security. KLT's nature education program, Rewild the Child, which takes kids outdoors to foster interest in conservation and stewardship of the land, in turn, providing numerous health and social benefits to the child, has grown immensely popular over the past six years since its inception and now offers over 2,200 youth days of outdoor learning and nature immersion each year. The program serves to foster an ethic of stewardship and conservation while also providing health and wellness benefits to local children for future generations. 
KLT's full suite of education programs, from school outreach to summer camp, includes a nutrition aspect to ensure children's basic needs are met so that they are ready to learn and explore. 
"All of our education programs include food. Every child gets the same snack, meal, and drink, creating a sense of inclusivity and belonging," said Katie Cox, KLT Executive Director. "This partnership with Green Garden is so meaningful because we are all concerned with the same things: community, children, and stewardship of this beautiful place we call home. We are honored to have been selected as Green Garden's first '5% Planting the Future' recipient."
Turnbull concluded, "As a 100% employee-owned company, it is in our DNA to support organizations that benefit communities and drive change to build a better future."
Green Garden products are available locally from the Litehouse Specialty Food Store, located at 125 S. Second Avenue in downtown Sandpoint.
Information: eatgreengarden.com and kaniksu.org/learn
Recent Headlines
---