Lonnie's 'Big Spin' leads to $75K prize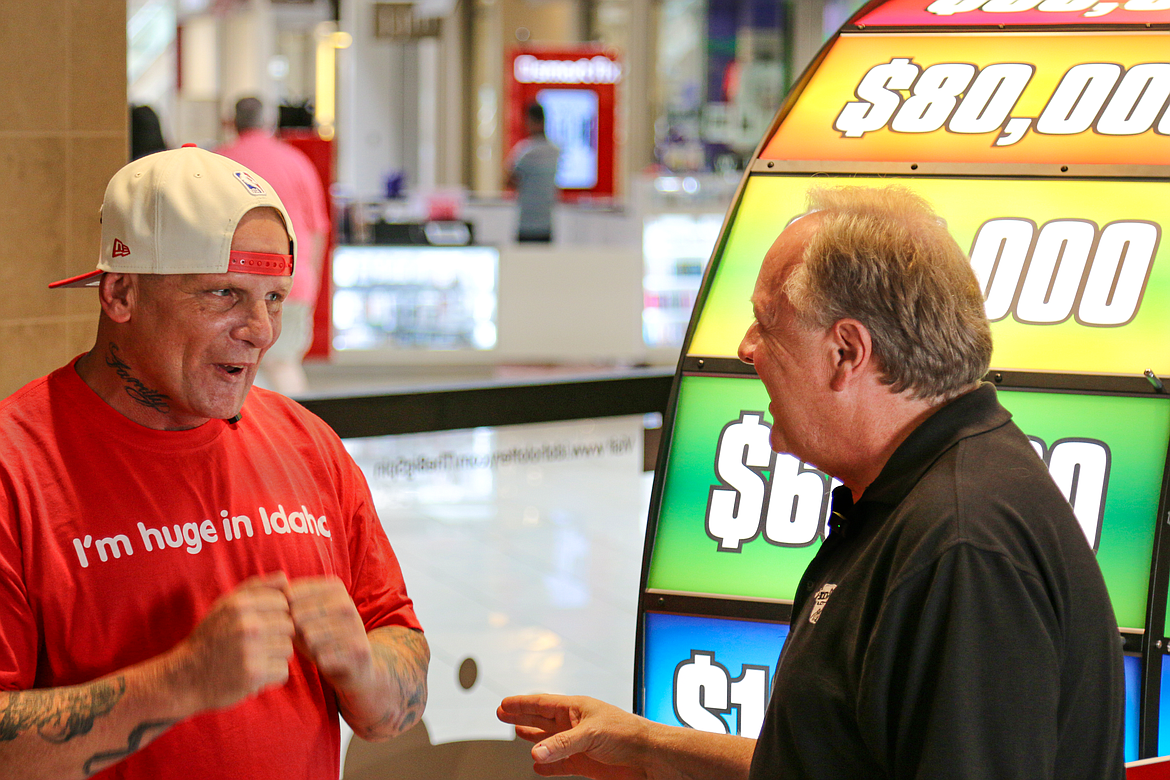 Lonnie Dahl of Priest River shows his excitement as he talks to Idaho Lottery's David Workman after winning $75,000 in the Big Spin game.
(Photo courtesy IDAHO LOTTERY)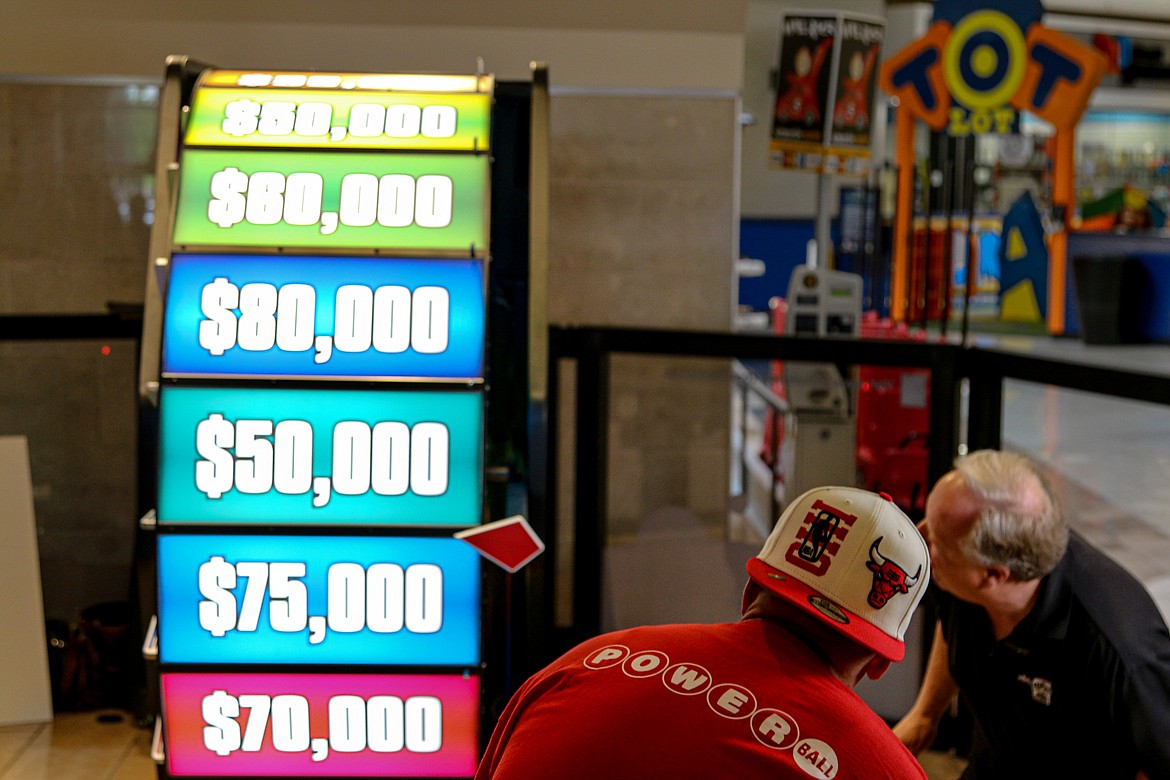 Lonnie Dahl, left, and David Workman of the Idaho Lottery watch as the Big Wheel slows to determine how much money he will win.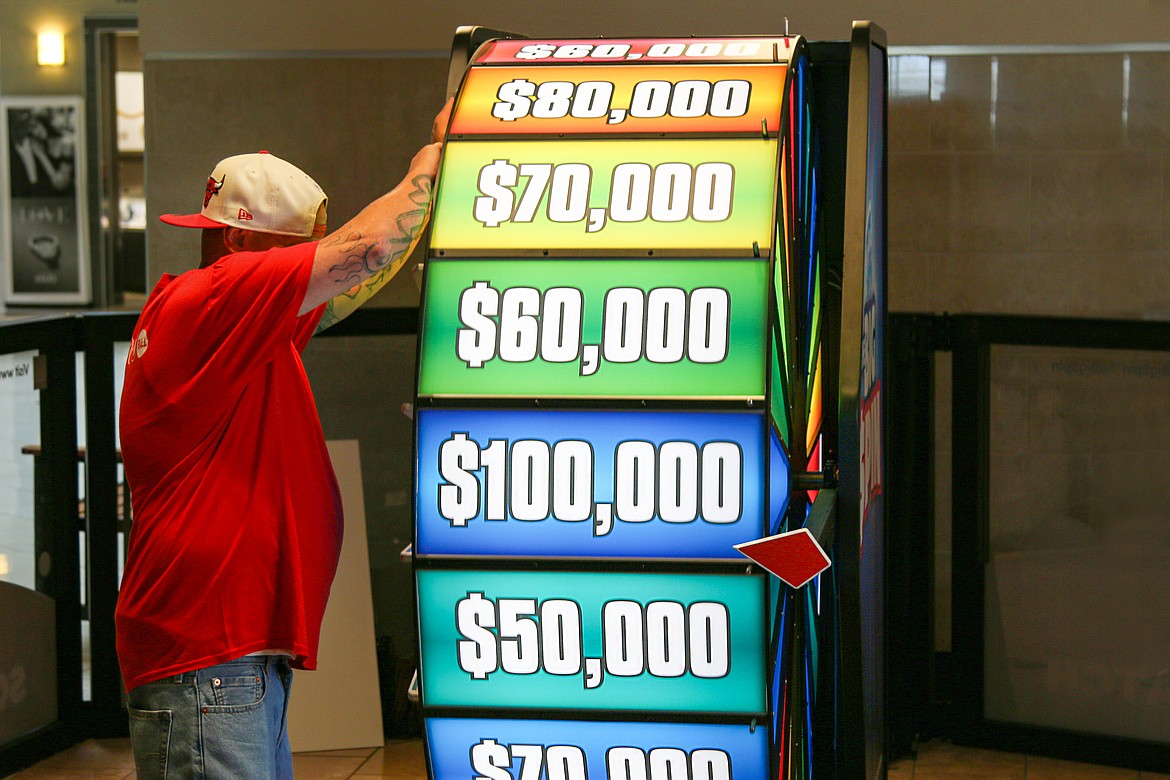 Lonnie Dahl gets ready to spin the wheel in the Big Spin lottery game, launched July 18 by the Idaho Lottery. Five more chances are out there to claim a spot at the wheel and try your luck.
A chance purchase led to Priest River's Lonnie Dahl to make a trip to Boise to be the first jackpot winner of the Idaho Lottery's newest game, the Big Spin. And by the time the 6-foot-plus wheel stopping spinning, Dahl had won $75,000.
(Video courtesy IDAHO LOTTERY)
Previous
Next
▶️ Listen to this article now.
PRIEST RIVER — Lonnie Dahl doesn't typically play the lottery.
While he plays the occasional scratch ticket, the Priest River resident said he saw the Big Spin game and decided to buy a few tickets because it looked fun.
That chance purchase led to Dahl making a trip to Boise to be the first jackpot winner of the Idaho Lottery's newest game, the Big Spin. And by the time the 6-foot-plus wheel stopping spinning, Dahl had won $75,000.
Dahl's winning ticket, purchased from Whitley Oil Exxon in Priest River, earned him a trip to Boise to spin the Lottery's Big Spin Wheel during a public event at Boise Towne Square.
As a crowd of 100 people watched — including his wife, son, and the family's newest dog — Dahl stepped up to the wheel, grabbed the spokes and pulled down as hard as he could.
From the practice spin, Dahl learned the wheel had to go around three times for it to count. He clapped, cheered and then grabbed hold and spun.
By the time the wheel stopped — many, many spins later, much more than three — Dahl had won a total of $75,000.
He immediately began cheering, and applauding, whooping with excitement before giving Lottery officials a hug or two.
Dahl's path to the winning scratch ticket came about almost on a whim. While he buys the occasional scratcher, Dahl said he isn't a regular lottery player. There was something about the Big Spin game that made him decide to buy a few tickets.
Dahl said he scratched a few tickets but didn't win anything. But then he scratched the fourth one — which told him he was a winner and to contact the Idaho Lottery office.
"I didn't really know that I won when I got a ticket, Dahl said. "I had to wait until the weekend was over to call down here so I didn't know exactly what I won."
So on Monday, he headed over to the Super 1 Foods store in Oldtown where his wife works to scan the ticket. That's when he found out that he'd won at least $50,000 with a chance to win another $50,000, Dahl said.
"I was so excited that I got the Big Spin, I ran through the store whooping and hollering and high fiving everyone!" said Dahl during the event at Boise Towne Square.
As soon as he realized he'd won, Dahl told his wife, who was working at the time.
"She couldn't believe it," Dahl said. "She was in shock."
Winning the jackpot prize came at the perfect time, Dahl said. The couple just purchased a new home in Priest River, but Dahl said the roof leaks and needs repairs.
"It's a life changer because we don't have to live check by check and we can keep money in the bank and still work and use that money to pay our bills and if some happens in the family so we can go and see them."
It gives the family a safety net, something Dahl said he's never had before.
Dahl worked laying asphalt until last year, driving every day from Priest River to Post Falls. He made the switch to working at a gas station a few blocks from his new home, allowing him to walk to work.
When he's not working at the gas station, Dahl said he and his wife like to hang out and enjoy time as a family.
Seeing Dahl's excitement is exactly why Idaho Lottery rolled out the new game after it was featured by their ticket printer last fall. Popular in Canada and in a number of other locations, Idaho Lottery spokesman David Workman said they knew the game would be a hit in Idaho as well.
The game, which launched on July 18, still has another five chances for other lucky lottery players to get their own chance to spin the Big Wheel, Workman said.
"I think that the idea behind having the spin is also it's something new that we haven't seen in Idaho before," Workman said. "It's just a little extra element that creates some extra excitement for folks. And the game is gaining in popularity. And we're excited to host the people who are going to win to come back down to Boise to have a chance to win up to $100,000."
For selling the winning ticket, Whitley Oil Exxon also benefitted from Dahl's Big Spin, taking home a 10% bonus from the Idaho Lottery worth $7,500.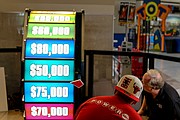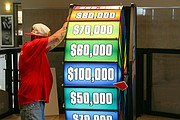 Recent Headlines
---