Sandemonium: Making it official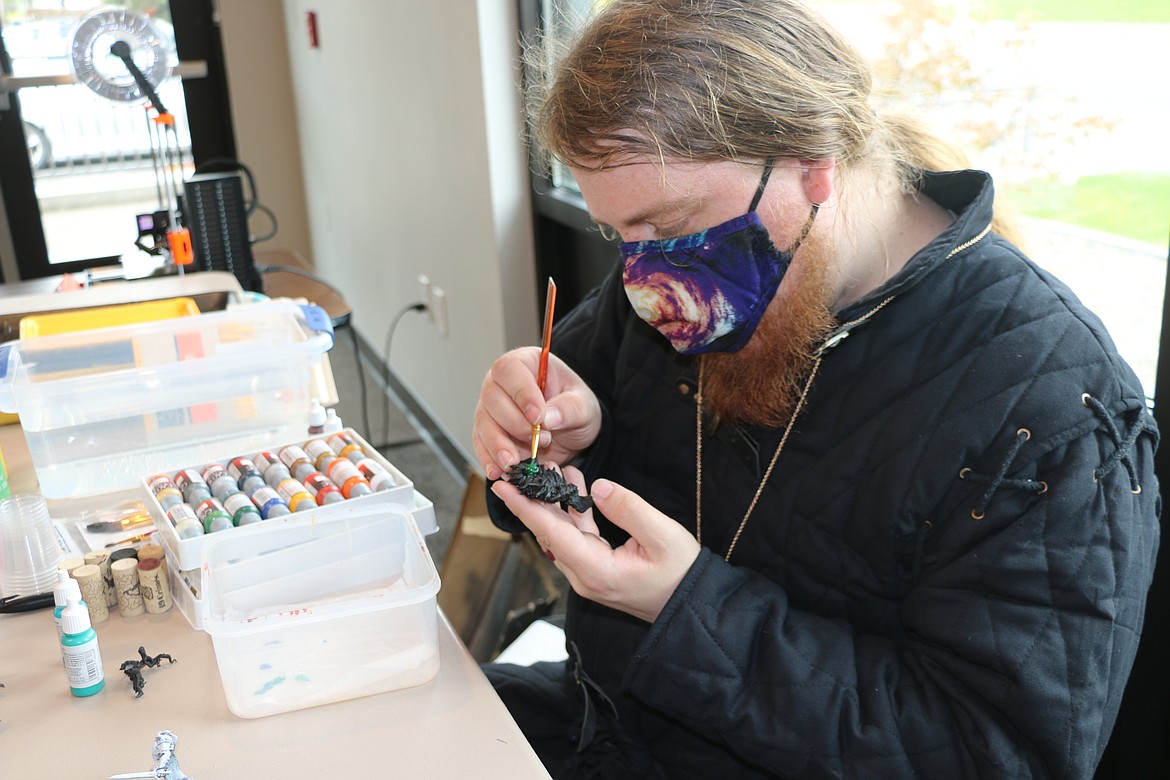 Brendan Bobby concentrates as he paints a miniature figurine during the 2022 Sandemonium Lite event held in mid-May at the Sandpoint Library.
(File photo/CAROLINE LOBSINGER)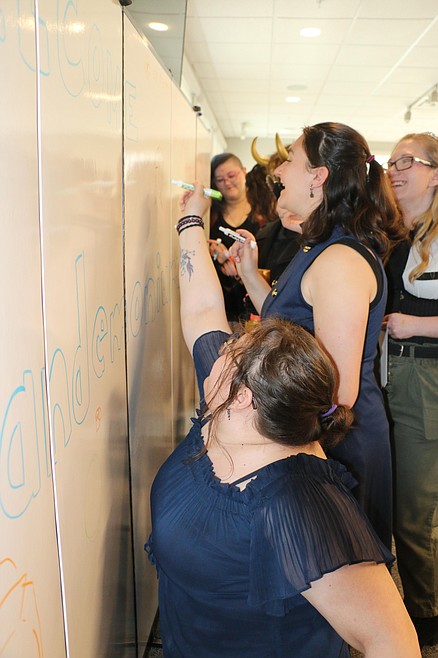 Sandemonium Lite attendees laugh as they add messages to a white board set up at the mid-May event for notes, drawings and more.
Previous
Next
by
BEAUX WHITE EAGLE
Staff Writer
|
August 14, 2022 1:00 AM
SANDPOINT — With a much bigger picture in mind, Sandemonium is returning to the Sandpoint library for another fandom-based event.
Since 2015, Sandemonium has provided an all-inclusive time and space for fans of anime, science fiction, fantasy, and e-sports, to celebrate their fandom. The event brings together like-minded individuals in the local community and features cosplay contests, fan-specific meet-ups, panels, and more.
However, Sandemonium board member Cassandra Koszarek said the group now has something bigger in mind — registering as a non-profit organization federally.
"Achieving our 501(c)3 status is the next big step to allowing our small convention events to level up," said Koszarek. "It's been a goal of Sandemonium to register as a non-profit for years. The board has decided to make it a priority this year."
Partnering with the East Bonner County Library District and held at the Sandpoint library, the first event was created to celebrate the Teen Reading program. From there the event grew to be larger, requiring larger venues such as the Forrest M. Bird Charter High School. However, that growth was halted due to the COVID-19 pandemic.
Quarantine restrictions in 2020 forced organizers to forego the physical event and evolve, holding a virtual event via Zoom. Sandemonium's growth was further challenged due to a complete hiatus in 2021 because of limited venue space and restrictions on large gatherings.
This year, however, the event not only made a comeback but returned to its roots, being held at the Sandpoint Library for the first time since 2015. Now with the return event, dubbed Sandemonium Lite, being a success, the board now has a second event with a greater purpose in mind.
The fundraiser, set to be held on Aug. 20, is aimed at raising money for the cost of becoming a federally registered non-profit organization. Featuring face painting, a table-top gaming tournament, and a nerdy bake sale, Koszarek said the event also will check another long-time goal off the organization's list.
"Fundraising has been a dream of ours for many years, and our plans for the fundraiser were born out of old-fashioned brainstorming! We all presented talents," Koszarek said.
The 501(c)3 status comes with a number of perks including tax benefits such as exemption from state income, sales, employment taxes, and more. But Koszarek said the board hopes the status change will allow for much more.
"We hope it would also encourage more sponsorship opportunities as donations could then benefit donors as a tax write-off. On top of all the outstanding benefits, having that non-profit status also better represents our intent as an organization: all board members participate on a complete volunteer basis out of love for the community, " Koszarek said.
In addition to the tax benefits, the 501(c)3 status will have the benefits of allowing the organization to apply for grants that would help fund a largerSandemonium event. Koszarek said the status could also come with the possibility of partnering with larger conventions.
"[It also would]bring knowledge of our unique community to a potentially larger fanbase and bracket of convention-goers," Koszarek said. "If we increase the visibility of our convention, we also increase the quality of the content we can bring to Sandemonium."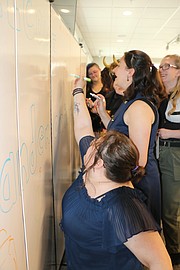 Recent Headlines
---