Lightning storm brings numerous wildfire starts to region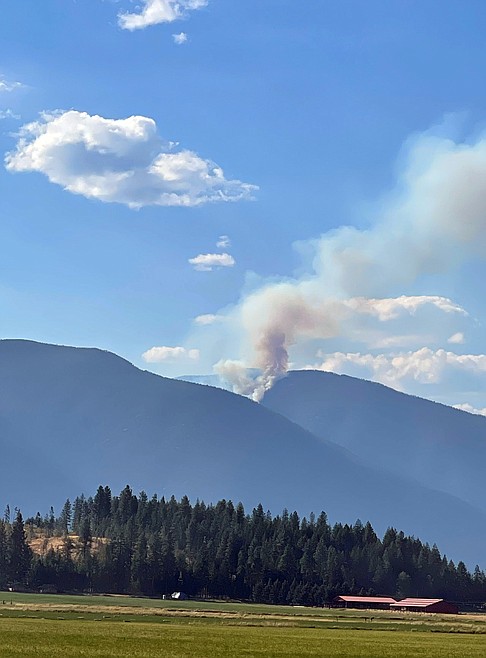 A view of the Eneas Peak Fire which can be seen from Bonners Ferry. The fire is located about 15 miles north-northwest of Bonners Ferry, on the south aspect below Eneas Peak and above Fisher Creek.
(Photo courtesy U.S. FOREST SERVICE)
by
DAILY BEE STAFF
|
August 17, 2022 1:00 AM
A Friday thunderstorm system hit the the region hard, leaving behind a lot of lightning and little precipitation — and more than a few wildfires.
"Despite a wet spring, sustained high temperatures and low precipitation this summer have resulted in very high fire danger across the panhandle," Kary Maddow, U.S. Forest Service public information officer, said.
To date, there have been 41 wildfires on Idaho Panhandle National Forests protection, and 96 across all protection areas in the dispatch zone.
"Numerous other smoke reports are still being pursued, and due to the nature of lightning fires, more holdovers are expected to be discovered in the coming days," she said.
Aviation support is proving crucial for detection, crew and equipment shuttles, and water drops to aid ground crews.
St. Joe Ranger District
There have been 15 confirmed wildfires across the district. The only uncontained fires are seven of the confirmed incidents from the most recent lightning storm. Several of those have handline and containment is expected shortly. Priority fires are currently staffed with district personnel, Panhandle Helitack, and West Yellowstone Smokejumpers.
Thanks to early detection and aggressive initial attack, the largest fire to date is 5 acres and the vast majority have been contained at one tenth acre or less
Coeur d'Alene River Ranger District There have been 11 confirmed wildfires across the district. There are currently no uncontained fires on this district. The largest fire to date was 3.65 acres and seven of the remaining fires were contained at a tenth acre or less.
Plentiful lightning was detected across the district from the recent system, so holdover wildfires are likely. Detection flights and district personnel will continue work to locate smoke reports.
Sandpoint, Priest Lake, and Bonners Ferry ranger districts
There have been 15 confirmed fires across the three districts. The only uncontained fires are the 391-acre Diamond Watch Fire on the Priest Lake Ranger District and the 8-acre Eneas Peak Fire on the Bonners Ferry Ranger District.
Due to the location, access barriers, and terrain of both fires, conditions are too hazardous for direct suppression tactics. Indirect suppression will be accomplished using a combination of hand crews, heavy equipment, and other resources as they are needed and available.
The Eneas Peak Fire is located about 15 miles north-northwest of Bonners Ferry, on the south aspect below Eneas Peak and above Fisher Creek.
Direct suppression tactics are not a safe or achievable option due to steep, inaccessible terrain which has a 60%-slope with areas up to 80%. In addition, there area numerous snags and a complete lack of safety zones or escape routes for firefighters.
Recent Headlines
---