Snowflakes, sleds and shovels: Storm drops more than 12 inches in North Idaho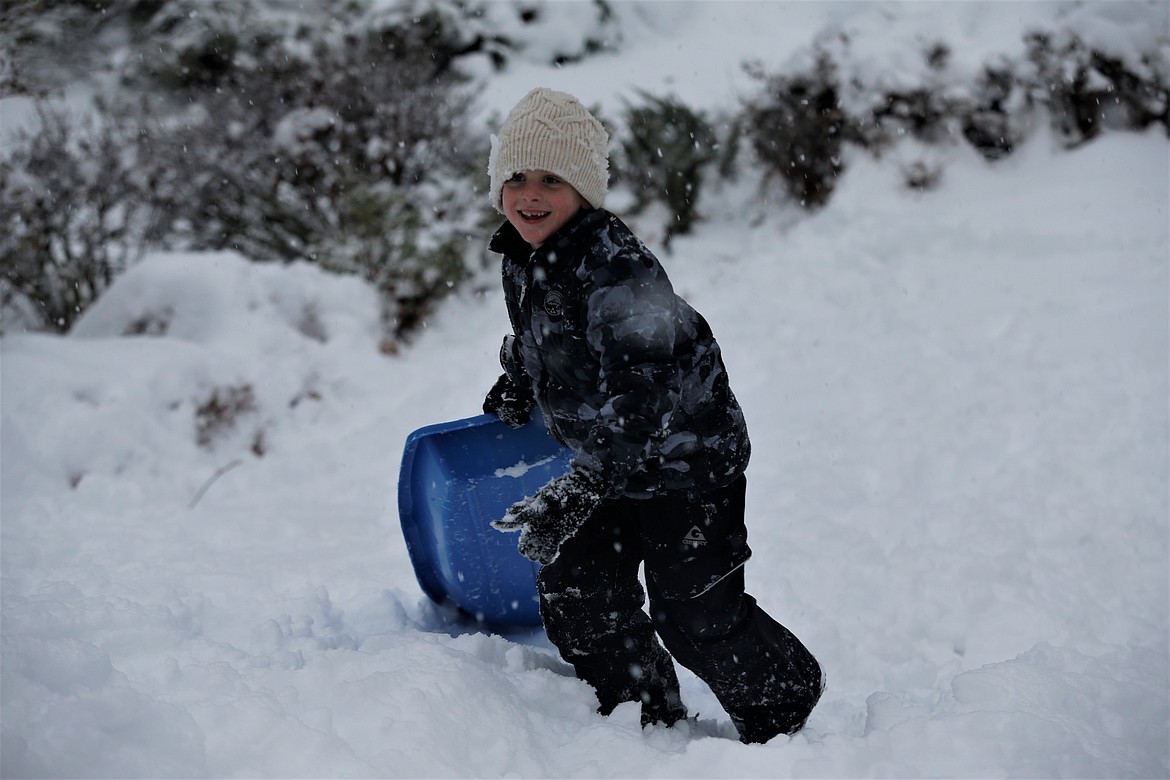 Silas Ballou grins after crashing into the snow while sledding Wednesday afternoon near the Coeur d'Alene Public Library.
BILL BULEY/Press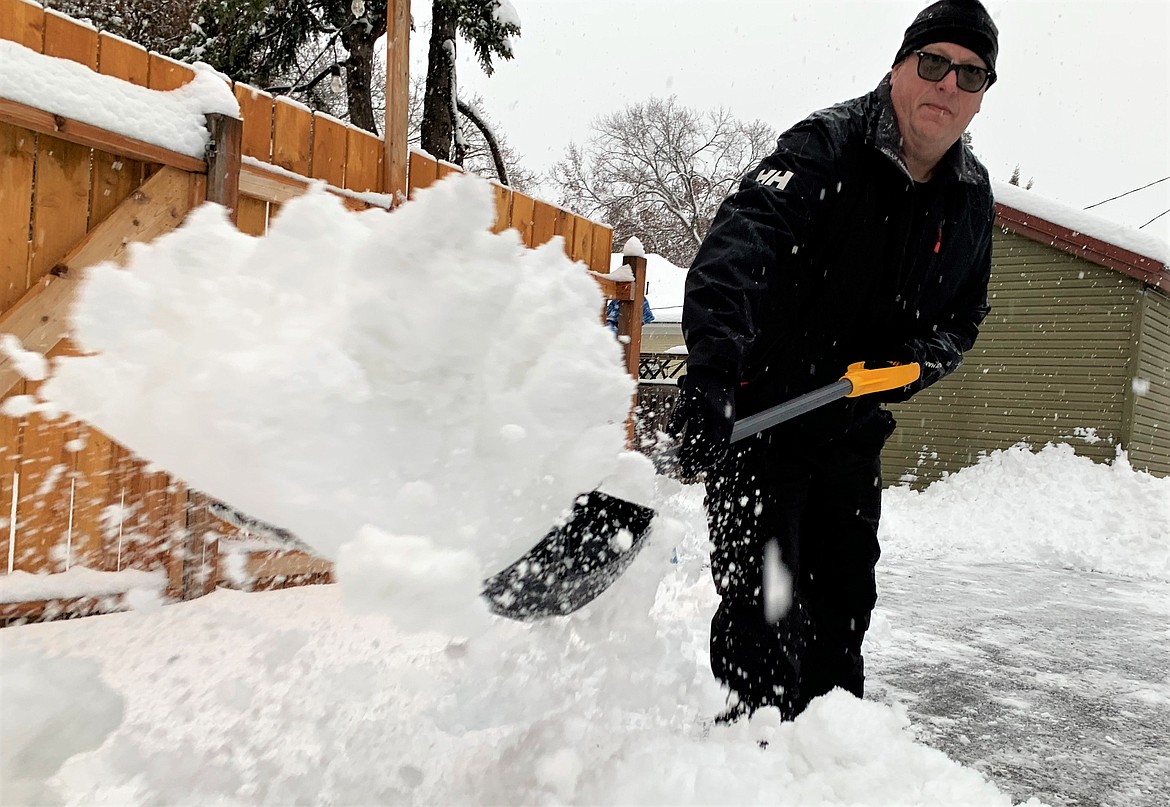 Jon Crane shovels snow in Coeur d'Alene on Wednesday.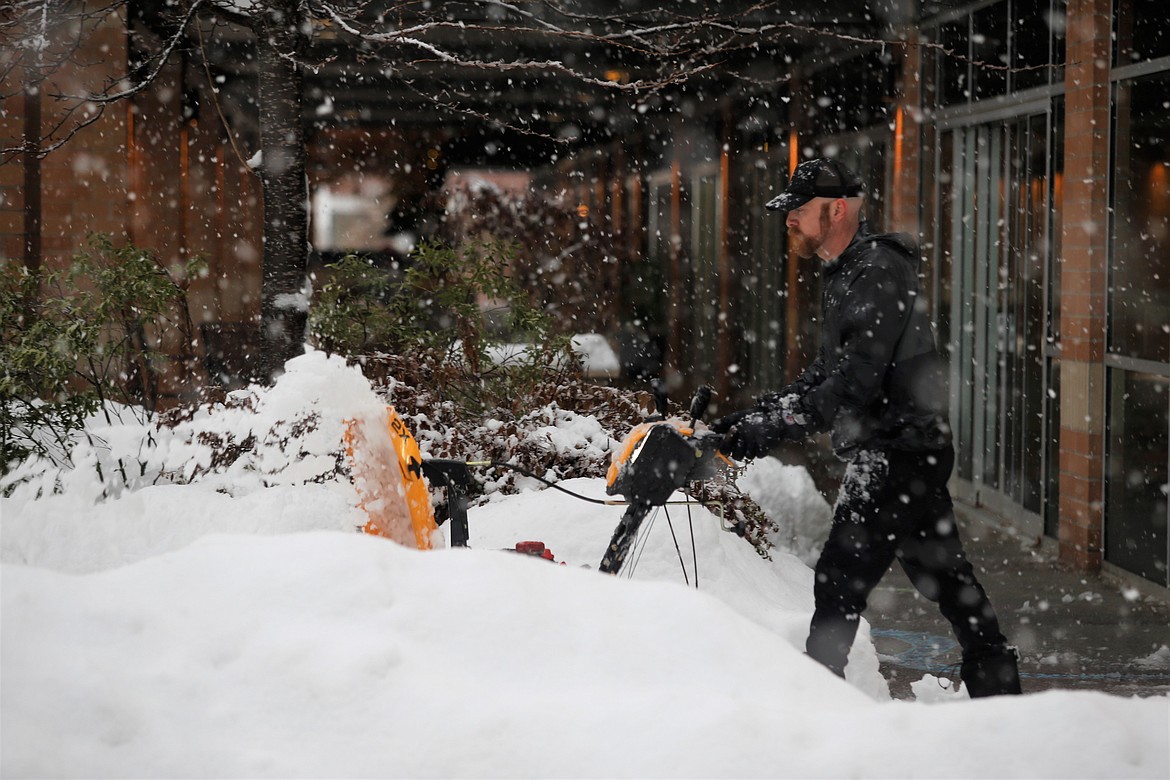 Aaron Frantz clears a sidewalk with a snowblower on Seventh Street in Coeur d'Alene on Wednesday.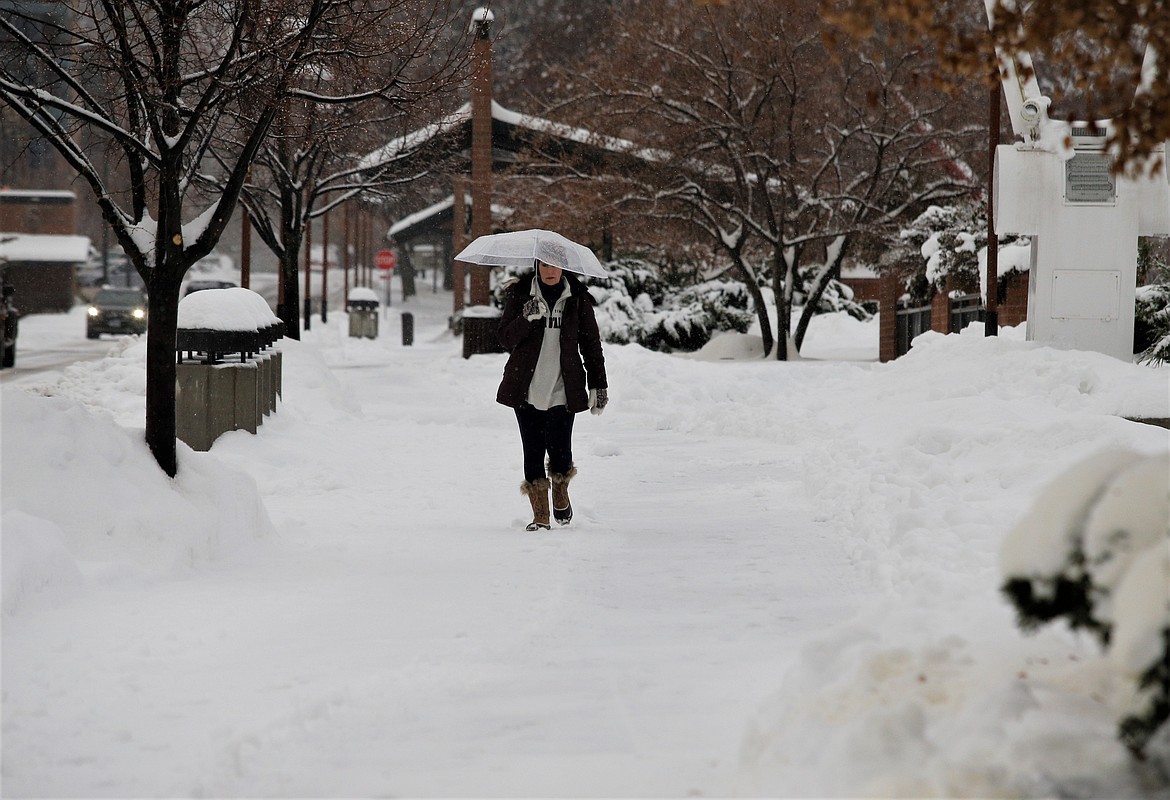 Karin Gray holds an umbrella for protection from the falling snow as she walks on Front Avenue in Coeur d'Alene on Wednesday.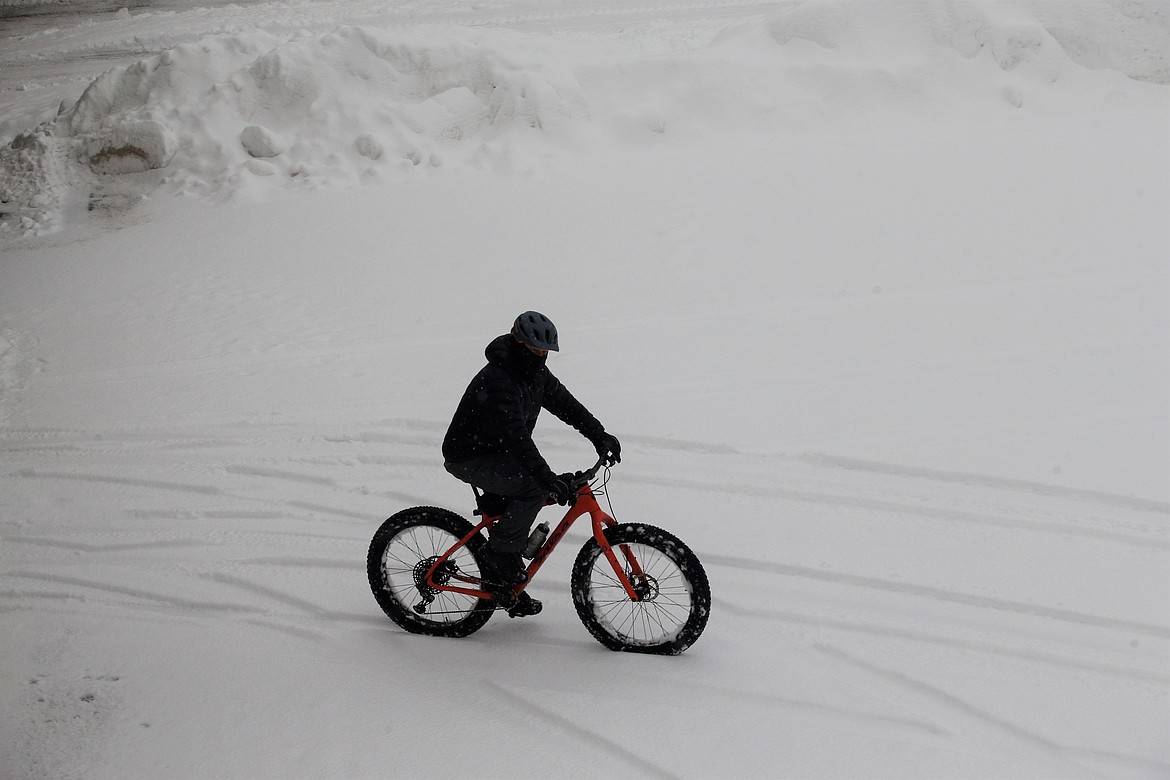 A cyclist rides through the snow-covered parking lot at McEuen Field on Wednesday.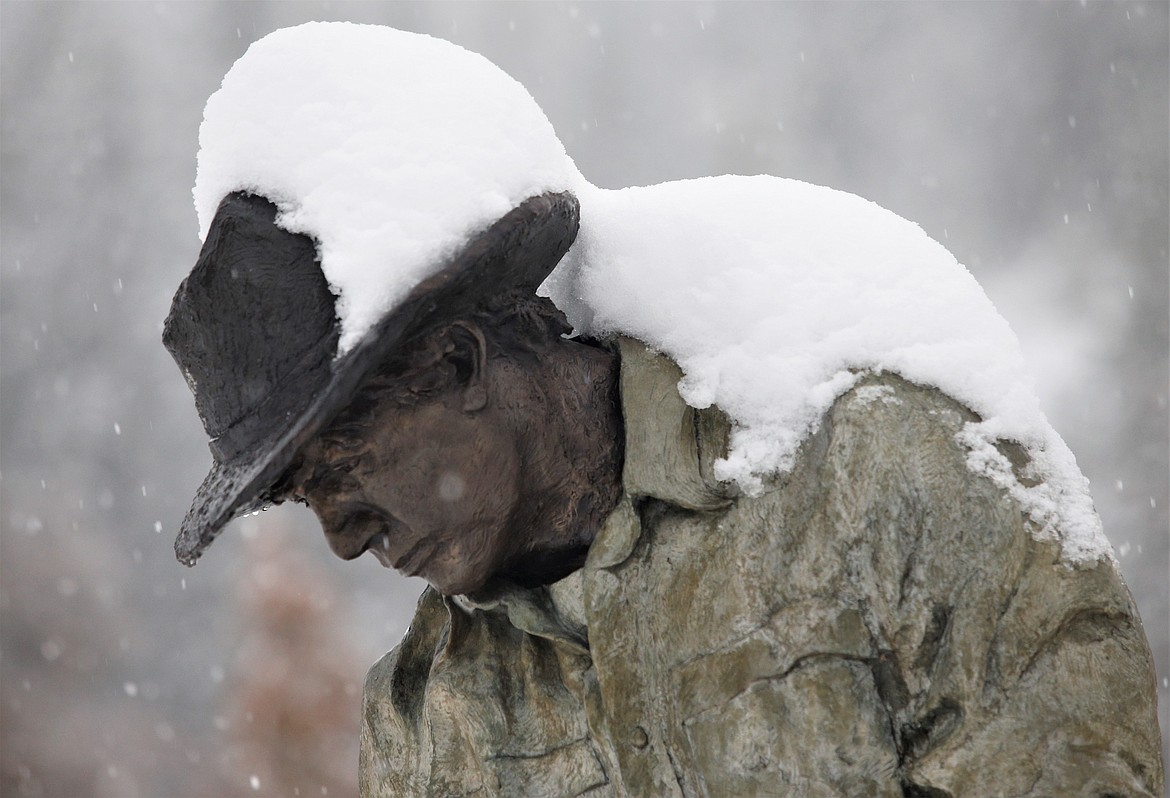 Snow covers a Terry Lee statue, "Idaho Farmer," on Front Avenue on Wednesday.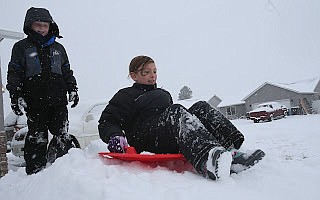 Hadley Still, 8, and Russell Covey, 9, play on a snow mound Wednesday in Hadley's front yard in Post Falls.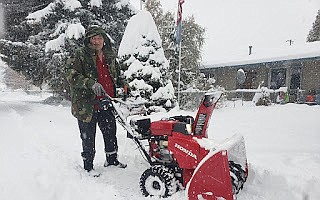 Fritzi Tegarden pauses, blowing off her sidewalk and driveway in Hayden on Wednesday as snow fills her path.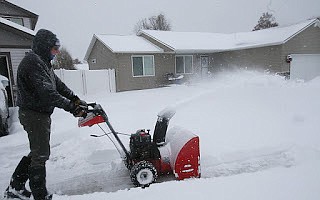 Greg Clarine on Wednesday pushes through thick, heavy snow with his snowblower as a snowstorm blankets Post Falls.
Previous
Next
Silas Ballou went about 20 feet down the hill on his sled and crashed face-first into the snow Wednesday afternoon.
For a few seconds, the youth didn't move. Then, he peeked out from under his oversized stocking cap, stood up with a big grin, and started back up the hill next to the Coeur d'Alene Public Library to do it again.
"He's a hambone," said his grandmother, Barbara Ostipwko of Coeur d'Alene.
She was smiling herself, enjoying the biggest snowfall of November and spending time with her grandkids.
"We have a great time," she said. "They're not ready to go home to mom and pop yet because they're out playing."
Just a few blocks away, Jon Crane and his sons William and David were shoveling snow from a friend's property.
Together, they were making good progress. Plus, Jon figured it got them out together for some father-son time and exercise, too.
"A good cardio workout," he said.
Wednesday's heavy snowfall forced school cancellations throughout North Idaho, kept workers at home, created dangerous roads and slippery walkways, and sent snowplows, snow blowers and snow shovelers into overdrive.
Climatologist Cliff Harris measured 12.7 inches of snow at his Player Drive home by 4 p.m. That was the second-most for a single day in November, with the record still at 16 inches set Nov. 19, 1963.
Harris said November was the coldest on record. The average high was 35, compared to the normal average of 47. The average low was 22, while normal is 27 and the average temperature was 28.5, nearly 10 degrees under the normal average temperature of 37.
"We've never been that cold for that long," Harris said.
He said 25.8 inches of snow had fallen November in Coeur d'Alene, the fourth-most behind 38.3 inches in 2010; 31.6 in 1973 and 28.2 in 1959. It topped the 24.1 inches that fell in 1996.
More snow is coming Harris said.
"I can see at least five more systems upstream to come downstream," he said, adding, "none as strong as what we've just had."
Each will drop a few inches this week and into next week, Harris said.
River City residents reveled in a snow day Wednesday.
"I love it," said an enthusiastic Russell Covey, 9, as he played outside with neighbor Hadley Still, 8. "It snowed 7 inches. I just need a tape measure."
They sledded down a small snow hill built in Hadley's front yard, where her brother was building an igloo.
"It's good. It's fun," Hadley said with a big smile before scampering off.
Stella Lewis, 9, of Post Falls, brought snow into the house and filled the bathtub so her bunny, Nico, could also enjoy the snowy day.
"I love the snow and it's fun," she said. "I brought in some snow so that he didn't get too cold outside and could still play."
The sounds of snow blowers buzzed through the cold air from every direction as people worked to clear piles of the rapidly replenishing white stuff.
"It's a little hard on the machine since it's so deep. It's got a little moisture to it," said Greg Clarine, who slowly pushed his 27-year-old snowblower up and down his driveway. "You just have to take smaller strips off and it doesn't bog down quite as bad."
He said he doesn't mind the snow.
"It's a good thing for the watershed," Clarine said. "Hopefully it will get rid of some of the drought conditions that we have, and the fires."
Recent Headlines
---