Help others heal through sailing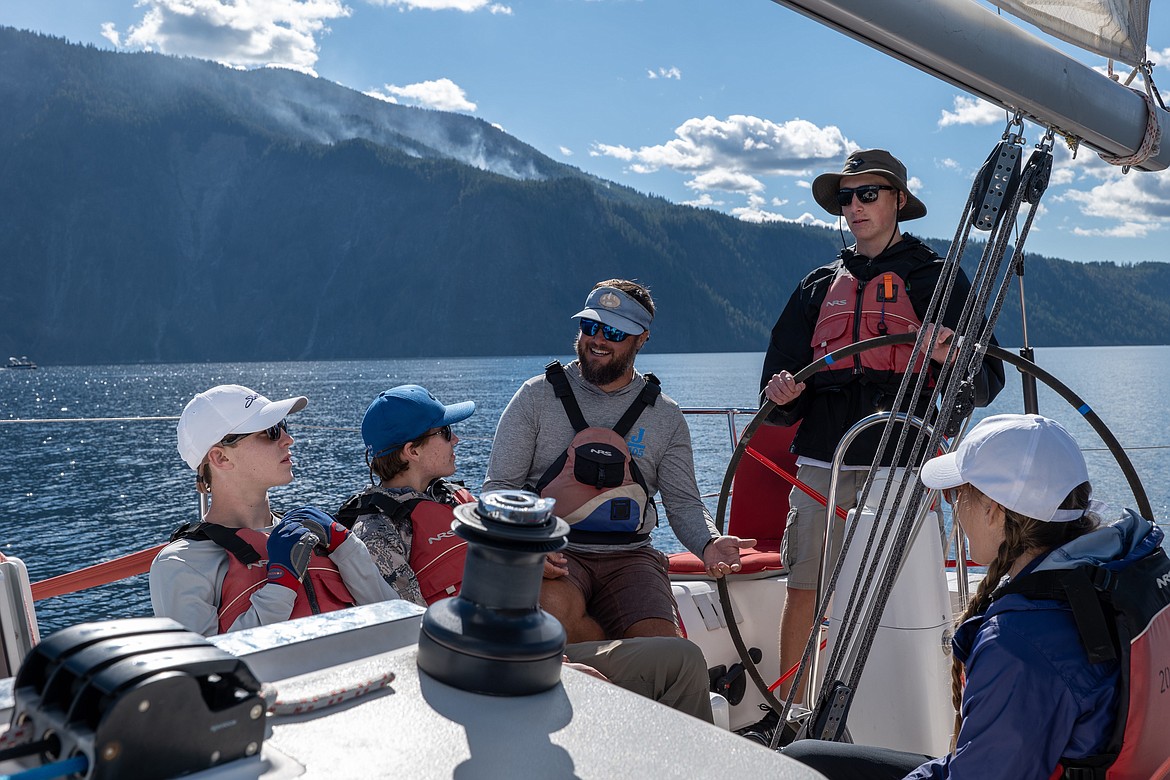 Capt. Jon Totten (center), founder of Dogsmile Adventures, leads a youth sailing session on Lake Pend Oreille.
Courtesy photo
|
December 1, 2022 1:00 AM
COEUR d'ALENE — Dogsmile Adventures, a North Idaho therapeutic sailing organization, welcomes everyone to join its 2022 Annual Celebration and Auction to be held online at 6 p.m. today.
"We have had some incredible experiences serving our community, and we can't wait to share them with you," said Capt. Jon Totten, founder and executive director.
He emphasized that everyone is welcome and every bit of participation helps.
"Every dollar that comes in helps buy someone a boat ride," he said.
Dogsmile Adventures is a 501(c)3 charitable organization that creates opportunities for people to discover healing and potential through sailing adventures on Lake Pend Oreille and Lake Coeur d'Alene.
In 2022, the organization more than doubled its service over the previous summer to a whopping 2,376 hours of therapeutic sailing and served these groups:
Veterans of Iraq and Afghanistan; Youth Sailing Camp for Boys and Girl's Club kids; Specialized Needs Recreation; HRC Ministry (women's shelter); Human Rights Education Institute (minority foster children); Echo Springs (youth transition); Northwest College Support; Priest River Ministries Advocates for Women; Matt's Place (ALS Foundation); Spokane Veterans Forum; Special Forces Association; Kootenai County Veterans Council; North Idaho College; University of Idaho.
Participants are invited to register in advance here: onecau.se/_qbva1
The auction will go live online at the link above at noon today. The live show will begin at 6 p.m. and the auction will close at 7:30 sharp.
All tax-deductible proceeds support therapeutic sailing in Idaho.
"We have a lot to celebrate together this year," Totten said. "Please join us. We have some amazing experiences up for grabs."
Auction items include: A sunset dinner cruise on Lake Pend Oreille with Cloud Nine Sailing Charters; a surf and stay experience with The Coeur d'Alene Resort and Action Sports Rentals; a Bayview floating home stay and private sail; a San Juan Island sailing charter; a luxury dinner cruise aboard the Sizzler on Lake Coeur d'Alene, courtesy of the Hagadone Corp.; a weeklong sailing trip in the Sea of Cortez, Mexico; and another weeklong sailing trip along the Pacific Coast of Mexico.
Here is a preview of the auction items: https://youtu.be/nE0zKOowa-0
"We do just one fundraiser a year, and this is it," said Capt. David Kilmer, a Dogsmile Adventures founding board member. "This event is incredibly valuable for our small, locally run nonprofit, and every dollar is used for good. I have personally witnessed and participated in the joy and healing that Dogsmile Adventures brings to many."
Recent Headlines
---